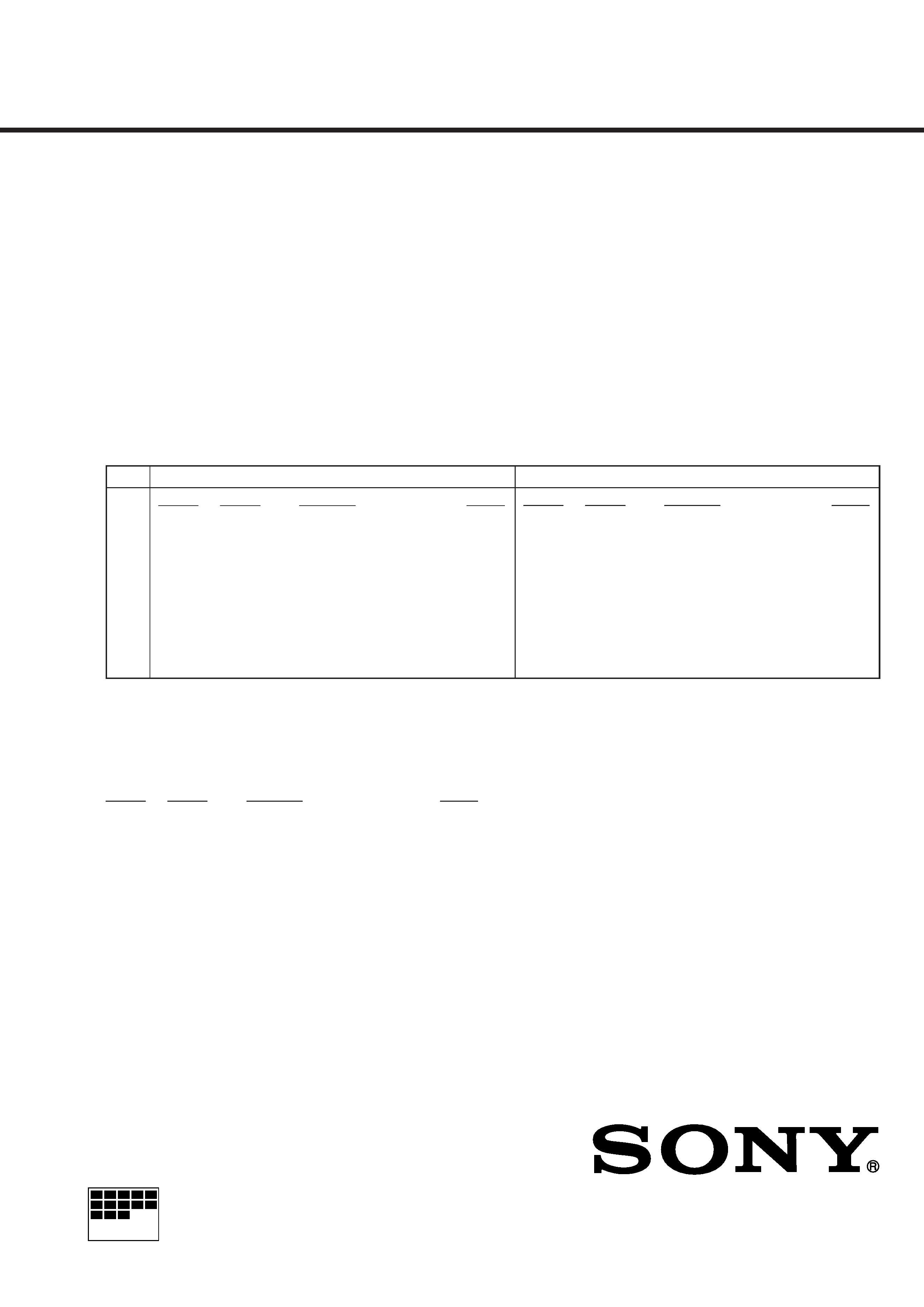 Model WM-EX162 is almost same as WM-EX122 model.
This manual contains only the points which differ from WM-EX122
However accessories and packing materials are all listed.
For the informations not contained in this manual, please refer to WM-
EX122 service manual (9-960-599-
Personal A&V Products Company
Printed in Japan © 1998. 1
Published by Quality Engineering Dept.
X-3374-735-1 CABINET REAR (TC-O) SUB ASSY
X-3374-736-1 CABINET REAR (TC-O) SUB ASSY
3-937-356-01 LID, BATT (BLACK)
X-3374-734-1 HOLDER (TC-MB) SUB ASSY (BLACK)
3-939-091-01 KNOB (M/B) (BLACK)
3-020-665-01 CABINET (FRONT) (TC-O) (BLACK)
X-3372-102-1 CABINET REAR (TC-O) SUB ASSY
X-3372-098-1 CABINET REAR ASSY
(Made in MALAYSIA) (BLACK)
3-935-477-01 LID, BATT (BLACK)
X-3371-769-1 HOLDER (TC-MB) SUB ASSY (BLACK)
3-933-649-01 KNOB (M/B) (EX122)
3-933-653-01 CABINET (FRONT) (TC-O) (BLACK)
ACCESSORIES & PACKING MATERIALS
1-505-521-11 HEADPHONE (MDR-023)
3-861-486-11 MANUAL, INSTRUCTION (ENGLISH)
3-861-486-21 MANUAL, INSTRUCTION (FRENCH)
3-861-486-31 MANUAL, INSTRUCTION (A6 SIZE) (ENGLISH,
GERMAN, SPANISH, DUTCH, SWEDISH,
ITALIAN, PORTUGUESE, FINNISH) (AEP)
3-861-486-41 MANUAL, INSTRUCTION (A7 SIZE) (ENGLISH,
GERMAN, SPANISH, DUTCH, SWEDISH,
ITALIAN, PORTUGUESE, FINNISH) (AEP)
3-861-486-51 MANUAL, INSTRUCTION
(ENGLISH, RUSSIAN, POLISH, HUNGARIAN,
CZECK, TURKISH, GREEK) (East European)
3-861-486-61 MANUAL, INSTRUCTION
(SPANISH, PORTUGUESE) (E)
X-3372-629-1 CLIP ASSY, BELT
---