---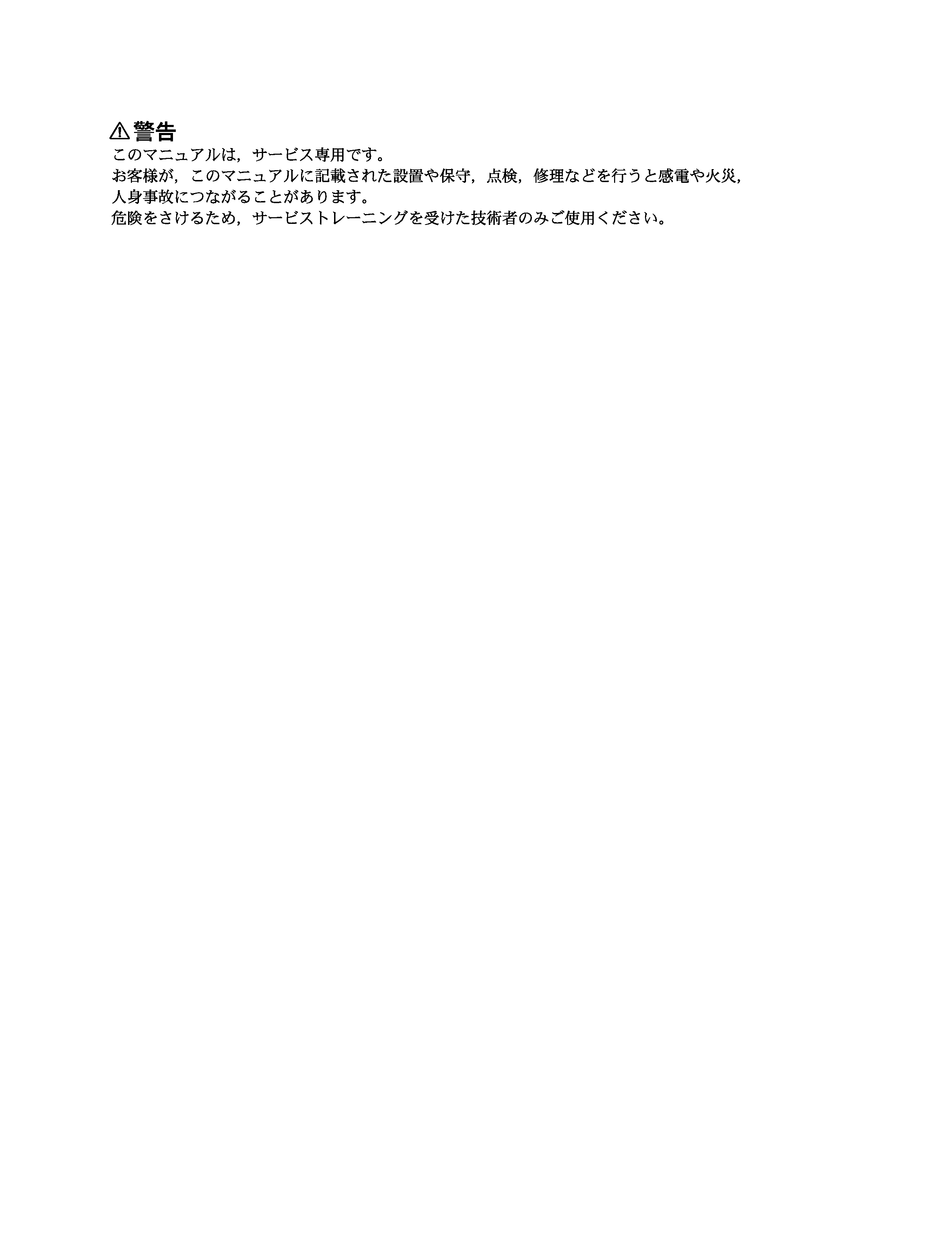 This manual is intended for qualified service personnel only.
To reduce the risk of electric shock, fire or injury, do not perform any servicing other than that
contained in the operating instructions unless you are qualified to do so. Refer all servicing to
qualified service personnel.
Die Anleitung ist nur für qualifiziertes Fachpersonal bestimmt.
Alle Wartungsarbeiten dürfen nur von qualifiziertem Fachpersonal ausgeführt werden. Um die
Gefahr eines elektrischen Schlages, Feuergefahr und Verletzungen zu vermeiden, sind bei
Wartungsarbeiten strikt die Angaben in der Anleitung zu befolgen. Andere als die angegeben
Wartungsarbeiten dürfen nur von Personen ausgeführt werden, die eine spezielle Befähigung
Ce manual est destiné uniquement aux personnes compétentes en charge de l'entretien. Afin
de réduire les risques de décharge électrique, d'incendie ou de blessure n'effectuer que les
réparations indiquées dans le mode d'emploi à moins d'être qualifié pour en effectuer d'autres.
Pour toute réparation faire appel à une personne compétente uniquement.
---

Für Kunden in Deutschland
Entsorgungshinweis: Bitte werfen Sie nur entladene
Batterien in die Sammelboxen beim Handel oder den
Kommunen. Entladen sind Batterien in der Regel dann,
wenn das Gerät abschaltet und signalisiert "Batterie
leer" oder nach längerer Gebrauchsdauer der Batterien
"nicht mehr einwandfrei funktioniert". Um
sicherzugehen, kleben Sie die Batteriepole z.B. mit
einem Klebestreifen ab oder geben Sie die Batterien
einzeln in einen Plastikbeutel.
For the customers in the Netherlands
Voor de klanten in Nederland
Hoe u de batterijen moet verwijderen, leest u in de tekst
Gooi de batterij niet weg maar lever deze in als klein
---

---

External View .............................................................................................. 1-1
Board Location ............................................................................................ 1-1
Removing/Installing the Cabinet ................................................................. 1-2
Base Assembly ........................................................................... 1-2
Front Panel (D) Assembly/Front Panel (U) Assembly .............. 1-2
Rear Cover/Rear Panel ............................................................... 1-3
Replacing the Board .................................................................................... 1-4
C Board ...................................................................................... 1-4
GA Board ................................................................................... 1-6
GB Board ................................................................................... 1-7
U Board ...................................................................................... 1-7
V Board ...................................................................................... 1-8
Lamp Power Supply Board ........................................................ 1-8
F Board ....................................................................................... 1-9
HA Board/HB Board/L Board ................................................. 1-10
Q Board (VPL-HS51) .............................................................. 1-11
Replacing the Main Parts .......................................................................... 1-11
DC Fan (for GA/GB unit) ........................................................ 1-11
Lamp Assembly ....................................................................... 1-12
Optical Block Assembly .......................................................... 1-12
DC Fan (for Lamp) ................................................................... 1-13
DC Fan (for Lamp Power Supply) and TA Board ................... 1-13
Prism Block and WV Plate (1), (2) .......................................... 1-14
Lens Unit .................................................................................. 1-15
Unit Assembly .......................................................................... 1-16
Unit Assembly Parts Orientation ............................................. 1-17
1-5-10. Extension Board and Extension Connectors ............................ 1-18
1-5-11. Extension Board and Extension Connectors Connection ......... 1-19
Unleaded Solder ........................................................................................ 1-20
Service Knowhow ..................................................................................... 1-20
After Replacing the Prism Block ............................................. 1-20
After Replacing the Board ....................................................... 1-20
NVM (Non-Voltible-Memory) ................................................ 1-21
Memory ..................................................................................................... 1-23
Warning on Power Connection ................................................................. 1-25
---