© 1999 by Sony Corporation
---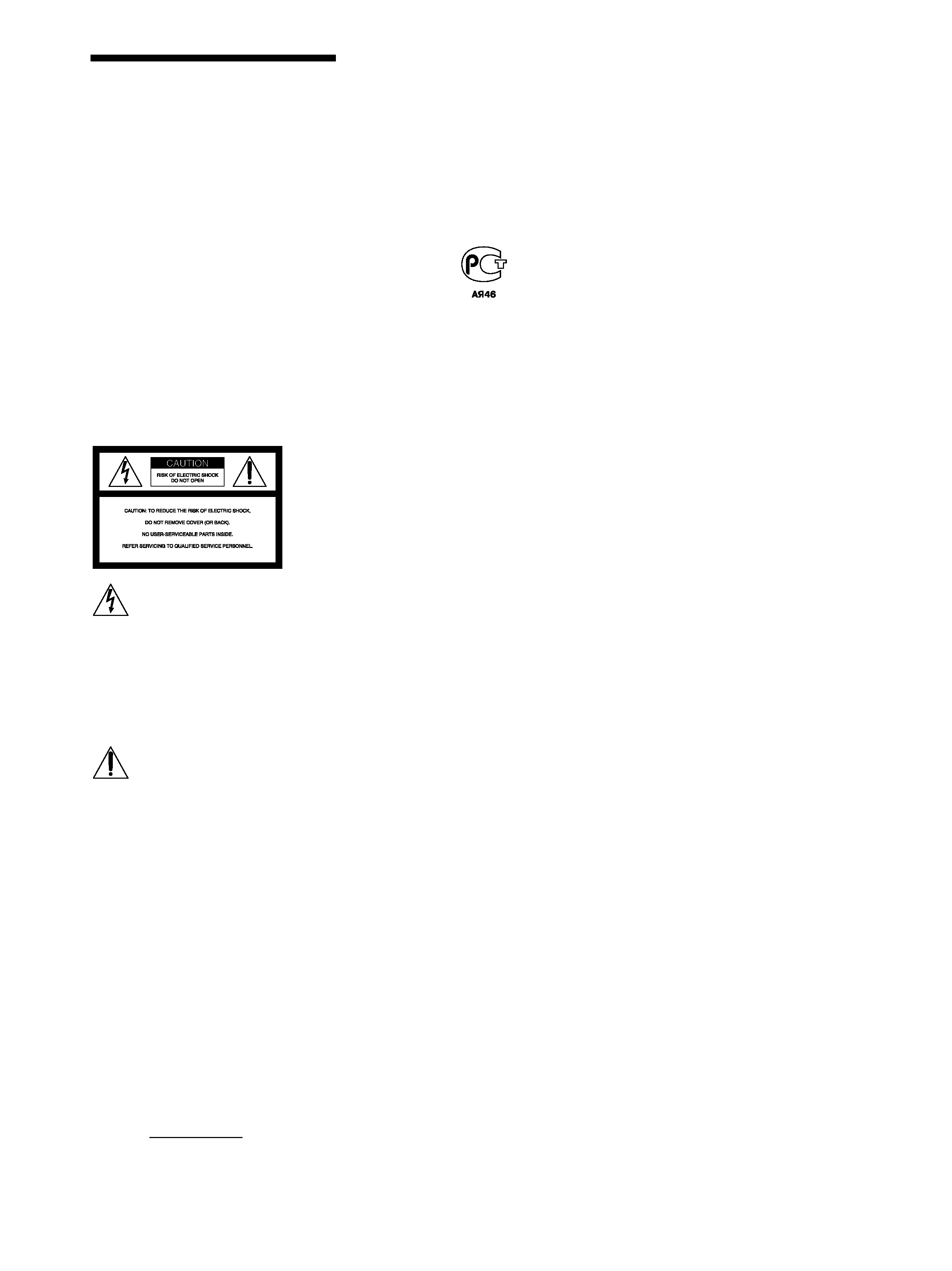 hazard, do not expose the
unit to rain or moisture.
To avoid electrical shock,
Refer servicing to qualified
space, such as a bookcase
For the customers in United States
This symbol is intended to alert the user to
the presence of uninsulated "dangerous
voltage" within the product's enclosure
that may be of sufficient magnitude to
constitute a risk of electric shock to
This symbol is intended to alert the user to
the presence of important operating and
maintenance (servicing) instructions in the
literature accompanying the appliance.
You are cautioned that any changes or
modification not expressly approved in
this manual could void your authority to
The model and serial numbers are located
on the rear of the unit. Record the serial
number in the space provided below.
Refer to them whenever you call upon
your Sony dealer regarding this product.
For the customers in Canada
TO PREVENT ELECTRIC SHOCK, DO
NOT USE THIS POLARIZED AC PLUG
RECEPTACLE OR OTHER OUTLET
UNLESS THE BLADES CAN BE FULLY
INSERTED TO PREVENT BLADE
---

The instructions in this manual are for model TA-N1.
Check your model number by looking at the front panel.
In this manual, the European model is used for
illustration purposes unless stated otherwise. Any
difference in operation is clearly indicated in the text, for
example, "USA/Canada only."
The following icon is used in this manual:
z Indicates hints and tips for making the task easier.
Hooking Up the Components
(Unbalanced Connections) 5
Preamplifier Hookups (Balanced Connections) 6
Speaker Hookups (Standard Connections) 7
Speaker Hookups (Bi-wired connections) 8
Location of Parts and Basic
Front Panel Parts Description 10
Rear Panel Parts Description 12
---

This chapter describes how to connect
a Sony TA-E1 preamplifier, your
speakers, and your other audio
components to the power amplifier.
Be sure to read this section before
Check that you received the following items:
· AC power plug adapter (3 to 2 prong polarized type) (1)
· Turn off the power to all components before making
· Do not connect the AC power cord until all of the
connections are completed.
· Be sure to make connections firmly to avoid hum and
· When connecting an audio cord, be sure to match the
color-coded pins to the appropriate jacks on the
components: white (left) to white; and red (right) to
---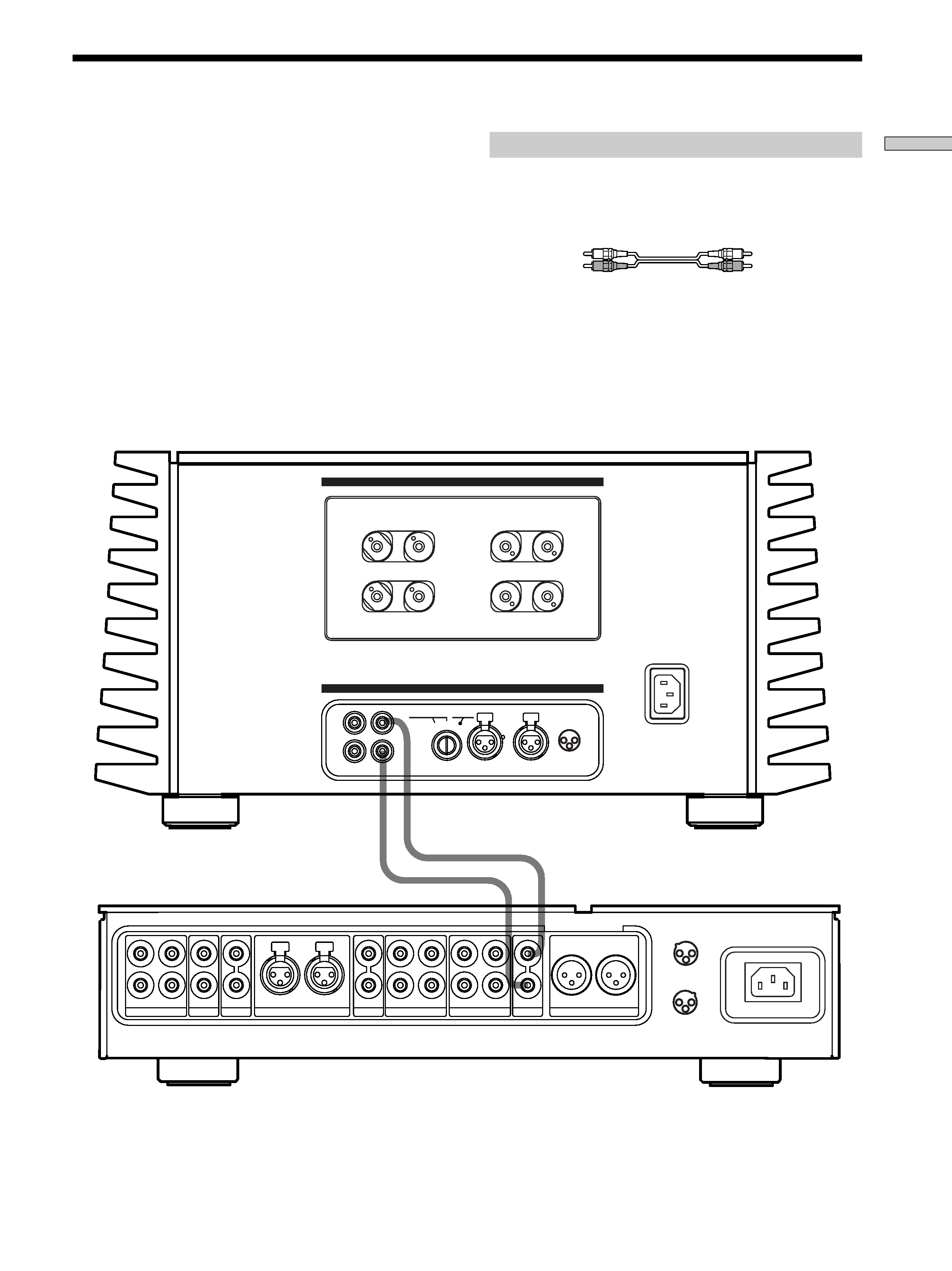 Preamplifier Hookups (Unbalanced Connections)
Connect the preamplifier you are using (Sony TA-E1, etc.)
to the power amplifier's UNBALANCED 1 or
UNBALANCED 2 input jacks. For details, refer to the
instructions supplied with the preamplifier.
Audio cords (not supplied)
When connecting a cord, be sure to match the color-coded pins to
the appropriate jacks on the components.
---