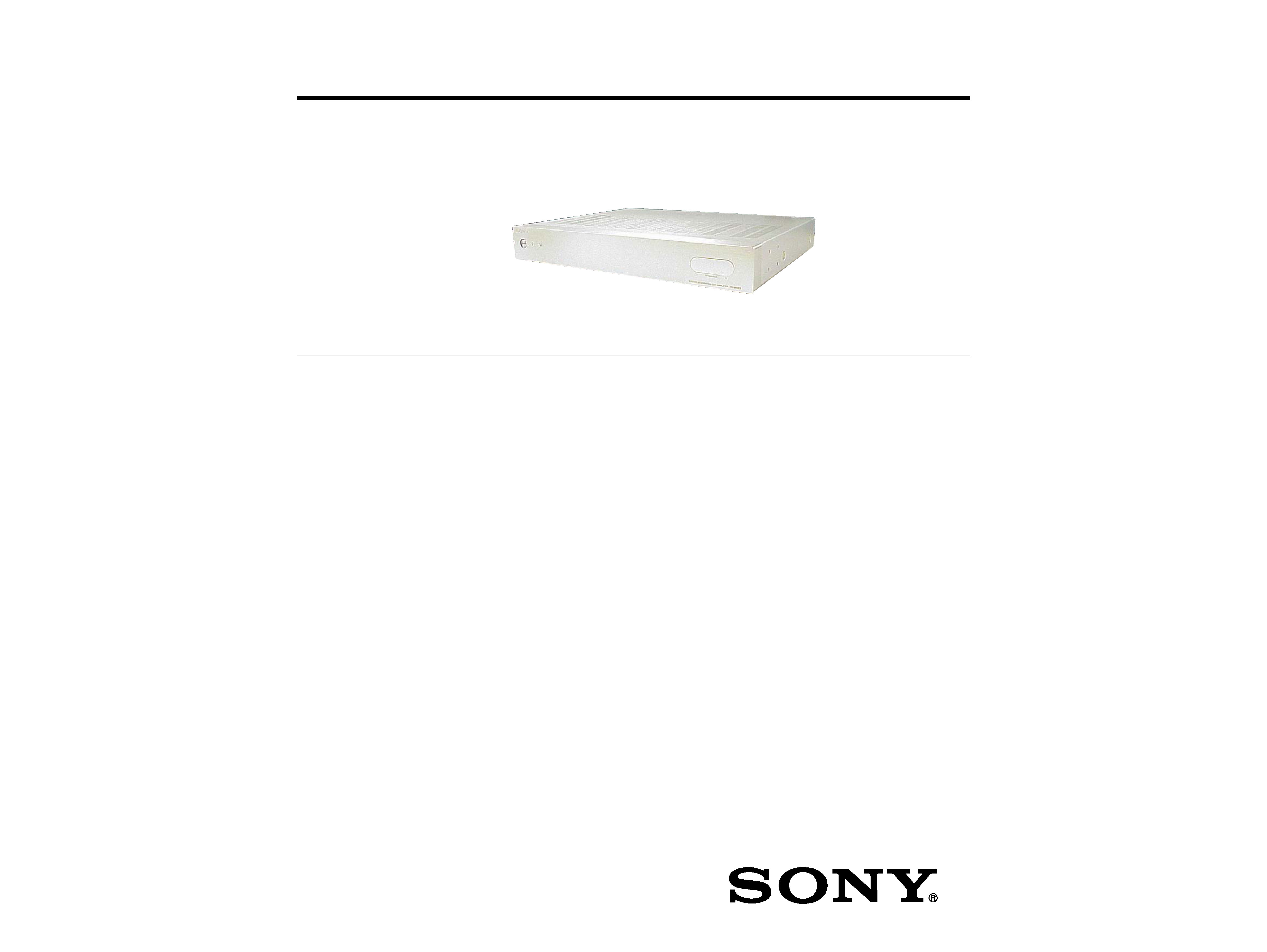 Published by Sony Engineering Corporation
SYSTEM INTEGRATION 2CH AMPLIFIER
Continuous average power output (FTC):
35 W per channel min. RMS at 8 ohms,
both channels driven from 20 Hz to
20 kHz with no more than 0.09 %
40 W per channel min. RMS at 4 ohms,
both channels driven from 20 Hz to
20 kHz with no more than 0.09 %
5 Hz ­ 100 kHz + 0.5/­2 dB
Residual noise (A-weighted):
Channel separation (1 kHz/10 kHz):
(input 4.7 k ohms terminated)
94 dB (A-weighted filter, 150 mV input)
minimum 2 V without clipped
102 dB (A-weighted filter, 2 V output)
accept 10 ~ 12 V of trigger
accept up to 40 kHz IR modulation
Design and specifications are subject to change without notice.
· Rack-mount brackets (2)
---

GENERAL
................................................................... 3
TEST MODE
............................................................... 4
Block Diagram ­ AUDIO Section ­ ................................
­ MAIN/POWER Section ­ ............................................
­ POWER SWITCH/INLET Section ­ ...........................
Schematic Diagram ­ AMP Section (1/3) ­ ...................
Printed Wiring Board ­ AMP Section ­ ......................... 10
Schematic Diagram ­ AMP Section (2/3) ­ ................... 11
Printed Wiring Board ­ MAIN COMB Section ­ .......... 12
Schematic Diagram ­ AMP Section (3/3) ­ ................... 13
Front Panel Section ......................................................... 17
Chassis Section ................................................................ 18
ELECTRICAL PARTS LIST
.................................. 19
Flexible Circuit Board Repairing
· Keep the temperature of the soldering iron around 270 °C
· Do not touch the soldering iron on the same conductor of the
circuit board (within 3 times).
· Be careful not to apply force on the conductor when soldering
Notes on chip component replacement
· Never reuse a disconnected chip component.
· Notice that the minus side of a tantalum capacitor may be
SAFETY-RELATED COMPONENT WARNING!!
COMPONENTS IDENTIFIED BY MARK 0 OR DOTTED LINE
WITH MARK 0 ON THE SCHEMATIC DIAGRAMS AND IN
THE PARTS LIST ARE CRITICAL TO SAFE OPERATION.
REPLACE THESE COMPONENTS WITH SONY PARTS WHOSE
PART NUMBERS APPEAR AS SHOWN IN THIS MANUAL OR
IN SUPPLEMENTS PUBLISHED BY SONY.
Boards requiring use of unleaded solder are printed with the lead-
free mark (LF) indicating the solder contains no lead.
(Caution: Some printed circuit boards may not come printed with
the lead free mark due to their particular size)
Unleaded solder has the following characteristics.
· Unleaded solder melts at a temperature about 40 °C higher
Ordinary soldering irons can be used but the iron tip has to be
applied to the solder joint for a slightly longer time.
Soldering irons using a temperature regulator should be set to
Caution: The printed pattern (copper foil) may peel away if
the heated tip is applied for too long, so be careful!
Unleaded solder is more viscou-s (sticky, less prone to flow)
than ordinary solder so use caution not to let solder bridges
occur such as on IC pins, etc.
· Usable with ordinary solder
It is best to use only unleaded solder but unleaded solder may
also be added to ordinary solder.
After correcting the original service problem, perform the following
safety check before releasing the set to the customer:
Check the antenna terminals, metal trim, "metallized" knobs, screws,
and all other exposed metal parts for AC leakage.
Check leakage as described below.
The AC leakage from any exposed metal part to earth ground and
from all exposed metal parts to any exposed metal part having a
return to chassis, must not exceed 0.5 mA (500 microamperes.).
Leakage current can be measured by any one of three methods.
1. A commercial leakage tester, such as the Simpson 229 or RCA
WT-540A. Follow the manufacturers' instructions to use these
2. A battery-operated AC milliammeter. The Data Precision 245
digital multimeter is suitable for this job.
3. Measuring the voltage drop across a resistor by means of a
VOM or battery-operated AC voltmeter. The "limit" indication
is 0.75 V, so analog meters must have an accurate low-voltage
scale. The Simpson 250 and Sanwa SH-63Trd are examples
of a passive VOM that is suitable. Nearly all battery operated
digital multimeters that have a 2 V AC range are suitable. (See
Using an AC voltmeter to check AC leakage.
---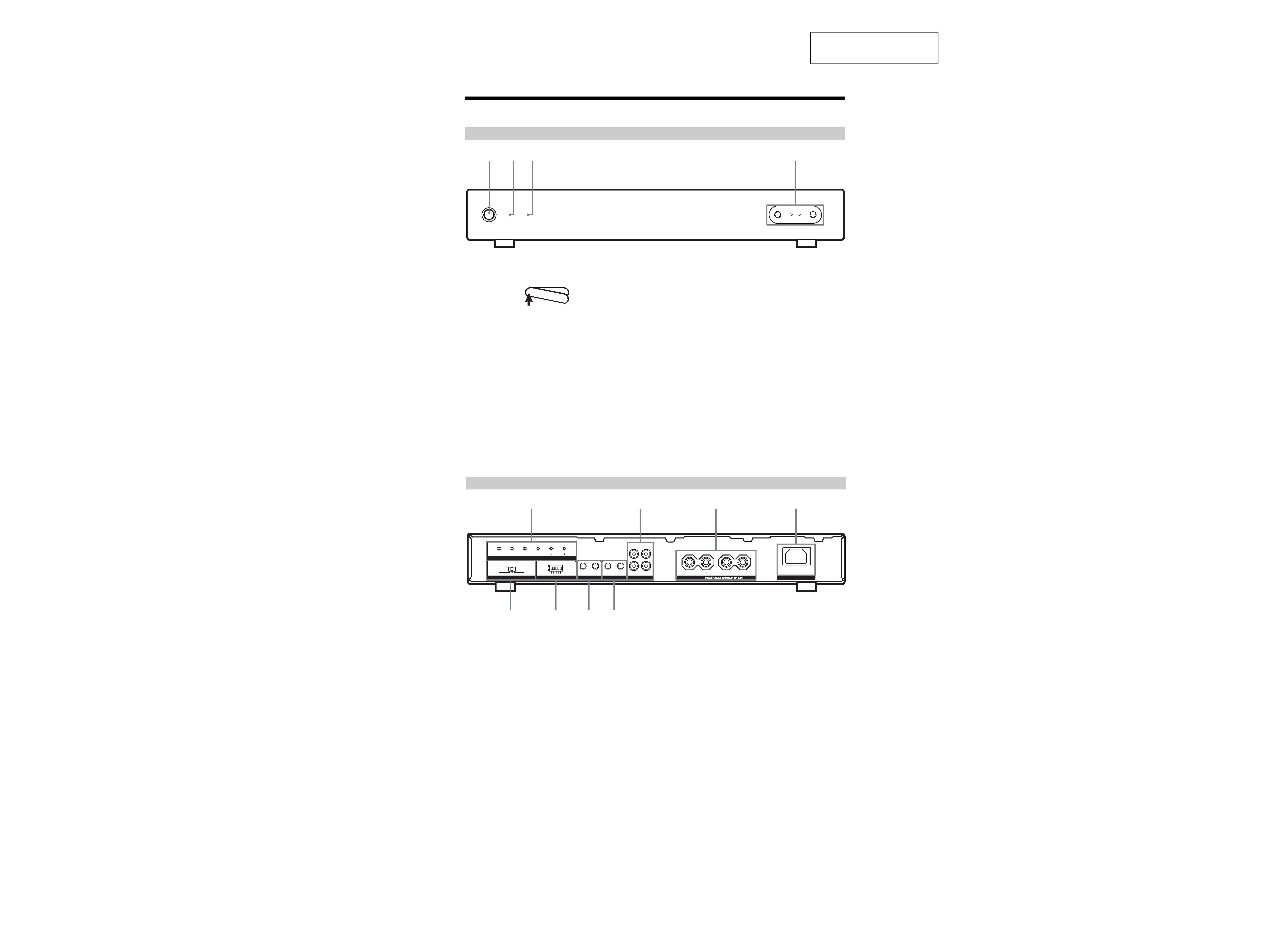 This section is extracted
Press either ends of the cover lid to remove the cover.
After you have finished adjusting the ATTENUATOR
L/R, place the cover lid back to its original position.
Front panel of the amplifier
Press to turn the power on or off.
The ON indicator lights up as follows:
­green (flashing three times): the amplifier's memory
The IN USE indicator lights up as follows:
­green: the amplifier is in use.
­green (flashing): the IR ID TEST switch is set to
­green (fast flashing): the IR TEST function is in
­red (flashing): "PROTECTION" mode is turned on.
­off: the amplifier is not in use.
Adjusts the maximum volume level of this amplifier to
match the room and the speakers used.
Rear panel of the amplifier
IR TEST buttons (page 12)
Press the appropriate button to output the IR codes
you want to teach through the IR OUT terminal.
RCA jacks for stereo line level audio input from a
RCA jacks for looping out to another amplifier or
This is a buffered audio connection, and this loop-through is
active even when the IN USE indicator is off, as long as the
AC power cord is plugged in and the POWER switch is on.
Terminal which accepts speaker wire sizes up to
Leave the AC power cord unplugged when you hook
Removable power cord for easy serviceability of the
12V TRIGGER jacks (page 10)
A 3.5 mm monaural mini jack to turn on the amplifier
via a 12-volt trigger input.
Enables the looping of amplifier control from one to
the next to trigger multiple amplifiers from a 12-volt
IR REMOTE jacks (page 10)
Connects to an outboard IR repeater system so you
can operate the amplifier from a distant room.
A 3.5 mm monaural mini jack for the connection of an
IR emitter to control other components individually.
IR signals received will be routed to the IR sensor of
Outputs IR from the IR TEST system built into the rear
Select from 12 discrete IR code tables to communicate
with up to 12 TA-MR2ES amplifiers (with individual
IR ID) on one IR repeater network.
AUTO POWER SELECTOR switch (page 11)
Selects the method for activating the amplifier.
---

Select the TEST switch to "ON" of the IR ID at back panel.
Press the POWER OFF key at back panel in advance and
simultaneously press the POWER ON key at front panel.
See the condition of two LEDs as follows.
Press the VOL+ key and POWER OFF key of IR TEST in
advance, and simultaneously press the POWER ON key at
If the POWER LED turn on while 250ms, the version
will show you major version.
If IN USE LED turn on while 250ms, the version will
POWER LED goes on, IN USE LED is blinking.
---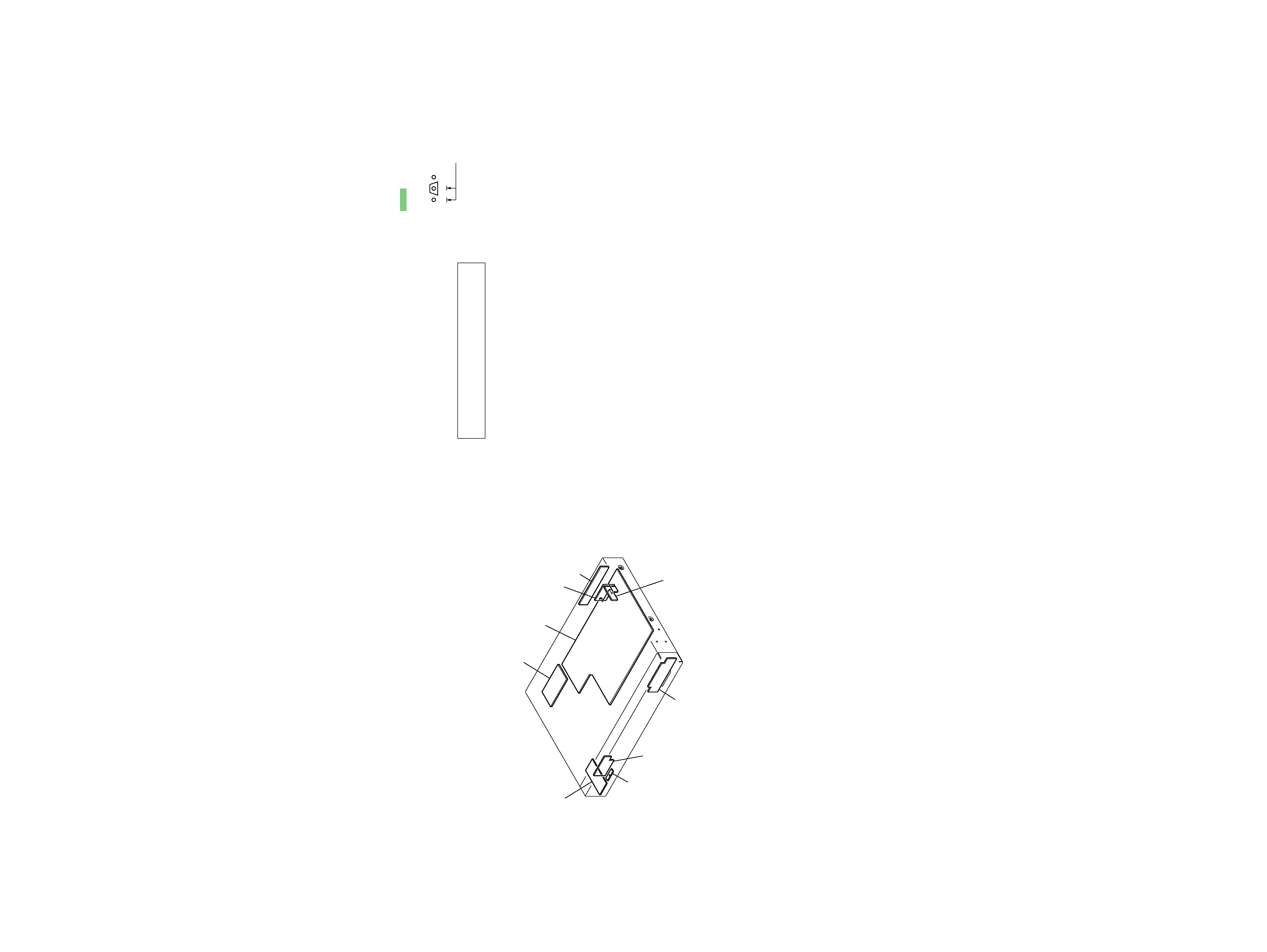 · Circuit Boards Location
µF unless otherwise noted. (p: pF)
50 WV or less are not indicated except for electrolytics and
and
1
/
4
W or less unless otherwise
· 2 : nonflammable resistor.
·Voltages and waveforms are dc with respect to ground un-
der no-signal (detuned) conditions.
·Voltages are taken with a VOM (Input impedance 10 M
Voltage variations may be noted due to normal production
·Waveforms are taken with a oscilloscope.
· Circled numbers refer to waveforms.
For Printed Wiring Boards.
· X : parts extracted from the component side.
: Pattern from the side which enables seeing.
Note: The components identified by mark 0 or dotted
line with mark 0 are critical for safety.
Replace only with part number specified.
THIS NOTE IS COMMON FOR PRINTED WIRING BOARDS AND SCHEMATIC DIAGRAMS.
(In addition to this, the necessary note is printed in each block.)
---