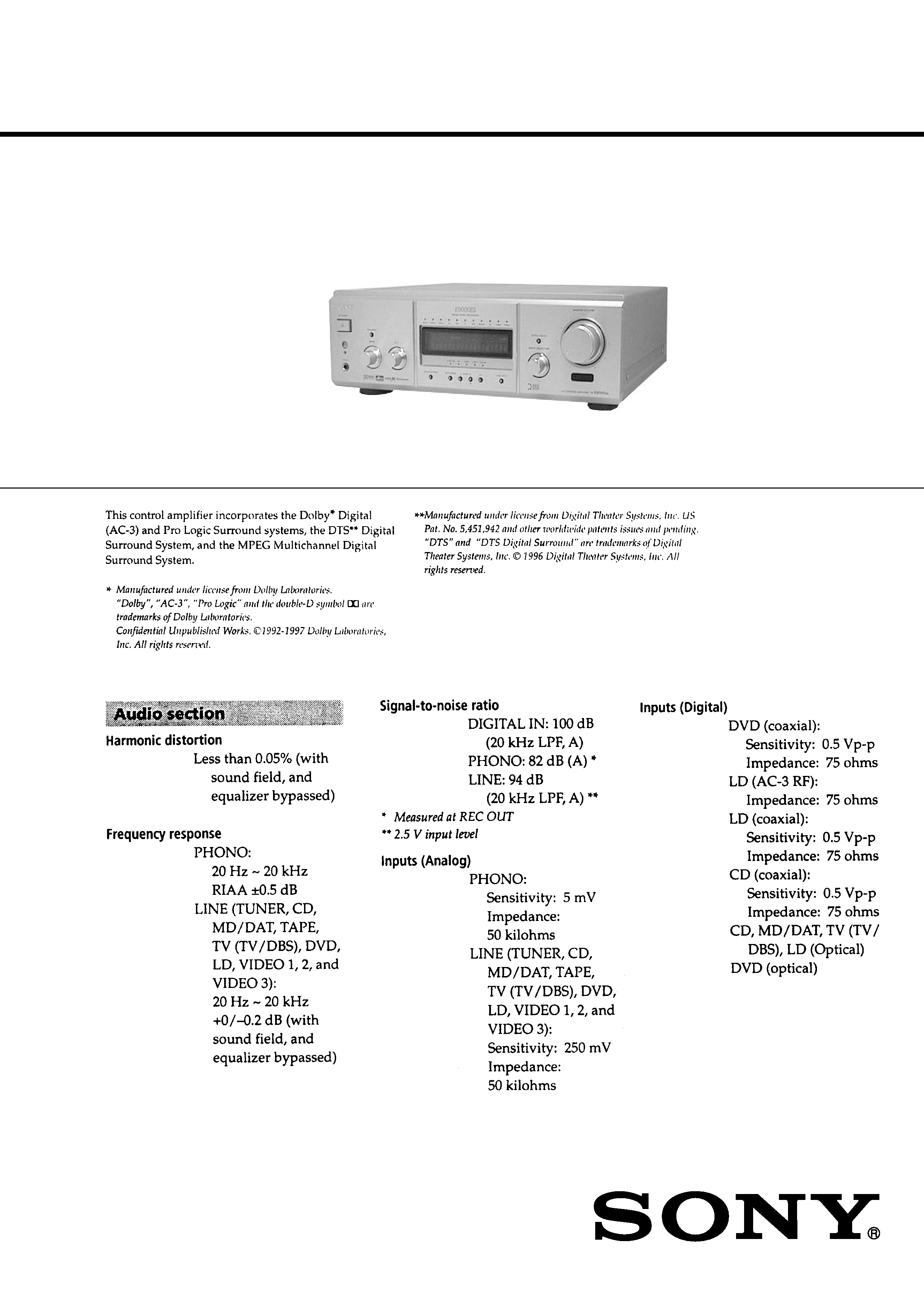 -- Continued on next page --
Pubulished by Sony Engineering Corporation
---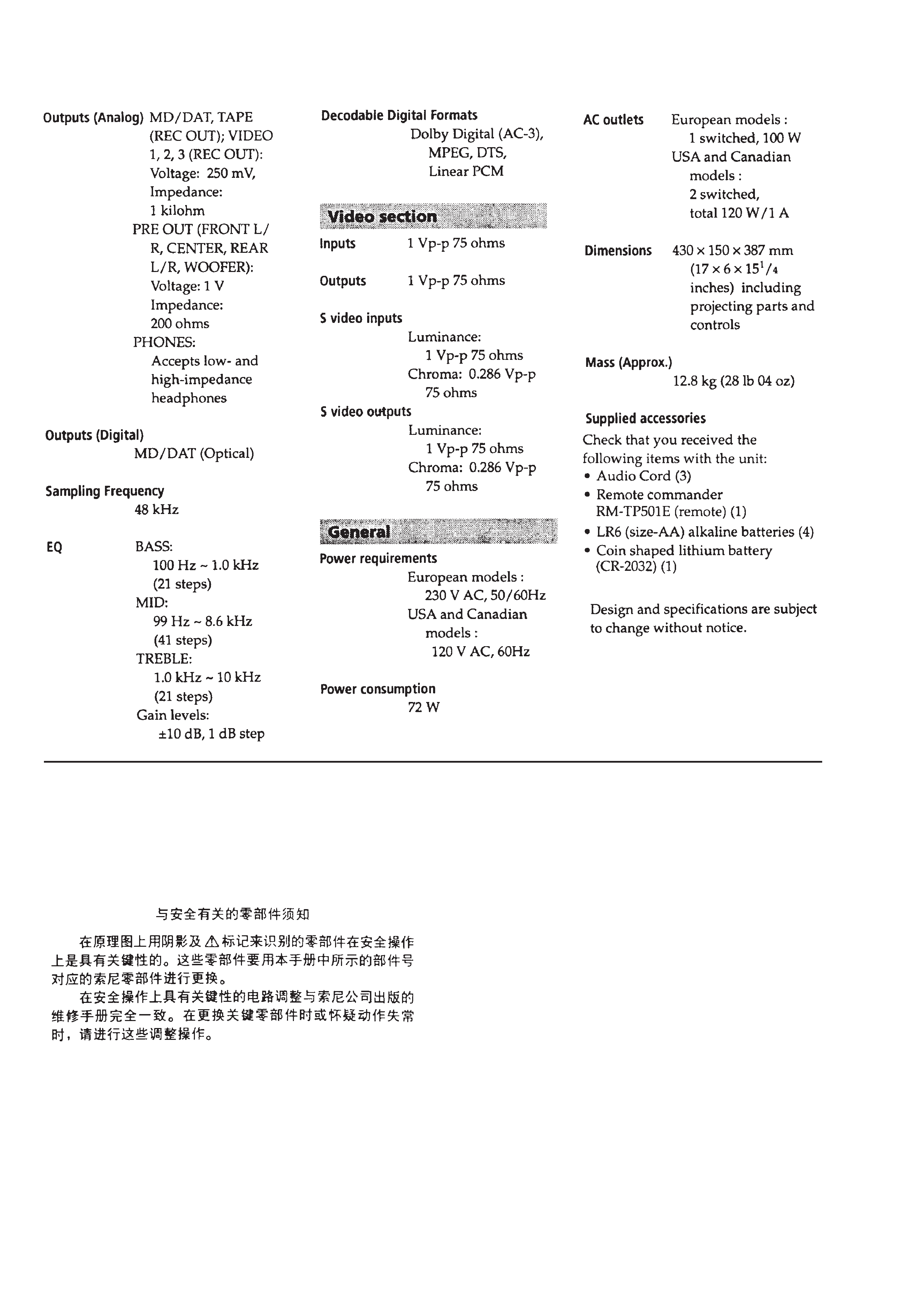 SAFETY-RELATED COMPONENT WARNING !!
COMPONENTS IDENTIFIED BY MARK
! ON THE SCHEMATIC DIAGRAMS AND IN
THE PARTS LIST ARE CRITICAL TO SAFE OPERATION.
REPLACE THESE COMPONENTS WITH SONY PARTS
WHOSE PART NUMBERS APPEAR AS SHOWN IN THIS
MANUAL OR IN SUPPLEMENTS PUBLISHED BY SONY.
ATTENTION AU COMPOSANT AYANT RAPPORT
LES COMPOSANTS IDENTIFIÉS PAR UNE MARQUE
LES DIAGRAMMES SCHÉMATIQUES ET LA LISTE DES
PIÈCES SONT CRITIQUES POUR LA SÉCURITÉ DE
FONCTIONNEMENT. NE REMPLACER CES COMPOSANTS
QUE PAR DES PIÈCES SONY DONT LES NUMÉROS
SONT DONNÉS DANS CE MANUEL OU DANS LES
SUPPLÉMENTS PUBLIÉS PAR SONY.
---

After correcting the original service problem, perform the follow-
ing safety checks before releasing the set to the customer:
Check the antenna terminals, metal trim, "metallized" knobs, screws,
and all other exposed metal parts for AC leakage. Check leakage as
The AC leakage from any exposed metal part to earth Ground and
from all exposed metal parts to any exposed metal part having a
return to chassis, must not exceed 0.5 mA (500 microampers). Leak-
age current can be measured by any one of three methods.
1. A commercial leakage tester, such as the Simpson 229 or RCA
WT-540A. Follow the manufacturers' instructions to use these
2. A battery-operated AC milliammeter. The Data Precision 245
digital multimeter is suitable for this job.
3. Measuring the voltage drop across a resistor by means of a VOM
or battery-operated AC voltmeter. The "limit" indication is 0.75
V, so analog meters must have an accurate low-voltage scale.
The Simpson 250 and Sanwa SH-63Trd are examples of a pas-
sive VOM that is suitable. Nearly all battery operated digital
multimeters that have a 2V AC range are suitable. (See Fig. A)
Fig. A. Using an AC voltmeter to check AC leakage.
AEP, UK, E, AUS, CH model
Danger of explosion if battery is incorrectly replaced.
Replace only with the same or equivalent type recommended by
the equipment manufacturer.
Discard used batteries according to manufacture's instructions.
Lithiumbatteri - Eksplosionsfare ved fejlagtig håndtering.
Udskiftning må kun ske med batteri af samme fabrikat og type.
Levér det brugte batteri tilbage til leverandøren.
Eksplosjonsfare ved feilakting skifte av batteri.
Benytt samme batteritype eller en tilsvarende type anbefalt av
Brukte batterier katterier kasseres i henhold til fabrikantens
Explosionsfara vid felaktigt batteribyte.
Använd samma batterityp eller en likvärdig typ som rekommenderas
Kassera använt batteri enligt gällande föreakrifter.
Parist voi räjähtää, jos se on virheellisesti asennettu.
Vaihda paristo ainoastaan laitevalmistajan suosittelemaan tyyppiin.
Hävitä käytetty paristo valmistajan ohjeiden mukaisesti.
---

MEASURING VOLTAGE AND WAVEFORM
Measure the voltage and waveform of this unit at the following conditions.
1. Perform initialization. (Refer to the following.)
2. Rotate the INPUT SELECTOR knob and select CD.
3. Set the MASTER VOLUME to -20 dB.
4. Using a YEDS-18 disc (3-702-101-01), etc., input the reference signal 1 KHz 0 dB (Lch + Rch) into "CD DIGITAL Input".
(It is recommended that the CD player be set to the 1-track repeat mode during playback.)
Mode for initializing the state for setting the unit .
1. Press the MAIN MENU button to display "<<<CUSTOMIZE>>>".
2. Rotate the MENU knob to display "MEMORY CLEAR[NO]".
3. Rotate the +/­ knob to display "MEMORY CLEAR[YES]".
4. After about 1 second, "Are you sure [NO]" will be displayed. Rotate the +/­ knob to display "Are you sure [YES]".
5. After about 1 second, the power goes off automatically and initialization is executed. After this, the power turns on again.
1. SERVICING NOTE
.......................................................... 4
2. GENERAL
.......................................................................... 5
3. ELECTRICAL ADJUSTMENT
................................. 11
4-1. Circuit Boards Location ...................................................... 12
· Video Section ................................................................... 13
· S-Video Section ............................................................... 15
· Analog (1/3) Section ........................................................ 17
· Analog (2/3) Section ........................................................ 19
· Analog (3/3) Section ........................................................ 21
· Digital (DIR/ADC) Section ............................................. 23
· Digital (DSP) Section ...................................................... 25
· Digital (CPU (1/2)) Section ............................................. 27
· Digital (CPU (2/2)) Section ............................................. 29
· Digital (SRC/DAC) Section ............................................. 31
· Digital (IDAC/OUT) Section ........................................... 33
· Display Section ................................................................ 35
· AC-3RF Section ............................................................... 37
· Power Section .................................................................. 39
4-3. Schematic Diagram ­ Video Section ­ ................................ 43
4-4. Printed Wiring Board ­ Video Section ­ ............................. 45
4-5. Schematic Diagram ­ (S) Video Section ­ .......................... 47
4-6. Printed Wiring Board ­ (S) Video Section ­ ....................... 49
4-7. Schematic Diagram ­ Analog (1/3) Section ­ ..................... 51
4-8. Schematic Diagram ­ Analog (2/3) Section ­ ..................... 53
4-9. Schematic Diagram ­ Analog (3/3) Switch Section ­ ........ 55
4-10. Printed Wiring Board ­ Analog Section ­ ........................ 57
4-11. Printed Wiring Board ­ Digital Section ­ ........................ 59
4-12. Schematic Diagram ­ Digital (1/8) Section ­ .................. 63
4-13. Schematic Diagram ­ Digital (2/8) Section ­ .................. 65
4-14. Schematic Diagram ­ Digital (3/8) Section ­ .................. 67
4-15. Schematic Diagram ­ Digital (4/8) Section ­ .................. 69
4-16. Schematic Diagram ­ Digital (5/8) Section ­ .................. 71
4-17. Schematic Diagram ­ Digital (6/8) Section ­ .................. 73
4-18. Schematic Diagram ­ Digital (7/8) Section ­ .................. 75
4-19. Schematic Diagram ­ Digital (8/8) Section ­ .................. 77
4-20. Schematic Diagram ­ Display (1/2) Section ­ ................. 79
4-21. Schematic Diagram ­ Display (2/2) Section ­ ................. 81
4-22. Printed Wiring Board ­ Display Section ­ ....................... 83
4-23. Schematic Diagram ­ AC 3RF Section ­ ......................... 85
4-24. Printed Wiring Board ­ AC 3RF Section ­ ....................... 87
4-25. Schematic Diagram ­ Power Section ­ ............................ 89
4-26. Printed Wiring Board ­ Power Section ­ ......................... 91
4-27. Schematic Diagram ­ AC Input Section ­ ........................ 93
4-28. Printed Wiring Board ­ AC Input Section ­ ..................... 95
4-29. Schematic Diagram ­ Clock Section ­ ............................. 97
4-30. Printed Wiring Board ­ Clock Section ­ .......................... 97
4-31. IC Block Diagrams ........................................................... 98
4-32. IC Pin Functions ............................................................. 102
5-1. Back Panel Section ........................................................... 117
5-2. Front Panel Section ........................................................... 118
5-3. Chassis Section ................................................................. 119
6. ELECTRICAL PARTS LIST
...................................... 120
---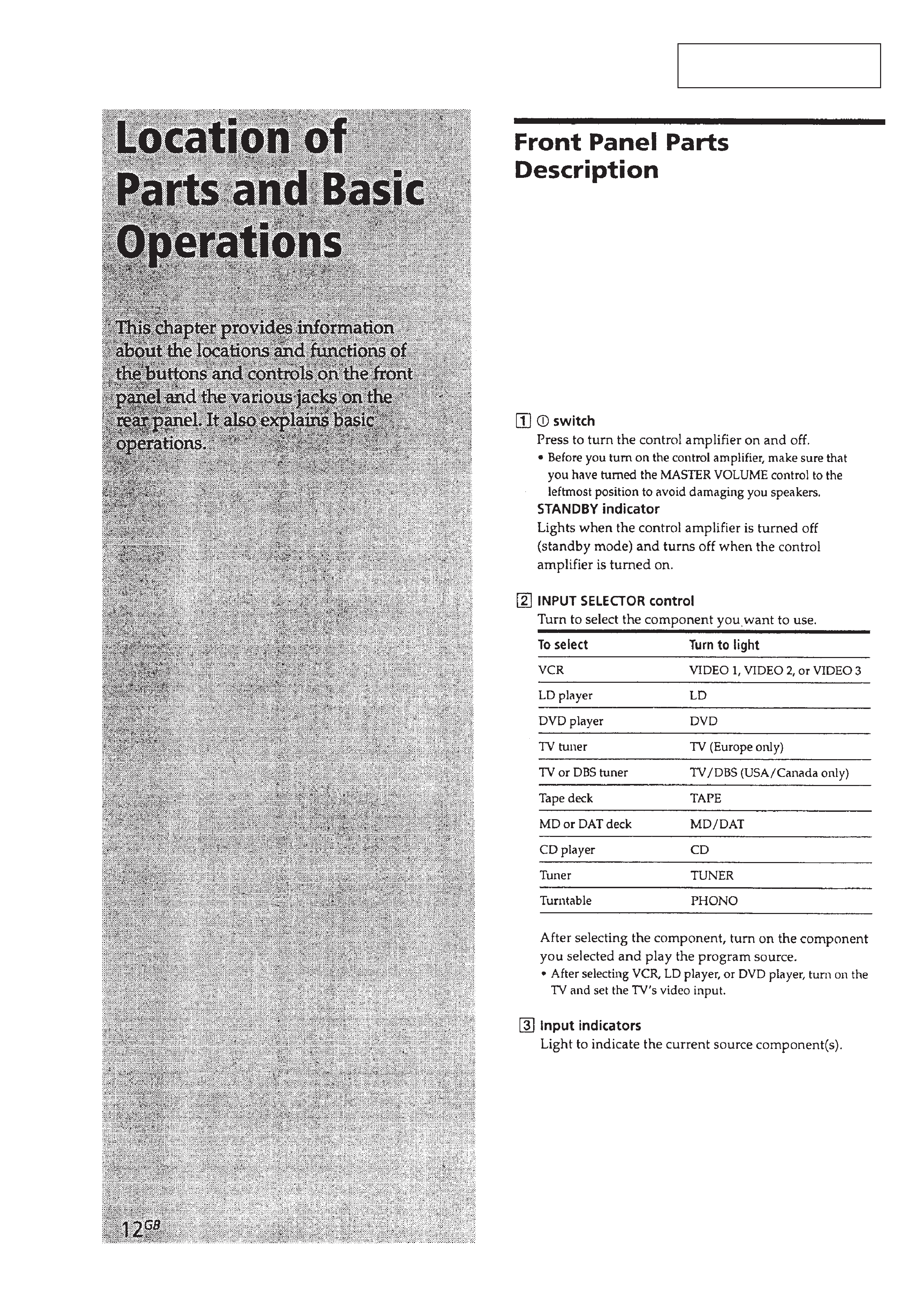 This section is extracted from
---