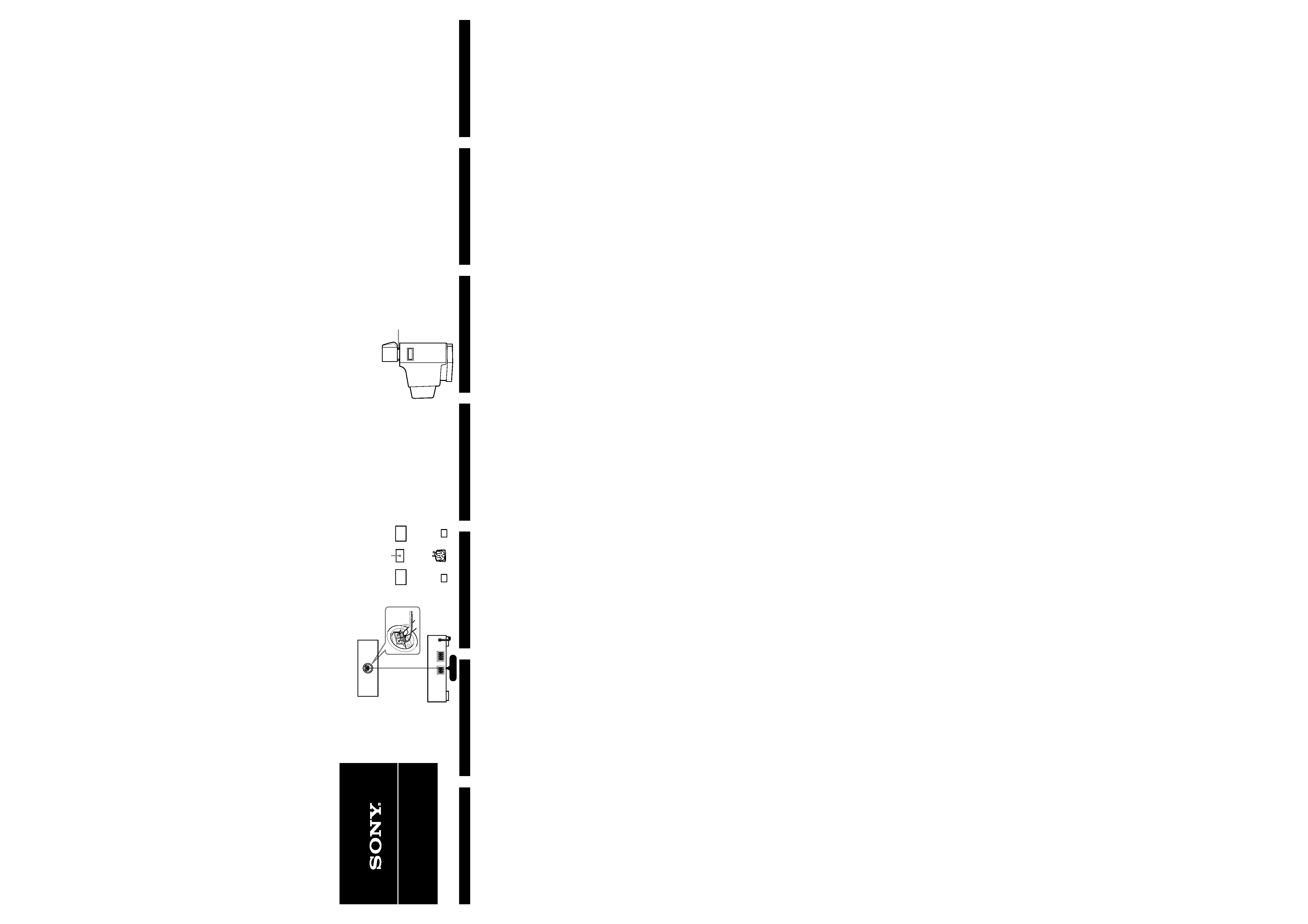 · Ne poussez pas de manière continue le système
d'enceintes à une puissance excédant la capacitè
d'entrée maximum du système.
· Avant de procéder au raccordement, mettez
l'amplificateur hors tension afin d'éviter
d'endommager le système d'enceintes.
· Si la polaritè +/­ des connexions n'est pas correcte,
les tonalités graves seront faibles et la position des
instruments pourra paraître instable.
· La grille de l'enceinte du système SS-CN290 ne
peut pas être retirée. Ne tentez pas de retirer la
grille de l'enceinte SS-CN290. Si vous essayez de
la retirer, vous risquez d'endommager l'enceinte.
Si vous observez des irrégularités de couleurs sur
Cette enceinte possède un blindage magnétique qui
vous permet de l'installer près d'un téléviseur.
Cependant, il est possible que des irrégularités de
couleurs puissent toutefois être observées sur certains
Si des anomalies de couleur apparaissent...
Eteignez une fois le téléviseur, puis remettez-le sous
tension au bout de 15 à 30 minutes.
Si les anomalies réapparaissent...
Eloignez les enceintes du téléviseur.
de l'enceinte de 2,5 m (1)
de l'enceinte de 2,5 m (1)
La conception et les spécifications peuvent être
· Avoid driving the speaker system
continuously with a wattage exceeding the
maximum input power of this speaker
· Before connecting, turn off the amplifier to
avoid damaging the speaker system.
· If the +/­ connection is incorrect, the bass
tones seem to be missing and the position of
the instruments becomes obscure.
· The speaker grille on the SS-CN290 cannot be
removed. Do not attempt to remove the grille
on the SS-CN290. If you try to remove it, you
In case color irregularity is observed on
With the magnetically shielded type of the
speaker system, the speakers can be installed
near a TV set. However color irregularity may
still be observed on the TV screen depending on
If color irregularity is observed...
Turn off the TV set once, then turn it on after 15
If color irregularity is observed again...
Place the speakers more apart from the TV set.
Power handling capacity Maximum input
Power handling capacity Maximum input
Design and specifications are subject to change
· Evite excitar el sistema de altavoces de forma
continua con un vataje superior a la potencia
máxima de entrada de este sistema de altavoces.
· Antes de realizar la conexión, apague el
amplificador para evitar dañar el sistema de
· Si la conexión +/­ es incorrecta, los tonos graves no
se apreciarán y la posición de los instrumentos no
· La rejilla de altavoz del SS-CN290 no puede
extraerse. No intente extraer la rejilla del SS-
CN290. Si lo intenta, puede dañar el altavoz.
Si el color de la pantalla de un TV cercano es
Puesto que el sistema de altavoces posee protección
magnética, éstos pueden instalarse cerca de un TV.
No obstante, es posible que se observe irregularidad
en el color de la pantalla del TV en función del tipo de
Si observa irregularidades en los colores...
Desconecte la alimentación de los altavoces, y vuelva
a conectarla después de unos 15 a 30 minutos.
Si vuelve a observar irregularidades en los
Separe los altavoces del televisor.
rejilla frontal no incluida
rejilla frontal no incluida
Diseño y especificaciones sujetos a cambio sin previo
· Laat het luidsprekersysteem niet continu werken
met een uitgangsvermogen dat de maximale
belastbaarheid overschrijdt.
· Zet de versterker voor het aansluiten af om te
voorkomen dat het luidsprekersysteem wordt
· Wanneer + en ­ zijn omgewisseld, is er minder
bass-geluid en is de positie van de instrumenten
· De frontgrille van de SS-CN290 kan niet worden
verwijderd. Probeer de frontgrille van de SS-
CN290 niet te verwijderen. Indien u dat toch doet,
kan de luidspreker worden beschadigd.
Wanneer de kleurweergave op een TV-scherm in
Het luidsprekersysteem is magnetisch afgeschermd
zodat de luidsprekers dicht bij een TV-toestel kunnen
worden geplaatst. Afhankelijk van het TV-toestel kan
de kleurweergave toch zijn gestoord.
Zet de TV af en zet hem na 15 tot 30 minuten weer
Indien de kleurafwijkingen nog niet zijn
Plaats de luidsprekers verder van de televisie af.
Wijzigingen in ontwerp en technische gegevens
voorbehouden zonder voorafgaande kennisgeving.
· Steuern Sie das Lautsprechersystem auf keinen Fall
kontinuierlich mit einer Nennleistung an, die die
maximale Belastbarkeit dieses
Lautsprechersystems überschreitet.
· Schalten Sie vor dem Anschließen den Verstärker
aus. Andernfalls kann das Lautsprechersystem
· Wenn + und ­ nicht korrekt angeschlossen sind,
fehlen scheinbar die Bässe, und die Raumposition
der Instrumente ist nicht mehr auszumachen.
· Das Lautsprechergitter am SS-CN290 kann nicht
abgenommen werden. Versuchen Sie also nicht,
das Gitter vom SS-CN290 abzunehmen.
Andernfalls kann der Lautsprecher beschädigt
Bei Farbstörungen auf einem Fernsehschirm in der
Da das Lautsprechersystem magnetisch abgeschirmt
ist, können die Lautsprecher in der Nähe eines
Fernsehgeräts aufgestellt werden. Bei manchen
Fernsehgeräten können jedoch immer noch
Farbstörungen auf dem Fernsehschirm auftreten.
Wenn Farbstörungen auftreten...
Schalten Sie das Fernsehgerät aus und nach 15 bis
Wenn noch immer Farbstörungen auftreten...
Stellen Sie das Gerät weiter vom Fernsehgerät
Änderungen, die dem technischen Fortschritt dienen,
· Undvik att driva systemet kontinuerligt med en
effekt som överstiger systemets maximala
· Innan du gör några anslutningar bör du stänga
av förstärkaren,så undviker du risken att
förstöra högtalarsystemet.
·Om +/­ anslutningen är felaktig försvinner
mycket av basen och instrumentens placering i
ljudbilden blir svår att uppfatta.
· Högtalarskyddet på SS-CN290 kan inte tas bort.
Om du försöker ta bort det kan du skada
Om färgoregelbundenheter uppkommer på TV-
Med ett magnetiskt avskärmat högtalarsystem kan
högtalarna installeras nära en TV. Emellertid kan
färgoregelbundenheter uppkomma på TV-
skärmen beroende på typ av TV.
Om färgavvikelser uppträder...
Stäng av TV:n och slå sedan på den igen efter 15
Om fägavvikelserna visas på nytt...
Placera enheten på större avstånd från TV:n.
Rätt till ändring av design och specifikationer
· Evitare di utilizzare il sistema diffusori per un
periodo continuato ad un wattaggio superiore alla
potenza di ingresso massima del presente sistema
· Prima di effettuare il collegamento, disattivare
l'amplificatore onde evitare di danneggiare il
· Se il collegamento +/­ non è stato effettuato
correttamente, i toni bassi sembrano mancare e la
posizione degli strumenti diventa difficile da
· La griglia dell'unitá SS-CN290 non può essere
rimossa. Non tentare di rimuovere la griglia
dell'apparecchio SS-CN290 onde evitare di
danneggiare il sistema diffusori.
Nel caso in cui si verificassero irregolaritá del
colore di schermi televisivi posti in prossimitá
Poichè il sistema diffusori è schermato
magneticamente, è possibile collocare i diffusori in
prossimità di apparecchi TV.
Tuttavia, a seconda del tipo di apparecchio TV,
potrebbero verificarsi irregolarità del colore dello
In caso di irregolarità del colore...
Spegnere il televisore, quindi accenderlo di nuovo
In caso di persistenza di irregolarità del colore...
Allontanare l'apparecchio dal televisore.
griglia anteriore esclusa
Il design e le caratteristiche tecniche sono soggetti a
modifiche senza preavviso.
To put the SS-CN490/CN290 on your TV set, attach a foot (supplied) to each bottom corner of the speaker,
and make sure that the speaker is completely flat on top of the TV.
Pour utiliser le système SS-CN490/CN290 sur votre téléviseur, fixez un pied (fourni) à chaque coin inférieur
du haut-parleur et assurez-vous que le haut-parleur est bien installé à plat sur le téléviseur.
Wenn Sie den SS-CN490/CN290 auf das Fernsehgerät stellen wollen, bringen Sie an jeder Ecke an der
Unterseite des Lautsprechers eine Unterlage an (mitgeliefert). Achten Sie darauf, daß der Lautsprecher
ganz eben auf dem Fernsehgerät steht.
Para colocar el SS-CN490/CN290 sobre el TV, fije un pie (suministrado) en cada una de las esquinas
inferiores del altavoz, y asegúrese de que éste está completamente nivelado sobre el TV.
Om de SS-CN490/CN290 op uw TV-toestel te plaatsen, bevestigt u een (meegeleverd) voetje op elke hoek
van de luidspreker en zorgt u ervoor dat de luidspreker volledig vlak op het TV-toestel staat.
För att ställa SS-CN490/CN290 ovanpå TVn bör du fästa fötterna (medföljer) i varje hörn av högtalaren, se
till att högtalaren står helt plant på TVn.
Per collocare l'unitá SS-CN490/CN290 sull'apparecchio TV, applicare i piedini in dotazione ad ogni angolo
inferiore del diffusore e accertarsi che il diffusore sia in posizione completamente stabile sul televisore.
To use the systems as surround
Pour utiliser le système comme
système de haut-parleur surround
So setzen Sie die Lautsprecher als
Surround-Lautsprechersystem ein
Para utilizar los sistemas como sistema
de altavoces de sonido envolvente
Gebruik van de systemen als surround
Per utilizzare i sistemi come sistema
---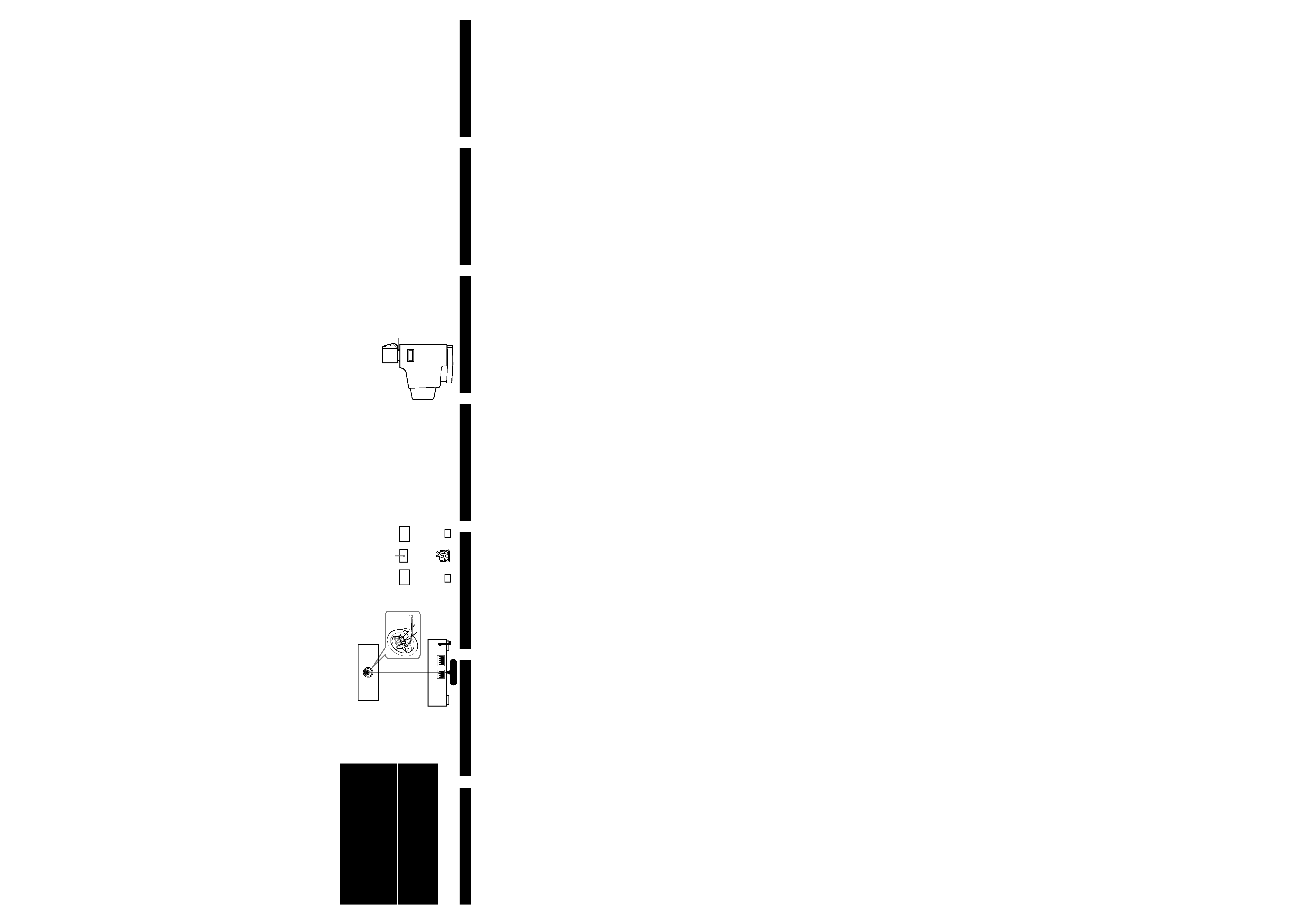 · Evite utilizar o sistema de colunas
continuamente com uma potência superior à
potência máxima de entrada do sistema de
· Antes de efectuar a ligação, desligue o
amplificador para evitar danos no sistema de
· Se a ligação +/­ estiver incorrecta, os tons
graves parece não existirem e a posição dos
instrumentos torna-se pouco clara.
· A grelha da coluna SS-CN290 não pode ser
removida. Não tente remover a grelha do SS-
CN290. Se tentar removê-la, pode danificar a
No caso de se observarem irregularidades nas
cores no ecrã do televisor
Com o tipo de sistema de colunas com
blindagem magnética, pode instalar as colunas
próximo de um televisor. No entanto,
dependendo do tipo de televisor. pode
continuar a observar irregularidades nas cores.
Se existirem interferências nas cores...
Desligue o televisor e ligue-o passados 15 a 30
Se ainda existirem interferências nas cores...
Afaste o aparelho do televisor.
O design e as características técnicas estão
sujeitas a alterações sem aviso prévio.
· Undgå vedvarende brug af højttalersystemet
med et wattforbrug, som overstiger hver
højttalers maksimale indgangseffekt.
· For at undgå at beskadige højttalersystemet
bør du slukke for forstærkeren inden
· Hvis +/­ tilslutningen ikke er korrekt,
mangler bastonerne, og instrumenternes
position bliver utydelig.
· Højttalerafskærmningen på SS-CN290 kan
ikke fjernes. Undgå at fjerne afskærmningen
på SS-CN290. Hvis du forsøger at fjerne den,
kan du beskadige højttaleren.
Hvis der opstår farveunøjagigheder på tv-
Idet højttalersystemet er magnetbeskyttet, kan
højttalerne installeres tæt på tv'et. Der kan dog
opstå farveuregelmæssigheder på tv-skærmen
afhængigt af, hvilket tv du har.
Hvis der opstår farveuregelmæssigheder...
Sluk for tv'et én gang, og tænd igen efter 15 til
Hvis der opstår farveuregelmæssigheder
Anbring enheden længere væk fra tv'et.
Ret til ændring i design og specifikationer
· Älä käytä kaiuttimia jatkuvasti teholla, joka
on suurempi kuin näiden kaiuttimien suurin
· Katkaise vahvistimesta virta ennen
kaiuttimien liittämistä, jotta kaiuttimet eivät
· Jos +/­ johtimet on liitetty väärin, matalat
äänet kuuluvat vaimeina, ja soitinäänien
paikkaa äänikentässä on vaikea hahmottaa.
· SS-CN290:n etuverkkoa ei voi irrottaa. Älä
yritä irrottaa SS-CN290:n etuverkkoa. Jos
yrität irrottaa sen, kaiutin voi vahingoittua.
Jos lähellä olevan television kuvassa näkyy
Kaiutin on magneettisesti suojattu, joten sen voi
asentaa lähelle televisiota. Television tyypin
mukaan voi silti olla, että kuvaruudussa näkyy
Jos värivirheitä näkyy...
Katkaise televisiosta virta, odota 15-30
minuuttia ja kytke virta takaisin.
Jos värivirheitä näkyy edelleen...
Siirrä kaiutin kauemmas televisiosta.
Valmistaja pidättää itsellään oikeuden muuttaa
laitteen muotoilua ja ominaisuuksia ilman
· Vyhnte se dlouhodobému buzení soustavy
reproduktor výkonem pesahujícím
maximální píkon tohoto systému.
· Ped pipojením vypnte zesilovac, aby
nedoslo k poskození reproduktor.
· Je-li pipojení +/­ nesprávné, bude se zdát, ze
chybí basové tóny a pozice jednotlivých
· Mízku reproduktoru SS-CN290 nelze
sejmout. Nepokousejte se sejmout mízku
reproduktoru SS-CN290. Pokusíte-li se o to,
mzete reproduktor poskodit.
Na obrazovce nedaleko umístného
televizoru jsou nevyrovnané barvy
Magneticky stínná soustava reproduktor mze
být umístna blízko televizoru. I tak ale mze na
obrazovce televizoru docházet k urcité
nevyrovnanosti barev, zálezí na typu televizoru.
Dochází k nevyrovnanosti barev...
Vypnte televizor a po 15 az 30 minutách jej
Nevyrovnanost barev nezmizela...
Umístte pístroj dále od televizoru.
Vzhled a technické parametry mohou být
zmnny bez pedchozího upozornní.
· Ügyeljen arra, hogy a hangsugárzórendszer
bemeneteire ne kerüljön a névleges maximális
bemeneti teljesítménynél nagyobb watt-
· A hangsugárzórendszer károsodásának
megakadályozása érdekében csatlakoztatás
eltt kapcsolja ki az ersítt.
· Ha a +/­ csatlakoztatás nem megfelel, a mély
hangok hiányozhatnak és a hangszerek
elhelyezkedése sem észlelhet egyértelmen.
· Az SS-CN290 típusú hangsugárzó
textileltétje nem távolítható el, ezzel ne
próbálkozzon. Az eltét eltávolítása a
hangsugárzó károsodását okozhatja.
Ha a közelben lév televíziókészüléken nem
megfelelen jelennek meg a színek
Mágnesesen árnyékolt hangsugárzórendszer
esetén a hangsugárzók a televíziókészülék
közelében is elhelyezhetk. A televíziókészülék
típusától függen azonban így is elfordulhat,
hogy megváltoznak a színek.
Ha nem megfelelek a színek...
Kapcsolja ki a televíziókészüléket, majd 15-30
perc elteltével kapcsolja be újra.
Ha még mindig rosszak a színek...
Helyezze a hangszórót televíziókészüléktl
A mszaki adatok és a formaterv változtatásának
jogát - minden külön értesítés nélkül -
· Nie wolno w sposób cigly zasila gloników moc
przekraczajc warto maksymalnej mocy
· Przed podlczeniem naley wylczy wzmacniacz,
aby unikn uszkodzenia zestawu glonikowego.
· Jeli polczenie +/­ jest nieprawidlowe, mona
odnie wraenie, e brakuje basów i e dwik
poszczególnych instrumentów nie jest wyrany.
· Siatka glonika SS-CN290 nie moe by usuwana.
Nie naley podejmowa prób wyjmowania siatki
glonika SS-CN290. Próba demontau siatki moe
spowodowa uszkodzenie glonika.
Jeli na ekranie odbiornika telewizyjnego zostan
zaobserwowane nieregularnoci koloru...
Dziki budowie zabezpieczajcej przed dzialaniem
pola magnetycznego gloniki mona ustawia w
pobliu odbiornika telewizyjnego. Nieregularno
koloru moe jednak wystpowa w zalenoci od
Jeeli zaobserwujesz nieregularno koloru...
Wylcz odbiornik telewizyjny, a nastpnie wlcz go
Jeeli ponownie zaobserwujesz nieregularno
Ustaw glonik dalej od odbiornika telewizyjnego.
Wymiary (szer./wys./glb.)
Wymiary (szer./wys./glb.)
Producent zastrzega sobie prawo zmiany projektu i
danych technicznych bez uprzedniego
· Peea ppe cceax SS-CN290 e
Para colocar o SS-CN490/CN290 no televisor, anexe um pé (fornecido) a cada canto debaixo da coluna e
verifique se a coluna está totalmente assente em cima do televisor.
Aby ustawi glonik SS-CN490/CN290 na odbiorniku TV, naley umieci podkladki w naronikach na
spodzie glonika (znajduj si w wyposaeniu) i sprawdzi, czy glonik stoi poziomo na odbiorniku TV.
yca SS-CN490/CN290 a eep, ppee paaee cy ya
ppe yeec, ccea p pacea a epxc eepa.
Fastgør puden (medfølger) til hvert hjørne af højttaleren, hvis du vil anbringe SS-CN490/CN290 på tv'et, og
kontroller, at højttaleren er fuldstændig plan oven på tv'et.
Jos haluat liittää SS-CN490/CN290-kaiuttimen television päälle, kiinnitä kaiuttimen jokaiseen kulmaan
pehmustetyyny (sisältyvät vakiovarusteisiin). Varmista, että kaiutin on täysin tasaisesti television päällä.
Chcete-li umístit reproduktor SS-CN490/CN290 na televizor, pipevnte zespoda do roh reproduktoru
nozicky (soucást dodávky) a zkontrolujte, zda je reproduktor na televizoru umístn stabiln.
Az SS-CN490/CN290 hangsugárzó televíziókészüléken való elhelyezéséhez illesszen egy-egy (mellékelt)
talpat a hangsugárzó alsó sarkaihoz, majd biztosítsa a stabil elhelyezkedését a készüléken.
Para utilizar como um sistema de
Uywanie systemu jako systemu
gloników typu ,,surround"
Sådan bruge systemerne som surround
Pouzití soustavy jako systému
prostorového zvuku surround
A sorround hangsugárzórendszer
---