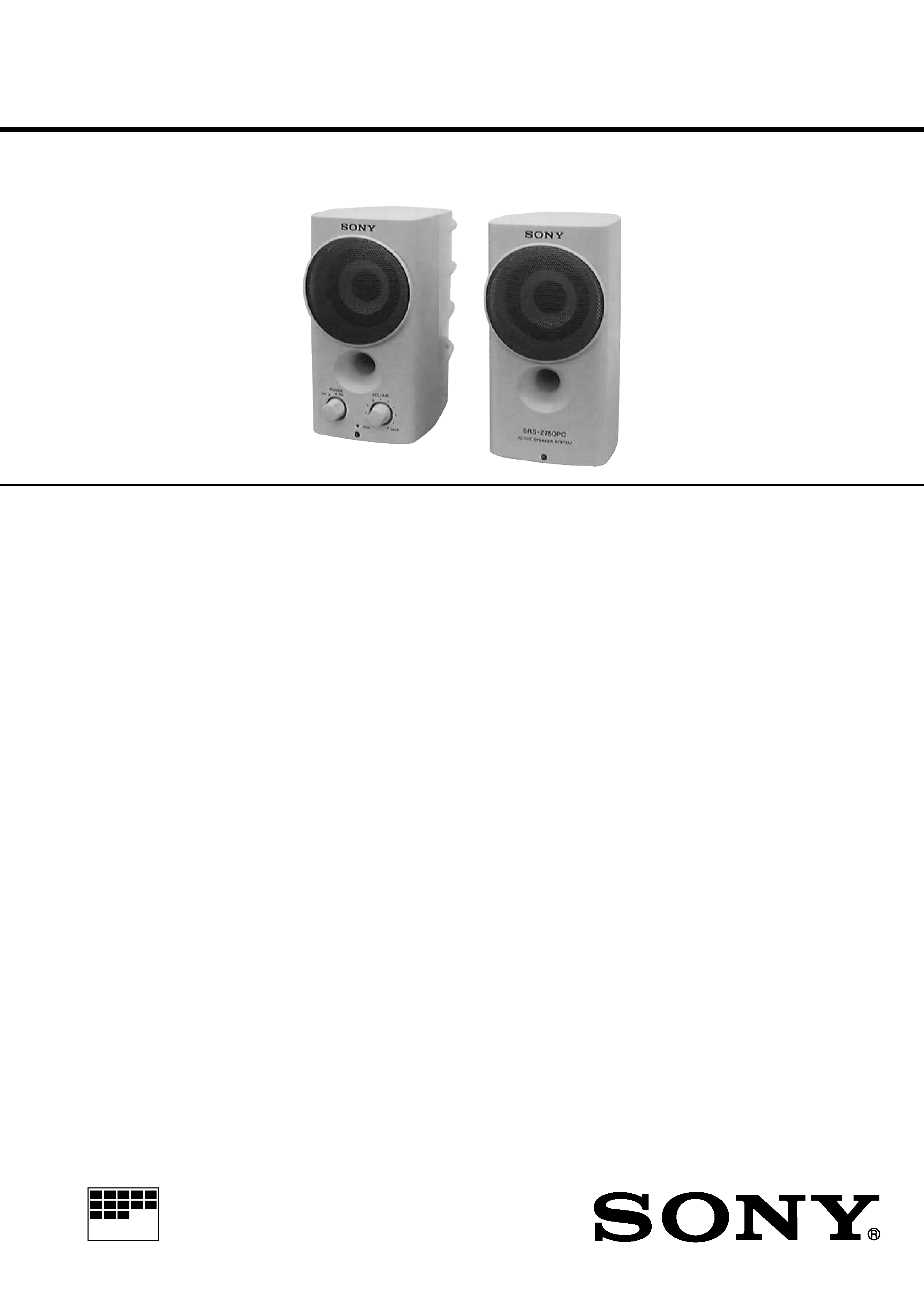 STEREO ACTIVE SPEAKER SYSTEM
Full-range, bass reflex type
Magnetically shielded ø65 mm
DC IN 15 V jack accepts the
supplied Sony AC power adaptor
× 6
1/8
in.) (w/h/d) incl.
projecting parts and controls
Left speaker: Approx. 850 g (1 lb. 14 oz.)
Right speaker: Approx. 750 g (1 lb. 10 oz.)
AC power adaptor AC-S1510 (1)
Connecting cord (stereo miniplug
Design and specifications are subject to change without
The CE mark on the unit is valid only for products
marketed in the European Union.
---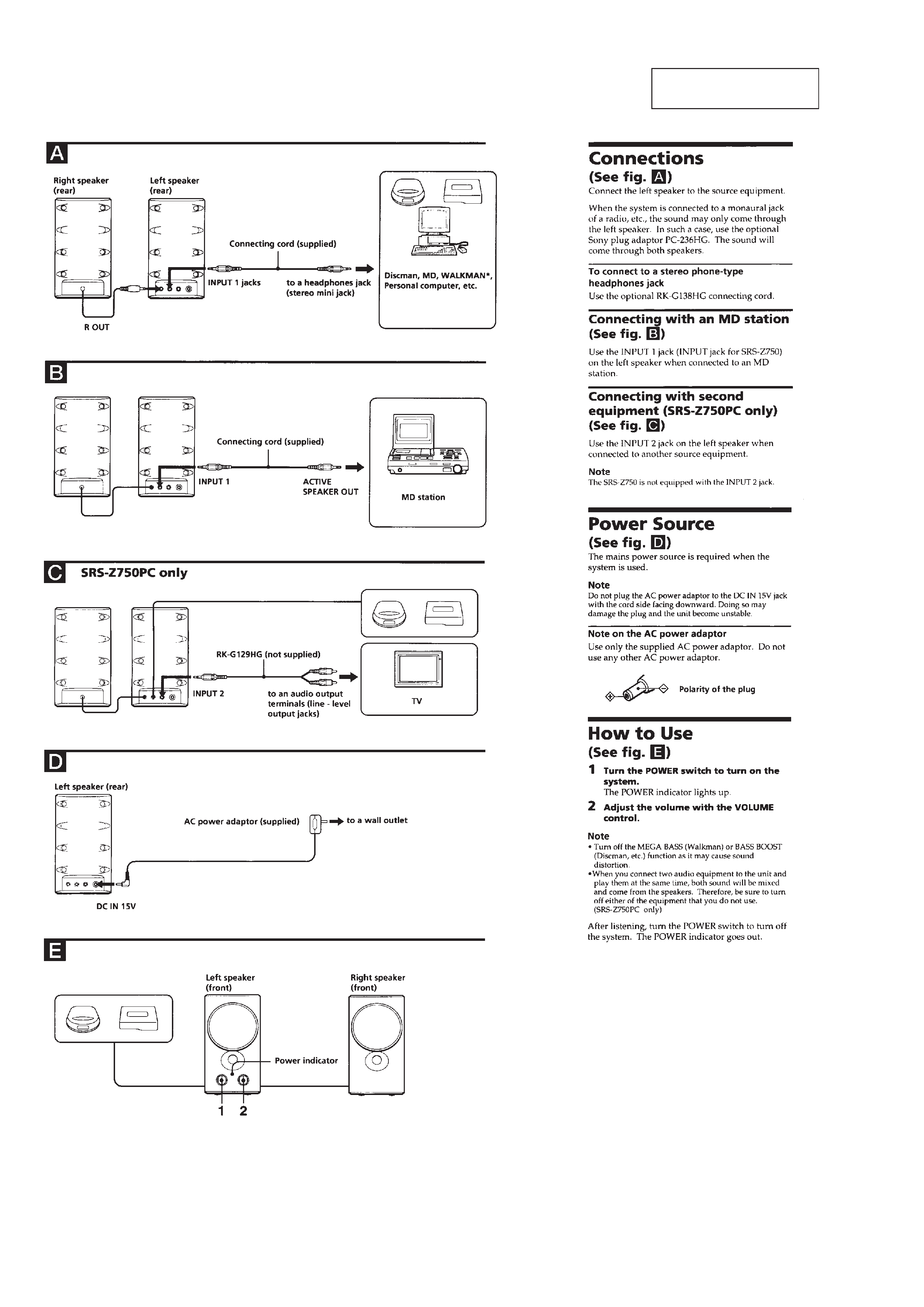 This section is extracted
---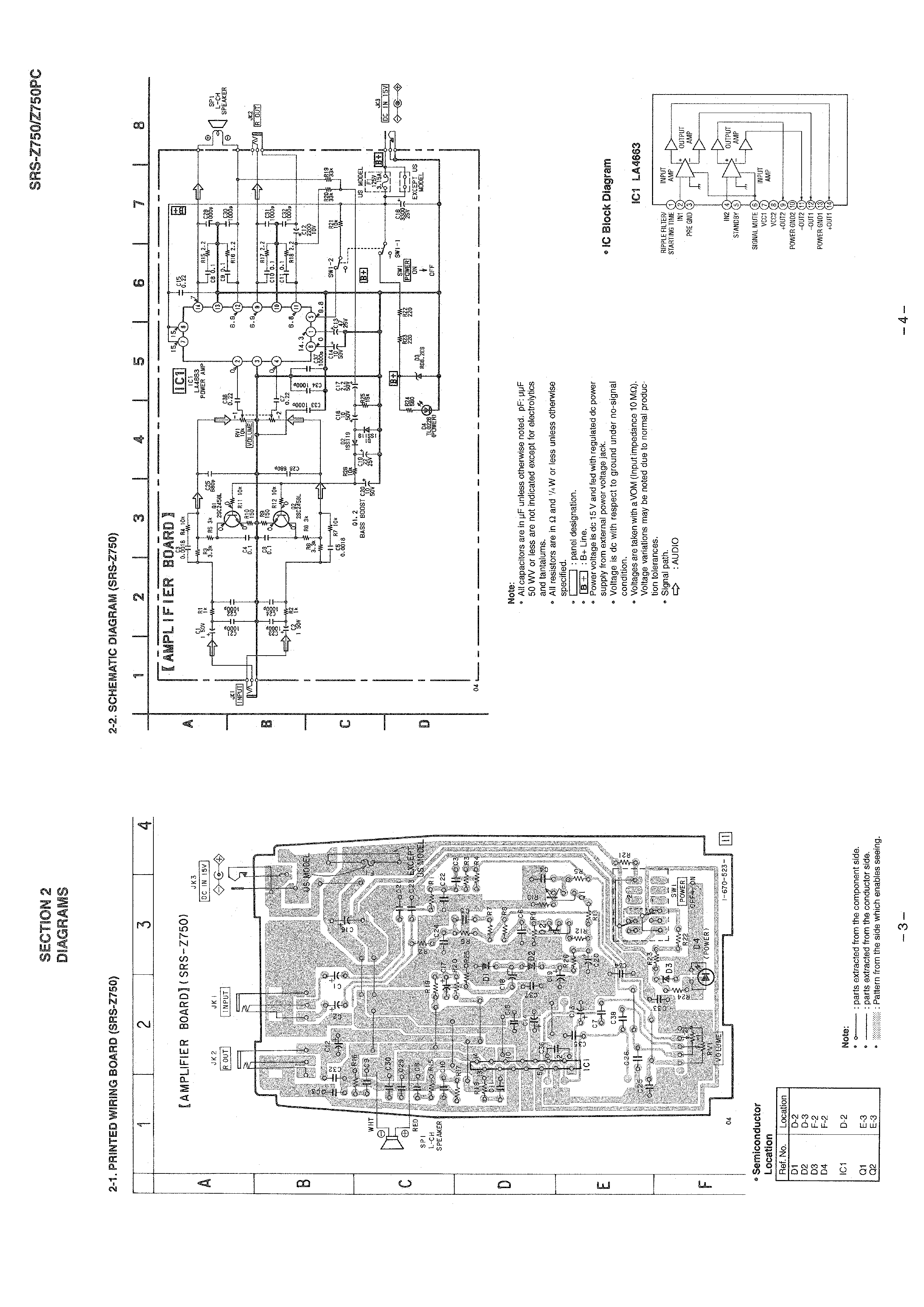 ---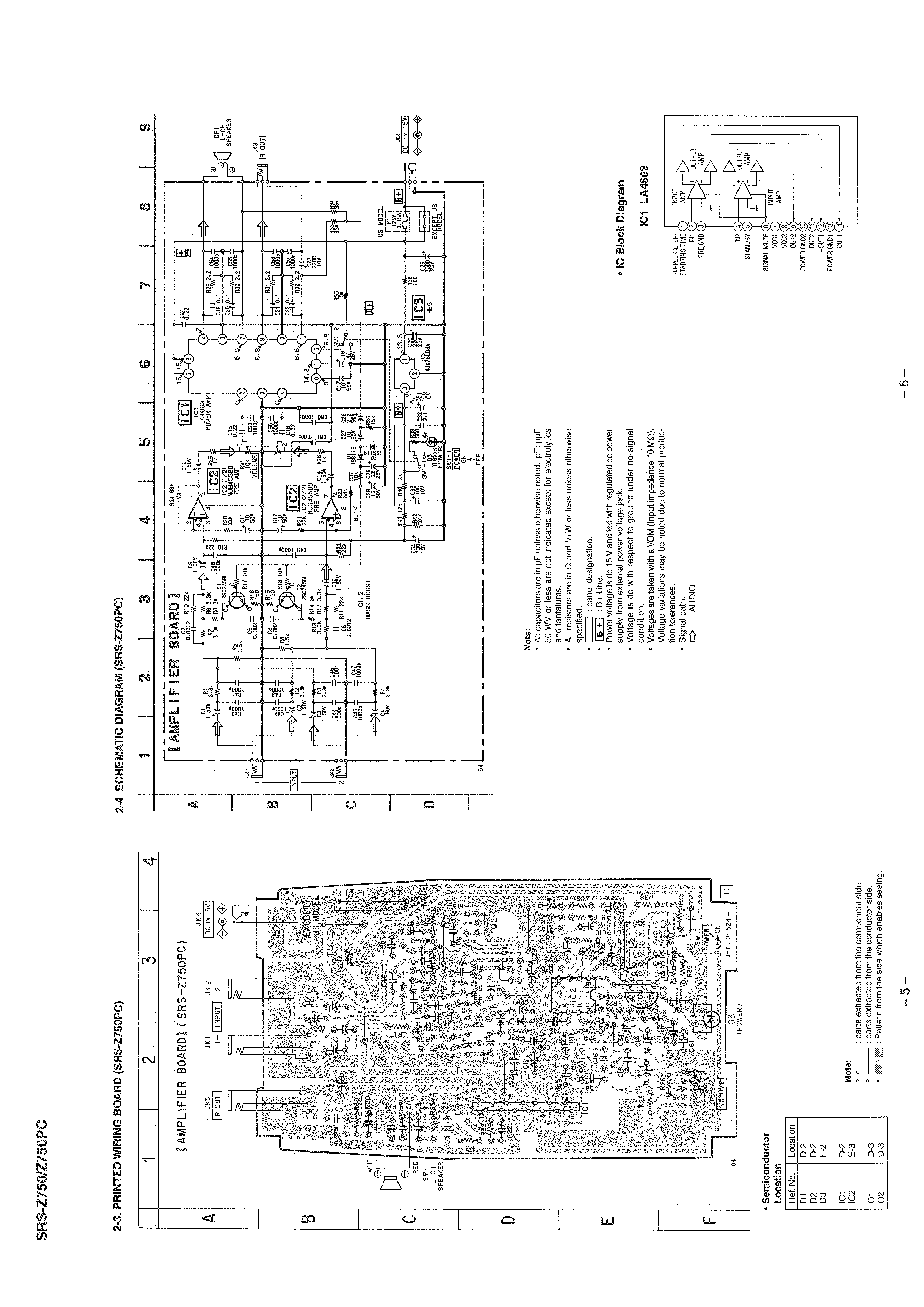 ---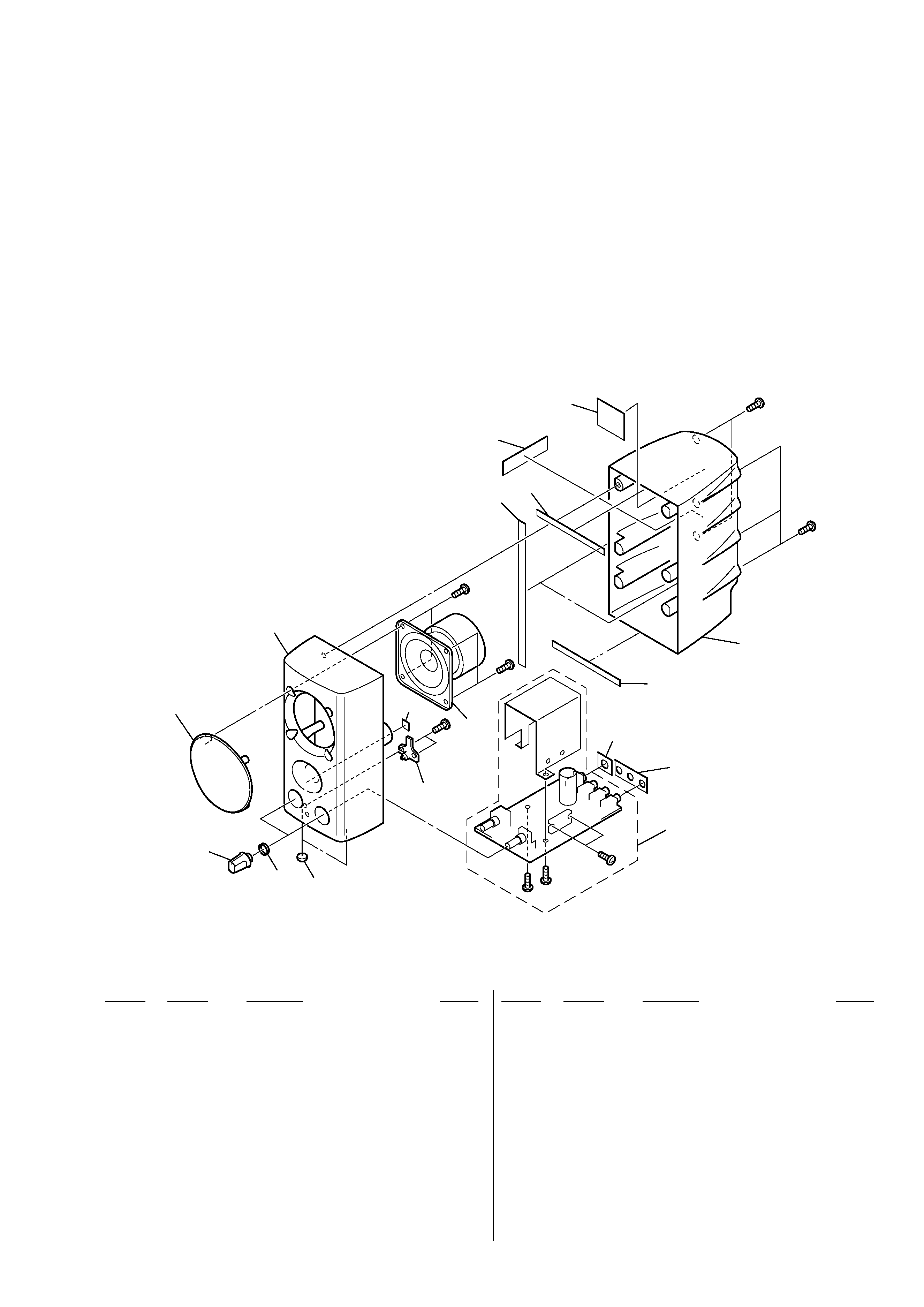 · The mechanical parts with no reference
number in the exploded views are not supplied.
· Items marked "*" are not stocked since
they are seldom required for routine service.
Some delay should be anticipated
when ordering these items.
· Accessories and packing materials and
hardware (# mark) list are given in
the last of this parts list.
· -XX and -X mean standardized parts, so
they may have some difference from the
· Color Indication of Appearance Parts
KNOB, BALANCE (WHITE) ... (RED)
Parts Color Cabinet's Color
X-4950-204-1 GRILLE ASSY (Z750)
X-4950-416-1 GRILLE ASSY (Z750PC)
4-210-925-11 KNOB (Z750PC)
4-210-919-01 CABINET (L), FRONT (Z750)
4-210-919-11 CABINET (L), FRONT (Z750PC)
4-210-933-01 PLATE, LIGHT GUIDE
4-210-927-01 PACKING (LARGE)
4-210-928-01 PACKING (SMALL)
4-210-921-01 CABINET (L), REAR (Z750)
4-210-921-11 CABINET (L), REAR (Z750PC)
4-210-929-01 PACKING (JACK)
4-210-931-01 PACKING (POWER)
A-4542-541-A AMPLIFIER BOARD, COMPLETE (Z750PC:US)
A-4542-542-A AMPLIFIER BOARD, COMPLETE
A-4542-543-A AMPLIFIER BOARD, COMPLETE (Z750:US)
A-4542-544-A AMPLIFIER BOARD, COMPLETE
4-210-932-01 PACKING (DC-IN)
4-964-032-01 SPRING, COIL
4-210-930-01 ABSORBENT, ACOUSTIC (EXCEPT US)
3-703-044-26 LABEL, CAUTION (US)
1-505-926-11 SPEAKER (065F042)
---