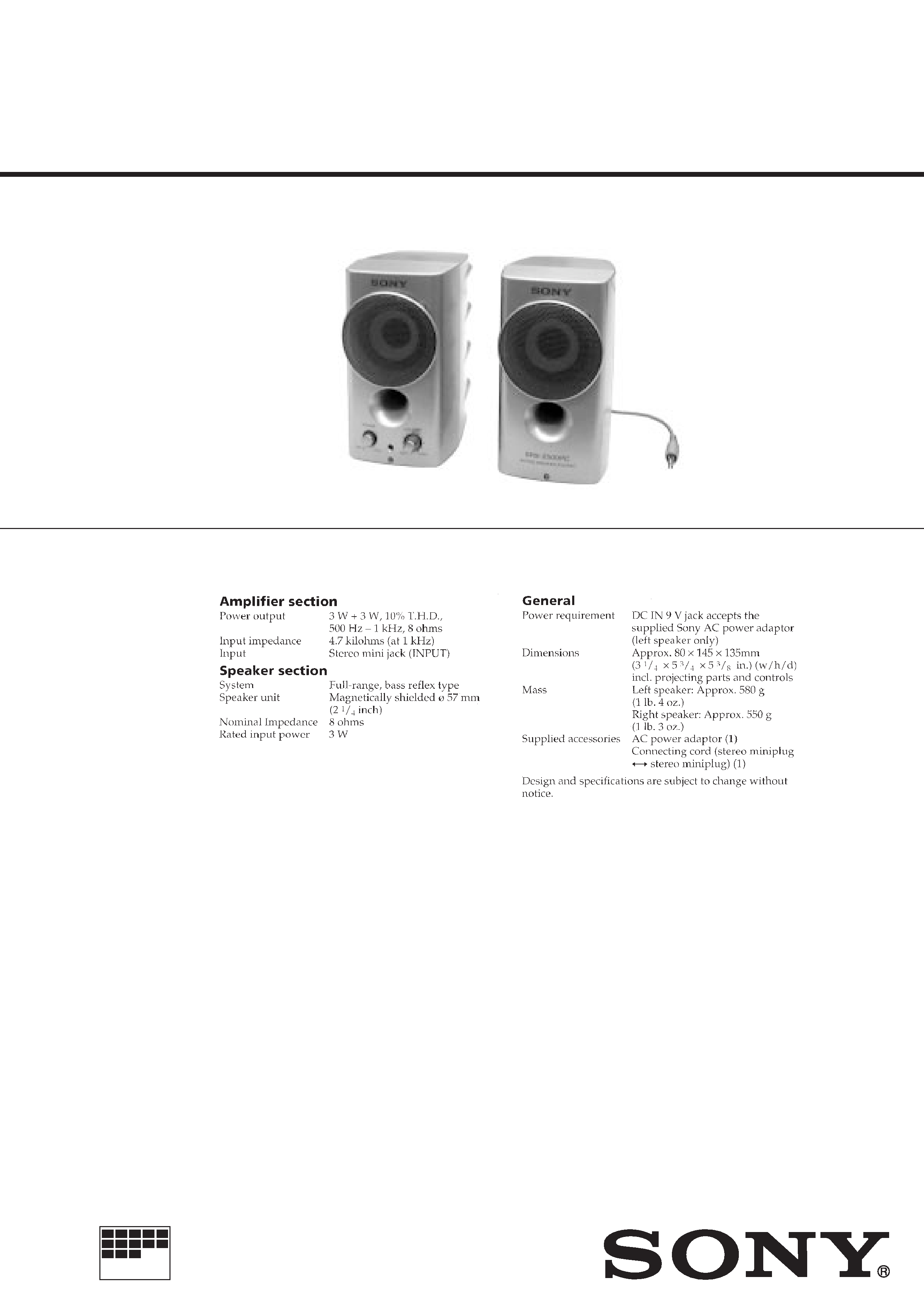 STEREO ACTIVE SPEAKER SYSTEM
---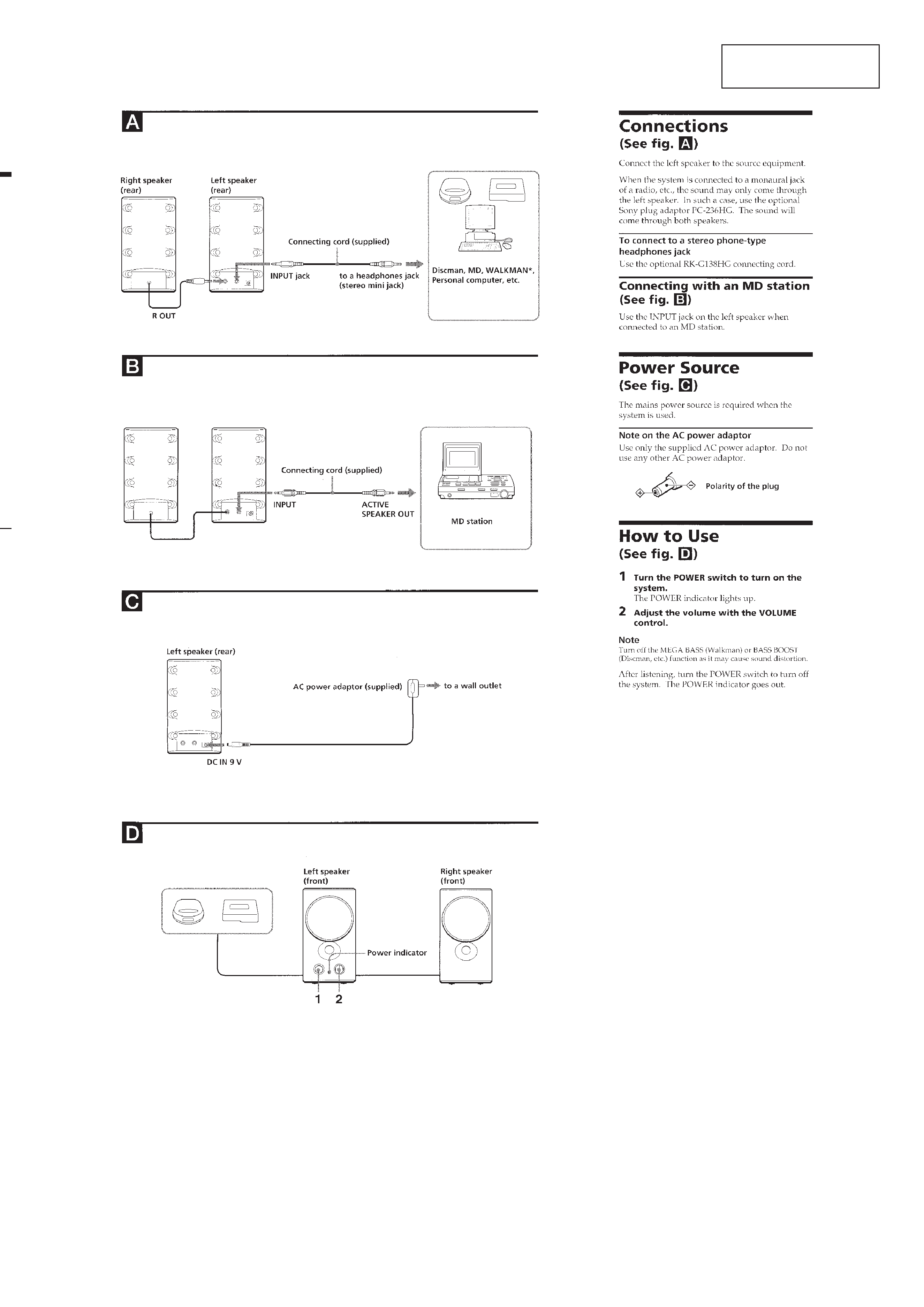 This section is extracted
---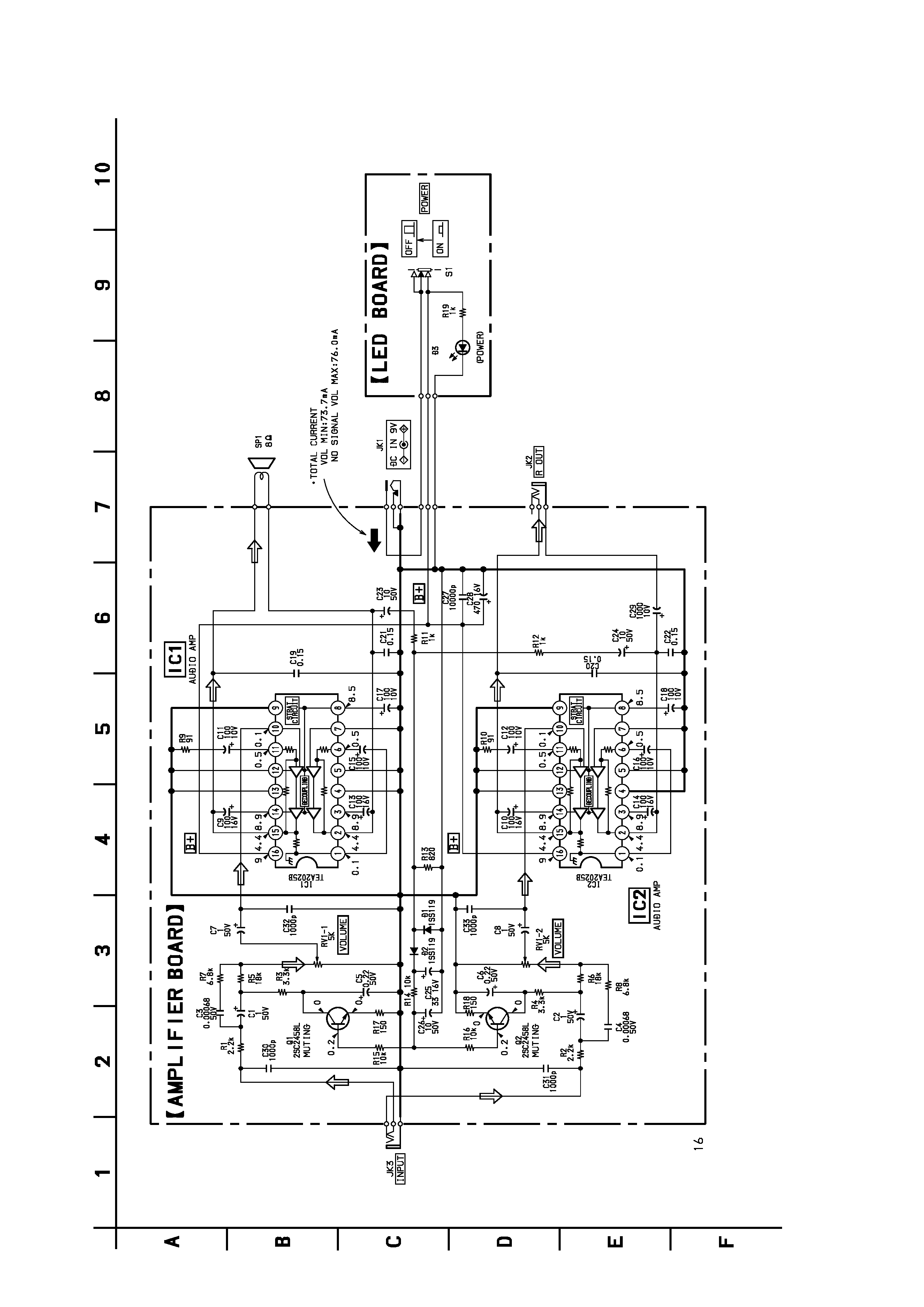 Note on Schematic Diagram:
· All capacitors are in µF unless otherwise noted. pF: µµF
50 WV or less are not indicated except for electrolytics
and
1
/
4
W or less unless otherwise
· Power voltage is dc 9 V and fed with regulated dc power supply
from external power voltage jack.
· Voltages and waveforms are dc with respect to ground under no-
signal (detuned) conditions.
· Voltages are taken with a VOM (Input impedance 10 M
Voltage variations may be noted due to normal production toler-
---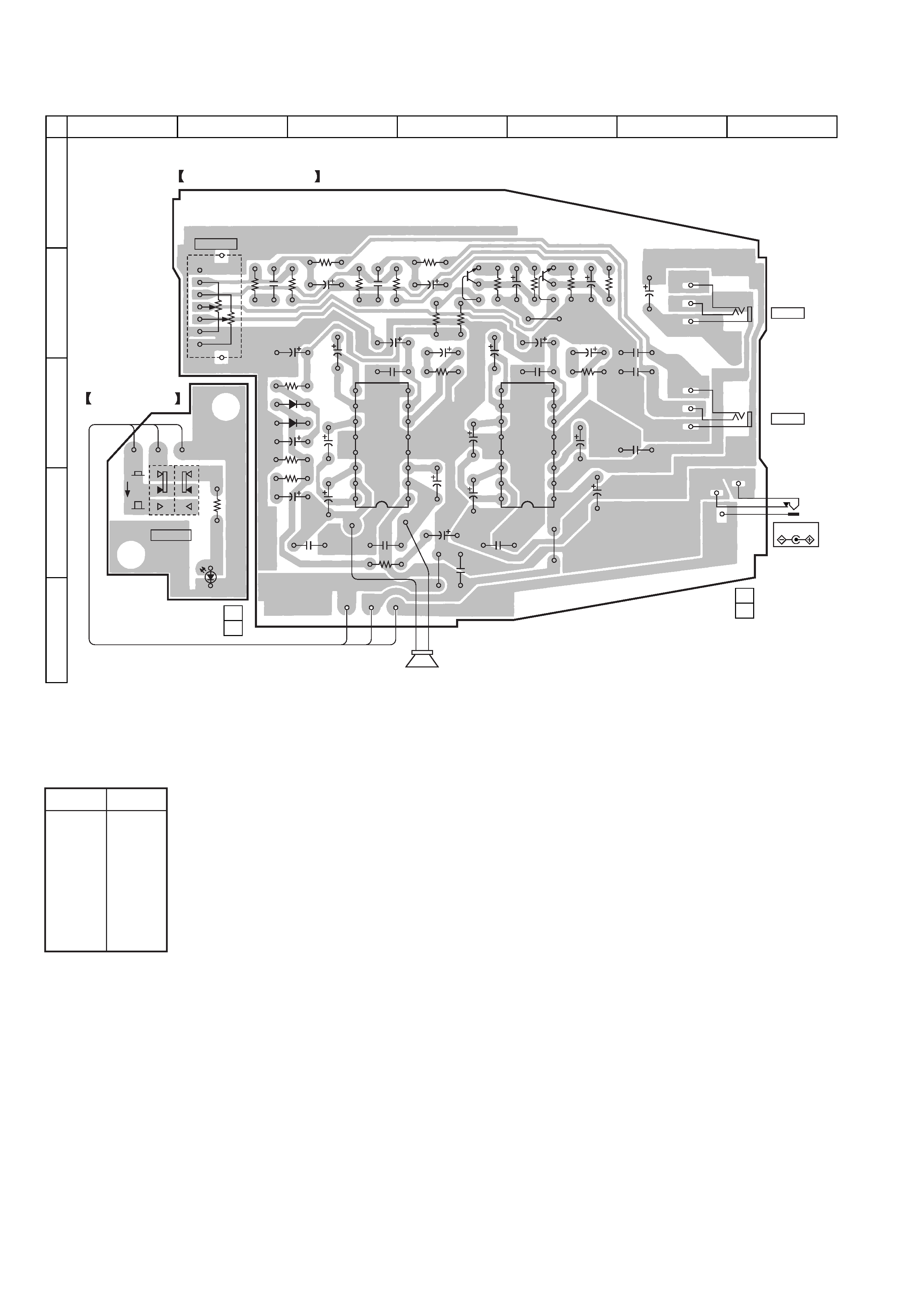 2-2. PRINTED WIRING BOARD
Note on Printed Wiring Board:
· X : parts extracted from the component side.
· b : Pattern from the side which enables seeing.
---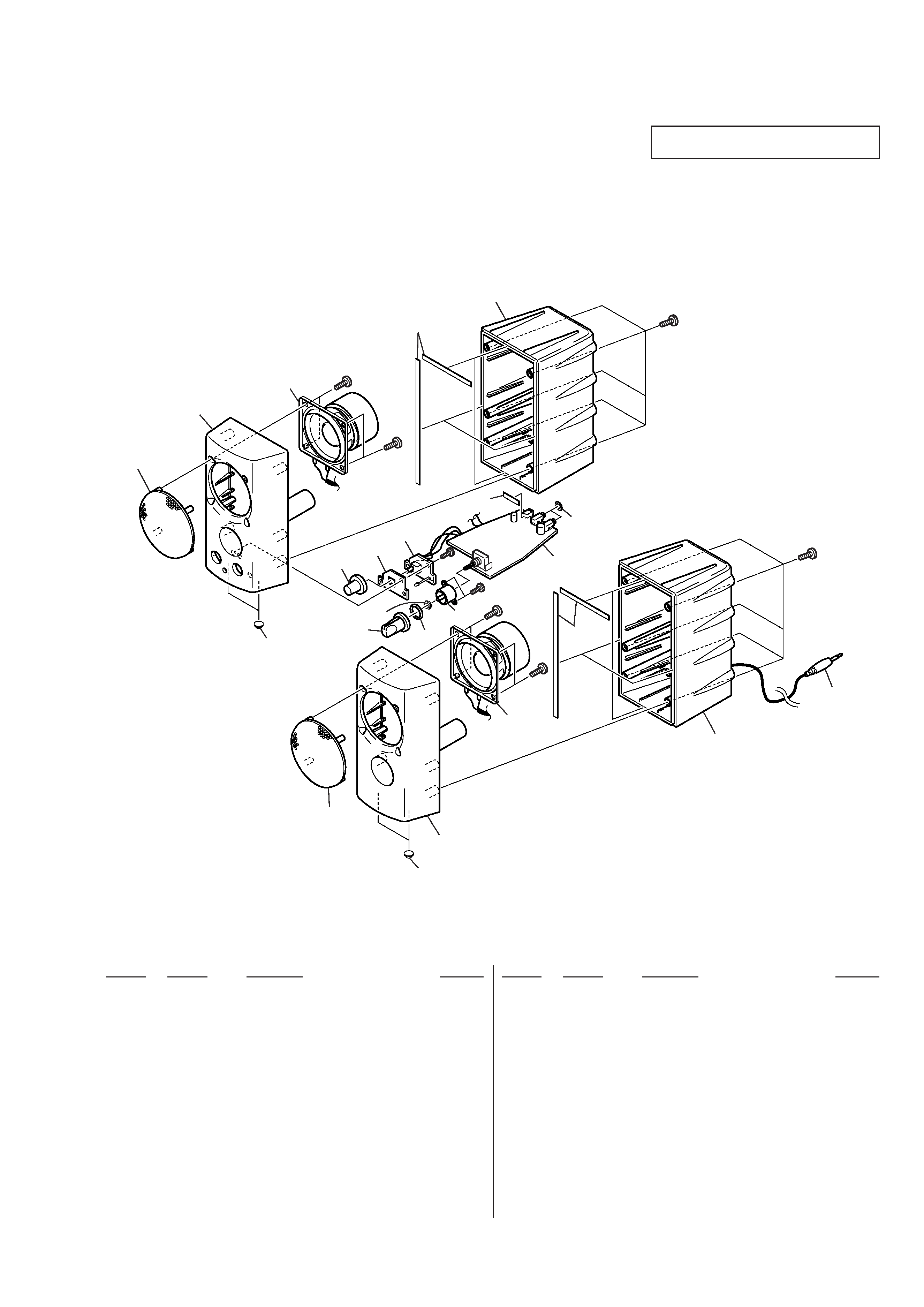 -XX, -X mean standardized parts, so they may
have some differences from the original one.
Items marked "*" are not stocked since they
are seldom required for routine service. Some
delay should be anticipated when ordering these
The mechanical parts with no reference number
in the exploded views are not supplied.
Hardware (# mark) list and accessories and
packing materials are given in the last of this
When indicating parts by reference number,
please include the board name.
X-4950-285-1 GRILLE ASSY (Z500)
X-4950-436-1 GRILLE ASSY (Z500PC)
4-211-620-01 CABINET (L), FRONT (Z500)
4-211-620-11 CABINET (L), FRONT (Z500PC)
4-211-621-01 CABINET (L), REAR (Z500)
4-211-621-11 CABINET (L), REAR (Z500PC)
A-4542-548-A AMPLIFIER BOARD,COMPLETE
4-213-000-01 CUSHION (LEDM'T)
4-211-625-01 BUTTON (POWER)(Z500)
4-211-625-11 BUTTON (POWER)(Z500PC)
4-211-627-01 KNOB (VOLUME) (Z500)
4-211-627-11 KNOB (VOLUME) (Z500PC)
4-212-999-01 CUSHION, VOLUME
4-211-624-01 HOLDER, VOLUME
1-769-080-11 CORD (WITH PLUG) (Z500)
1-769-080-31 CORD (WITH PLUG) (Z500PC)
4-211-629-01 CABINET (R), REAR (Z500)
4-211-629-11 CABINET (R), REAR (Z500PC)
4-211-628-01 CABINET (R), FRONT (Z500)
4-211-628-11 CABINET (R), FRONT (Z500PC)
1-529-138-11 SPEAKER (057F016)
1-529-138-11 SPEAKER (057F016)
---