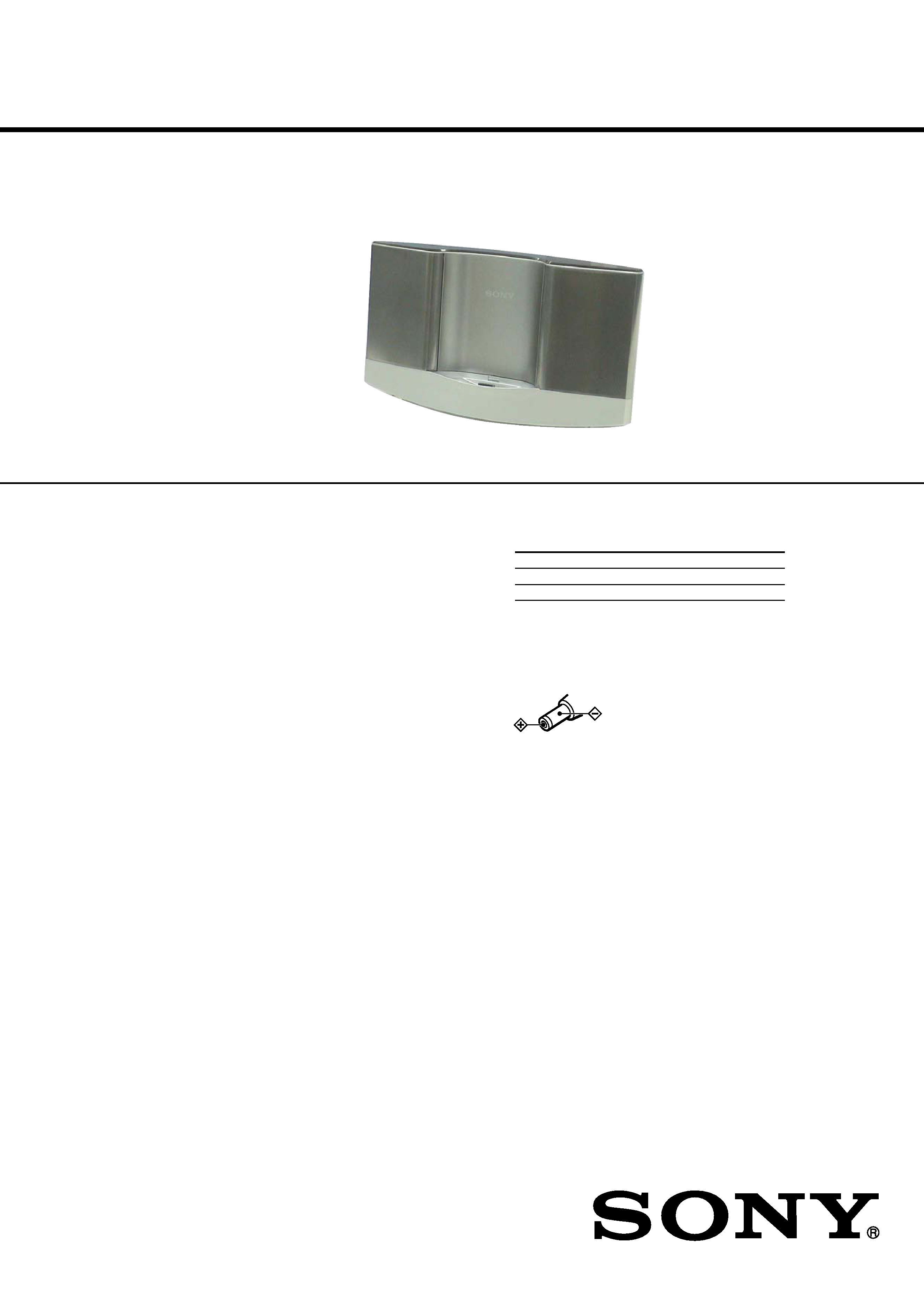 Published by Sony Engineering Corporation
39 mm, Full range, magnetically
Three R6 (size AA) batteries, DC 5.2
V (supplied AC power adaptor)
Approx. 560 g (1 lb. 4 oz.)
Attachment for NW-A1000 series (1)
Attachment for NW-A3000 series (1)
Operating Instructions (1)
Design and specifications are subject to change without
(5 mW + 5 mW output, illumination off)
Sony alkaline battery LR6 (SG)
Sony manganese battery R6
* Usage time stated above may vary according to the temperature
* Battery life will be shorter when the illumination is on.
Note on the AC power adaptor
Use only the supplied AC power adaptor. Do not use any
other AC power adaptor to avoid damaging the speaker.
---

Boards requiring use of unleaded solder are printed with the lead-
free mark (LF) indicating the solder contains no lead.
(Caution: Some printed circuit boards may not come printed with
the lead free mark due to their particular size)
Unleaded solder has the following characteristics.
· Unleaded solder melts at a temperature about 40 °C higher
Ordinary soldering irons can be used but the iron tip has to be
applied to the solder joint for a slightly longer time.
Soldering irons using a temperature regulator should be set to
Caution: The printed pattern (copper foil) may peel away if
the heated tip is applied for too long, so be careful!
Unleaded solder is more viscou-s (sticky, less prone to flow)
than ordinary solder so use caution not to let solder bridges
occur such as on IC pins, etc.
· Usable with ordinary solder
It is best to use only unleaded solder but unleaded solder may
also be added to ordinary solder.
ATTENTION AU COMPOSANT AYANT RAPPORT
LES COMPOSANTS IDENTIFIÉS PAR UNE MARQUE 0 SUR
LES DIAGRAMMES SCHÉMATIQUES ET LA LISTE DES
FONCTIONNEMENT. NE REMPLACER CES COM- POSANTS
QUE PAR DES PIÈCES SONY DONT LES NUMÉROS SONT
DONNÉS DANS CE MANUEL OU DANS LES SUPPLÉMENTS
SAFETY-RELATED COMPONENT WARNING!!
COMPONENTS IDENTIFIED BY MARK 0 OR DOTTED LINE
WITH MARK 0 ON THE SCHEMATIC DIAGRAMS AND IN
THE PARTS LIST ARE CRITICAL TO SAFE OPERATION.
REPLACE THESE COMPONENTS WITH SONY PARTS WHOSE
PART NUMBERS APPEAR AS SHOWN IN THIS MANUAL OR
IN SUPPLEMENTS PUBLISHED BY SONY.
---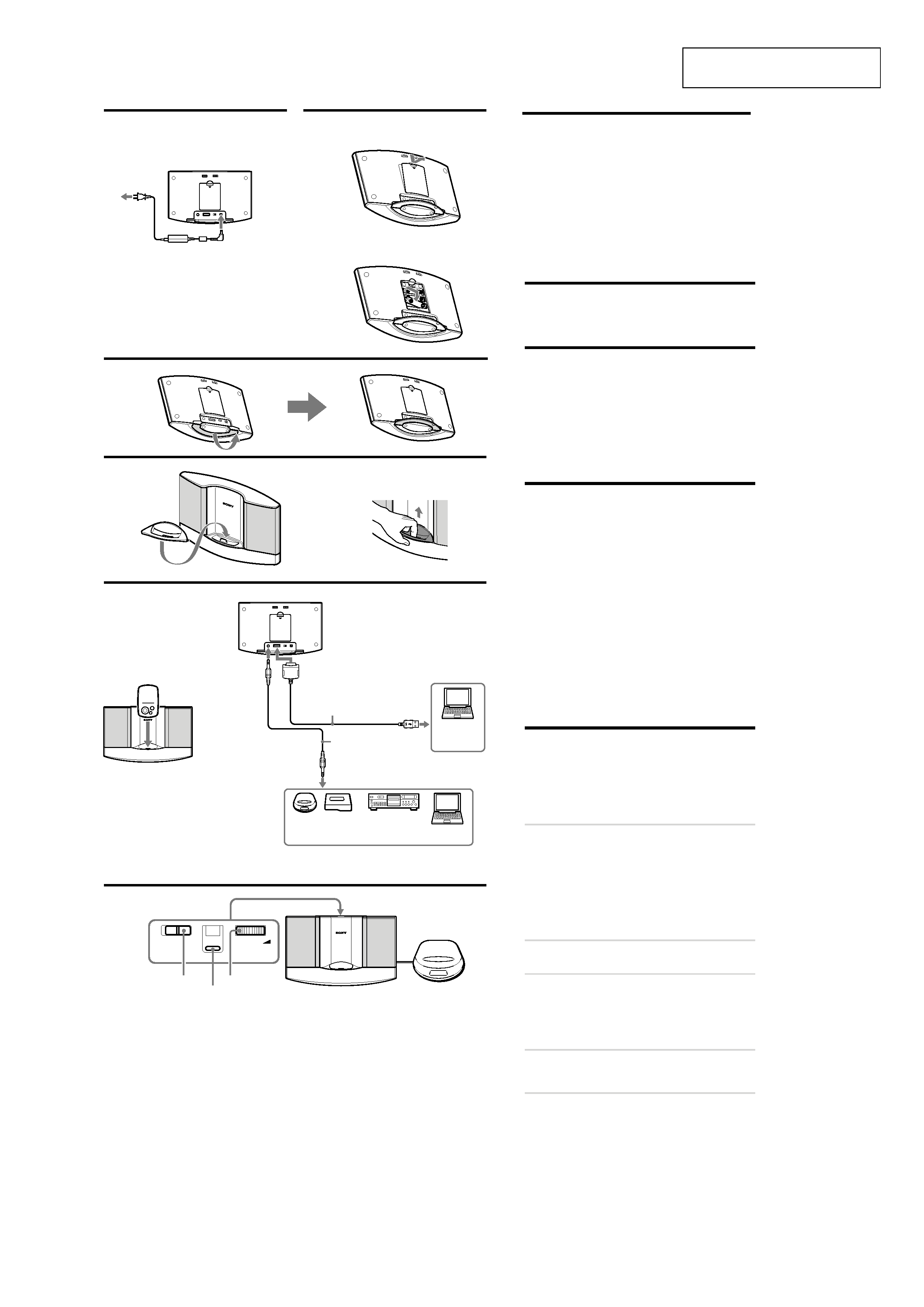 This section is extracted from
Three R6 (size AA) batteries
Trois piles R6 (format AA)
Tres pilas R6 (tamaño AA)
Vers la prise DC IN 5,2 V
AC power adaptor (supplied)
Adaptateur secteur (fourni)
Adaptador de alimentación de ca
* "Walkman" is a registered trademark of Sony Corporation to represent Headphone Stereo products.
« Walkman » est une marque déposée par Sony Corporation pour représenter les produits stéréo dotés d'écouteurs.
"Walkman" es una marca registrada de Sony Corporation que representa los productos audífonos estéreo.
To LINE OUT or to headphones
Vers LINE OUT ou vers la prise de
casque (mini-prise stéréo)
a la toma LINE OUT o a la toma de
auriculares (minitoma estéreo)
Walkman* CD et MD, Ordinateur ou un autre appareil
Walkman de CD/MD*, PC, etc.
(personal computer connection)
Vers un connecteur multibroche
(raccordement d'un ordinateur)
(conexión a una computadora
Vers un connecteur multibroche
(raccordement d'un Walkman*)
USB cable (supplied with NW-A1000
and NW-A3000 series Walkman)
Câble USB (fourni avec les Walkmans
des séries NW-A1000 et NW-A3000)
Cable USB (suministrado con los
Walkman de las series NW-A1000 y
When the AC power adaptor is connected to the system,
internal batteries are automatically disconnected.
Retract into the stand when carrying the speaker.
Installing the attachment according to the Walkman
Use the dedicated attachment for either NW-A1000 or
NW-A3000 series. The corresponding model number is
marked on the rear of the attachment. Exchange attachments,
Connect the speaker to the source equipment.
When the system is connected to the monaural jack
of a radio, etc., the sound may not come through the right
speaker. In such a case, use the optional* plug adaptor PC-
To connect to a stereo phone-type
Use the optional* plug adaptor PC-234S/PC236MS or
connecting cord RK-G136/RK-G138.
* The above optional accessories are not provided in some areas.
·NW-A1000/A3000 series use the multiple connector (Walkman
· Do not carry the speaker with a Walkman set on the multiple
connector, as malfunction may result.
Playing back sound of the
Adjust VOLUME to minimum to avoid any sudden loud
sounds that may hurt your ears and set the volume of the
connected device to a moderate level.
Disconnect the USB cable used for the
speaker and personal computer, or set
the POWER switch of the connected
personal computer to OFF.
· When a USB cable is connected between the speaker
and a personal computer, no sound will be heard from
a Walkman set on the multiple connector, as data
transfer mode takes place. Sound from the device
connected to INPUT will be heard instead.
Set the POWER switch to ON.
The POWER/CHARGE indicator lights up.
Play back the connected device.
Adjust VOLUME accordingly.
· When both a Walkman set on the multiple connector
and a device connected to INPUT are used, both
sounds can be heard. Control on/off on the connected
Set the POWER switch to OFF after
The POWER/CHARGE indicator goes off.
· If connecting the speaker to a device with built-in a radio or
tuner, radio reception may not occur or sensitivity may be
· Release the bass boost function of the connected Walkman, etc.,
· The USB cable connecting the speaker with personal computer
is used for transferring Walkman's data and recharging. When
playing back sound of a personal computer using the speaker,
connect through the INPUT.
· If the connected device's headphone output has a line switch,
better sound will be heard if it is set to on. See the operating
instructions of the connected device.
Battery installation
(See fig. B)
When the batteries are weak, the POWER/CHARGE
indicator will start flickering and become faint, or the
playback sound will become distorted or unstable. In such a
case, replace all the batteries with new ones.
---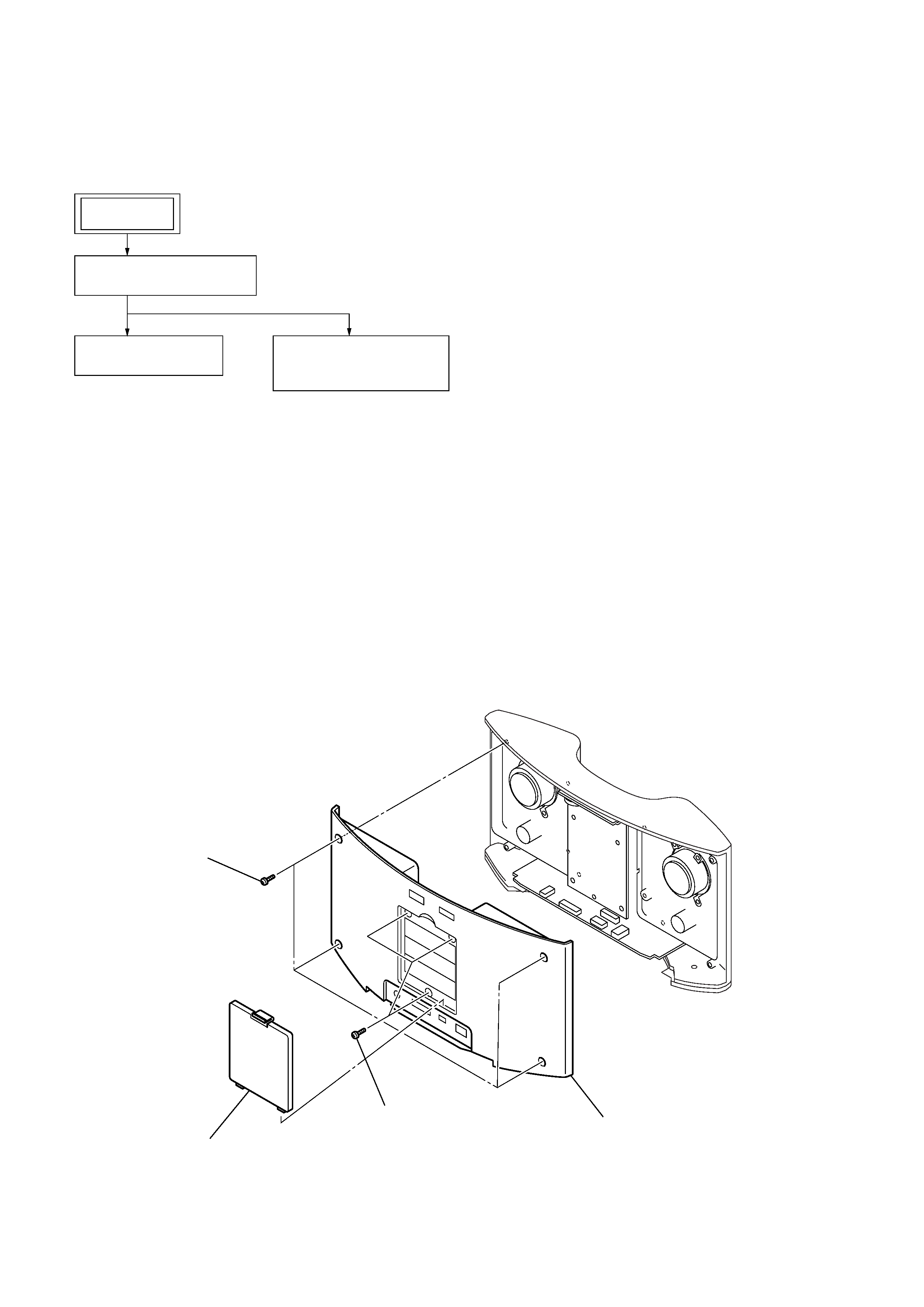 Note: Follow the disassembly procedure in the numerical order given.
· This set can be disassembled in the order shown below.
---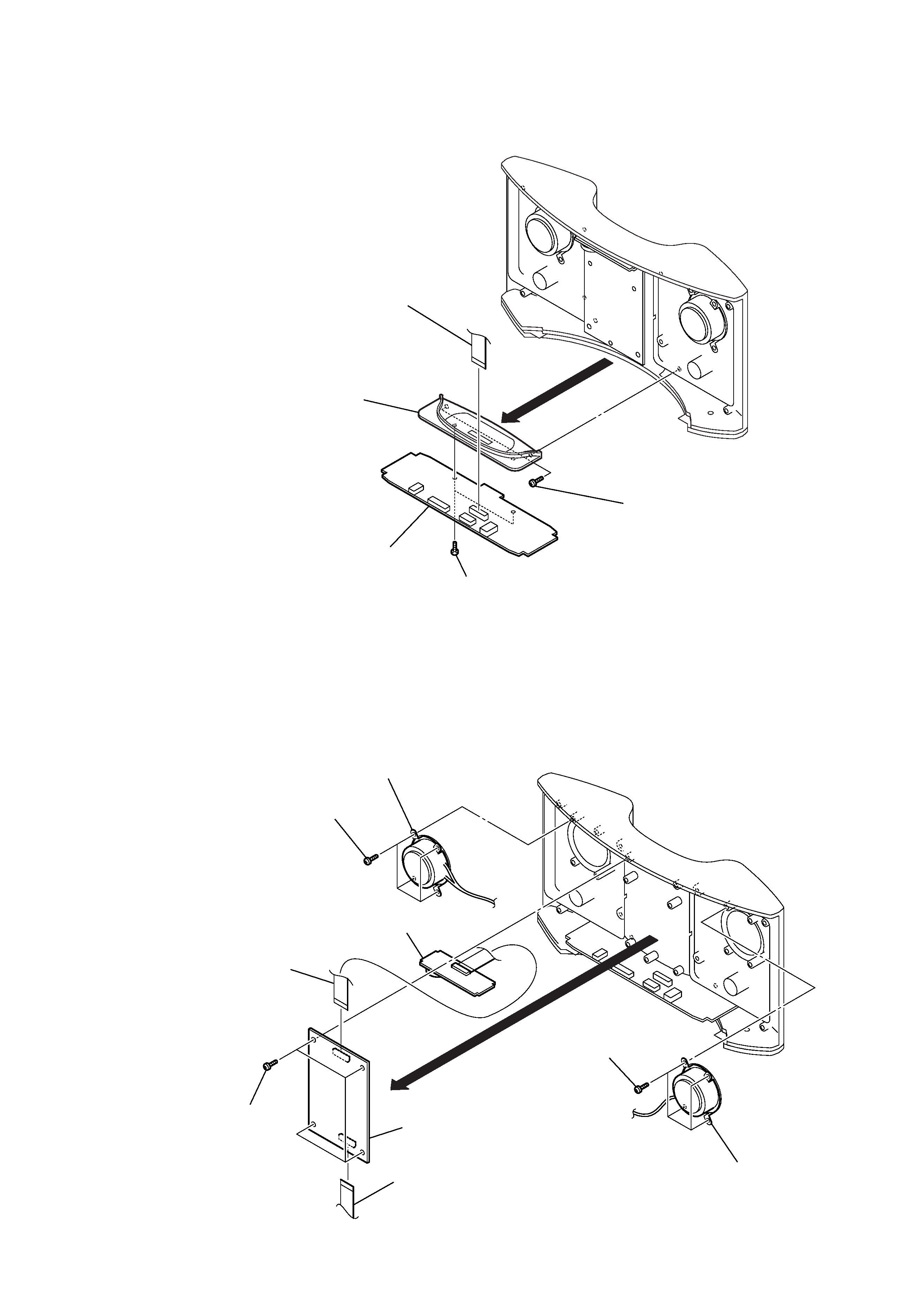 2-4. AMPLIFIRER BOARD, CONTROL BOARD
wire (flat type) (13 core)
wire (flat type) (13 core)
wire (flat type) (13 core)
---