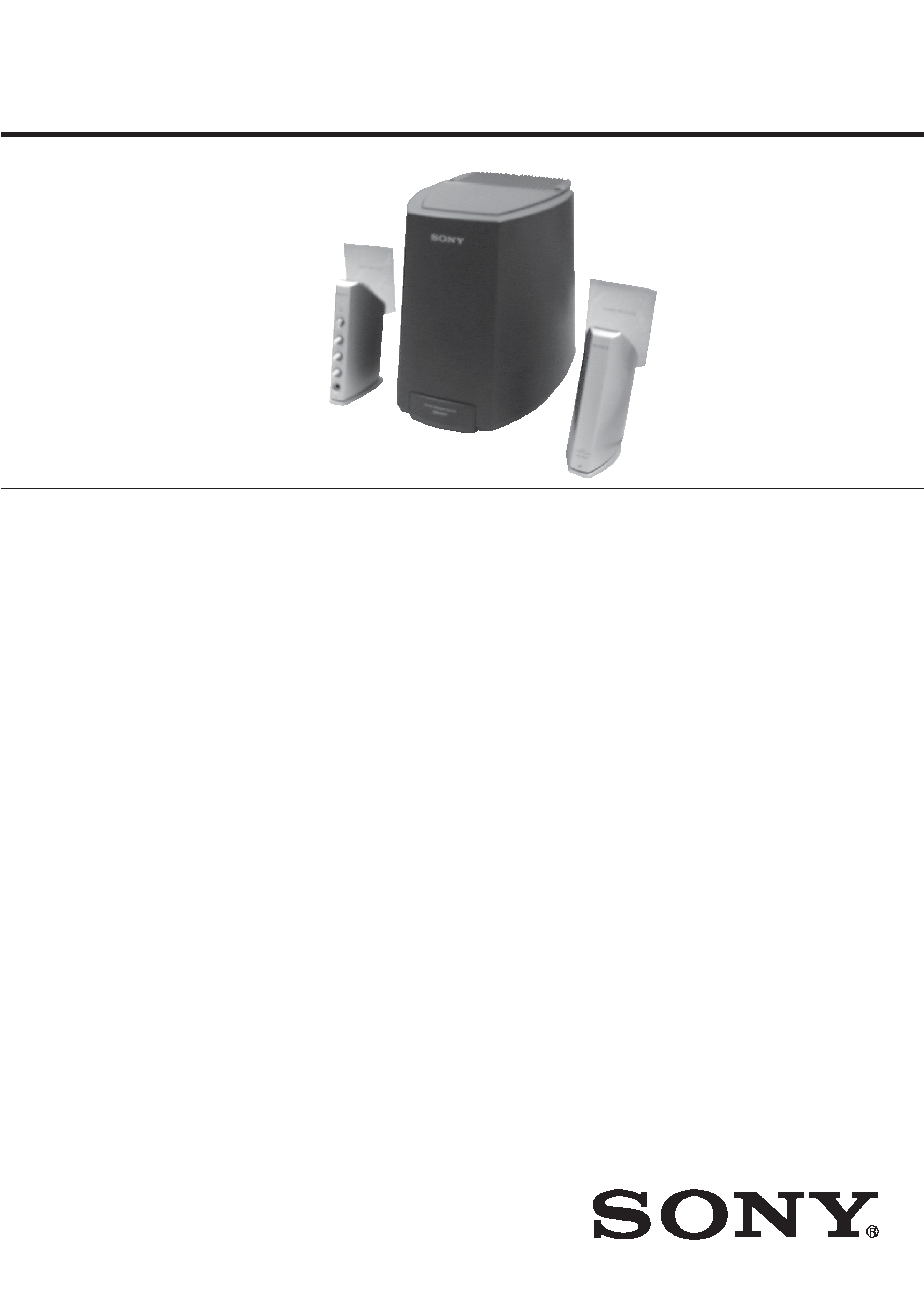 Published by Sony Engineering Corporation
Full range, magnetically shielded
Active subwoofer, magnetically shielded
Mid and high range section 5 W + 5 W
Audio connecting cord (1)
Design and specifications are subject to change without notice.
---

After correcting the original service problem, perform the following
safety check before releasing the set to the customer:
Check the antenna terminals, metal trim, "metallized" knobs, screws,
and all other exposed metal parts for AC leakage.
Check leakage as described below.
The AC leakage from any exposed metal part to earth ground and
from all exposed metal parts to any exposed metal part having a
return to chassis, must not exceed 0.5 mA (500 microamperes.).
Leakage current can be measured by any one of three methods.
1. A commercial leakage tester, such as the Simpson 229 or RCA
WT-540A. Follow the manufacturers' instructions to use these
2. A battery-operated AC milliammeter. The Data Precision 245
digital multimeter is suitable for this job.
3. Measuring the voltage drop across a resistor by means of a VOM
or battery-operated AC voltmeter. The "limit" indication is 0.75
V, so analog meters must have an accurate low-voltage scale.
The Simpson 250 and Sanwa SH-63Trd are examples of a
passive VOM that is suitable. Nearly all battery operated digital
multimeters that have a 2 V AC range are suitable. (See Fig. A)
Fig. A. Using an AC voltmeter to check AC leakage.
SAFETY-RELATED COMPONENT WARNING!!
COMPONENTS IDENTIFIED BY MARK 0 OR DOTTED LINE WITH
MARK 0 ON THE SCHEMATIC DIAGRAMS AND IN THE PARTS
LIST ARE CRITICAL TO SAFE OPERATION. REPLACE THESE
COMPONENTS WITH SONY PARTS WHOSE PART NUMBERS
APPEAR AS SHOWN IN THIS MANUAL OR IN SUPPLEMENTS
ATTENTION AU COMPOSANT AYANT RAPPORT
LES COMPOSANTS IDENTIFÉS PAR UNE MARQUE 0 SUR LES
DIAGRAMMES SCHÉMATIQUES ET LA LISTE DES PIÈCES SONT
CRITIQUES POUR LA SÉCURITÉ DE FONCTIONNEMENT. NE
REMPLACER CES COMPOSANTS QUE PAR DES PIÈSES SONY
DONT LES NUMÉROS SONT DONNÉS DANS CE MANUEL OU
DANS LES SUPPÉMENTS PUBLIÉS PAR SONY.
Notes on chip component replacement
· Never reuse a disconnected chip component.
· Notice that the minus side of a tantalum capacitor may be
---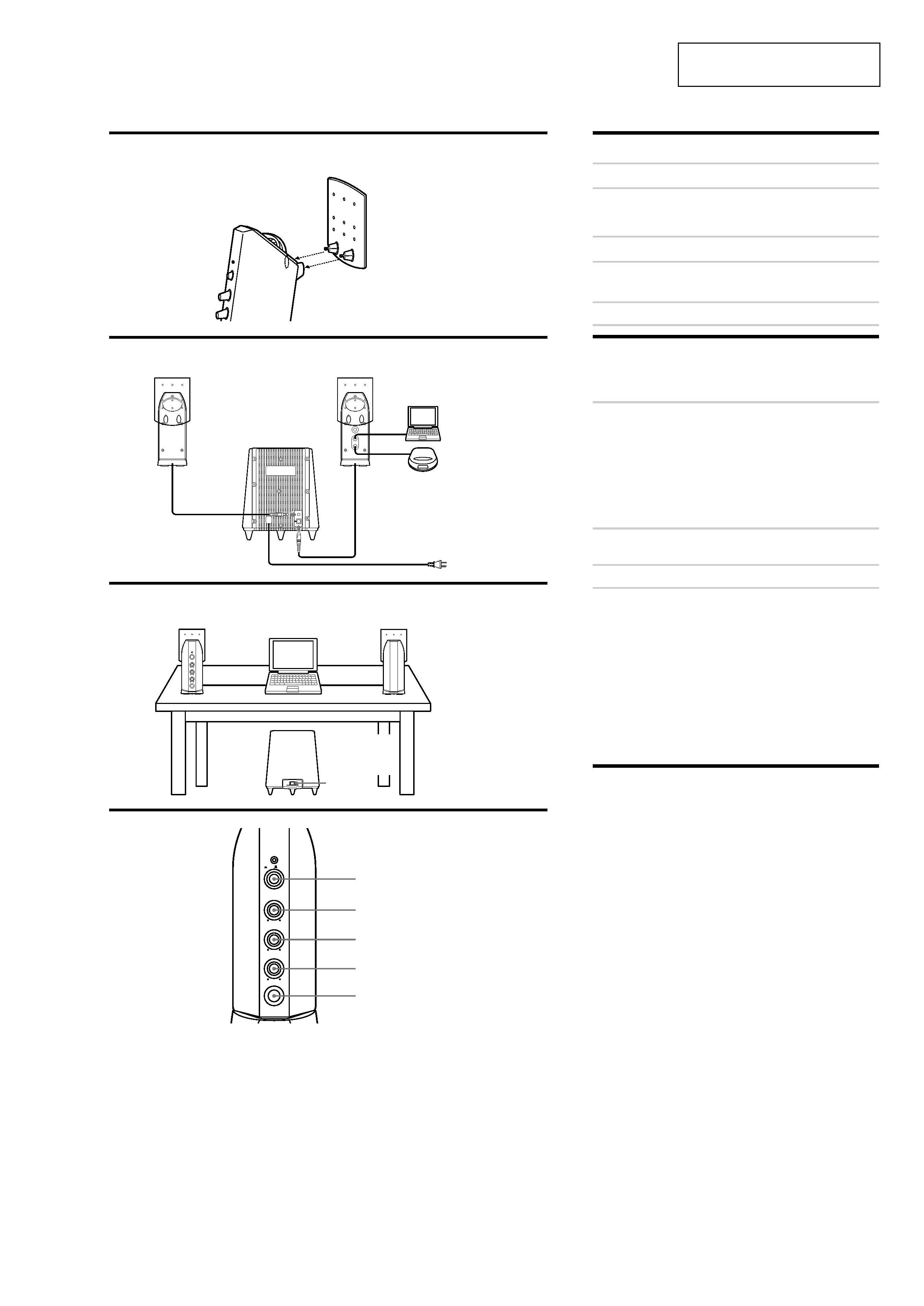 This section is extracted from
Front (Right)/Avant (droite)
Vorne (rechts)/Parte frontal (derecha)
Front (Right)/Avant (droite)
Vorne (rechts)/Parte frontal (derecha)
Front (Left)/Avant (gauche)
Vorne (links)/Parte frontal (izquierda)
(OPERATE for European model)
(OPERATE pour le modèle européen)
(OPERATE beim Modell für Europa)
(OPERATE para el modelo europeo)
Attach the reflectors (no distinction between right and left) to the speakers as shown
Fixez les réflecteurs (pas de distinction entre le réflecteur gauche et le droit) sur les enceintes comme indiqué ci-dessous.
Bringen Sie die Reflektoren (kein Unterschied zwischen rechts und links) wie abgebildet an den Lautsprechern an.
Conecte los reflectores (no hay distinción entre derecho e izquierdo) a los altavoces, tal como se muestra .
Front (Left)/Avant (gauche)
Vorne (links)/Parte frontal (izquierda)
vers la prise Din à 8 broches
a conector DIN de 8 patillas
* This switch is only for
Cet interrupteur ne concerne
que les modèles européens.
Dieser Schalter ist nur für
Este interruptor sólo está
Attach the reflector to the speakers.
(See fig. B for steps 2 through 4.)
Connect the left speaker cord 8 pin plug to the rear
panel jack with their respective arrows aligned.
Connect the subwoofer to the wall outlet.
Connect the CD walkman, PC, etc., to the INPUT
jack on the left speaker.
Listening to the sound
(see fig.D)
First, turn down the volume on the left speaker. The volume
should be set to minimum before you begin playing the
Press POWER on the left speaker.
The POWER indicator lights up green.
Press POWER on the subwoofer to turn it on, and then
press OPERATE on the left speaker.
The OPERATE indicator lights up green.
The main power source of the system is provided by the
subwoofer. When the power of the subwoofer is turned off,
the system does not operate, even if OPERATE is pressed.
Rotate INPUT to select 1/2.
You can enjoy the mixed sound from INPUT 1 and 2.
Play the programme source.
Rotate BASS to adjust the bass volume.
Set the volume level to best suit your preference according to the
Using the headphones/earphones
Connect the headphones/earphones to the PHONES jack.
· To enjoy high-quality sound, do not turn the BASS
· When using the headphones, you cannot adjust the bass
Should you encounter a problem with your speaker system, check
the following list and take the indicated measures. If the problem
persists, consult your nearest Sony dealer.
There is no sound from the speaker system.
· Make sure all the connections have been correctly made.
· Make sure the volume on the left speaker and the connected
component have been turned up properly.
· Check if headphones are connected. If they are, disconnect them.
There is distortion in the subwoofer sound output.
· Turn down the volume level on the connected component. Or,
if the connected component has the bass boost function, set it to
· Rotate BASS on this unit to reduce the bass volume.
There is hum or noise in the speaker output.
· Make sure all the connections have been correctly made.
· Make sure none of the audio components are positioned too
The sound has suddenly stopped.
Make sure all the connections have been correctly made.
---

Note on Schematic Diagram:
· All capacitors are in µF unless otherwise noted. pF: µµF
50 WV or less are not indicated except for electrolytics
and
1
/
4
W or less unless otherwise
· H : adjustment for repair.
· Power voltage is dc 9V and fed with regulated dc power
supply from battery terminal.
· Voltages is dc with respect to ground under no-signal
· Voltages are taken with a VOM (Input impedance 10 M
Voltage variations may be noted due to normal produc-
Note on Printed Wiring Boards:
· X : parts extracted from the component side.
· b : Pattern from the side which enables seeing.
The components identified by
mark 0 or dotted line with mark
0 are critical for safety.
Replace only with part number
Les composants identifiés par
une marque 0 sont critiques
Ne les remplacer que par une
pièce portant le numéro spécifié.
---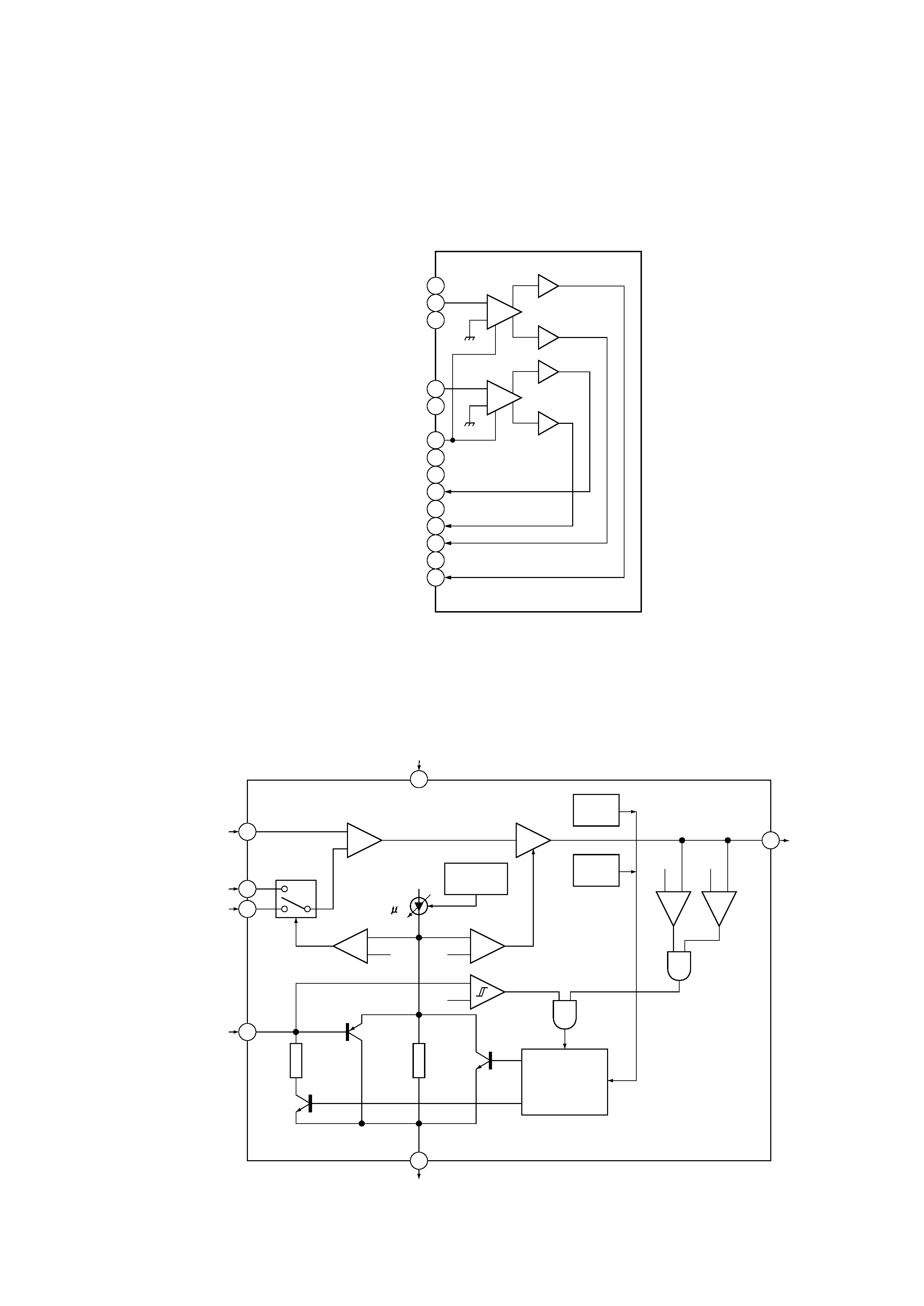 IC302 TDA2052V (AMP BOARD)
---