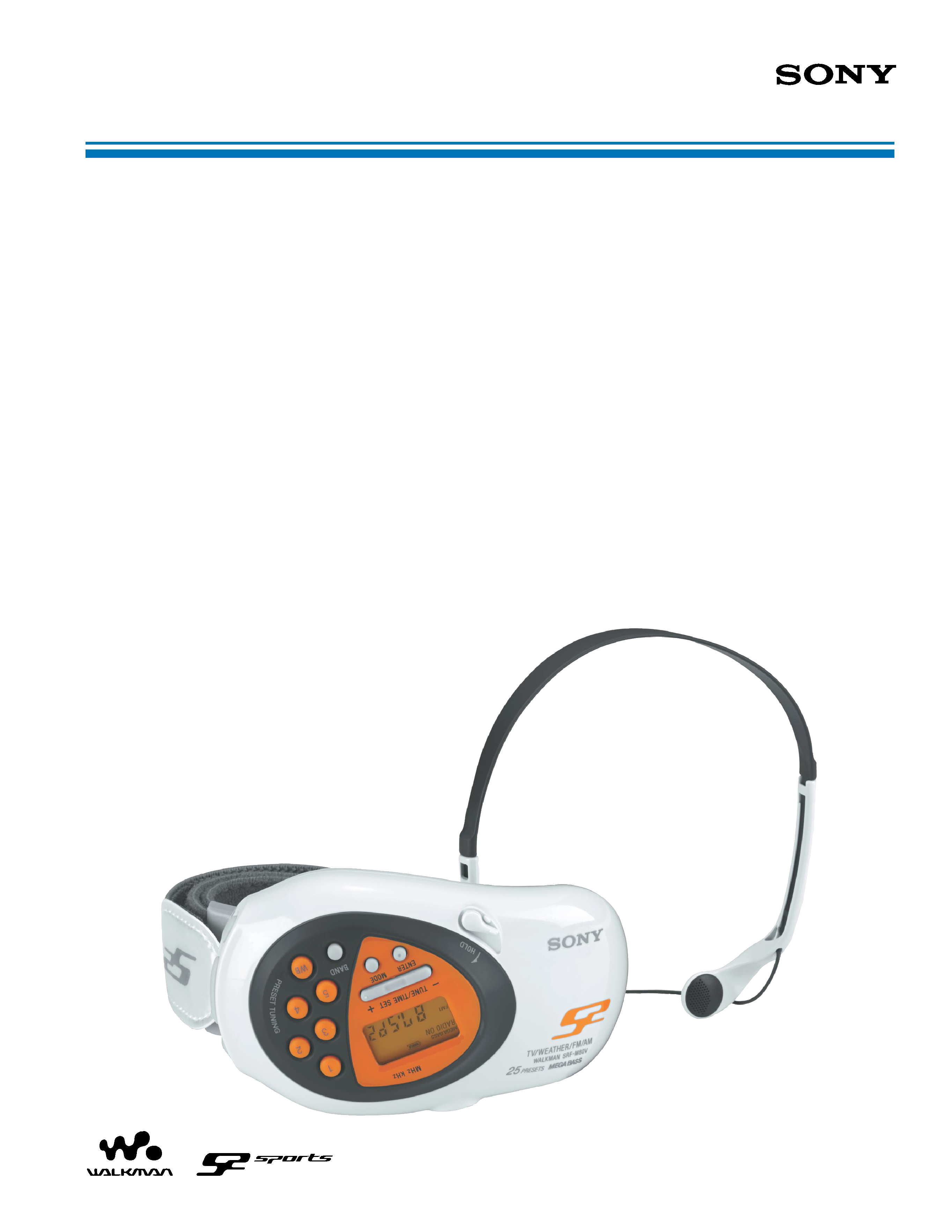 S2 SportsTM Walkman® Digital Tuning
TV/Weather/AM/FM Stereo Arm Band Radio
NEW ERGONOMIC S2 SPORTSTM DESIGN
TV TUNER AND WEATHER BANDTM TUNING FUNCTION
CONVENIENT LED DISPLAY ANGLE
WATER RESISTANT* SPORTS SERIES
DIGITAL AM/FM STEREO TUNER
25 STATION PRESET MEMORY (5TV/5 WEATHER/10FM/5AM)
5 DIRECT KEY PRESET MEMORY
2 "AAA" BATTERIES OPERATION
UNIQUE WRAP-AROUND ARM BAND WITH REFLECTOR
STOP WATCH WITH SPLIT TIMER
SPORTS HEADPHONES SUPPLIED
---

Sony Electronics Inc · 1 Sony Drive, Park Ridge, New Jersey 07656 · www.sony.com
v
NEW ERGONOMIC S2 SPORTSTM DESIGN includes innovative features and
function controls placed for easy access and represents the new
generation of Sony Sports Radio Walkman players, created to be durable,
stylish, and ready for go-anywhere outdoor fun
v
TV TUNER AND WEATHER BANDTM TUNING FUNCTION lets you listen to
audio from TV channels 2-13, and up-to-the-minute weather from your
local Weather Band broadcasts
offers convenient one-button tuning of
· CONVENIENT LED DISPLAY ANGLE
is designed for information to be
easily read at a glance while "on the run"
· WATER RESISTANT* SPORTS SERIES
is made for outdoor fun with water
resistant seals that help keep out water, moisture and dirt
· MEGA BASS® SOUND SYSTEM
produces rich, deep bass tones for more
· DIGITAL AM/FM STEREO TUNER
provides the most accurate drift-free
tuning of AM and FM radio stations and lets you choose from the wide
variety of radio talk shows and music programs, with the added
enjoyment of stereo sound
25 STATION PRESET MEMORY (5TV/5 WEATHER/10FM/5AM) uses
electronic settings for easy one-button tuning for your choice of audio
from 5 TV channels, 5 weather bands, 10 FM and 5 AM radio stations
· 5 DIRECT KEY PRESET MEMORY
allows you to electronically tune into
any five stations you set, even if in different frequency bands, with the
press on a single easy-to-reach button
· 2 "AAA" BATTERIES OPERATION
provides hours of listening, and helps to
make the Walkman compact and inexpensive to use
· UNIQUE WRAP-AROUND ARM BAND WITH REFLECTOR
your Walkman on your arm during activities, keeping your hands free
provides quick and secure attachment to a belt
with split timer lets you record split times with the press
of a button and makes your Walkman a valuable companion when
jogging, sailing, or for any activity where timing is important
· LOCAL/DISTANT (DX) SWITCH
provides optimal reception of both near
automatically shuts off Walkman power at your
preset time to conserve battery life
· SPORTS HEADPHONES SUPPLIED
are Sony MDR (Micro Dynamic
ReceiverTM) vertical type for wide dynamic range and excellent sound
AM: Built-in ferrite bar antenna
Headphones (Stereo mini jack)
White with Sports Orange and Gray accents
Approx. 2
3
/
4
" x 1
13
/
16
" x 4
1
/
2
" (69.2 x 45 x 113.5mm)
including projecting parts and controls
3
5
/
8
oz (104.2g) incl. batteries
MDR-W014 Lightweight Sports Stereo Headphones,
©2002 Sony Electronics Inc.
Reproduction in whole or in part without written permission is prohibited. All rights reserved.
Sony, Mega Bass, Micro Dynamic Receiver, S2 Sports and its logo and Walkman are trademarks of Sony.
Features and specifications are subject to change without notice. Non-metric weights and measures
* Not meant to be immersed in or come into continuous contact with water.
---