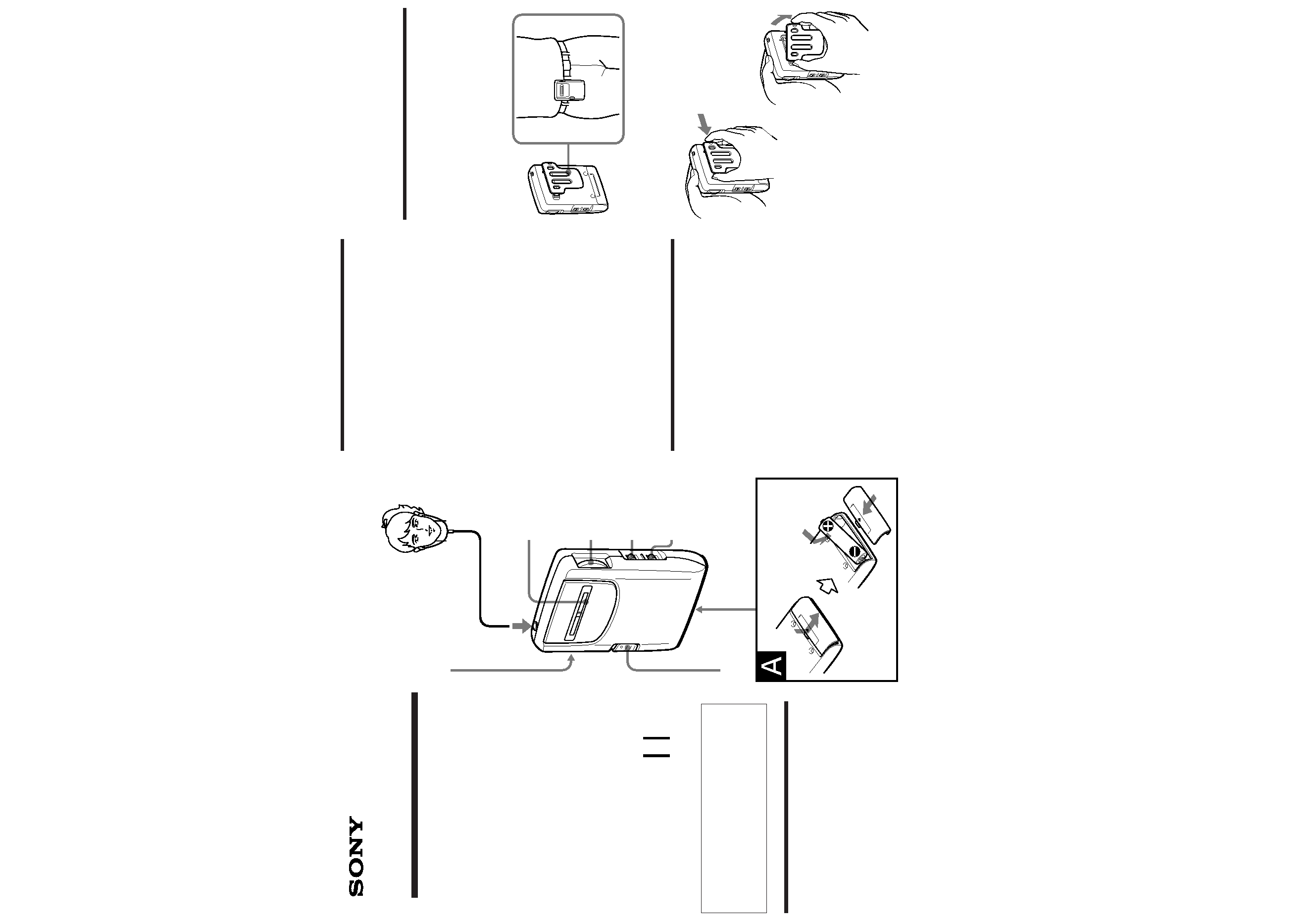 · Set FM SENS to LOCAL if interference is
prevalent when radio wave intensity is
To listen to stereo programs, set to DX.
Detach the belt holder as the illustration
1
Open the battery compartment lid
at the rear of the radio.
2
Insert one size AA (R6) battery
(not supplied) with the ` and '
3
Close the battery compartment lid.
When to replace the battery
Replace the battery when the sound
becomes weak or distorted. Remove the old
battery and insert a new one.
· Align the battery correctly.
· The dry battery cannot be charged.
· To avoid damage from possible battery
leakage, remove the battery when unit
will not be used for a long time.
1
Connect the supplied headphones
2
Set POWER to ON to turn on the
3
Set BAND to select FM or AM.
4
Turn TUNE to tune in a station.
· To turn off the radio, set POWER to OFF.
Extend the headphones cord
which functions as the FM
AM: Rotate the unit horizontally for
optimum reception. A ferrite bar
antenna is built in the unit.
You are cautioned that any changes or
modifications not expressly approved
in this manual could void your
authority to operate this equipment.
Thank you for choosing the Sony radio! It
will give you many hours of reliable service
Before operating the radio, please read
these instructions thoroughly and retain
them for future reference.
---

· Operate the unit only on 1.5 V DC.
· Do not leave the unit in a location near
heat sources, or in a place subject to
direct sunlight, excessive dust, or
· When the case becomes soiled clean it
with a soft cloth dampened with a mild
detergent solution. Never use abrasive
cleansers or chemical solvents, as they
· In vehicles or in buildings, radio
reception may be difficult or noisy.
Try listening near a window.
Do not use headphones while driving,
cycling, or operating any motorized
vehicle. It may create a traffic hazard and is
illegal in many areas. It can also be
potentially dangerous to play your
headphones at high volume while walking,
especially at pedestrian crossings. You
should exercise extreme caution or
discontinue use in potentially hazardous
Preventing hearing damage
Avoid using headphones at high volume.
Hearing experts advise against continuous,
loud and extended play. If you experience a
ringing in your ears, reduce volume or
Keep the volume at a moderate level. This
will allow you to hear outside sounds and
to be considerate to people around you.
If there is lightning when you are using the
unit, take off the headphones immediately.
If you have any questions or problem
concerning your unit, please consult the
2 (Headphones) jack (stereo
3.6 mW + 3.6 mW (at 10% harmonic
distortion) with headphones having
1.5 V DC, one size AA (R6) battery
Approx. 40 hours of listening using
Approx. 66 g (2.3 oz) not incl. a
Design and specifications are subject to
---