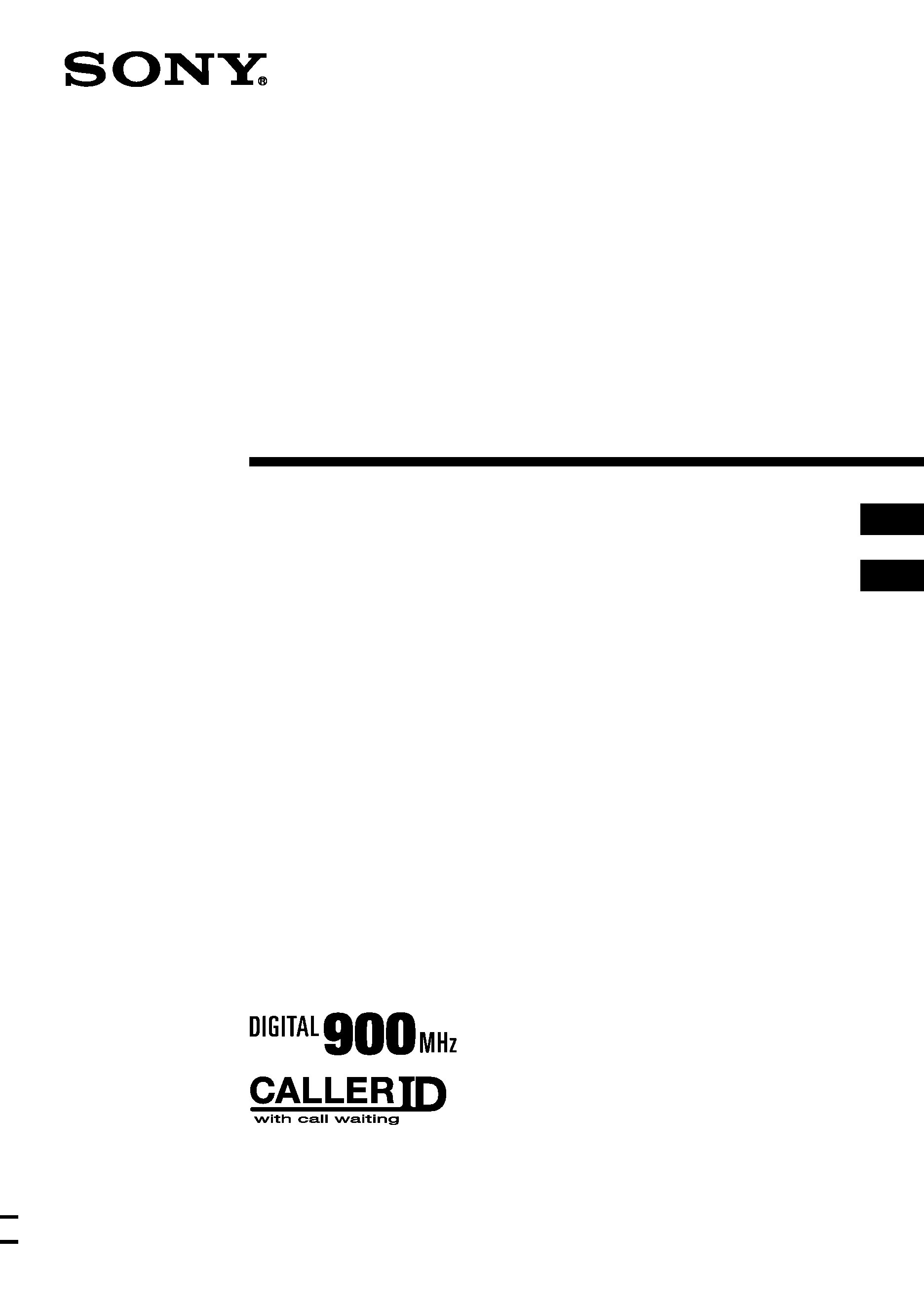 ©1999 by Sony Corporation
---

Caution: Users should not attempt to
make such connections themselves, but
should contact the appropriate electric
inspection authority, or electrician, as
NOTICE: The Ringer Equivalence
Number (REN) assigned to each
terminal device provides an indication
of the maximum number of terminal
allowed to be connected to a telephone
interface. The termination on an
interface may consist of any
combination of devices subject only to
the requirement that the sum of the
Ringer Equivalence Number of all the
devices does not exceed 5.
Your model (SPP-ID971) has been
approved by the Industry Canada.
Operation is subject to the following two
conditions: (1) this device may not cause
interference, and (2) this device must
accept any interference, including
interference that may cause undesired
Privacy of communications may not be
ensured when using this telephone.
Your SPP-ID971 has been assigned a
permanent and unique digital security
code out of possible 16.8 million codes.
To prevent fire or shock hazard, do
not expose the unit to rain or
To avoid electrical shock, do not open
the cabinet. Refer servicing to
qualified personnel only.
NOTICE: The Industry Canada label
identifies certified equipment. This
certification means that the equipment
meets certain telecommunications
network protective, operational and
safety requirements as prescribed in the
appropriate Terminal Equipment
Technical Requirements document(s).
The Department does not guarantee the
equipment will operate to the user's
Before installing this equipment, users
should ensure that it is permissible to be
connected to the facilities of the local
telecommunications company. The
equipment must also be installed using
an acceptable method of connection.
The customer should be aware that
compliance with the above conditions
may not prevent degradation of service
Repairs to certified equipment should be
coordinated by a representative
designated by the supplier. Any repairs
or alterations made by the user to this
equipment, or equipment malfunctions
may give the telecommunications
company cause to request the user to
disconnect the equipment.
Users should ensure for their own
protection that the electrical ground
connections of the power utility,
telephone lines and internal metallic
water pipe system, if present, are
connected together. This precaution may
be particularly important in rural areas.
---

Step 1: Checking the package
Step 2: Setting up the base unit
Step 3: Preparing the battery
Step 4: Entering the area code
Storing phone numbers and
Erasing a memory location
Making calls from the Phone
Turning off the ringer of the
Understanding the Caller ID
Looking at the Caller ID list
Viewing the Caller ID list
Calling back a number from
Caller ID list into the Phone
digits of the phone number
Using "Caller ID with Visual Call
Using visual message waiting
Mounting the base unit on a wall
---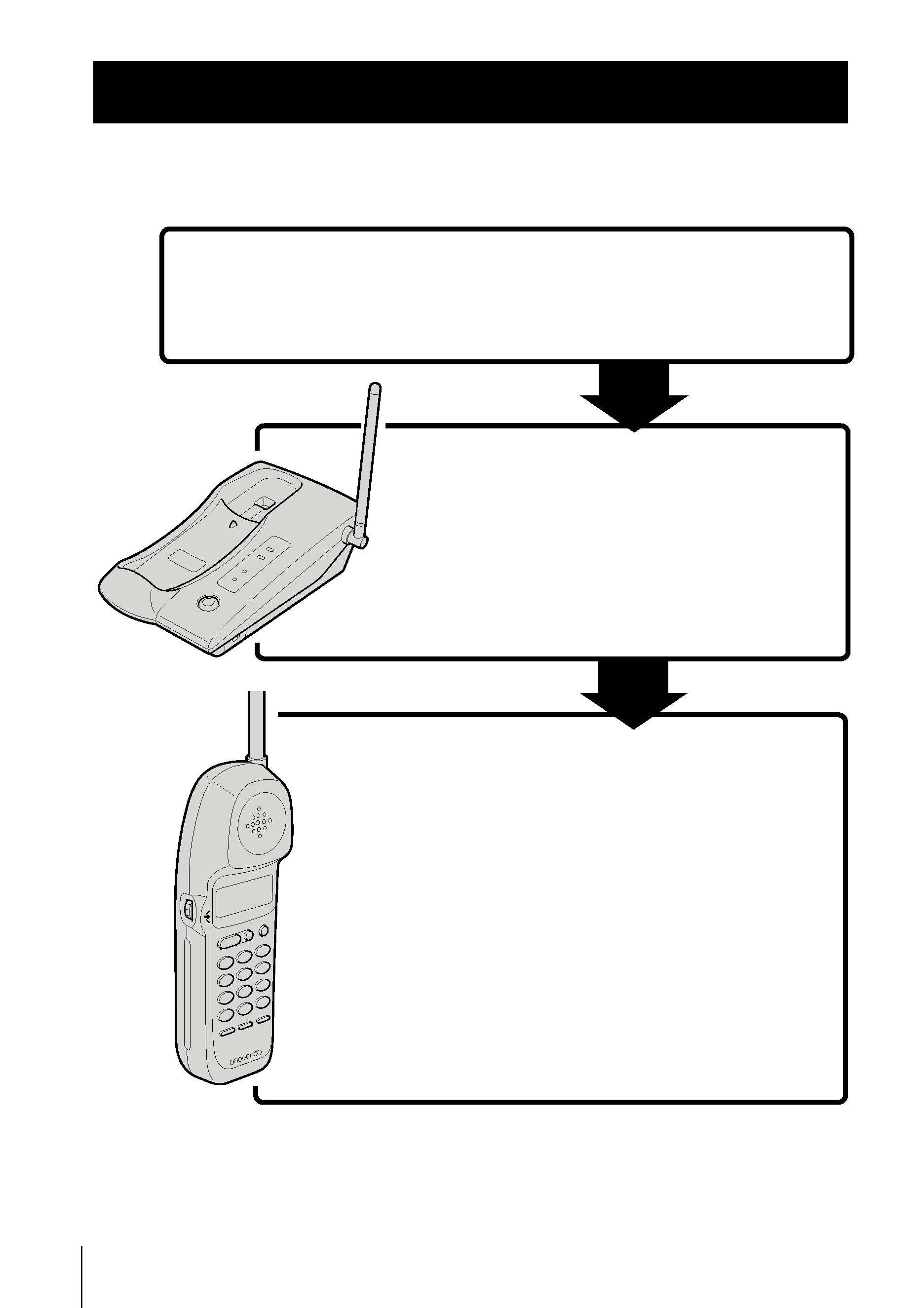 Before you use your phone, you must first set it up. Here's a quick way
to set up your phone: Steps 1, 2, 3 and 4.
Next, you need to do three things to set
up the base unit, including finding the
best location for the base unit.
Then, insert the battery pack into the
handset and charge it for more than 12
Finally, enter the area code to use the
First, unpack the phone and the supplied
---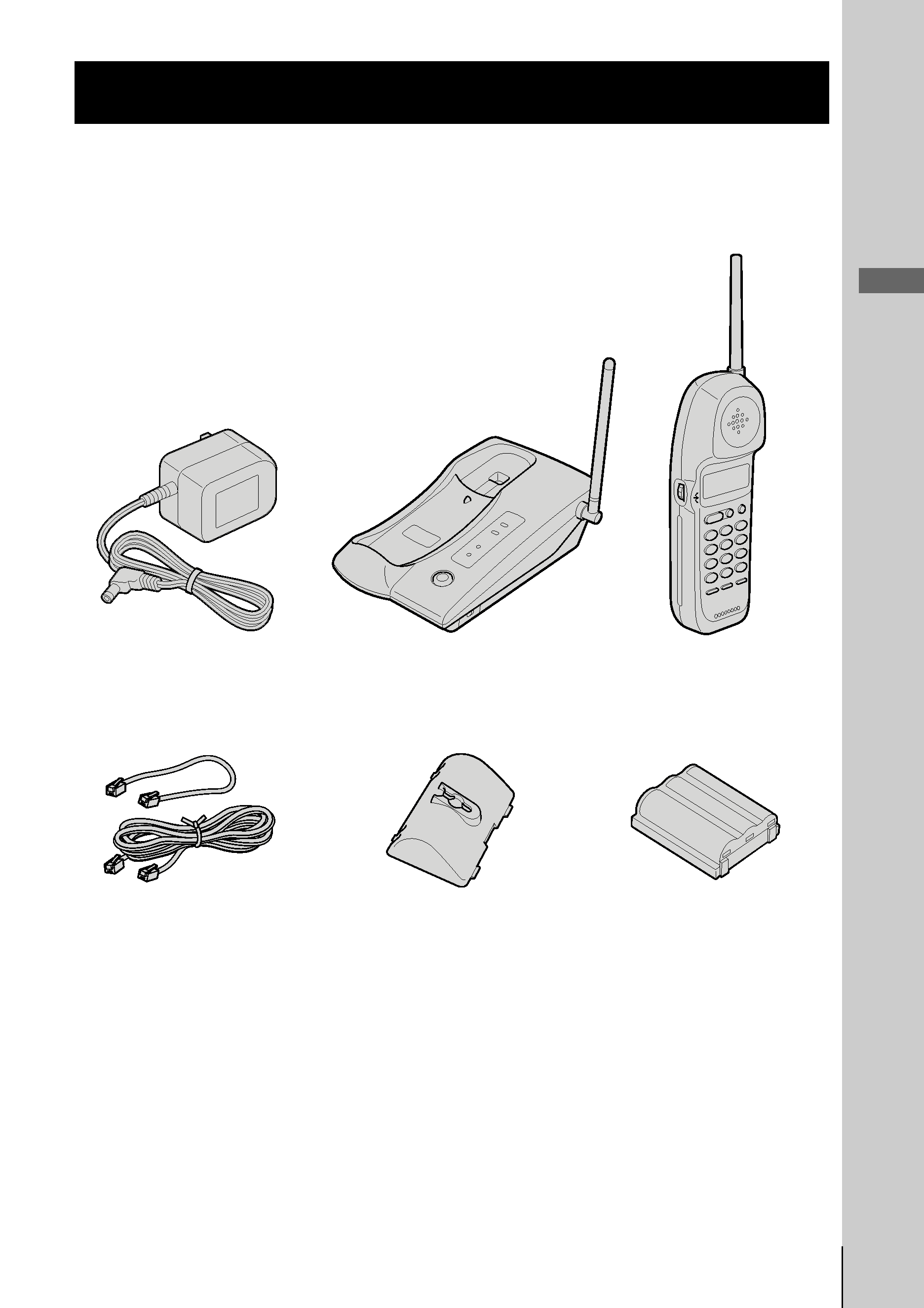 AC power adaptor (AC-T127)
Wall bracket for base unit
Checking the package contents
Make sure you have received the following items in the package.
If anything is missing, contact your local Sony dealer.
---