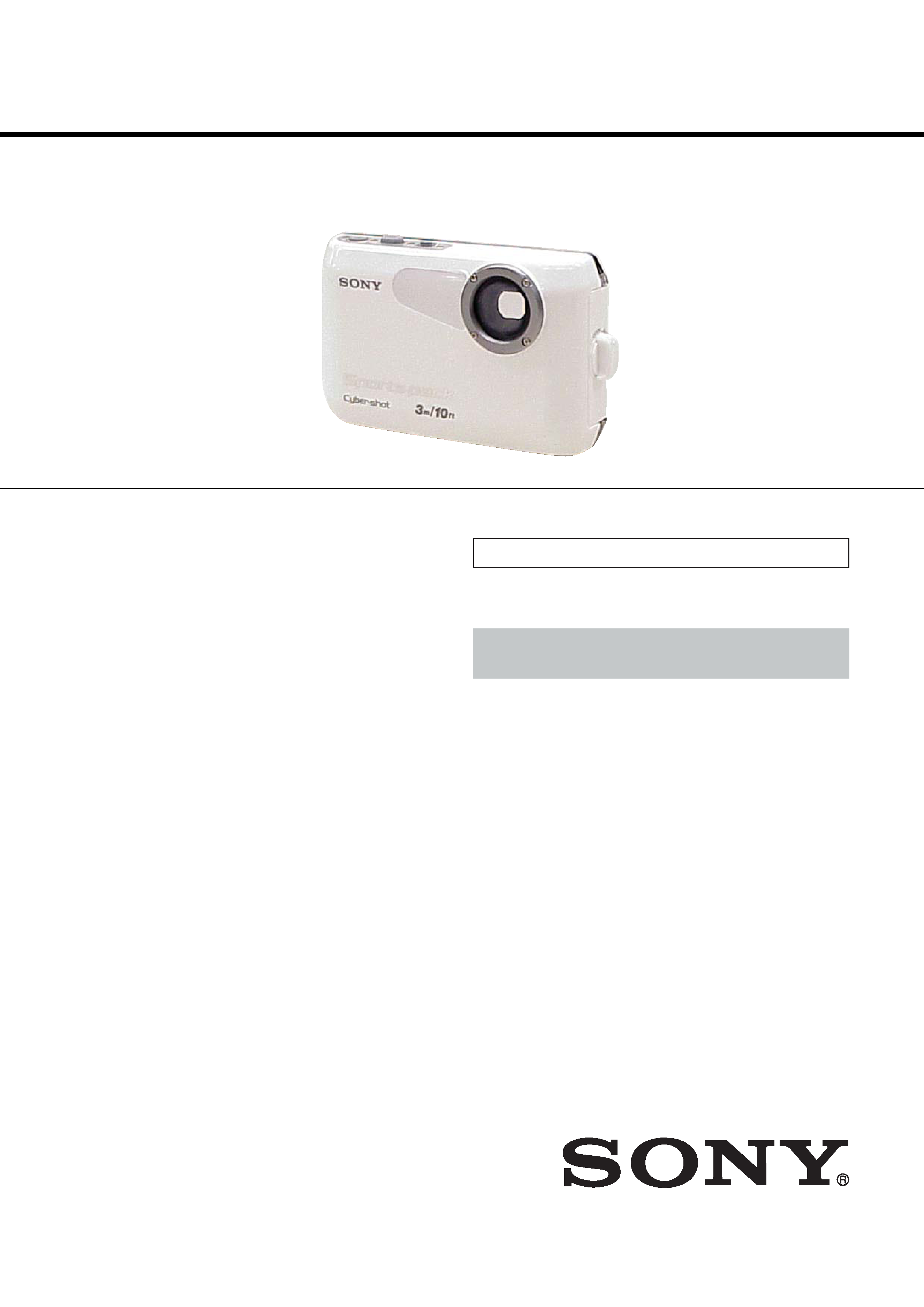 Published by DI Technical Support Department
Plastic (PC, ABS), stainless steel, glass
Waterproof gasket, buckle
To a depth of up to 3 m (10 feet) underwater
Switches/buttons that can be externally operated
Power, Mode, Shutter, Zoom, Control (Flash, Macro, Self-timer, Review),
MENU, Image Size/Delete, Screen display switch, Steady shot, Slide Show
× 74 × 34 mm (4 3/4 × 3 × 1 3/8 inches) (w/h/d)
(excluding the projecting parts)
Approx. 125 g (4.4 oz.) (sports pack only)
Anti-fogging lens solution (1)
Set of printed documentation
Design and specifications subject to change without notice.
Useable at a depth of up to 3 m (10 feet) underwater.
·This sports pack SPK-THC is exclusively for use with the Sony Digital Still
·This sports pack is water-resistant, enabling the digital still camera to be
used in the rain, snow or at the beach.
A loose or nipped waterproof gasket, sand or dirt on the waterproof
gasket may cause water leaks under water. Be sure to check the
waterproof gasket before use.
---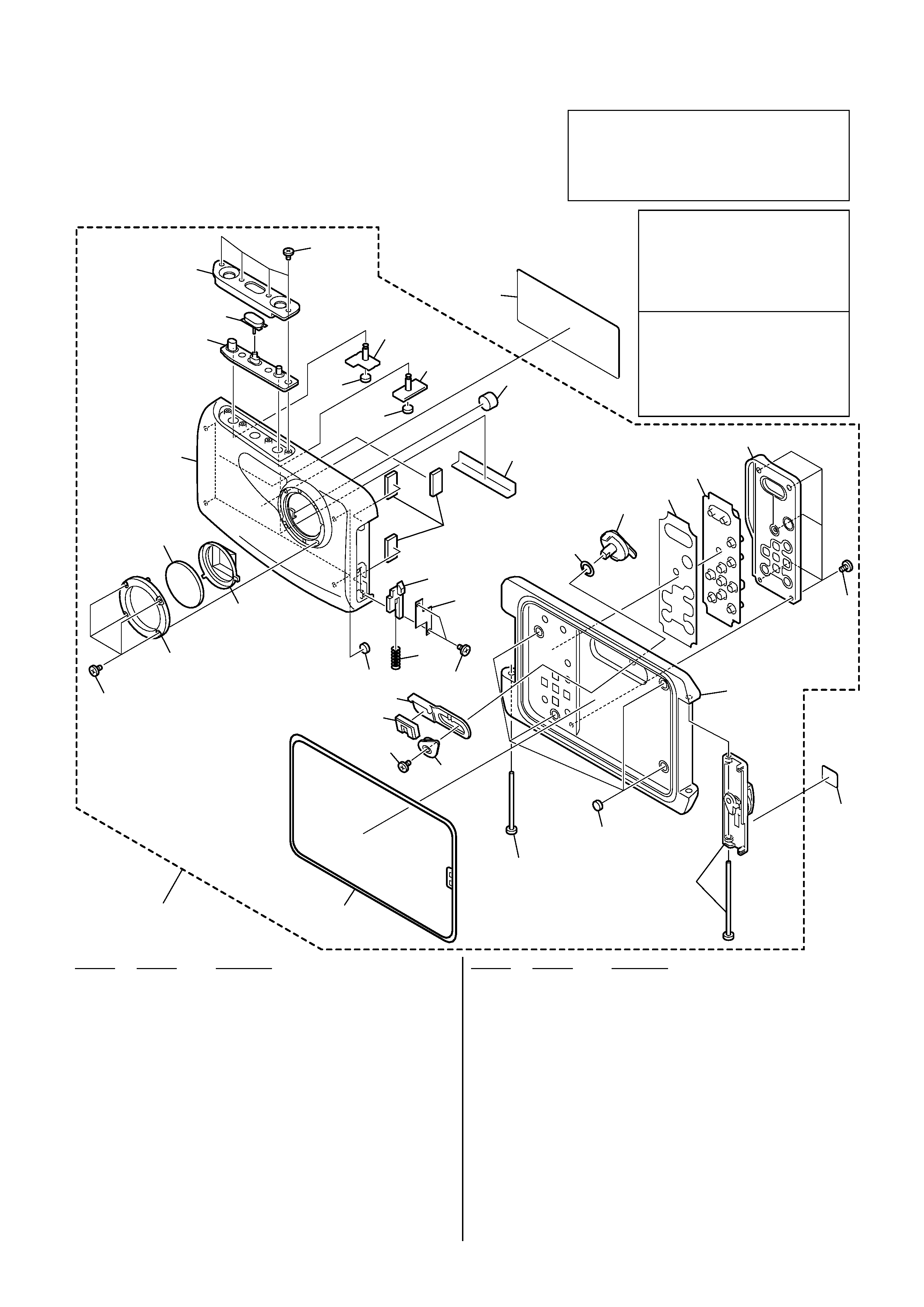 2-342-952-01 SCREW (1.7X4 #0-1), TP
2-591-438-01 RETAINER, LENS WINDOW
2-591-418-01 GLASS, LENS WINDOW
2-657-724-01 PACKING, LENS WINDOW
2-668-091-01 SHEET, REFLECTION PREVENTION
2-657-726-01 BUTTON (F), CONTROL
2-659-734-01 BUTTON, SHUTTER
2-657-725-01 COVER (F), BUTTON
2-657-728-01 LEVER (A), BUTTON
2-591-425-01 CUSHION, BUTTON
2-657-729-01 LEVER (B), BUTTON
2-638-625-01 SHEET, AF LIGHT INTERCEPTION
2-591-432-01 CUSHION, SIDE
2-591-431-01 CUSHION (FR)
2-591-428-01 SLIDER, BUCKLE
2-656-801-01 RETAINER, BUCKLE SLIDER
2-591-430-01 SPRING, BUCKLE SLIDER
2-657-737-01 MODE, SLIDER
2-657-738-01 MODE, CUSHION
2-657-740-01 PACKING, MAIN (Note1)
2-591-447-01 O RING (P4) (Note1)
2-657-739-01 TAPE (R), DOUBLE STICK
2-657-733-01 BUTTON (R), CONTROL
2-657-734-01 COVER (R), BUTTON
2-657-789-01 LABEL, CAUTION
2-638-612-01 LABEL, BUCKLE RELEASE
A-1151-690-A OVERALL ASSY, MAIN
-XX, -X mean standardized parts, so they may have some differences from the original one.
Items marked "*" are not stocked since they are seldom required for routine service. Some
delay should be anticipated when ordering these items.
The mechanical parts with no reference number in the exploded views are not supplied.
The marked "0" are parts in relation to
Replace these components with Sony
Be sure to check up waterproof after
La 0 marquée sont des pièces par rapport
Ne les remplacer que par une pièce
portant le numéro spécifié.
Soyez sûr de vérifier vers le haut d'
imperméable à l' eau après la réparation.
When putting grease the O ring (Ref. No. 22) and main
packing (Ref. No. 21), always use the grease of the blue
tube of the accessory. When using the grease of the
yellow tube and the grease of the other Inc., it hurts a
cabinet packing and it causes the O ring, main packing.
---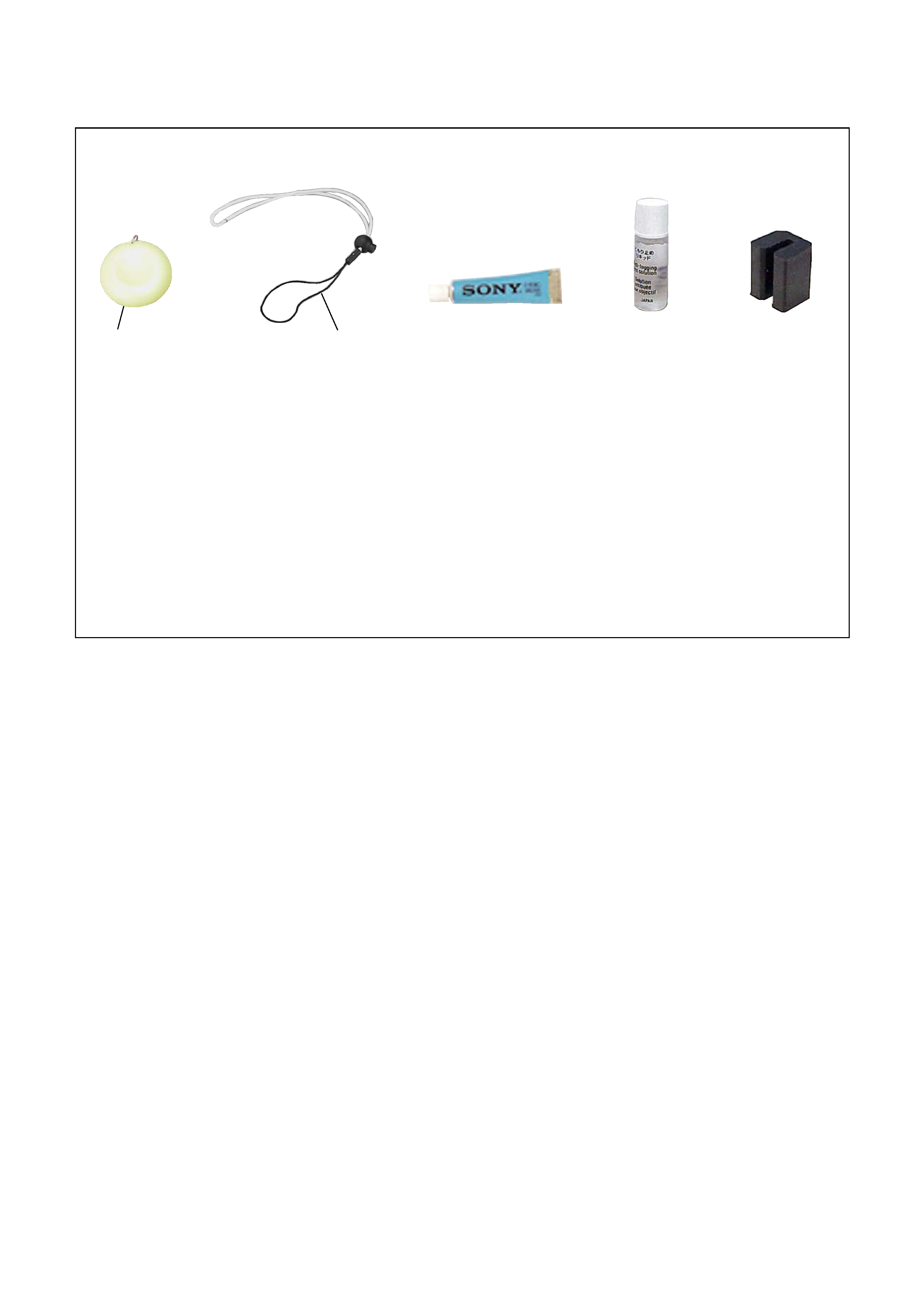 Checking supplied accessories.
* 2-657-746-11 MANUAL, INSTRUCTION
(ENGLISH/FRENCH/SPANISH/DUTCH)(US,CND,AEP)
* 2-657-746-21 MANUAL, INSTRUCTION
(GERMAN/SWEDISH/ITALIAN/PORTUGUESE)(AEP)
* 2-657-746-31 MANUAL, INSTRUCTION (SIMPLIFIED CHINESE/
TRADITIONAL CHINESE/KOREAN/
Make sure that the following accessories are supplied with your camcorder.
---

---