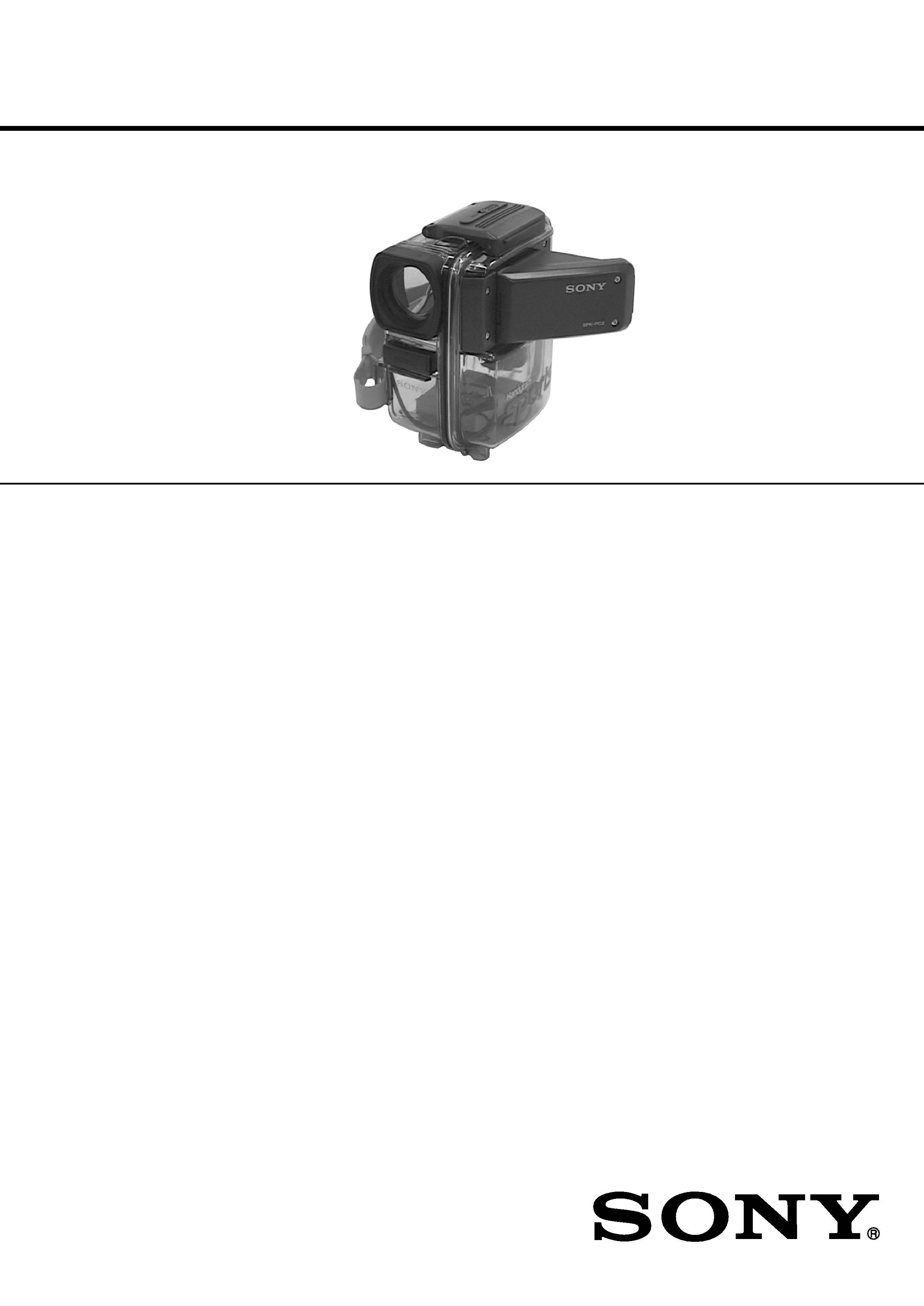 · Microphone block and LS-50 board are replaced as block, so that
printed wiring board, schematic diagram and electrical parts list
Waterproof gasket, buckle
Available operations with the unit
· Turning on/off the POWER switch
when recording or playing back.
· Recording a still image on a tape
(DCR-PC5/PC5E/PC4E/PC3/PC3E/
× 170 × 110 mm (w / h / d)
Approx. 550 g (only sports pack)
Tripod screw plate (1, pre-installed on the
Reflex prevention ring (2)
Anti-fogging lens solution (1)
Operating Instructions (1)
Design and specifications subject to change
---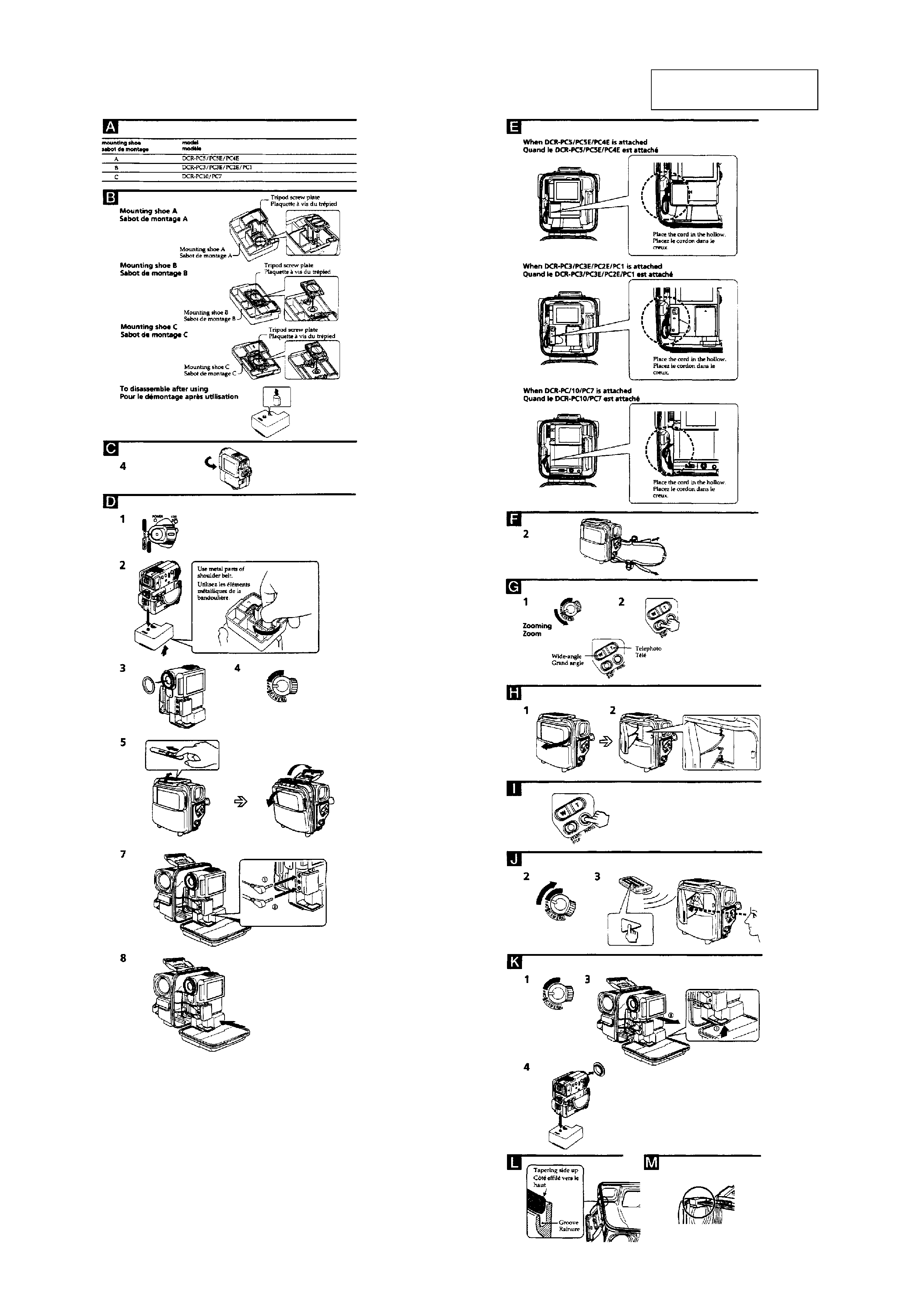 This section is extracted
---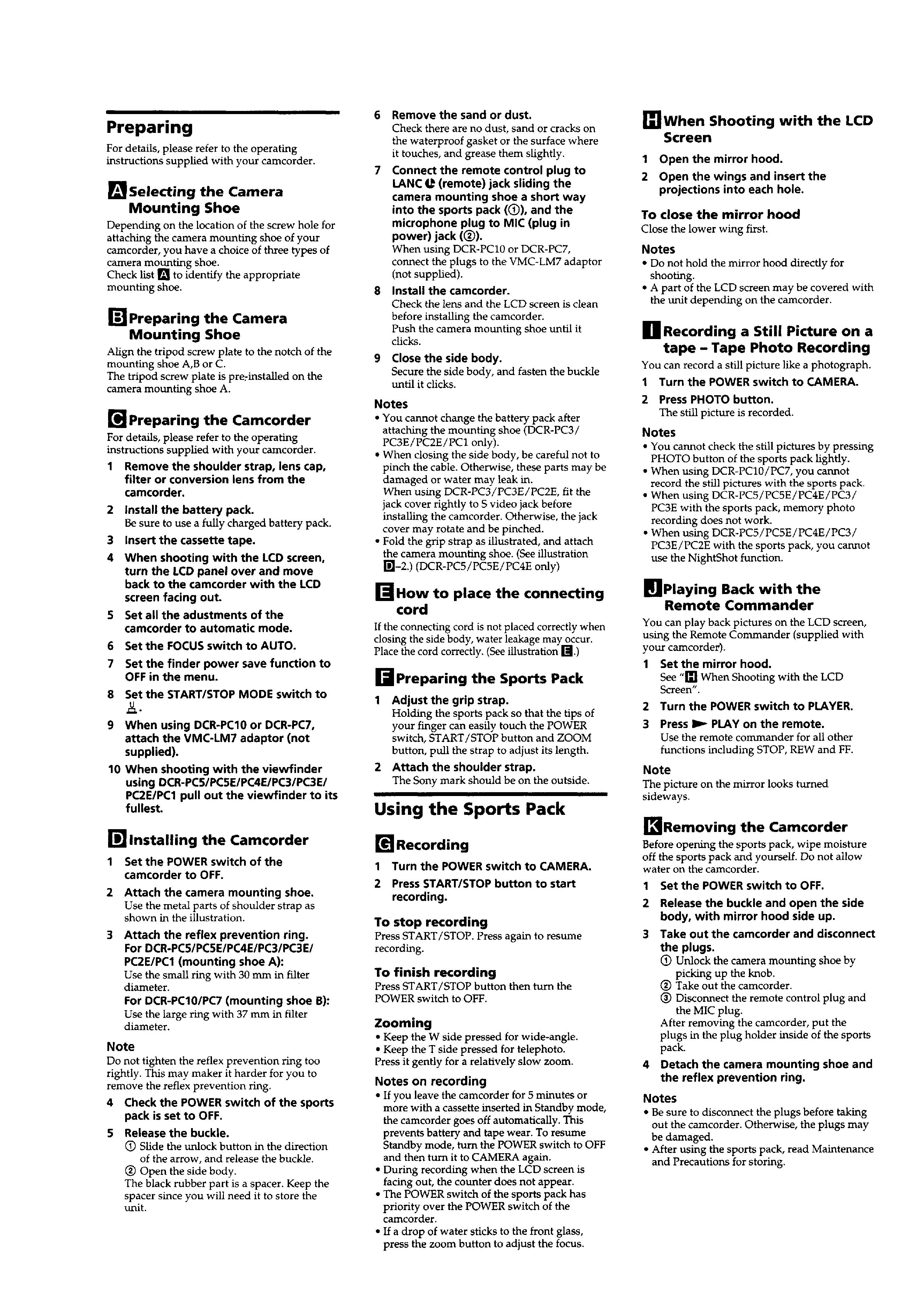 ---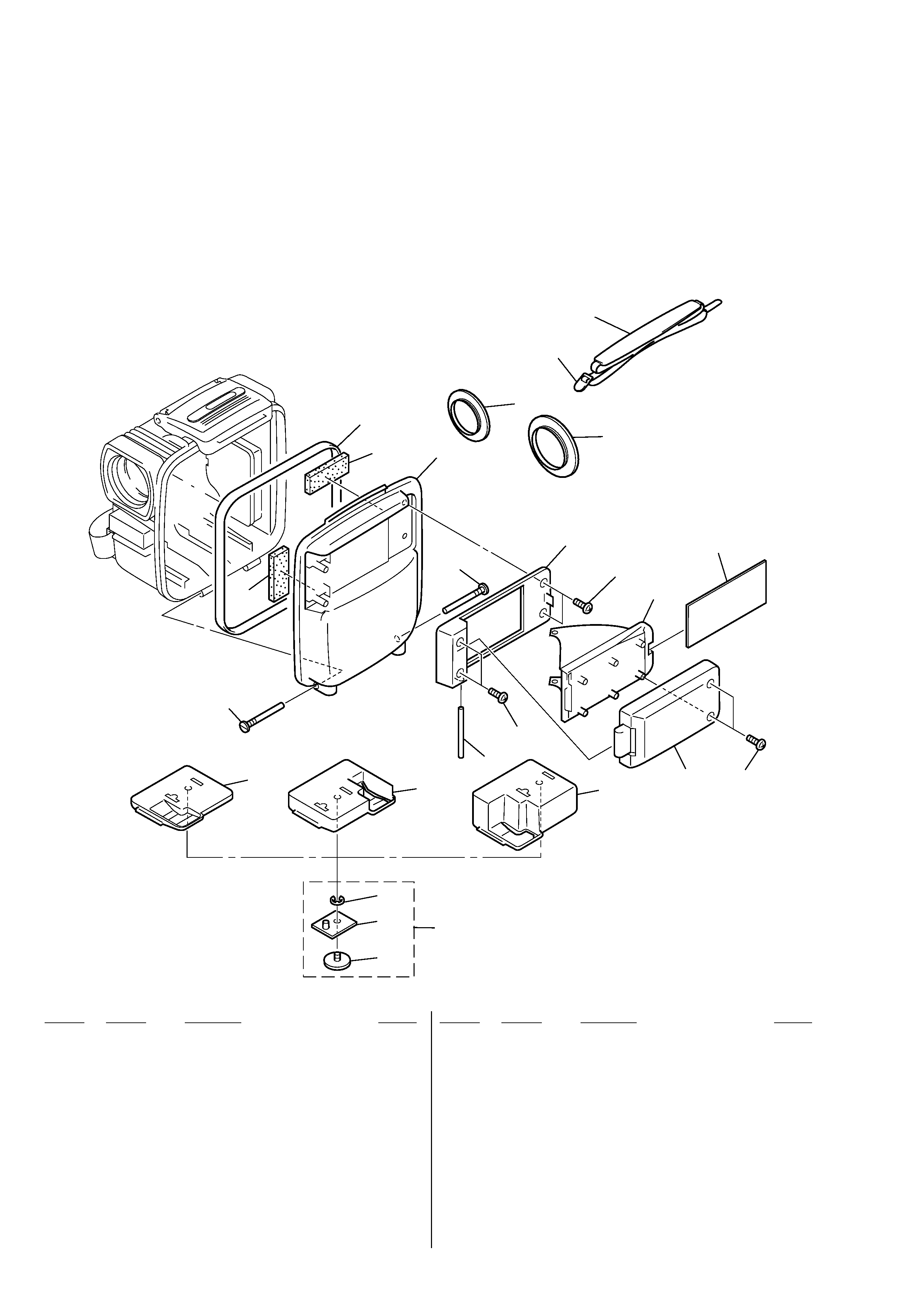 · The mechanical parts with no reference
number in the exploded views are not supplied.
· Items marked "*" are not stocked since
they are seldom required for routine service.
Some delay should be anticipated
when ordering these items.
· Accessories and packing materials are
given in the last of this parts list.
3-051-711-01 PACKING, CABINET
3-959-473-01 SHAFT, HINGE
3-051-705-01 BASE, MIRROR
3-051-707-01 COVER, MIRROR
3-051-562-01 TAPPING +B (2.6) TYPE (2)
3-051-706-01 HOOD, MIRROR
3-951-811-01 SCREW (2.6X6) (TYPE 2), +B
3-989-442-01 BELT, SHOULDER
2-391-512-00 RING (5), RETAINING, E TYPE
A-7028-261-A BASE BLOCK ASSY
3-970-217-01 SCREW, CAMERA FITTING
3-055-230-01 RING (37), REFLECTION PREVENTION
3-055-231-01 RING (30), REFLECTION PREVENTION
(for DCR-PC1/PC2E/PC3/PC3E/PC4E/PC5/PC5E)
---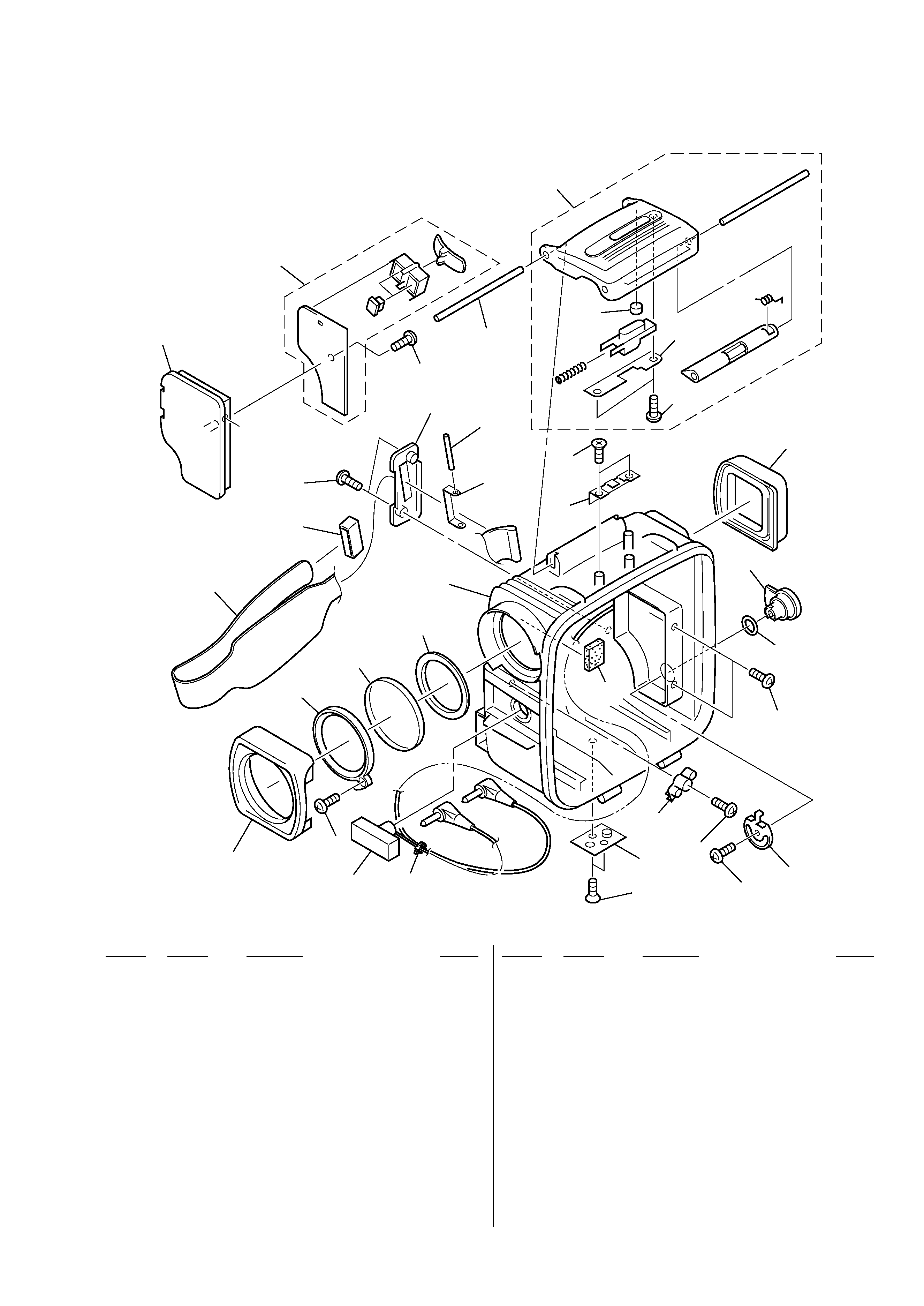 3-051-727-01 COVER, PC BOARD
3-976-839-01 PLATE, BUCKLE RETAINER
A-7073-659-A LS-50 BOARD, COMPLETE
A-7007-814-A BUCKLE BLOCK ASSY
3-051-729-01 SHAFT, BUCKLE
3-073-881-01 CAP (RED), AIR PUNCHING
3-951-813-11 SCREW (2X6) (TYPE 2), +K
3-051-712-01 PROTECTOR, FRONT
3-051-713-01 RETAINER, LENS
3-051-714-01 WINDOW, LENS
3-052-417-01 PACKING, LENS
3-951-811-01 SCREW (2.6X6) (TYPE 2), +B
A-7007-528-A MICROPHONE BLOCK ASSY
3-960-765-11 RING, GRIP BELT
3-051-562-01 TAPPING +B (2.6) TYPE (2)
3-051-719-01 RETAINER, GRIP
3-979-464-01 BRACKET (B), SHOULDER BELT
3-951-814-01 SCREW (2.6X10) (TYPE 2), +K
3-976-834-01 PLATE (UPPER), BUCKLE LOCK
3-051-717-01 PROTECTOR, REAR
3-051-724-01 LEVER, SELECTION
X-3950-724-1 CABINET ASSY, L
3-959-469-01 PLATE, TRIPOD SCREW
---