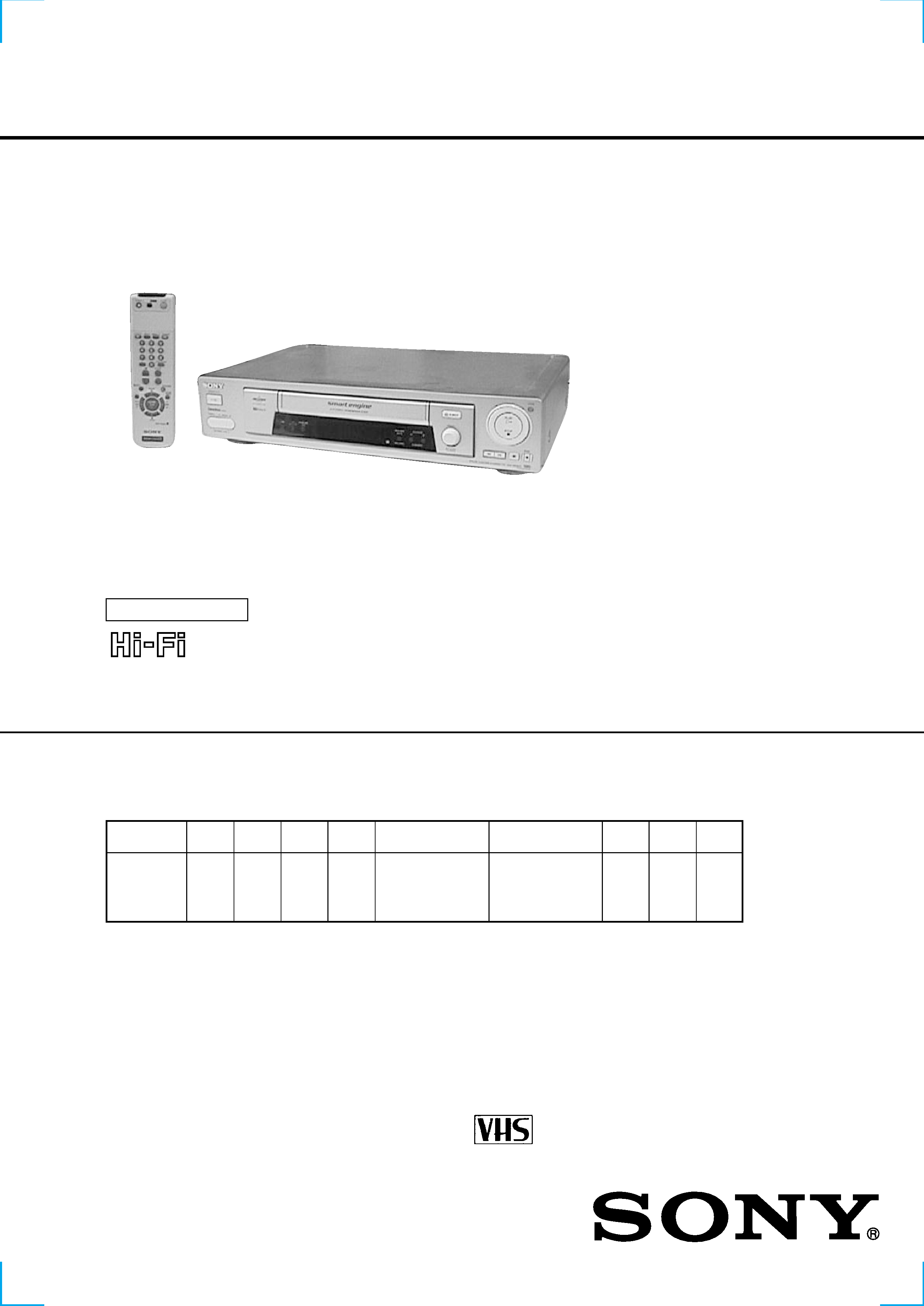 SLV-SE600B/SE700B/SE800B/SX700B
SLV-SE650D/SE700D1/SE800D1/
SLV-SE600A/SE700D2/SE800D2
SLV-SE350K/SE500K/SE600N/SE700K/
SLV-SE600E/SE700E2/SE800E/
· Refer to the SERVICE MANUAL of VHS MECHANICAL
ADJUSTMENTS VI for MECHANICAL ADJUSTMENTS.
* The abbreviations of SE350, SE500, SE600, SE650, SE700, SE800,
SX600, SX700 and SX800 contained in this service manual are indi-
cated when these models are common to all their corresponding mod-
RMT-V259/V259A/V259K/V259L/V288/V288A
SLV-SE350/SE500/SE600/SE650/SE700/SE800/
---

1. Check the area of your repair for unsoldered or poorly-sol-
dered connections. Check the entire board surface for solder
2. Check the interboard wiring to ensure that no wires are
"pinched" or contact high-wattage resistors.
3. Look for unauthorized replacement parts, particularly transis-
tors, that were installed during a previous repair. Point them
out to the customer and recommend their replacement.
After correcting the original service problem, perform the following
safety checks before releasing the set to the customer:
4. Look for parts which, though functioning, show obvious signs
of deterioration. Point them out to the customer and recom-
5. Check the B+ voltage to see it is at the values specified.
SAFETY-RELATED COMPONENT WARNING!!
COMPONENTS IDENTIFIED BY MARK 0 OR DOTTED
LINE WITH MARK 0 ON THE SCHEMATIC DIAGRAMS
AND IN THE PARTS LIST ARE CRITICAL TO SAFE
OPERATION. REPLACE THESE COMPONENTS WITH
SONY PARTS WHOSE PART NUMBERS APPEAR AS
SHOWN IN THIS MANUAL OR IN SUPPLEMENTS PUB-
SLV-SE350K, SE500K/R, SE600N,
UHF E21 to E69, R21 to R69
CATV S1 to S41, S01 to S05
SLV-SE600A/E, SX600E, SE650D,
SE700D1/D2/E1/E2, SX700D/E,
VHF Italian channel A to H
CATV S01 to S05, S1 to S20
SLV-SE600B, SE700B, SX700B, SE800B:
VHF Italian channel A to H
CATV S01 to S05, S1 to S20
VHF IA to IJ, SA10 to SA13 (SLV-SE700I)
CATV S01 to S05, S1 to S20 (SLV-SE700I)
HYPER S21 to S41 (SLV-SE700I)
75-ohm asymmetrical aerial socket
SLV-SE350K, SE500K/R, SE600N,
23.39 mm/s (recording/playback)
NTSC 33.35 mm/s (playback only)
11.70 mm/s (recording/playback)
NTSC 16.67 mm/s (playback only)
EP: NTSC 11.12 mm/s (playback only)
SLV-SE600A/E, SX600E, SE650D,
SE700D1/D2/E1/E2/G/I, SX700D/E,
23.39 mm/s (recording/playback)
NTSC 33.35 mm/s (playback only)
11.70 mm/s (recording/playback)
NTSC 16.67 mm/s (playback only)
EP: NTSC 11.12 mm/s (playback only)
SLV-SE600B, SE700B, SX700B, SE800B:
23.39 mm/s (recording/playback)
33.35 mm/s (playback only)
23.39 mm/s (recording/playback)
23.39 mm/s (playback only)
11.70 mm/s (recording/playback)
16.67 mm/s (playback only)
11.70 mm/s (recording/playback)
11.70 mm/s (playback only)
11.12 mm/s (playback only)
---

Maximum recording/playback time
10 hrs. in LP mode (with E300 tape)
Fast-forward and rewind time
Approx. 1 min (with E180 tape)
Audio input: pins 2 and 6
Audio output: pins 1 and 3
DECODER/t LINE-2 IN (SLV-SE600B/E, SX600E,
SE650D, SE700B/D1/D2/E1/E2/N/K, SX700B/D/E)
t LINE-2 IN (SLV-SE700G, SE700I)
Audio input: pins 2 and 6
DECODER/t LINE-3 IN (SLV-SE500K,
SE800B/D1/D2/E/N/K, SX800D)
Audio input: pins 2 and 6
LINE-2-IN (SLV-SE500, SE800, SX800)
Input signal: 1 Vp-p, 75 ohms, unbalanced, sync
AUDIO IN, phono jack (1) (SLV-SE500K/R, SE800N/K)
(EXCEPT SLV-SE500K/R, SE800N/K)
Input impedance: more than 47 kilohms
AUDIO OUT (SLV-SE650, SE700, SX700, SE800, SX800)
Rated output level: 327mVrms
Load impedance: 47 kilohms
Output inpedance: less than10 kilohms
Rated output level: 327 mVrms
Load impedance: 47 kilohms
Output impedance: less than 10 kilohms
Dimensions including projecting parts and controls
(EXCEPT SLV-SE800, SX800)
Approx. 4.3 kg (EXCEPT SLV-SE800, SX800)
Approx. 4.4 kg (SLV-SE800, SX800)
R6 (size AA) batteries (2)
Design and specifications are subject to change without
---

SLV- SE700D2 SE700E1 SE700E2 SE700G
× 2 21pin × 2 21pin × 2 21pin × 2 21pin × 2 21pin × 2 21pin × 2
× 2 21pin × 2 21pin × 2 21pin × 2 21pin × 2 21pin × 2 21pin × 2 21pin × 2 21pin × 2 21pin × 2
---

Feature Difference ................................................................... 4
SERVICE NOTE ...................................................................... 6
Getting Started .............................................................. 1-1
Basic Operations ........................................................... 1-10
Additional Operations .................................................... 1-15
Editing ............................................................................ 1-20
Additional Information ................................................... 1-21
Upper Case Removal .................................................... 2-1
Rear Panel Removal ..................................................... 2-1
Power Block (SRV938EK) Removal .............................. 2-1
Front Panel Section Removal ........................................ 2-1
Mechanism Deck Removal ............................................ 2-2
MA-373 Board Removal ................................................ 2-2
Internal Views ................................................................ 2-3
Circuit Boards Location ................................................. 2-4
Overall Block Diagram ................................................... 3-1
Video Block Diagram ..................................................... 3-3
Servo/System Control Block Diagram .......................... 3-5
Audio Block Diagram ..................................................... 3-7
Tuner Block Diagram ..................................................... 3-9
Mode Control Block Diagram ........................................ 3-11
Power Block Diagram .................................................... 3-13
PRINTED WIRING BOARDS AND
Frame Schematic Diagram ............................................ 4-3
Printed Wiring Boards and Schematic Diagrams ......... 4-5
MA-373 Printed Wiring Board ....................................... 4-5
MA-373 (Head Amp) Schematic Diagram .................... 4-9
MA-373 (Video, Audio) Schematic Diagram ................. 4-11
MA-373 (SECAM) Schematic Diagram ......................... 4-15
MA-373 (Servo/System Control)
Schematic Diagram ....................................................... 4-17
MA-373 (Hi-Fi Audio) Schematic Diagram .................... 4-21
MA-373 (Tuner) Schematic Diagram ............................ 4-23
MA-373 (I/O) Schematic Diagram ................................. 4-25
MA-373 (Mode Control) Schematic Diagram ................ 4-27
MA-373 (Power Supply) Schematic Diagram ............... 4-29
JK-180, KK-23 Schematic Diagrams ............................ 4-31
JK-180, KK-23 Printed Wiring Boards .......................... 4-33
DS-91 Printed Wiring Board .......................................... 4-34
DS-91 Schematic Diagram ............................................ 4-35
SRV938EK Printed Wiring Board .................................. 4-37
SRV938EK Schematic Diagram .................................... 4-39
INTERFACE, IC PIN FUNCTION DESCRIPTION
System Control-Video Block Interface
(MA-373 BOARD IC162) ............................................... 5-1
System Control-Servo Peripheral Circuit Interface
(MA-373 BOARD IC162) ............................................... 5-1
System Control-Mechanism Block Interface
(MA-373 BOARD IC162) ............................................... 5-2
System Control-System Control Peripheral Circuit
Interface (MA-373 BOARD IC162) ................................ 5-3
System Control-Audio Block Interface
(MA-373 BOARD IC162) ............................................... 5-3
Servo/System Control Microprocessor Pin Function
(MA-373 BOARD IC162) ............................................... 5-4
ERROR CODES
....................................................... 6-1
Mechanical Adjustments ............................................... 7-1
Electrical Adjustments ................................................... 7-1
Pre-Adjustment Preparations ........................................ 7-1
2-1-1. Instruments to be Used ............................................ 7-1
2-1-2. Connection ............................................................... 7-1
2-1-3. Set-up of Adjustment ............................................... 7-1
2-1-4. Alignment Tapes ....................................................... 7-1
2-1-5. Specified I/O Level and Impedance ......................... 7-1
2-1-6. Adjusting Sequence ................................................. 7-2
Power Supply Adjustments ........................................... 7-2
2-2-1. Power Supply Check ................................................ 7-2
2-2-2. +6 V Adjustment ....................................................... 7-2
Servo System Adjustment ............................................. 7-2
2-3-1. RF Switching Position Adjustment ........................... 7-2
Audio System Adjustments ........................................... 7-3
2-4-1. Hi-Fi Audio System Adjustment ............................... 7-3
AF Switching Position Adjustment ........................... 7-3
Frequency Response Check .................................... 7-3
Overall Level Characteristic and
Distortion Factor Check ........................................... 7-4
Overall S/N Check .................................................... 7-4
2-4-2. Normal Audio System Adjustment ........................... 7-4
ACE Head Adjustment ............................................. 7-4
E-E Output Level Check ........................................... 7-4
Frequency Response Check .................................... 7-4
Overall Level Characteristic and Distortion
Factor Check ............................................................ 7-5
Overall S/N Check .................................................... 7-5
Parts Arrangement Diagram for Adjustments ............... 7-6
Exploded Views ............................................................. 8-1
8-1-1. Front Panel and Cabinet Assemblies ....................... 8-1
8-1-2. Chassis Assembly .................................................... 8-3
8-1-3. Mechanism Chassis Assembly (1) ........................... 8-4
8-1-4. Mechanism Chassis Assembly (2) ........................... 8-5
8-1-5. Mechanism Chassis Assembly (3) ........................... 8-6
Electrical Parts List ....................................................... 8-7
---