---

Do not install the appliance in a
confined space, such as a bookcase or
For the customers in Canada
TO PREVENT ELECTRIC SHOCK, DO
NOT USE THIS POLARIZED AC PLUG
RECEPTACLE OR OTHER OUTLET
UNLESS THE BLADES CAN BE FULLY
INSERTED TO PREVENT BLADE
---

Thank you for purchasing the Sony
Active Subwoofer. Before operating this
woofer, please read this manual
thoroughly and retain it for future
---

Check that you received the following items:
· Audio connecting cord (1)
Since the human ear cannot detect the direction and
position where the bass sound being reproduced by a
woofer (below 170 Hz) comes from, you can install the
woofer wherever you like in your room. To obtain a
better bass reproduction, we recommend you to install
the woofer on a solid floor where the resonance is
You can obtain a sufficient heavy bass reproduction
from a single woofer. However if you use a couple of
the woofers, you can obtain an even more effective
· Always install the woofer vertically, keeping a few
centimeters from away the wall.
· Do not place an object on the woofer or sit on it.
· If the woofer is installed in the center of a room, the bass
could be extreamely weakened. This is due to the
influence of the standing wave of the room. If this
happened, move the woofer away from the center of a
room or eliminate the cause of the standing wave, by
installing a bookshelf on the wall, etc.
---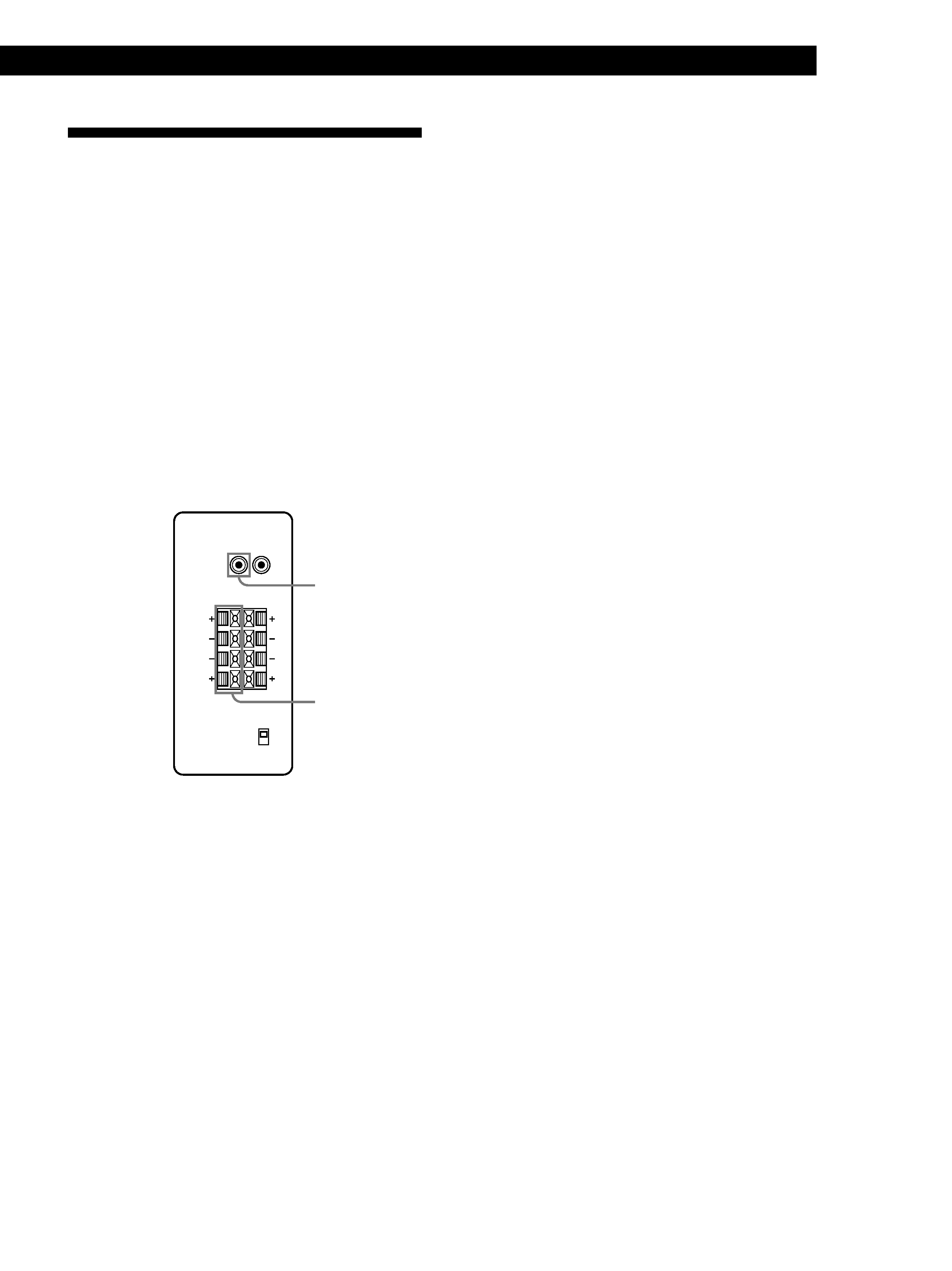 Use the LINE IN jacks or the SPEAKER IN terminals of
the woofer when you connect the amplifier.
· If your amplifier has one of the following types of
output jacks, connect the LINE IN jack and the
amplifier's jack using the supplied audio connecting
-- SUBWOOFER output jack(s)
-- SUPER WOOFER output jack(s)
· If your amplifier does not have the above mentioned
output jacks, connect the speaker terminals of the
amplifier to the SPEAKER IN terminals instead.
· Turn off the power of the amplifier and the woofer
before making any connection.
· Use the audio connecting cords that are supplied to
the respective equipment. If there are not enough
audio connecting cords to make the necessary
connections, you need to purchase some optional
· Be sure to make connections firmly to avoid noise.
· Connect the AC power cord from the woofer to a
· You cannot connect the CENTER output jack for use
with Dolby Pro Logic function to the woofer. Bass
sound is not output with some Dolby Pro Logic
---