The model and serial numbers are located on the rear of the unit. Record the serial
number in the space provided below. Refer to them whenever you call upon your
Sony dealer regarding this product.
---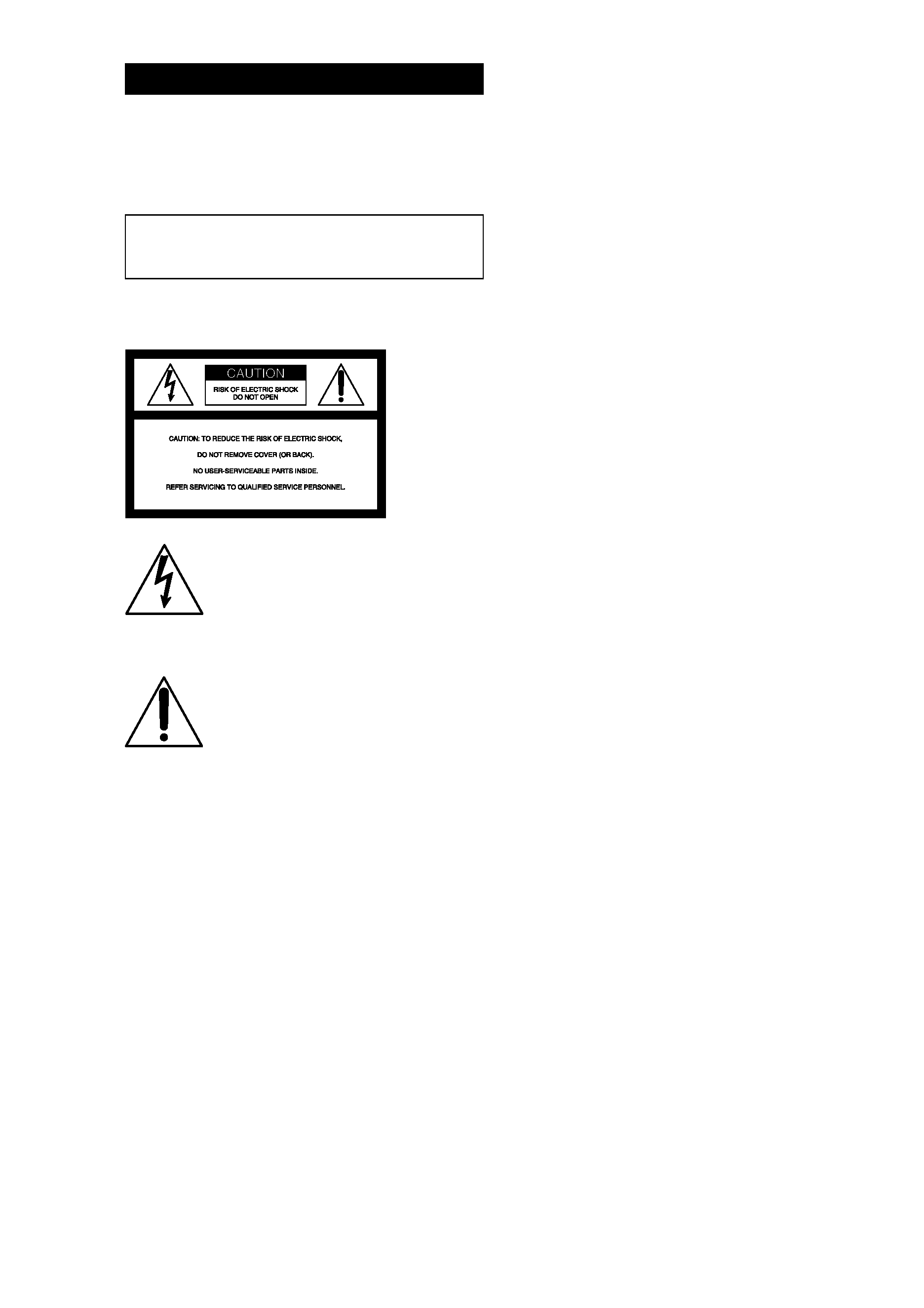 To prevent fire or shock hazard, do not
expose the unit to rain or moisture.
To avoid electrical shock, do not open the cabinet.
Refer servicing to qualified personnel only.
Do not install the appliance in a confined space,
such as a bookcase or built-in cabinet.
NOTICE FOR THE CUSTOMERS IN THE
This symbol is intended to alert the
user to the presence of uninsulated
"dangerous voltage" within the
product's enclosure that may be of
sufficient magnitude to constitute a
risk of electric shock to persons.
This symbol is intended to alert the
user to the presence of important
operating and maintenance
(servicing) instructions in the
literature accompanying the
You are cautioned that any changes or modification
not expressly approved in this manual could void
your authority to operate this equipment.
Note to CATV system installer:
This reminder is provided to call CATV system
installer's attention to Article 820-40 of the NEC that
provides guidelines for proper grounding and, in
particular, specifies that the cable ground shall be
connected to the grounding system of the building,
as close to the point of cable entry as practical.
Use of this applicance with some systems may
present a shock or fire hazard. Do not use with any
units which have the following marking located
WARNING: HAZARDOUS ENERGY!
---

The instructions in this manual are for SA-VE315 and SA-VE312, Sony Micro Satellite Systems.
Differences between the systems
The SA-VE315 is a 5.1 channel speaker system consisting of two front speakers, two rear
speakers, one center speaker, and one subwoofer. It supports Sony DigitCinema Sound, Dolby*
Pro Logic, and Dolby Digital (AC-3), and is thus geared towards the enjoyment of movies.
Consisting of two front speakers and one subwoofer, the SA-VE312 is suited for the enjoyment
* Manufactured under license from Dolby Laboratories. DOLBY, the double-D symbol ;, "PRO LOGIC" and
"Dolby Digital (AC-3)" are trademarks of Dolby Laboratories.
Any difference in operation is clearly indicated in the text, for example, "SA-VE315 only."
Hooking up the system ......................... 4
Positioning the speakers ........................ 7
Listening to the sound ........................... 8
Adjusting the sound .............................. 8
Precautions ............................................ 10
Troubleshooting ................................... 11
Specifications ........................................ 11
---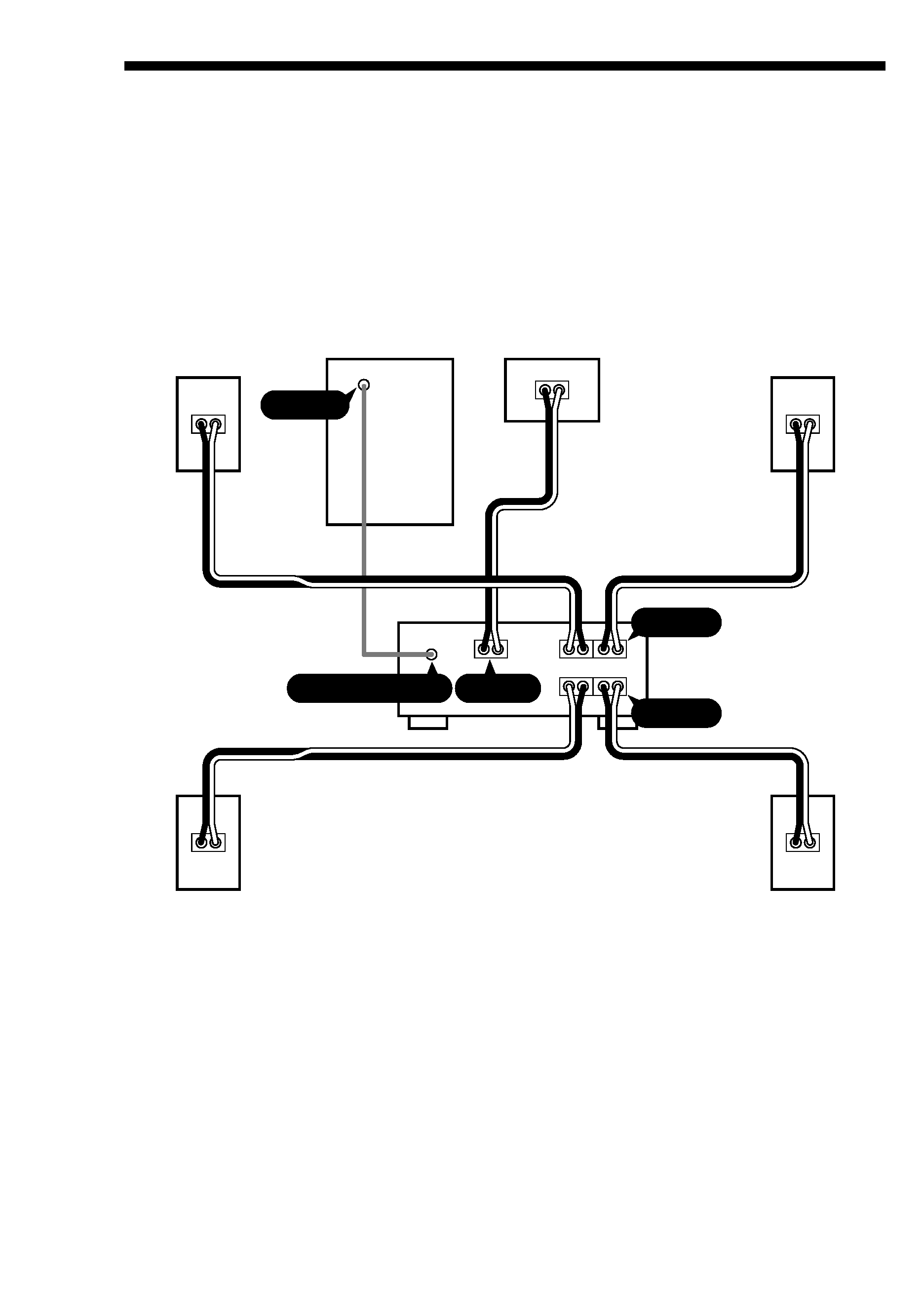 Connectthespeakersystemtothespeakeroutputterminalsofanamplifier.
Makesurepowertoallcomponents(includedthesubwoofer)isturnedoffbeforestartingthe
This configuration is used when the amplifier is connected to a DVD player, LD player, VCR or
---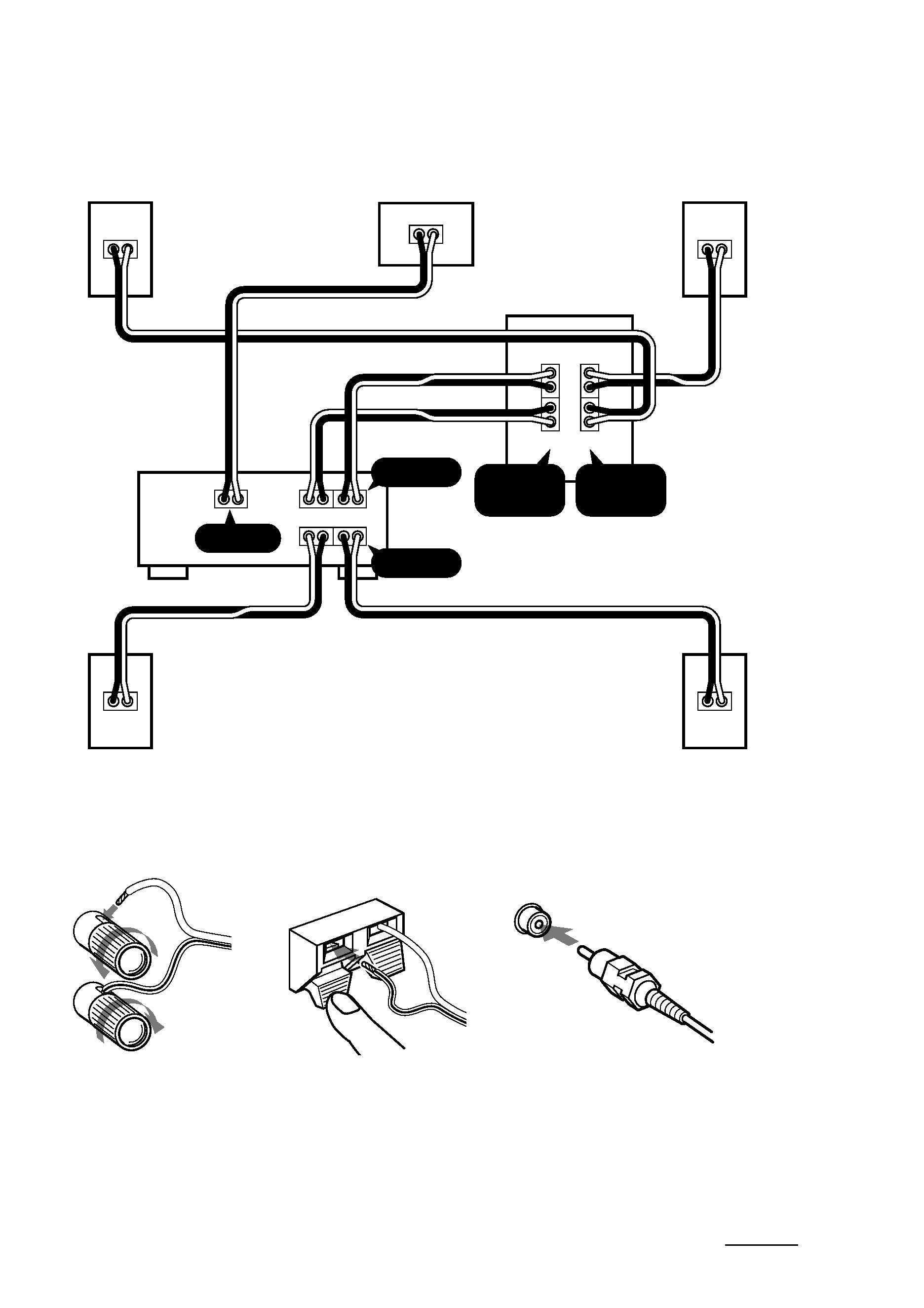 Trythisconfigurationinsteadof"HookupA"inthefollowingsituations:
-- Whentherearenojacksontheamplifierforasubwoofer.
-- Whenyouwantastrongerbasssoundfromthesubwoofer.
Terminal (jack) connections
---