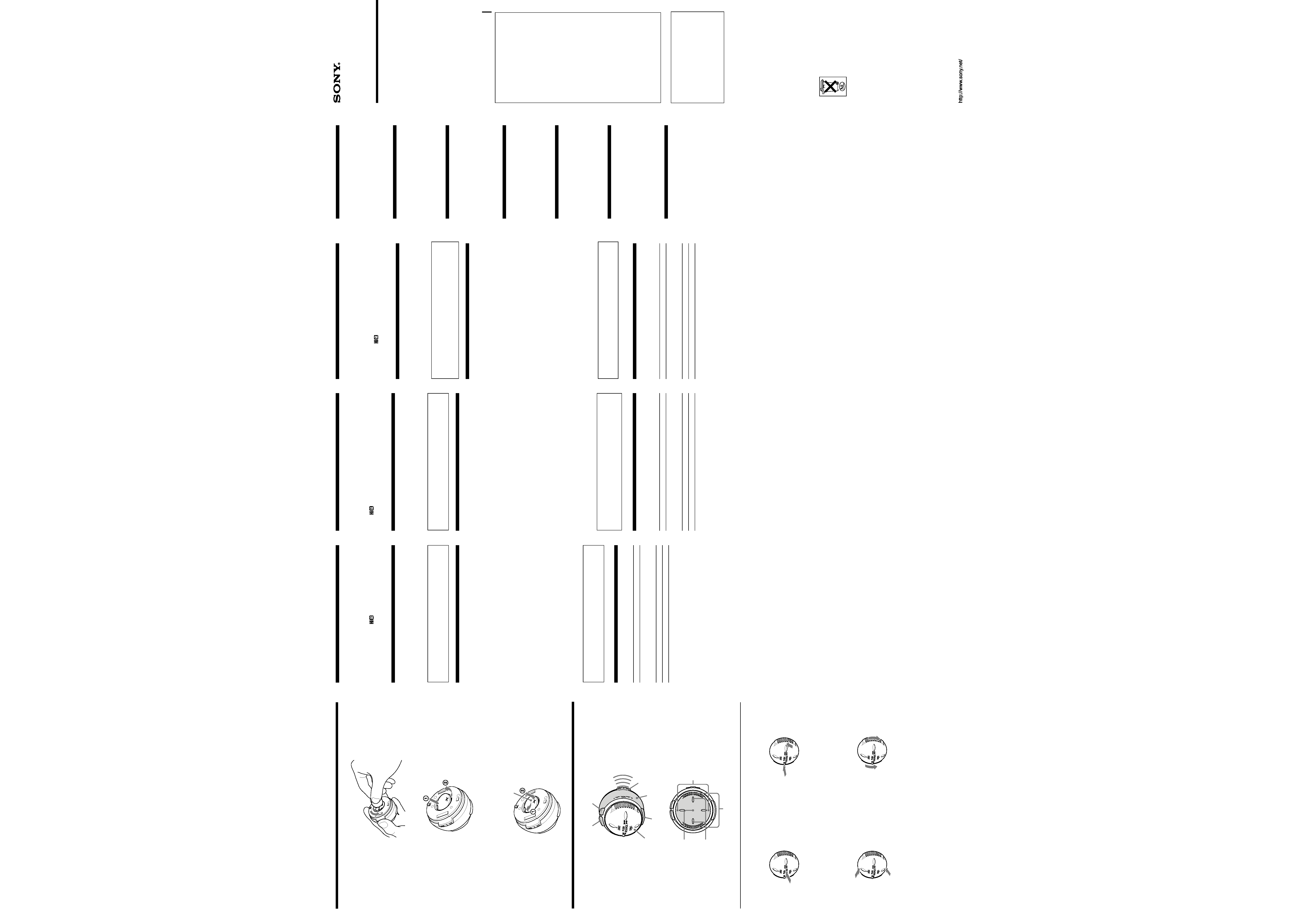 Supplied accessories Screw (1)
Lithium battery CR2032 (1)
CR2032-Lithiumbatterie (1)
Pile au lithium CR2032 (1)
Accessori in dotazione Vite (1)
Supporto di montaggio (1)
Batteria al litio CR2032 (1)
CR2032 lithiumbatterij (1)
Voor de Klanten in Nederland
Gooi de batterij niet weg maar
lever deze in als klein chemisch
This equipment has been tested and found
to comply with the limits for a Class B
digital device, pursuant to Part 15 of the
FCC Rules. The limits are designed to
provide reasonable protection against
harmful interference in a residential
installation. This equipment generates,
uses, and can radiate radio frequency
energy and, if not installed and used in
accordance with the instructions, may cause
harmful interference to radio
communications. However, there is no
guarantee that interference will not occur in
a particular television reception, which can
be determined by turning the equipment
off and on, the user is encouraged to try to
correct the interference by one or more of
-- Reorient or relocate the receiving
-- Increase the separation between the
-- Connect the equipment into an outlet on
a circuit different from that to which the
-- Consult the dealer or an experienced
radio/TV technician for help.
You are cautioned that any changes or
modifications not expressly approved in
this manual could void your authority to
En appuyant sur la commande
· Installation flexibility
· Detachable for theft prevention
Only master units marked with
are controllable with this rotary
commander. For details on available models of master unit, consult your
· Do not spray the rotary commander with deodorant, or the surface of the
rotary commander may be damaged.
· Do not cover the infrared emitter with your hand while operating the
The functions of the master unit are controllable with identical
buttons and controls on the rotary commander corresponding to
the master unit. For details on these functions, refer to the
operating manual for the master unit.
Replacing the lithium battery (
1
)
1 Opening the battery compartment lid
Hold the infrared adjusting dial and open the battery compartment lid
by rotating counter-clockwise with a coin.
Press the side of the battery as illustrated, then remove.
Insert the battery as illustrated. Make sure the polarity of the battery is
oriented in the correct way.
Note on lithium battery life
· The battery will last for approximately 1 year in normal operation.
· When the battery becomes weak, you will not be able to operate the unit
with the rotary commander. Replace the battery as soon as possible with a
new CR2032 lithium battery.
· Keep the lithium battery out of the reach of children. Should the battery
be swallowed, immediately consult a doctor.
· Wipe the battery with a dry cloth to assure a good contact.
· Be sure to observe the correct polarity when installing the battery.
· Do not hold the battery with metallic tweezers, otherwise a short-circuit
Battery may explode if mistreated.
Do not recharge, disassemble, or dispose of in fire.
Location and Function of Controls
(
2
)
(Radio band/CD unit/MD unit
/Tape playback direction/TV
*
1
, etc.)
Stop playback or radio reception
Rotate the dial to change the direction of infrared rays.
The rotary commander emits infrared rays in the direction of the dial
Press the control to change the source.
(Radio/CD/MD/Tape/TV*
1
/AUX, etc.)
-- tune in stations automatically.
-- skip tracks on the disc.
-- locate the beginning of tracks on the tape.
-- find a station manually.
-- fast-forward/reverse a track.
-- receive preset stations.
Rotate the control to adjust the volume.
*
1
Only in the U.S.A. and Canada models.
*
2
If your car has no ACC (accessory) position on the ignition key switch, be
sure to press (OFF) for 2 seconds to turn off the clock indication after
turning off the ignition.
*
3
When an MP3 file is played back on an MP3 compatible master unit.
*
4
When an MP3 file is played back on a CD unit (MP3 compatible)
connected to the master unit.
THIS DEVICE COMPLIES WITH PART 15
OF THE FCC RULES. OPERATION IS
(1) THIS DEVICE MAY NOT CAUSE
HARMFUL INTERFERENCE, AND
(2) THIS DEVICE MUST ACCEPT ANY
INTERFERENCE RECEIVED, INCLUDING
INTERFERENCE THAT MAY CAUSE
Explosionsfara vid felaktigt batteribyte.
Använd samma batterityp eller en likvärdig typ
som rekommenderas av apparattillverkaren.
Kassera använt batteri enligt gällande
Bitte werfen Sie nur entladene Batterien in die
Sammelboxen beim Handel oder den Kommunen.
Entladen sind Batterien in der Regel dann, wenn
das Gerät abschaltet und signalisiert ,,Batterie
leer" oder nach längerer Gebrauchsdauer der
Batterien ,,nicht mehr einwandfrei funktioniert".
Um sicherzugehen, kleben Sie die Batteriepole
z.B. mit einem Klebestreifen ab oder geben Sie
die Batterien einzeln in einen Plastikbeutel.
· Utilisation par reconnaissance tactile
· Plusieurs options d'installation
· Amovible pour prévenir les risques de vol
Ce satellite de commande contrôle uniquement les appareils principaux
. Pour de plus amples informations concernant
les modèles d'appareils principaux en vente, contactez votre revendeur
· Ne pas vaporiser de déodorant sur le satellite de commande pour ne
pas endommager la finition.
· Ne pas couvrir l'émetteur à infrarouges avec la main pendant
l'utilisation du satellite de commande.
Les touches et les commandes du satellite de commande
permettent de commander les mêmes fonctions que les touches et
commandes de l'appareil principal. Pour de plus amples
informations sur ces fonctions, reportez-vous au mode d'emploi de
Remplacement de la pile au lithium (
1
)
1 Ouverture du couvercle du logement de la pile
Saisissez la molette de réglage de direction des rayons infrarouges et
ouvrez le couvercle du logement de la pile en le faisant tourner dans le
sens contraire des aiguilles d'une montre avec une pièce de monnaie.
Appuyez sur le côté de la pile comme indiqué, puis retirez-la.
3 Mise en place de la pile
Insérez la pile comme indiqué dans l'illustration. Veillez à installer la
pile en respectant la polarité.
Remarques concernant la durée de vie de la pile au lithium
· Dans les conditions d'utilisation normales, la pile dure environ 1 an.
· Lorsque la pile faiblit, il n'est plus possible de commander l'appareil avec
le satellite de commande. Remplacez la pile le plus tôt possible par une
nouvelle pile au lithium CR2032.
Remarques concernant la pile au lithium
· Gardez la pile au lithium hors de portée des enfants. En cas d'ingestion
de la pile, consultez un médecin sans tarder.
· Nettoyez la pile avec un chiffon sec afin d'assurer un contact optimal.
· Respectez la polarité lorsque vous installez la pile.
· Ne manipulez pas la pile avec des pinces métalliques. Cette opération
pourrait provoquer un court-circuit.
Utilisée de façon incorrecte, la pile peut exploser. Ne pas la recharger,
la démonter ni la jeter au feu.
Emplacement et fonction des commandes
(bande radio/lecteur CD/lecteur MD/sens de
lecture de la cassette/TV
*
1
, etc.)
Arrêter la lecture ou l'écoute de la radio
Molette de réglage des rayons IR
Tournez la molette pour modifier la direction des rayons infrarouges.
Le satellite de commande transmet des rayons infrarouges dans la
direction réglée avec la molette.
Fonctionnement de la molette multidirectionnelle
Appuyez sur la commande pour changer de source.
(Radio/CD/MD/Cassette/TV*
1
/AUX, etc.)
Appuyez sur cette commande pour :
-- passer d'une plage à l'autre.
-- rechercher des stations automatiquement.
-- repérer le début des pistes sur la bande.
Maintenez cette commande enfoncée pour :
-- trouver une station manuellement.
-- avancer rapidement/revenir en arrière dans une plage.
-- rembobiner d'abord la bande.
Appuyez sur cette commande pour :
-- écouter des stations prédéfinies.
-- passer d'un album à l'autre.*
3
Maintenez cette commande enfoncée pour :
-- passer d'un album à l'autre.*
4
Réglez le volume en faisant tourner la commande.
*
1
Modèles pour les E-U et le Canada uniquement.
*
2
Si votre voiture ne dispose pas de position ACC (accessoires) au niveau
du contact, assurez-vous d'éteindre l'appareil en appuyant sur (OFF)
pendant 2 secondes afin d'éteindre l'affichage de l'horloge après avoir
*
3
Lors de la lecture d'un fichier MP3 sur un appareil principal compatible
*
4
Lors de la lecture d'un fichier MP3 sur un lecteur CD compatible MP3
raccordé à l'appareil principal.
En appuyant sur la commande
· Bedienung ohne Sichtkontakt
· Mehrere Installationsmöglichkeiten
· Zum Schutz vor Diebstahl abnehmbar
markierte Hauptgeräte lassen sich mit diesem Joystick
steuern. Weitere Informationen zu verfügbaren Hauptgerätemodellen
erhalten Sie bei Ihrem Sony-Händler.
· Sprühen Sie kein Deodorant auf den Joystick. Andernfalls kann die
Oberfläche des Joysticks beschädigt werden.
· Decken Sie den Infrarotsender nicht mit der Hand ab, während Sie den
Die Funktionen des Hauptgeräts lassen sich mit den Tasten und
Reglern am Joystick steuern, die den Bedienelementen am
Hauptgerät entsprechen. Näheres zu diesen Funktionen finden Sie
in der Bedienungsanleitung zu dem Hauptgerät.
Austauschen der Lithiumbatterie (
1
)
1 Öffnen des Batteriefachdeckels
Halten Sie den Regler zum Einstellen der Infrarotstrahlen fest, und
öffnen Sie den Batteriefachdeckel, indem Sie ihn mit einer Münze gegen
den Uhrzeigersinn drehen.
2 Herausnehmen der Batterie
Drücken Sie wie in der Abbildung dargestellt auf eine Seite der Batterie,
und nehmen Sie sie heraus.
Legen Sie die Batterie wie in der Abbildung dargestellt ein. Achten Sie
dabei auf die richtige Polarität der Batterie.
Hinweise zur Lebensdauer der Lithiumbatterie
· Unter normalen Bedingungen halten die Batterien etwa 1 Jahr.
· Wenn die Batterie schwächer wird, können Sie das Gerät nicht mehr mit
dem Joystick steuern. Tauschen Sie die Batterie so bald wie möglich
gegen eine neue CR2032-Lithiumbatterie aus.
Hinweise zur Lithiumbatterie
· Halten Sie die Lithiumbatterie von Kindern fern. Falls ein Kind die Batterie
verschluckt, bringen Sie es bitte sofort zu einem Arzt.
· Wischen Sie die Batterie mit einem trockenen Tuch ab, damit die Kontakte
sauber sind und gut funktionieren.
· Achten Sie beim Einlegen der Batterie auf die korrekte Polarität.
· Halten Sie die Batterie nicht mit einer Metallpinzette. Andernfalls kann es
zu einem Kurzschluß kommen.
Die Batterie kann bei falscher Handhabung explodieren!
Auf keinen Fall darf sie aufgeladen, auseinandergenommen oder ins
Lage und Funktion der Teile und
(Radiofrequenzbereich/CD-Gerät/MD-Gerät/
Bandwiedergaberichtung/Fernsehgerät
*
1
usw. )
Stoppen der Wiedergabe oder des Radioempfangs
Regler für Infrarotstrahlen
Drehen Sie den Regler, um die Richtung der Infrarotstrahlen zu
Der Joystick gibt die Infrarotstrahlen in der Richtung aus, die mit dem
Bedienen des Joystick-Kopfes
Durch Drücken des Reglers wechseln Sie die Tonquelle.
(Radio/CD/MD/Kassette/TV*
1
/AUX usw.)
Drücken Sie den Regler zum:
-- automatischen Einstellen von Sendern.
-- überspringen von Titeln.
-- ansteuern des Anfangs von Titeln auf der Kassette.
Halten Sie den Regler gedrückt zum:
-- manuellen Einstellen von Sendern.
-- Vorwärts-/Rückwärtssuchen in einem Titel.
Drücken Sie den Regler zum:
-- gespeicherte Sender einstellen.
-- Wechseln des Albums.*
3
Halten Sie den Regler gedrückt zum:
-- Wechseln des Albums.*
4
Stellen Sie durch Drehen des Reglers die Lautstärke ein.
*
1
nur bei den Modellen für USA und Kanada.
*
2
Wenn Ihr Fahrzeug nicht über ein Zündschloß mit Zubehörposition (ACC
oder I) verfügt, halten Sie unbedingt 2 Sekunden lang (OFF) gedrückt,
um die Uhrzeitanzeige auszuschalten. Andernfalls wird der Autobatterie
weiterhin Strom entzogen.
*
3
Wenn eine MP3-Datei auf einem MP3-kompatiblen Hauptgerät
*
4
Wenn eine MP3-Datei auf einem CD-Gerät (MP3-kompatibel)
wiedergegeben wird, das an das Hauptgerät angeschlossen ist.
En appuyant sur la commande
Direction of infrared signal
Richtung des Infrarotsignals
Direction du signal infrarouge
Printed on 100 % recycled paper.
---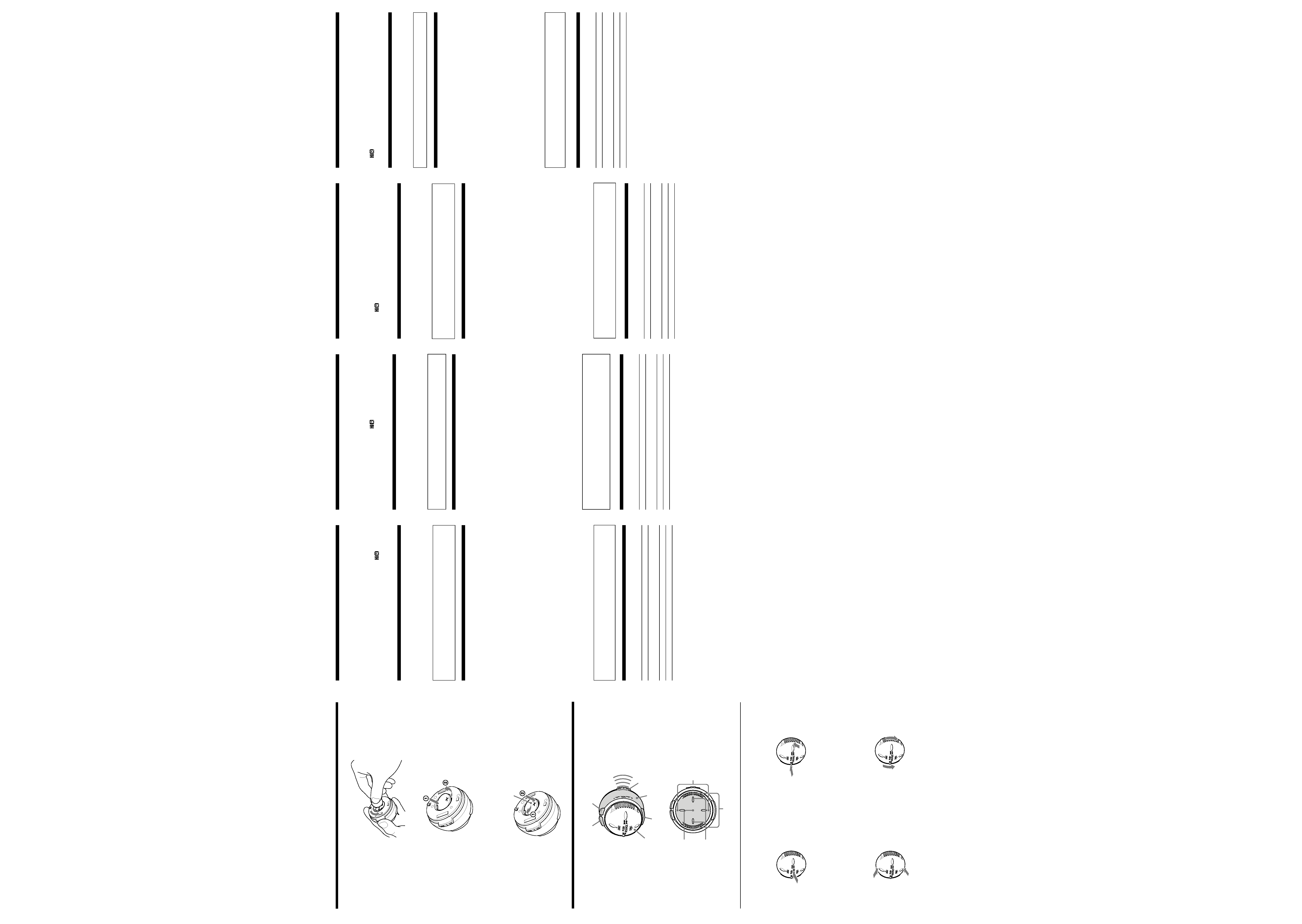 · Funzionamento senza la necessità di distogliere lo sguardo dalla guida
· Flessibilità di installazione
· Telecomando estraibile per prevenirne eventuali furti
Mediante questo telecomando a rotazione è possibile controllare
esclusivamente le unità principali contrassegnate dal simbolo
informazioni sui modelli di unità principali disponibili, rivolgersi al più vicino
· Non spruzzare deodoranti sul telecomando a rotazione, onde evitare di
danneggiarne la superficie.
· Non coprire l'emettitore di infrarossi con la mano durante l'utilizzo del
È possibile controllare le funzioni dell'unità principale utilizzando i
corrispondenti tasti e comandi del telecomando a rotazione. Per
informazioni su tali funzioni, consultare le istruzioni per l'uso dell'unità
Sostituzione della batteria al litio
(
1
)
1 Apertura del coperchio dello scomparto batteria
Tenere la manopola di regolazione degli infrarossi e aprire il coperchio dello
scomparto batteria facendolo ruotare in senso antiorario con una moneta.
2 Rimozione della batteria
Premere un'estremità della batteria come illustrato, quindi rimuoverla.
3 Inserimento della batteria
Inserire la batteria come illustrato. Accertarsi che i poli della batteria siano
stati orientati nel modo corretto.
Note sulla durata della batteria al litio
· In condizioni normali, le batterie durano circa 1 anno.
· Quando la batteria si scarica, non sarà più possibile controllare l'unità principale con
il telecomando a rotazione. Sostituire la batteria con una nuova batteria al litio
Note sulle batterie al litio
· Tenere le batterie al litio fuori dalla portata dei bambini. Se venissero ingerite,
consultare immediatamente un medico.
· Pulire le batterie con un panno asciutto per assicurare un buon contatto.
· Durante l'installazione, assicurarsi di osservare la giusta polarità.
· Non maneggiare le batterie con pinze di metallo, potrebbero verificarsi cortocircuiti.
La batteria può esplodere se usata scorrettamente. Pertanto, non dere essere
deve essere ricaricata, smontata o gettatela nel fuoco.
Localizzazione e funzione dei comandi
(
2
)
Cambiare operazione (Banda radio/unità CD/unità MD/
direzione di riproduzione della cassetta/TV
*
1
e così via )
Arrestare la riproduzione o la ricezione della radio
Manopola raggi infrarossi
Ruotare la manopola per cambiare la direzione dei raggi infrarossi.
Il telecomando a rotazione emette i raggi infrarossi nella direzione
impostata mediante la manopola.
Funzionamento della manopola dei comandi
Premere il comando per cambiare la sorgente.
(radio/CD/MD/nastro/TV
*
1
/AUX e così via)
-- sintonizzare automaticamente le stazioni.
-- saltare i brani sul disco.
-- localizzare l'inizio dei brani sulla cassetta.
Premere e tenere premuto per:
-- trovare una stazione manualmente.
-- avanzare/tornare indietro rapidamente all'interno di un brano.
-- avvolgere il nastro fino all'inizio.
-- ricevere le stazioni preimpostate.
Premere e tenere premuto per:
Ruotare il comando per regolare il volume.
*
1
Solo per i modelli degli Stati Uniti e del Canada.
*
2
Se l'auto è priva della posizione ACC per la chiave di avviamento, accertarsi di
premere (OFF) per due secondi per disattivare l'indicazione dell'orologio dopo
*
3
Se viene riprodotto un file MP3 mediante un'unità principale compatibile con il
*
4
Se viene riprodotto un file MP3 mediante un'unità CD (compatibile con il formato
MP3) collegata all'unità principale.
· Blindelings te bedienen
· Makkelijk te installeren
· Afneembaar ter voorkoming van diefstal
Alleen hoofdtoestellen met de markering
bedieningssatelliet worden bediend. Raadpleeg uw Sony dealer voor meer
details over hoofdtoestellen.
· Spuit geen deodorant op de afstandsbediening om te voorkomen dat het oppervlak
· Dek de infraroodzender niet af met de hand terwijl u de bedieningssatelliet
De functies van het hoofdtoestel kunnen worden bediend met precies
dezelfde toetsen en regelaars op de bedieningssatelliet. Meer details vindt u
in de gebruiksaanwijzing van het hoofdtoestel.
Vervangen van de lithiumbatterij
(
1
)
1 Het deksel van de batterijhouder openen
Hou de infraroodregelknop vast en open het deksel van de batterijhouder
door met een munt linksom te draaien.
2 De batterij verwijderen
Druk op de zijkant van de batterij zoals afgebeeld en verwijder ze.
Breng de batterij in zoals de afbeelding laat zien. Zorg ervoor dat de
batterijpolen in de juiste richting zitten.
Opmerking over de levensduur van een lithiumbatterij
· Normaal gaan de batterijen ongeveer 1 jaar mee.
· Wanneer de batterij uitgeput raakt, kunt u het toestel niet meer bedienen met de
bedieningssatelliet. Vervang de batterij dan zo snel mogelijk door een nieuwe
Opmerking over de lithiumbatterij
· Hou de lithiumbatterij buiten het bereik van kinderen. Als de batterij wordt
ingeslikt, onmiddellijk een dokter raadplegen.
· Veeg de batterij schoon met een droge doek voor een goed contact.
· Plaats de batterij met de min- en plus-polen in de juiste richting.
· Hou de batterij niet vast met een metalen pincet, anders kan kortsluiting optreden.
Bij oneigenlijk gebruik kan de batterij ontploffen.
Probeer niet de batterij op te laden of te openen; werp ook een lege batterij
Positie en functie van de bedieningselementen
(
2
)
Van bediening te veranderen (radioband/CD-apparatuur/
MD-apparatuur/weergaverichting cassette /TV
*
1
, enz.)
De weergave of de radio-ontvangst te stoppen
Draai aan de knop om de richting van de infraroodstralen te wijzigen.
De bedieningssatelliet zendt infraroodstralen uit volgens de instelling van
Druk op de regelaar om van bron te veranderen.
(Radio/CD/MD/Cassette/TV
*
1
/AUX, enz.)
-- automatisch af te stemmen op een zender.
-- het begin van tracks op de cassette te zoeken.
-- handmatig een zender te zoeken.
-- snel vooruit/achteruit naar een track te gaan.
-- snel vooruit te spoelen.
-- voorinstelzenders te ontvangen.
-- van disc te veranderen.
-- van album te veranderen.
*
3
-- van album te veranderen.
*
4
Draai aan de regelaar om het volume te regelen.
*
1
Enkel voor U.S.A. en Canada.
*
2
Indien uw auto niet is voorzien van een contactslot met ACC stand, moet u de
klokweergave afzetten door (OFF) 2 seconden lang in te drukken nadat u het
*
3
Bij weergave van een MP3-bestand met een MP3-compatibel hoofdtoestel.
*
4
Bij weergave van een MP3-bestand met (MP3 compatibele) CD-apparatuur die is
aangesloten op het hoofdtoestel.
· Funcionamiento sin visualización
· Flexibilidad de instalación
· Extraíble para evitar el robo
Este mando giratorio permite controlar únicamente las unidades principales
. Si desea información adicional sobre los modelos de
unidades principales disponibles, póngase en contacto con su distribuidor Sony
· No rocíe el mando giratorio con desodorantes en aerosol. De lo contrario, podría
· No cubra el emisor de infrarrojos con la mano durante el funcionamiento del
Las funciones de la unidad principal se pueden controlar con los botones y
controles del mando giratorio que corresponden a los de la unidad principal.
Si desea obtener más información sobre estas funciones, consulte el manual
de funcionamiento de la unidad principal.
Sustitución de la pila de litio (
1
)
1 Apertura de la tapa del compartimiento para pilas
Sujete el control de ajuste de infrarrojos y abra la tapa del compartimiento
para pilas naciéndolo girar con una moneda en el sentido opuesto a las
Haga presión sobre el lateral de la pila según se indica y extráigala.
Inserte la pila según se indica en la ilustración. Compruebe que la
orientación de la polaridad es la correcta.
Notas sobre la duración de la pila de litio
· En condiciones normales, las pilas duran aproximadamente 1 año.
· Cuando la pila dispone de poca energía, no podrá utilizar la unidad con el mando a
distancia. Sustituya dicha pila por otra de litio CR2032 nueva.
Notas sobre la pila de litio
· Mantenga la pila fuera del alcance de los niños. En caso de ingestión, póngase
inmediatamente en contacto con un médico.
· Limpie la pila con un paño seco para garantizar un contacto óptimo.
· Cuando instale la pila, insértela con la polaridad correcta.
· No maneje la pila con pinzas metálicas, ya que puede producirse un cortocircuito.
La pila puede explotar si no se emple adecuadamente.
No recargue la pila; tampoco la desmonte ni la arroje al fuego.
Localización y función de los controles
(
2
)
(banda de radio/unidad de CD/unidad de MD/TV
*
1
, etc.)
Detener la reproducción o la recepción de la radio
Selector de rayos infrarrojos
Gire el selector para cambiar la dirección de los rayos infrarrojos.
El mando giratorio emite rayos infrarrojos en la dirección del ajuste del
Funcionamiento del botón de palanca
Pulse el control para cambiar la fuente.
(Radio/CD/MD/Cinta/TV*
1
/AUX, etc.)
-- sintonizar emisoras automáticamente.
-- omitir pistas del disco.
-- localizar el principio de las pistas de la cinta.
Pulse y mantenga pulsado para:
-- encontrar una emisora manualmente.
-- avanzar/retroceder rápidamente una pista.
-- bobinar la cinta rápidamente.
-- recibir emisoras memorizadas.
Pulse y mantenga pulsado para:
Gire el control para ajustar el volumen.
*
1
Solo modelos para EE.UU.y Canadá
*
2
Si el automóvil no dispone de posición ACC (accesorio) en el interruptor de la llave
de encendido, asegúrese de presionar (OFF) durante 2 segundos para desactivar la
indicación del reloj después de apagar el encendido.
*
3
Cuando se reproduce un archivo MP3 en una unidad principal compatible con MP3.
*
4
Cuando se reproduce un archivo MP3 en una unidad de CD (compatible con MP3)
conectada a la unidad principal.
Direzione del segnale ad infrarossi
Richting infraroodsignaal
Dirección de la señal infrarroja
---