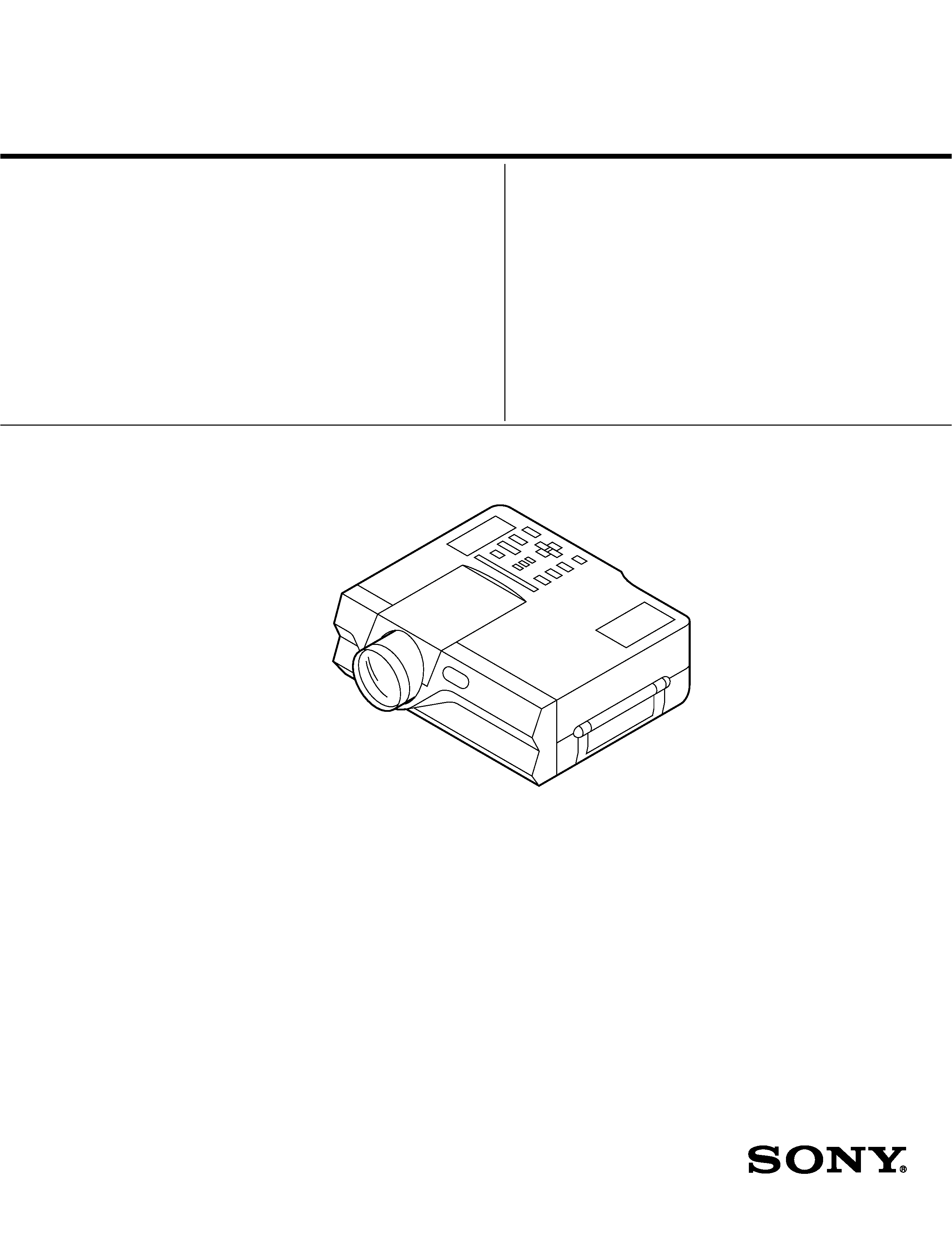 Interface Board (FOR VPL-X1000E/S900E)
---

This manual is intended for qualified service personnel only.
To reduce the risk of electric shock, fire or injuly, do not perform any servicing other than that
contained in the operating instructions unless you are qualified to do so. Refer all servicing to
qualified service personnel.
AN ISOLATION TRANSFORMER SHOULD BE USED DURING
ANY SERVICE TO AVOID POSSIBLE SHOCK HAZARD, BECAUSE
THE CHASSIS OF THIS RECEIVER IS DIRECTLY CONNECTED
SAFETY-RELATED COMPONENT WARNING !!
COMPONENTS IDENTIFIED BY SHADING AND MARK
SCHEMATIC DIAGRAMS, EXPLODED VIEWS AND IN THE PARTS
LIST ARE CRITICAL TO SAFE OPERATION. REPLACE THESE
COMPONENTS WITH SONY PARTS WHOSE PART NUMBERS
APPEAR AS SHOWN IN THIS MANUAL OR IN SUPPLEMENTS
PUBLISHED BY SONY. CIRCUIT ADJUSTMENTS THAT ARE
CRITICAL TO SAFE OPERATION ARE IDENTIFIED IN THIS
MANUAL. FOLLOW THESE PROCEDURES WHENEVER
CRITICAL COMPONENTS ARE REPLACED OR IMPROPER
HIGH TEMPERATURE OF THE LAMP
THE TEMPERATURE AROUND THE LAMP BECAME AWFULLY HIGH
WHILE THE POWER ON OR IMMEDIATELY AFTER POWER OFF.
HANDLE WITH CARE TO NOT SCALED.
AFIN D'EVITER TOUT RISQUE D'ELECTROCUTION PROVENANT
D'UN CHÁSSIS SOUS TENSION, UN TRANSFORMATEUR
D'ISOLEMENT DOIT ETRE UTILISÉ LORS DE TOUT DÉPANNAGE.
LE CHÁSSIS DE CE RÉCEPTEUR EST DIRECTEMENT
RACCORDÉ Á L'ALIMENTATION SECTEUR.
ATTENTION AUX COMPOSANTS RELATIFS ÁLA
LES COMPOSANTS IDENTIFIÉS PAR UNE TRAME ET PAR UNE
MAPQUE ! SUR LES SCHÉMAS DE PRINCIPE, LES VUES
EXPLOSÉES ET LES LISTES DE PIECES CONT D'UNE
FONCTIONNEMENT. NE LES REMPLACER QUE PAR DES
COMPOSANTS SONY DONT LE NUMÉRO DE PIÉCE EST INDIQUÉ
DANS LE PRÉSENT MANUEL OU DANS DES SUPPLÉMENTS
PUBLIÉS PAR SONY. LES RÉGLAGES DE CIRCUIT DONT
L'IMPORTANCE EST CRITIQUE POUR LA SÉCURITÉ DU
FONCTIONNEMENT SONT IDENTIFIES DANS LE PRÉSENT
MANUEL. SUIVRE CES PROCÉDURES LORS DE CHAQUE
REMPLACEMENT DE COMPOSANTS CRITIQUES, OU
LORSQU'UN MAUVAIS FONCTIONNEMENT EST SUSPECTÉ.
---

VPL-X1000E, VPL-X1000M, VPL-X1000U
1-1. VPL-X1000U/X1000E/X1000M OPERATING INSTRUCTIONS .............. 1-1
1-2. VPL-X1000U/X1000E/X1000M INSTALLATION MANUAL
FOR DEALERS ........................................................................................... 1-24
1-3. IFB-X600E OPERATING INSTRUCTIONS .............................................. 1-36
1-4. PSS-600 INSTALLATION MANUAL ....................................................... 1-39
2-1. CIRCUIT BOARDS LOCATIONS ............................................................... 2-1
2-2. DISASSEMBLY ............................................................................................ 2-2
Cabinet Assy Removal ........................................................................... 2-2
Front Panel Assy and NF Board Removal ............................................. 2-2
Scan Converter Unit Removal ................................................................ 2-2
GA and U Boards Removal .................................................................... 2-2
Power Supply Block Removal ................................................................ 2-3
F Board Removal .................................................................................... 2-3
Connector Panel Assy, QA, QB, QC, QD and NR Boards Removal ..... 2-3
C Board Removal ................................................................................... 2-4
Optical Unit Removal ............................................................................. 2-4
2-2-10. GB, GBA and V Boards Removal .......................................................... 2-4
2-2-11. BA and BAA Boards Removal ............................................................... 2-4
2-2-12. Lens Removal ......................................................................................... 2-5
2-2-13. Lens Adjustment ..................................................................................... 2-5
2-2-14. Prism Block and Condenser Lens Removal ........................................... 2-5
2-2-15. Condenser Lens Adjustment ................................................................... 2-5
3-1. VCOM ADJUSTMENT ................................................................................. 3-1
3-2. SIGNAL LEVEL ADJUSTMENT ................................................................ 3-1
RGB Level Adjustment .......................................................................... 3-1
VIDEO Level Adjustment ...................................................................... 3-1
Adjustment of VIDEO SUB HUE and COLOR .................................... 3-2
3-3. X1000&S900 SERIES MENORY STRUCTURE ......................................... 3-3
5-1. CABINET BLOCK ........................................................................................ 5-2
5-2. CHASSIS BLOCK ......................................................................................... 5-3
5-3. BASE BLOCK ............................................................................................... 5-4
5-4. OPTICAL UNIT BLOCK .............................................................................. 5-5
7-1. BA, QB BOARD BLOCK DIAGRAM ......................................................... 7-1
---

VPL-X1000E, VPL-X1000M, VPL-X1000U
7-2. C, NF, NR, U and V BOARD BLOCK DIAGRAM ..................................... 7-2
7-3. BB BOARD BLOCK DIAGRAM (1/2) ........................................................ 7-3
7-4. BB BOARD BLOCK DIAGRAM (2/2) ........................................................ 7-4
7-5. BAA, H, QA and QC BOARD BLOCK DIAGRAM .................................... 7-5
7-6. F, GA, GB and GBA BOARD BLOCK DIAGRAM ..................................... 7-6
8-1. FRAME SCHEMATIC DIAGRAM .............................................................. 8-1
8-2. SCHEMATIC DIAGRAMS/PRINTED WIRING BOARDS ....................... 8-2
QA Board ............................................................................................................. 8-3
QB Board ............................................................................................................. 8-5
QC Board ............................................................................................................. 8-5
BA (1/3) Board ..................................................................................................... 8-8
BA (2/3) Board ..................................................................................................... 8-9
BA (3/3) Board ................................................................................................... 8-10
NF Board ............................................................................................................ 8-12
NR Board ........................................................................................................... 8-12
U Board .............................................................................................................. 8-12
V Board .............................................................................................................. 8-12
C (1/5) Board ..................................................................................................... 8-13
C (2/5) Board ..................................................................................................... 8-14
C (3/5) Board ..................................................................................................... 8-15
C (4/5) Board ..................................................................................................... 8-16
C (5/5) Board ..................................................................................................... 8-17
H Board .............................................................................................................. 8-21
BAA Board ........................................................................................................ 8-23
QD Board ........................................................................................................... 8-23
F Board .............................................................................................................. 8-25
GA Board ........................................................................................................... 8-25
GB Board ........................................................................................................... 8-27
GBA Board ........................................................................................................ 8-29
BB (1/6) Board ................................................................................................... 8-30
BB (2/6) Board ................................................................................................... 8-31
BB (3/6) Board ................................................................................................... 8-32
BB (4/6) Board ................................................................................................... 8-33
BB (5/6) Board ................................................................................................... 8-34
BB (6/6) Board ................................................................................................... 8-35
QA Board ............................................................................................................. 8-2
QB Board ............................................................................................................. 8-4
QC Board ............................................................................................................. 8-4
BA Board ............................................................................................................. 8-6
NF Board ............................................................................................................ 8-12
NR Board ........................................................................................................... 8-12
U Board .............................................................................................................. 8-12
V Board .............................................................................................................. 8-12
C Board .............................................................................................................. 8-18
H Board .............................................................................................................. 8-21
BAA Board ........................................................................................................ 8-22
---

VPL-X1000E, VPL-X1000M, VPL-X1000U
QD Board ........................................................................................................... 8-22
F Board .............................................................................................................. 8-24
GA Board ........................................................................................................... 8-24
GB Board ........................................................................................................... 8-26
GBA Board ........................................................................................................ 8-28
---