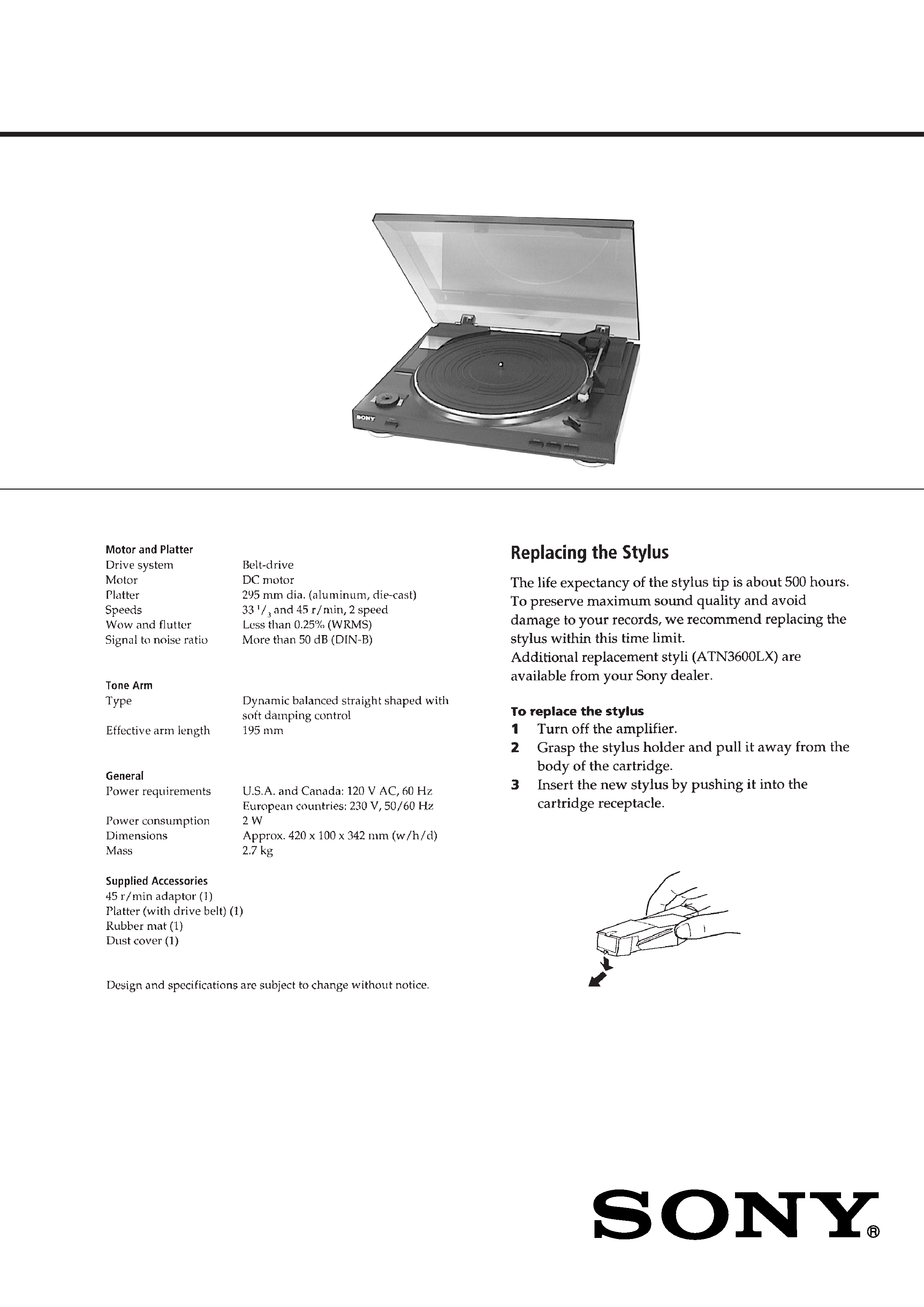 Shinagawa Tec Service Manual Production Group
---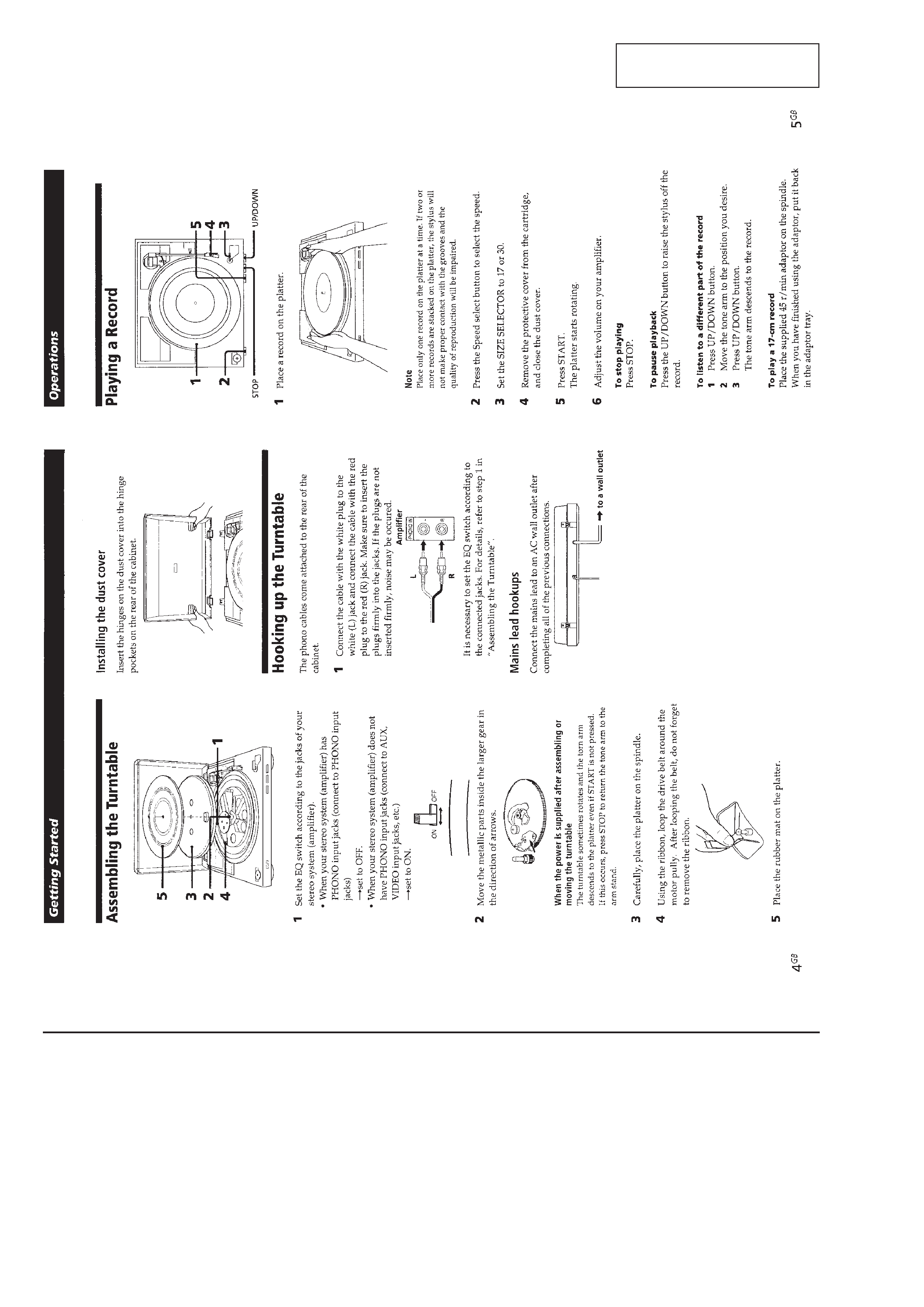 This section is extracted from
SAFETY-RELATED COMPONENT WARNING !!
COMPONENTS IDENTIFIED BY MARK
! ON THE SCHEMATIC DIAGRAMS AND IN
THE PARTS LIST ARE CRITICAL TO SAFE OPERATION.
REPLACE THESE COMPONENTS WITH SONY PARTS
WHOSE PART NUMBERS APPEAR AS SHOWN IN THIS
MANUAL OR IN SUPPLEMENTS PUBLISHED BY SONY.
---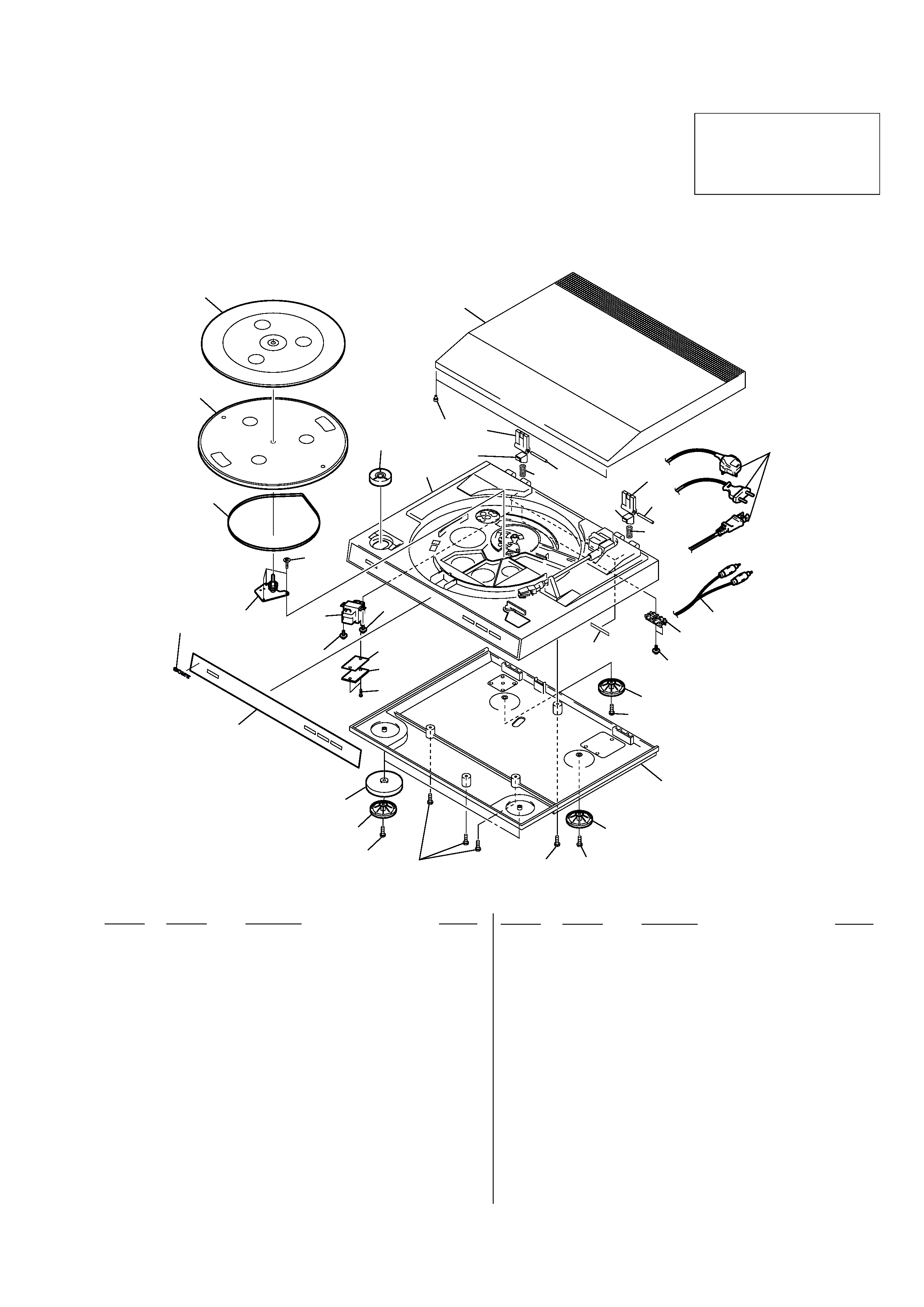 2-1. STEREO TURNTABLE SYSTEM-1
· Items marked "*" are not stocked since they are
seldom required for routine service. Some delay
should be anticipated when ordering these items.
· The mechanical parts with no reference number in
the exploded views are not supplied.
· Hardware (# mark) list and accessories and packing
materials are given in the last of this parts list.
The components identified by
! or dotted line with mark
! are critical for safety.
Replace only with part number
4-215-494-01 PLATTER SHAFT SET ASSY
4-215-489-01 45 PRM ADAPTAR
1-433-956-11 TRANSFORMER, POWER (US/CND)
1-433-957-11 TRANSFORMER, POWER (AEP/UK)
A-4405-712-A POWER BOARD, COMPLETE
4-220-775-01 PLATE, ORNAMENTAL
4-215-519-01 BOTTOM PLATE
1-790-382-11 CORD, CONNECTION
1-575-975-11 CORD, POWER (CND)
1-783-531-51 CORD, POWER (US)
1-575-651-61 CORD, POWER (AEP)
1-696-572-21 CORD, POWER (UK)
4-215-572-01 INSER SLIDER
4-215-559-01 RUBBER FOOT FOR DUST COVER
---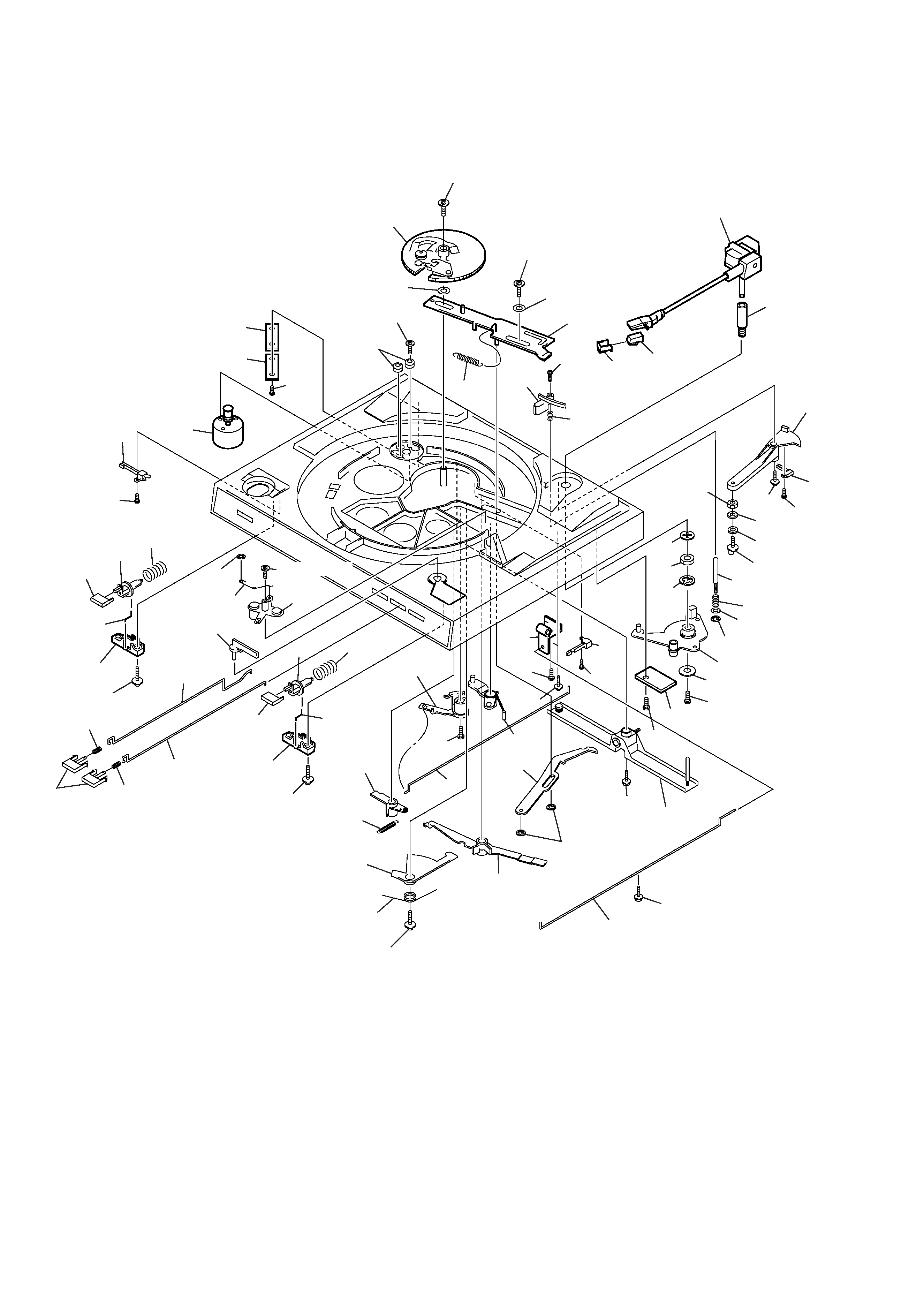 2-2. STEREO TURNTABLE SYSTEM-2
---

4-215-493-01 CAM GEAR ASSY
4-215-523-01 COPPER WASHER
4-215-577-01 RETURN LINK ASSY
4-215-490-01 STYLUS (ATN 3600 LX)
4-215-497-01 TONEARM ASSY
4-215-583-01 TONEARM SHAFT SET
4-215-584-01 FIXING SWITCH SET
4-215-588-01 SPRING WASHER
4-215-563-01 E-RING WASHER 3
4-215-564-01 E-RING WASHER 5
4-215-510-01 STARTING LEVER
1-672-576-11 REF BOARD, COMPLETE
4-215-513-01 OIL SHAFT SET
4-215-504-01 PENDULUM (M)
4-215-524-01 CONTROL PLATE
4-215-495-01 CUEING LEVER ASSY
4-215-570-01 SPRING FOR CUEING
4-215-511-01 STARTING SUPPORT
4-215-503-01 PENDULUM (L)
4-215-509-01 PENDULUM (S)
4-215-525-01 STEEL CRAMPER
4-215-502-01 SPEED CUEING KNOB
4-215-501-01 PLAY STOP KNOB
4-215-569-01 SPRING (STOP)
4-215-556-01 SPRING (PLAY)
4-215-505-01 SELECT RECORD KNOB
4-215-514-01 SELECT PLATE
1-763-247-11 MOTOR ASSY (INCLUDING PULLEY)
4-215-561-01 RUBBER FOOT FOR MOTOR
A-4424-115-A EQ BOARD, COMPLETE
**************************************************************
ACCESSORIES & PACKING MATERIALS
*******************************
3-866-873-11 MANUAL, INSTRUCTION (ENGLISH, FRENCH)
3-866-873-21 MANUAL, INSTRUCTION (GERMAN, SPANISH,
DUTCH, SWEDISH, ITALIAN, RORTUGUESE) (AEP)
4-215-489-01 45 PRM ADAPTAR
---