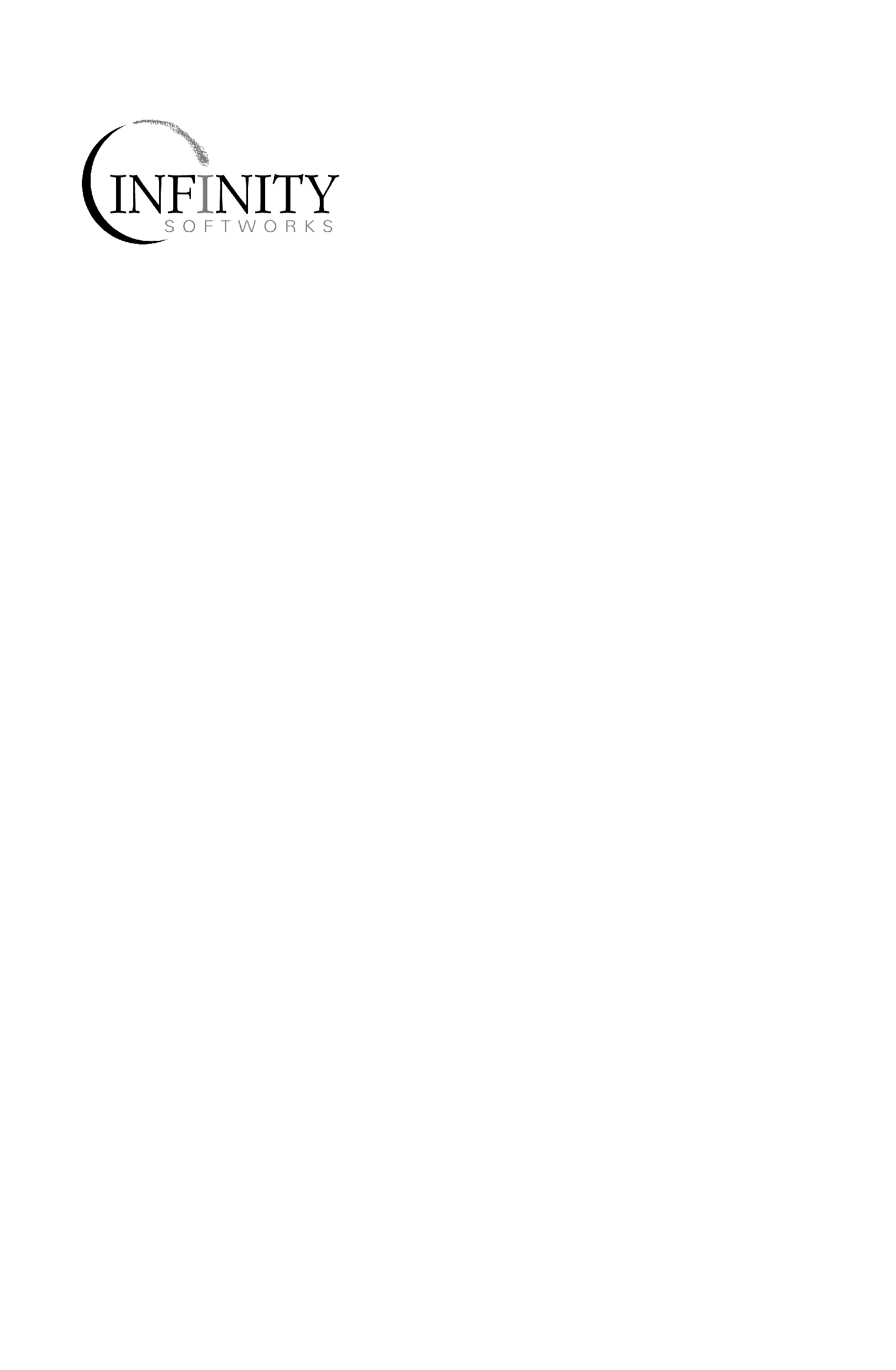 ---

GETTING STARTED........................................................................1
T
HE
D
ISPLAYS
...................................................................................1
N
UMBER
R
ANGES
..............................................................................1
L
ONG
C
ALCULATIONS
.......................................................................1
®
D
EVICES
...........................................................................1
DISPLAY .......................................................4
T
EMPLATE
B
AR
& T
EMPLATE
Q
UICK
H
IT
B
UTTON
...........................4
V
IEW
W
INDOW
..................................................................................4
F
UNCTION
B
UTTON
...........................................................................5
K
EYPAD
............................................................................................5
M
ENUS
..............................................................................................5
PERFORMING ARITHMETIC .......................................................7
I
NPUT
M
ODE
.....................................................................................7
E
NTERING
N
UMBERS
(0-9; ./,; +/­;
; CE/C) ..................................8
M
ATHEMATICS
................................................................................10
M
EMORY
.........................................................................................12
SKINS/PERSONALIZED DISPLAYS ...........................................13
I
NSTALLING
S
KINS
..........................................................................13
C
HANGING
S
KINS
............................................................................13
D
ELETING
S
KINS
.............................................................................13
CALCULATOR SETTINGS ...........................................................14
I
NPUT
M
ODE
...................................................................................14
D
ECIMAL
S
ETTING
..........................................................................14
D
ISPLAY
M
ODE
...............................................................................15
T
RIG
M
ODE
.....................................................................................15
U
SE
C
ALC
B
UTTON
.........................................................................15
D
EFAULT
S
ETTINGS
.........................................................................15
P
ROGRAMMABLE
B
UTTONS
.............................................................15
USING THE TEMPLATES.............................................................16
A
CCESSING THE
T
EMPLATES
...........................................................16
---

A
DD
-
ON
C
ALCULATION
T
EMPLATES
...............................................16
T
EMPLATE
L
AYOUT
........................................................................17
E
NTERING
D
ATA
.............................................................................18
T
EMPLATE
& V
ARIABLE
S
ETTINGS
.................................................19
BUSINESS COMPUTATIONS .......................................................22
D
ISCOUNT
.......................................................................................22
M
ARKUP
..........................................................................................22
P
ERCENT
C
HANGE
...........................................................................22
P
ROFIT
M
ARGIN
..............................................................................23
S
ALES
T
AX
......................................................................................23
T
IP
...................................................................................................24
E
XAMPLES
.......................................................................................24
CALENDAR......................................................................................27
D
ATE
C
ALCULATIONS
.....................................................................27
T
IME
C
ALCULATIONS
......................................................................27
E
XAMPLES
.......................................................................................28
CALCULATION LOG.....................................................................30
APPENDIX........................................................................................31
G
RAFFITI
.........................................................................................31
S
TRUCTURE OF
F
UNCTION
[
FUNC
] L
IST
...........................................32
C
ONTACTING
I
NFINITY
S
OFTWORKS
...............................................33
L
EGAL AND
D
ISCLAIMERS
...............................................................33
INDEX ...............................................................................................34
---

This section helps you get started using your powerOneTM Personal
There are two main displays: the calculator and the templates.
Additionally, several types of input screens are used to enter numeric,
date or time values into the templates. The templates perform
business, conversion and statistics computations, working with the
input screen to enter variables and perform calculations.
Entry of numbers with up to 12 decimal places and 14 digits is
allowed. Numbers larger than this will display in scientific notation
(e.g., 1.234e13). Numbers may be entered and displayed in normal,
scientific notation or engineering notation.
Depending on the speed of your device and the complexity of the
calculation, some calculations may take a few seconds to complete.
Generally in such cases, a dialog box containing "Calculating..." with
a 'Cancel' button will be shown. You can stop the calculation by
tapping and holding the cancel button.
This manual references certain objects of the PalmOS device:
---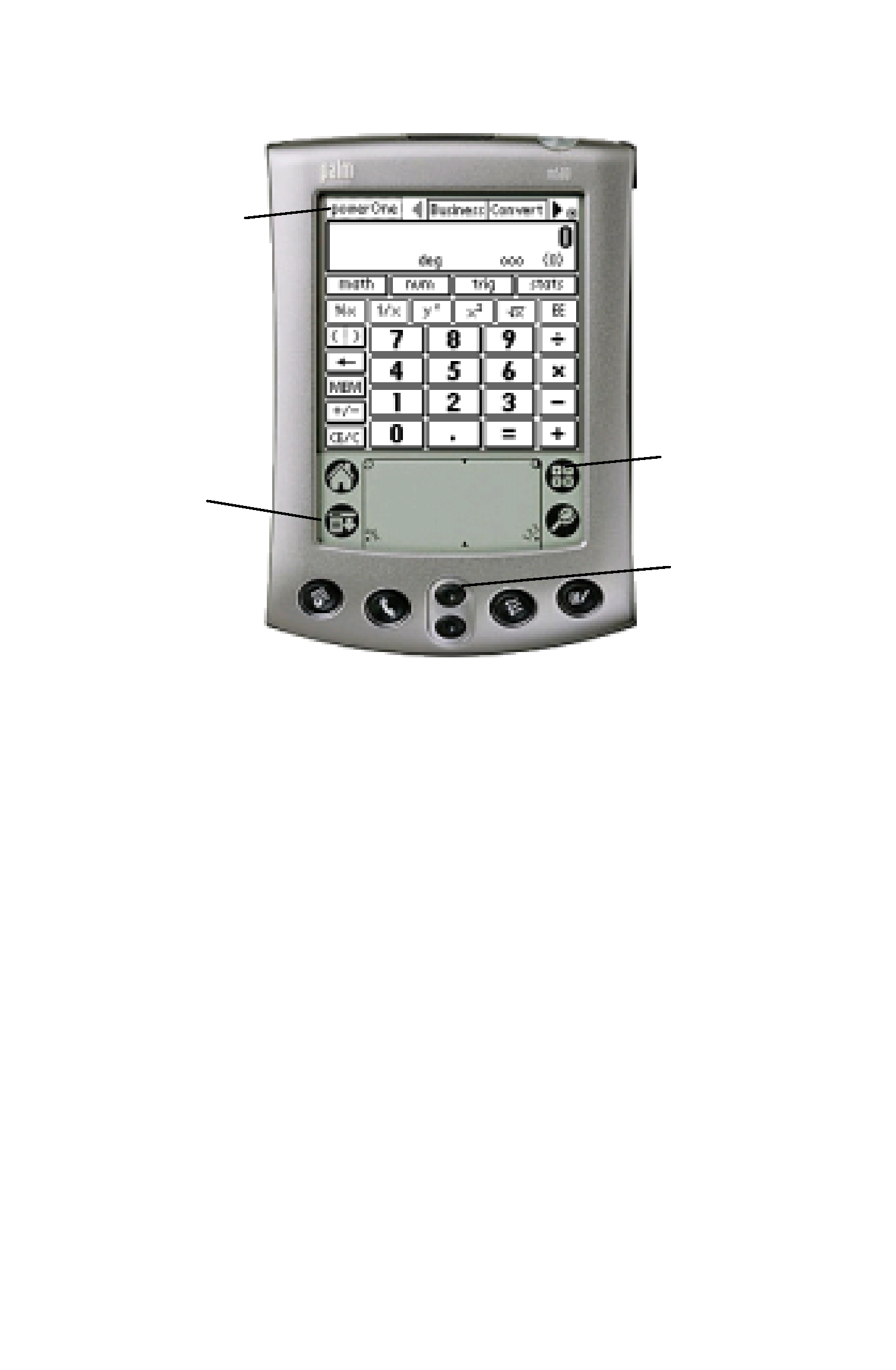 The powerOne button, in the top left corner of the display, offers
access to logging functions, online help, product information, and
If the manual refers to the menu bar, you need to tap the menu button
to make the menu bar visible.
In addition, this manual will refer to scroll arrows, scroll buttons, and
scroll bars. Scroll arrows appear in the lower, right-hand corner of the
screen or in the pop-up list. Scroll bars appear next to the data to be
scrolled. In most cases, however, scrolling can be achieved using the
scroll buttons shown above.
Setting the Default Calculator
Some PalmOS devices have a calculator button in the Graffiti area as
shown above. To set a powerOne product as the default calculator
---