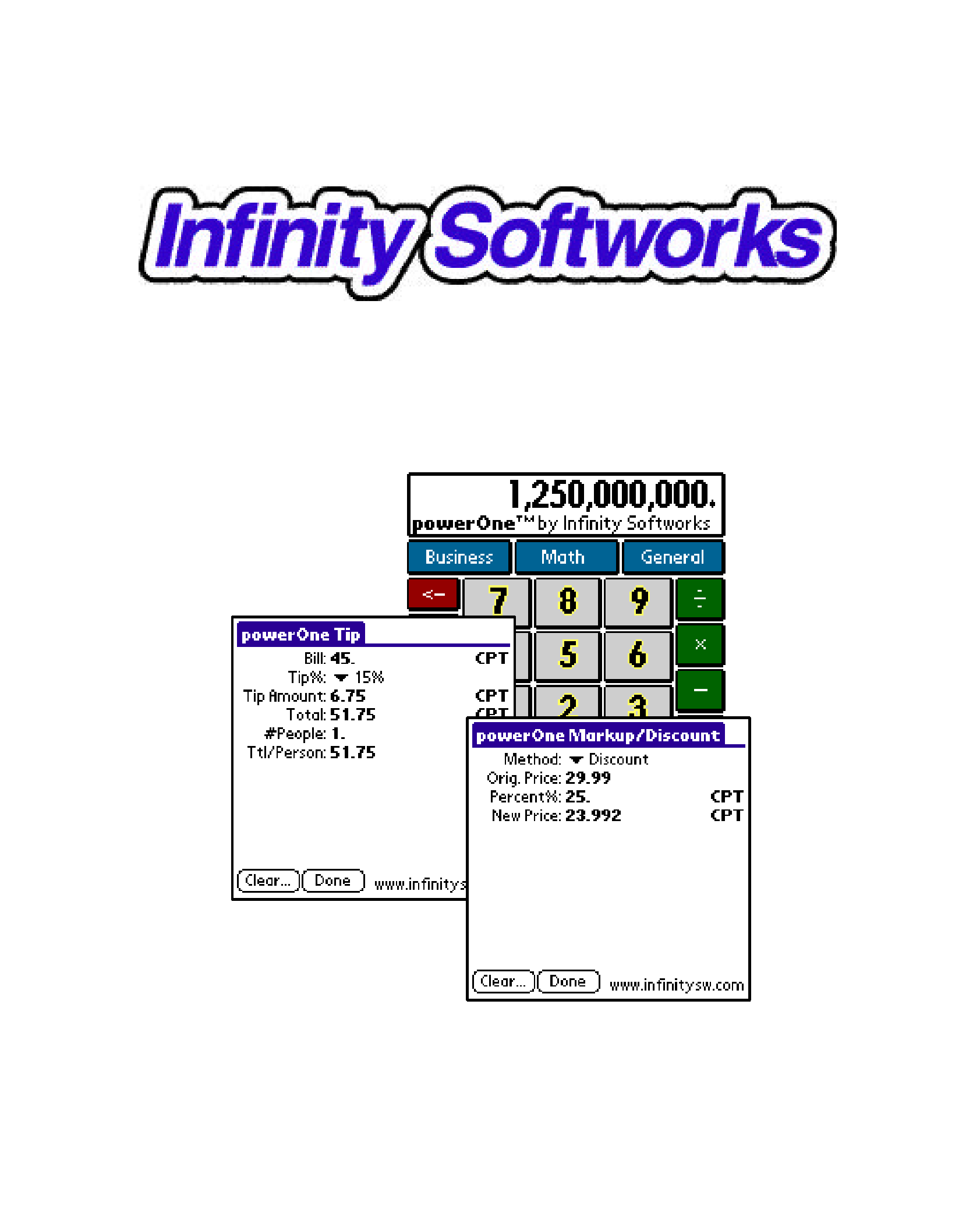 For the Palm Computing® Platform
---

---

TABLE OF CONTENTS .......................................................... 1
GENERAL INFORMATION ................................................... 3
T
HE POWER
O
NE
TM
CALCULATOR
............................................. 3
T
HE
D
ISPLAY
........................................................................... 3
T
HE
P
ALM
TM D
EVICE
............................................................... 4
S
ETTING THE
D
EFAULT
C
ALCULATOR
....................................... 5
R
EMOVING THE POWER
O
NE
TM C
ALCULATOR
............................ 5
N
UMBER
R
ANGES
.................................................................... 5
PERFORMING ARITHMETIC............................................... 6
E
NTERING
N
UMBERS
(0-9; ./,; +/­;
; CE/C)........................... 6
M
ATHEMATICS
(O
NE
-
AND
T
WO
-V
ARIABLE
F
UNCTIONS
).......... 8
Two-Variable Math............................................................. 8
One-Variable Math ............................................................. 9
M
EMORY
............................................................................... 10
Memory Arithmetic ........................................................... 11
I
NPUT
S
CREEN
....................................................................... 11
M
ENUS
.................................................................................. 12
USING THE WORKSHEETS ................................................ 13
A
CCESSING THE
W
ORKSHEETS
............................................... 13
W
ORKSHEET
S
TRUCTURE
....................................................... 13
E
NTERING
D
ATA
.................................................................... 14
---

Input Screen ..................................................................... 14
SALES TAX ............................................................................ 16
CALENDAR............................................................................ 17
MARKUP/DISCOUNT ........................................................... 18
PERCENT CHANGE ............................................................. 19
TIP........................................................................................... 21
CALCULATION LOG ........................................................... 23
APPENDIX.............................................................................. 24
G
RAFFITI
® I
NPUT
.................................................................. 24
E
RROR
C
ASES
........................................................................ 25
Mathematical Errors......................................................... 25
Calendar .......................................................................... 25
Markup/Discount .............................................................. 25
Sales Tax .......................................................................... 26
Tip.................................................................................... 26
Percent Change ................................................................ 26
C
ONTACTING
I
NFINITY
S
OFTWORKS
....................................... 26
L
EGAL AND
D
ISCLAIMERS
...................................................... 26
---

This section helps you get started using your powerOneTM
The powerOneTM calculator
Welcome to the powerOne calculator. The powerOne calculator is
a colorful and easy-to-use calculator that gives you access to both
basic mathematics as well as more advanced functions. This
special edition includes computations for sales tax, percent change,
markup/discount, tip calculation, and calendar date computations.
In addition, it includes a calculation log to review past
mathematical functions. To access the worksheets, select either the
"Business" or "General" button and the worksheet to use. The
powerOne calculator also includes more advanced math function
by selecting the Math button.
The powerOne calculator has three functional areas: the main
calculator, the worksheets, and the input screen. The main and
input screens serve as calculators with arithmetic in the standard
mathematical format (3 + 4 = 7). The worksheets perform
computations, working with the input screen to enter variables and
---