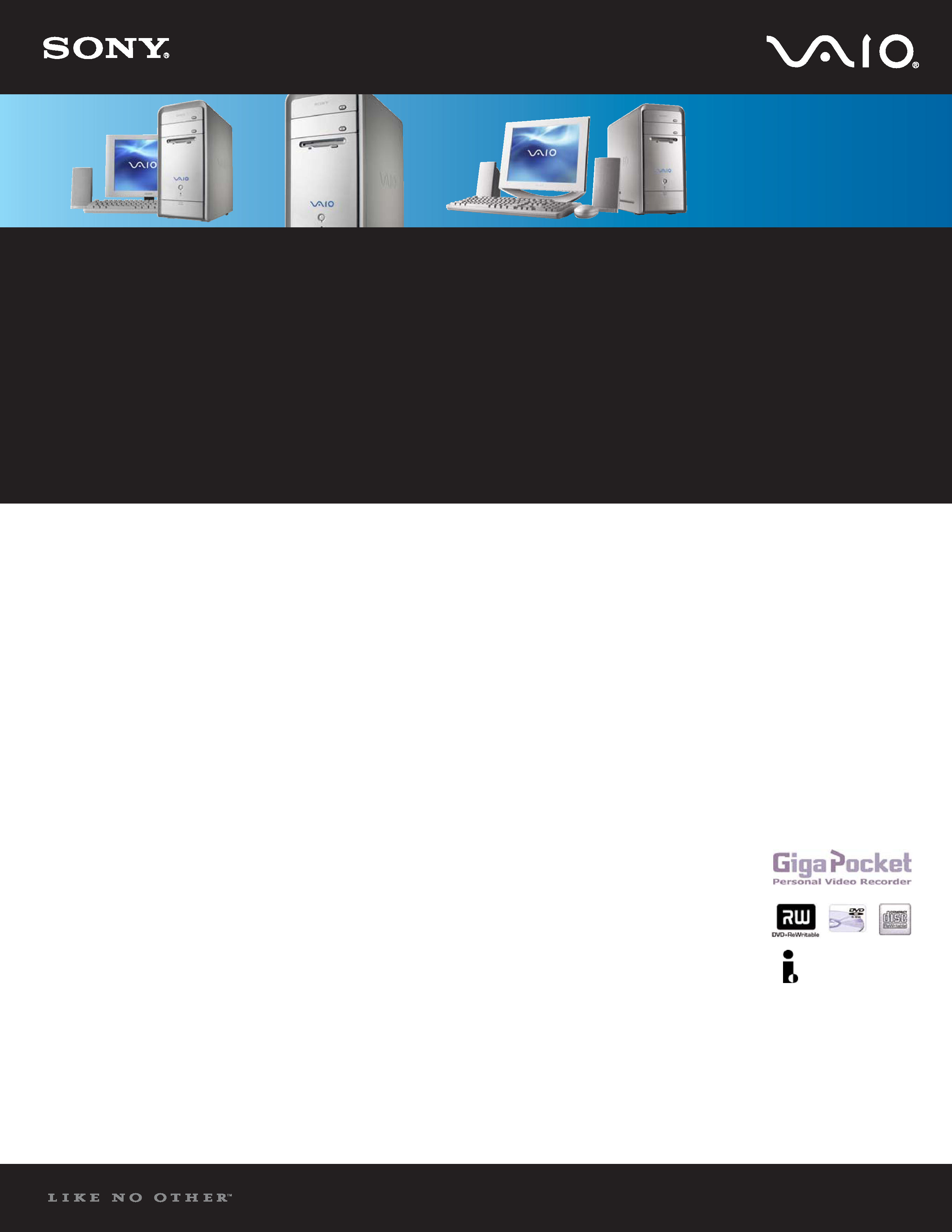 ®
Pentium
®
4 Processor 3.20E GHz
1
Hyper-Threading Technology
250GB
2
7200rpm Ultra ATA/100
-RW
(8X max. -R write / 4X max. -RW rewrite /
+RW
(8X max. +R write / 4X max. +RW rewrite /
CD-RW
(40X max. -R write / 24X max.-RW rewrite /
16X max. DVD-ROM Read / 40X max.
3.5" 1.44MB Floppy Disk Drive
128MB Video Memory (128-bit DDR)
output:1280x1024x60Hz max.) /
8X AGP 3D Graphics Hardware
Giga PocketTM MPEG2 Encoder with TV
10Base-T/100Base-TX Ethernet (RJ-45)
V.90 compatible data/fax modem
One 8x AGP (occupied by Graphics
Multi-Media Card Reader (Memory
Stick
TM
, Compact FlashTM Type I and
Type II, IBM Micro DriveTM, and
Two 5.25" Half-Height (occupied)
One External 3.5" (occupied)
Two Internal 3.5" (one occupied)
Seven USB 2.0 (three front/four rear)
One VGA/DVI Monitor Port / TV-Out
One S/PDIF Out / One Parallel Port /
One 6pin i.LINK
6
Port (rear)/
One Headphone / One Microphone
S-Video: Two Inputs (front and rear)
Composite Video / Audio Inputs
IR Remote Control and Receiver
Min. 266W 100-120V 4.7A (50/60Hz)
Dimensions (CPU) & Weight (CPU)
7.2"(W) x 15.6"(H) x 14.9"(D)
Giga PocketTM - Personal Video
Click to DVDTM - DVD Creation
PictureGear StudioTM - Digital Photo
DVgate PlusTM- Digital Video
SonicStageTM - Digital Music
VAIO MediaTM - Network File Sharing
Other Software Applications
®
Works
®
7.0 -
Word Processing,
Spreadsheet, Calendar, Scheduling, Contact
Student/Teacher Edition Trial
Anti-Virus & Recovery Software
®
Internet SecurityTM 90 Day
One Year Limited Express Repair
One Year Parts and Labor
7
Includes customer-replaceable part
service and mail-in Sony depot
Software and Operating System:
On-line and Email Support
Free support available from
http://www.sony.com/pcsupport
1. GHz denotes microprocessor inter-
nal clock speed; other factors may
affect application performance. CPU
speed will be reduced under certain
2. GB means one billion bytes when
referring to hard drive capacity.
Accessible capacity may vary. A por-
tion of hard disk space is reserved as
3. New users only. Terms and condi-
4. Limited duration trial edition.
5. DVD Media/Formats are not uni-
6. i.LINK is a trademark of Sony used
only to designate that a product con-
tains an IEEE 1394 connector. All
products with an i.LINK connector
may not communicate with each other.
7. Certain restrictions apply. For a copy
of Sony's warranty, please visit
www.sony.com/pcsupport, call toll-
free 888-476-6972 (888-4SONYPC),
or write to Sony Electronics, 12451
Gateway Boulevard, Fort Myers, FL
8. Type of repair service provided is
solely at Sony's discretion. Not all
types of repair service offered on all
Computer Interface: The computer industry lacks
standards, and therefore, there are a multitude of
varying software packages and add-on hardware
options. This personal computer is not manufactured
to any specific software, and Sony does not and
cannot make any warranty or representation with
respect to the performance of this product with any
particular software packages and/or non-Sony add-
on hardware option except those mentioned in this
document. Sony hereby disclaims any representa-
tions or warranty that this product is compatible with
any combination of non-Sony products you may
choose to connect. While Sony representatives or
Sony authorized dealers may be able to assist you
and may make recommendations, they are NOT
authorized to vary or waive this disclaimer.
Purchasers must determine for themselves the suit-
ability and compatibility of the hardware and soft-
ware in each and every particular instance. Some
pre-installed software titles may not include full docu-
mentation. Software titles pre-installed on the Sony
Desktop Computer are subject to change without
notice. Simulated graphic shown on display.
©2004 Sony Electronics Inc. All rights reserved.
Reproduction in whole or in part without
written permission is prohibited. Sony, i.LINK, VAIO
Digital Studio, SonicStage, Memory Stick, DVgate
Plus, PictureGear Studio, Giga Pocket, VAIO Media,
Click to DVD, and VAIO are trademarks of Sony.
Intel and Pentium are registered trademarks of Intel
Corporation. Microsoft, Windows and Outlook are
trademarks of Microsoft Corporation. Realone is a
trademark of RealNetworks, Inc. All other trade-
marks are trademarks of their respective owners.
This product meets the standards of the International
Energy Star Program for energy efficiency. Features
and specifications are subject to change without
notice. Weights and measurements are approximate.
Web address: http://www.sony.com/vaio
Turn your family VHS videos
into great looking DVDs with
Sony VAIO's
®
Giga Pocket
TM
and VAIO's original Click to
S-Video ports for easy ana-
log to digital conversion of
Favorite Television Shows
VAIO's
®
Giga Pocket
TM
Per-
sonal Video Recorder enables
you to watch and record your
favorite television shows. With
Click to DVD
TM
creation soft-
ware you can record the shows
to DVD for playback on a home
DVD player
5
or while on the
road with a Notebook PC.
5
Loaded with powerful VAIO
®
original software empower-
Click to DVD
TM
Creation soft-
PictureGear Studio
TM
software
for your digital photo needs.
SonicStage
TM
music software
to enhance your music listen-
Create professional quality
your favorite digital photos.
ware and software to help
you discover how easy it is
share your digital photos,
videos, and music. Versatile.
Empowering. Ready for your
Versatile. Empowering. Ready for entertainment.
---