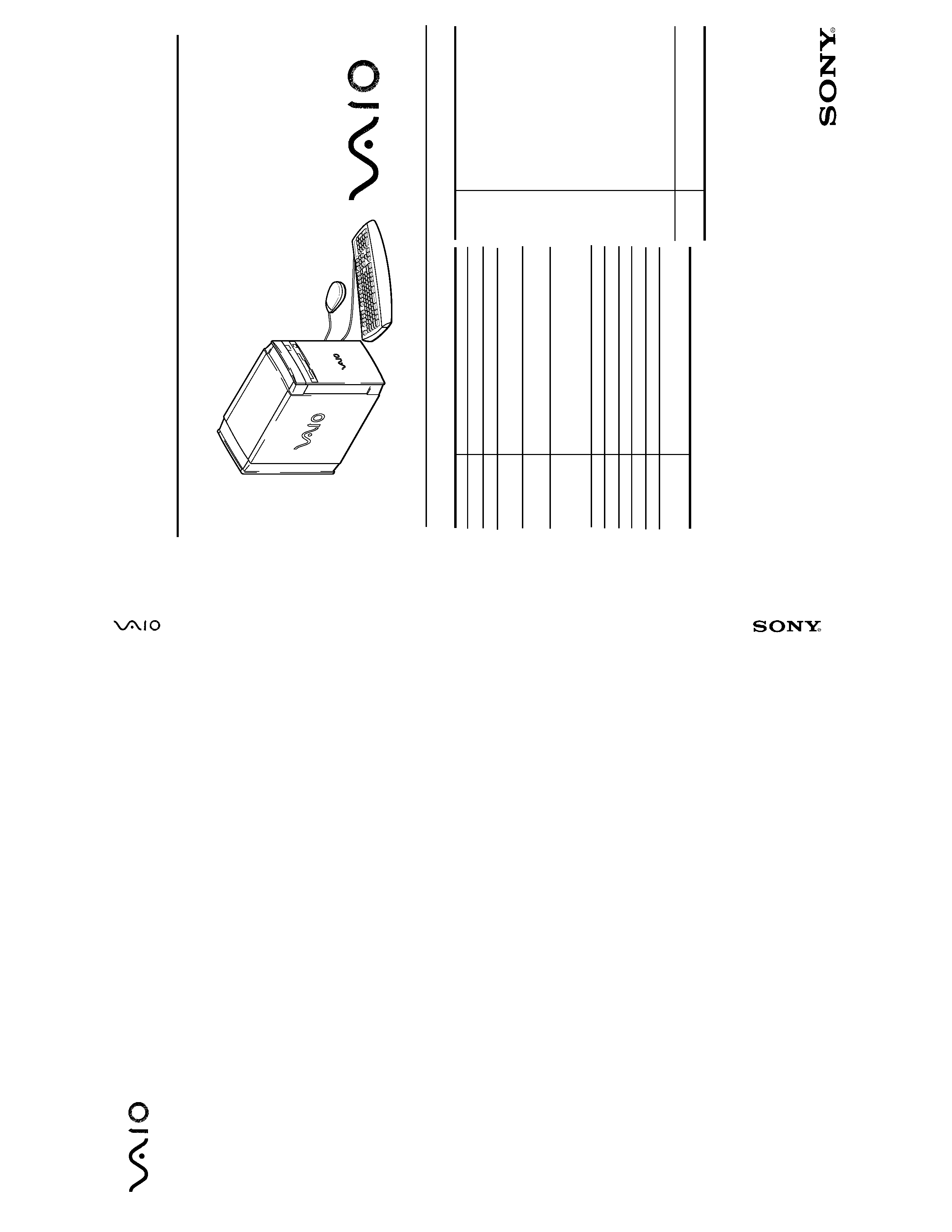 Three IEEE 1394 Ports (1 - 4 Pin, 2 - 6 Pin)
Sony 104-key keyboard,Sony two-button mouse
RJ-11 Phone Cable, Power Cord
350 MHz PentiumII 450 MHz PentiumII
Reads DVD data 2X-5X variable transfer rate. Reads CD data
from 10X to 24X variable transfer rate*
Semiconductor Laser GaA1As, 650nm (
0.6mw (typ.) output power
PCV-E302-64 MB SDRAM expandable to 256 MB, 8MB Video RAM
PCV-E308-128MB SDRAM expandable to 256 MB,8MB Video RAM
512 KB Pipeline Burst SRAM L2 Cache
"SonyTuned" MPEG Digital Video supports full-screen and DVD playback
3D AGP graphics acceleration (64-bit Matrox G200)
Dynamic High Fidelity 3D PCI Audio Sound (Aureal)
56 Kbps modem/14.4 Kbps FAX modem with V.90 Technology
Information Technologies of America
Published by Engineering & Manufacturing Division
* Data on a CD-ROM disc is read at a variable transfer rate, ranging from
10X at the innermost track to 24X at the outermost track (the data transfer
standard 1X rate is 150 kbytes/s). The average data transfer rate is 17X
---

1. Obey precautionary markings
Labels and stamps on the cabinet, chassis, and
components identify areas requiring special
precautions. Be sure to observe these precau-
tions, as well as all precautions listed in the
operating manual and other associated docu-
2. Use designated parts only
The sets components possess important safety
characteristics, such as noncombustibility and
the ability to tolerate large voltages. Be sure
that replacement parts posses the same safety
characteristics as the originals. Also remember
that the ! mark, which appears in circuit
diagrams and parts lists, denotes components
that have particularly important safety func-
tions; be extra sure to use only the designated
3. Always follow the original design
The original layout includes various safety
features, such as inclusion of insulating materi-
als (tubes and tape) and the mounting of parts
above the printer board. In addition, internal
Information in this document is subject to
Sony and VAIO are trademarks of Sony. Intel
logo and Intel Inside logo are registered trade-
marks of Intel Corporation. i486 and Pentium are
trademarks of Intel Corporation. Microsoft, MS-
DOS, Windows and the Windows 95 logo are
trademarks of Microsoft Corporation.
All other trademarks are trademarks or regis-
tered trademarks of their respective owners.
Other trademarks and trade names may be used
in this document to refer to the entities claiming
the marks and names or their products. Sony
Corporation disclaims any proprietary interest in
trademarks and trade names other than its own.
Service and Inspection Precautions
wiring has been routed and clamped so as to keep
it away from hot or high-voltage parts. When
mounting parts or routing wires, therefore, be
sure to duplicate the original layout
4. Inspect after completing service
After servicing, inspect to make sure that all
screws, components, and wiring have been
returned to their original condition. Also check
the area around the repair location to ensure that
repair work has caused no damage and confirm
5. When replacing chip components...
Never reuse components. Also remember that the
negative side of tantalum capacitors is easily
6. When handling flexible point
·The temperature of the soldering-iron temp
· Do not apply the tip more than three times to
· Handle patterns with care; never apply force.
Caution: Remember that hard disk drives are easily damaged
by vibration. Always handle with care.
---

VAIO MicroTower Read Me First .................................... 1-1
VAIO MicroTower User Guide ...................................... 1-13
PCV-E302/E308 Motherboard Description .................. 2-1
Frame Harness Connector List ................................... 3-1
Frame Harness Assembly ........................................... 4-1
Frame Harness Diagram .............................................. 5-1
Exploded View and Parts List ..................................... 6-1
---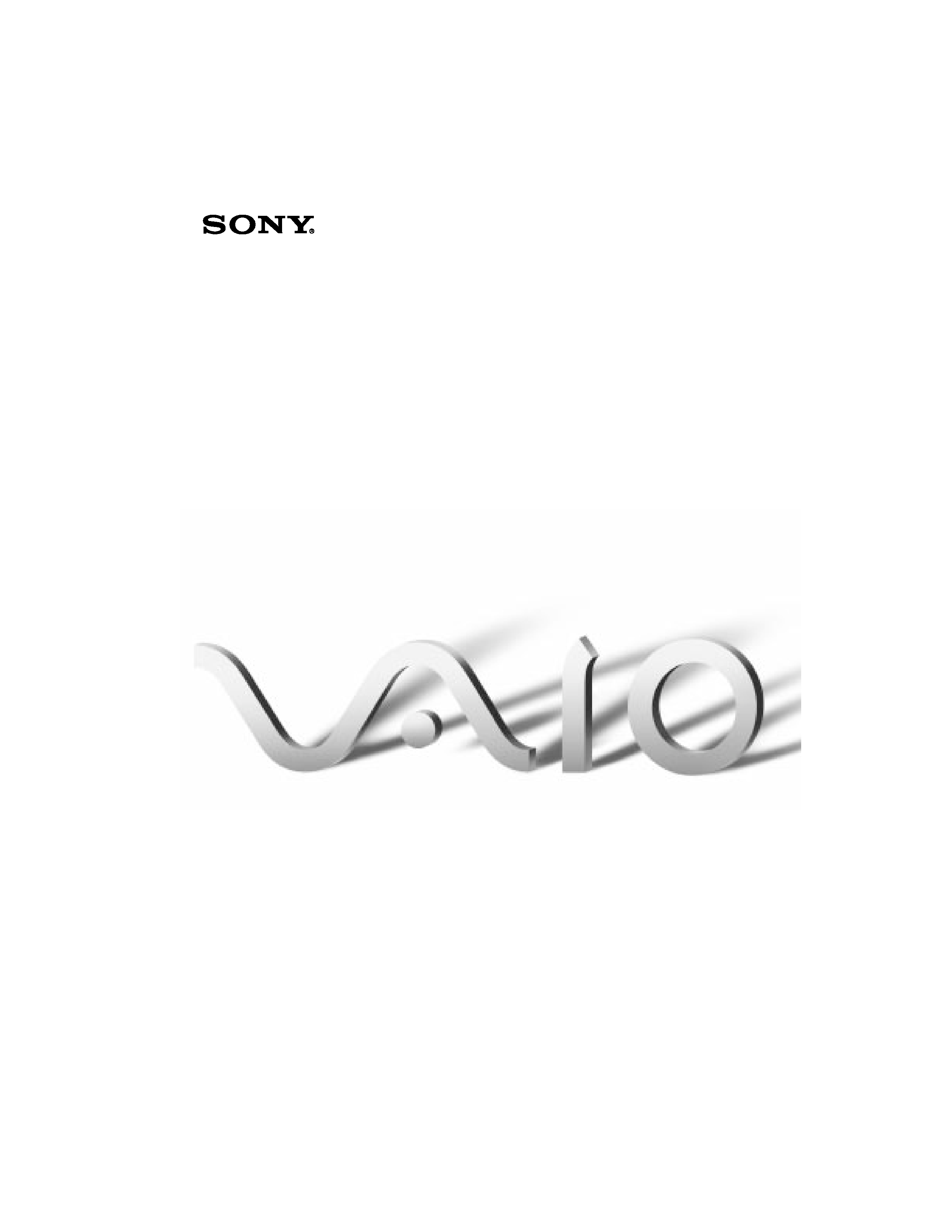 ---

1998 Sony Electronics Inc. Reproduction
in whole or in part without written
permission is prohibited. All rights
reserved. This manual and the software
described herein, in whole or in part, may
not be reproduced, translated, or reduced
to any machine-readable form without
SONY ELECTRONICS INC. PROVIDES
NO WARRANTY WITH REGARD TO
THIS MANUAL, THE SOFTWARE, OR
OTHER INFORMATION CONTAINED
HEREIN AND HEREBY EXPRESSLY
WARRANTIES OF MERCHANTABILITY
OR FITNESS FOR ANY PARTICULAR
PURPOSE WITH REGARD TO THIS
MANUAL, THE SOFTWARE, OR SUCH
OTHER INFORMATION. IN NO EVENT
SHALL SONY ELECTRONICS INC. BE
LIABLE FOR ANY INCIDENTAL,
CONSEQUENTIAL, OR SPECIAL
DAMAGES, WHETHER BASED ON
TORT, CONTRACT, OR OTHERWISE,
ARISING OUT OF OR IN CONNECTION
WITH THIS MANUAL, THE SOFTWARE,
CONTAINED HEREIN OR THE USE
Sony Electronics Inc. reserves the right to
make any modification to this manual or
the information contained herein at any
time without notice. The software
described herein may also be governed by
the terms of a separate user license
Sony, VAIO, VAIO Smart, i.LINK, S-Link,
and the VAIO logo are trademarks of Sony.
Windows and the Windows logo are
registered trademarks of Microsoft
Corporation. Intel and Pentium are
trademarks of Intel Corporation. K56flex is
a trademark of Lucent Technologies Inc.
and Rockwell International. All other
trademarks are trademarks of their
The model number and serial number are
located on the back of your Sony computer.
Record the model and serial numbers in
the space provided here. Refer to the model
and serial number when you call your
Model Number:________________________
Serial Number:________________________
To prevent fire or shock hazard, do
not expose your Sony computer to
Never install modem or telephone
wiring during a lightning storm.
Never install telephone jacks in wet
locations unless the jack is specifically
designed for wet locations
Never touch uninsulated telephone
wire or terminals unless the telephone
line has been disconnected at the
Use caution when installing or
modifying telephone lines.
Avoid using the modem during an
Do not use the modem or a telephone
to report a gas leak in the vicinity of
!
The use of optical instruments
with this product will increase eye
---