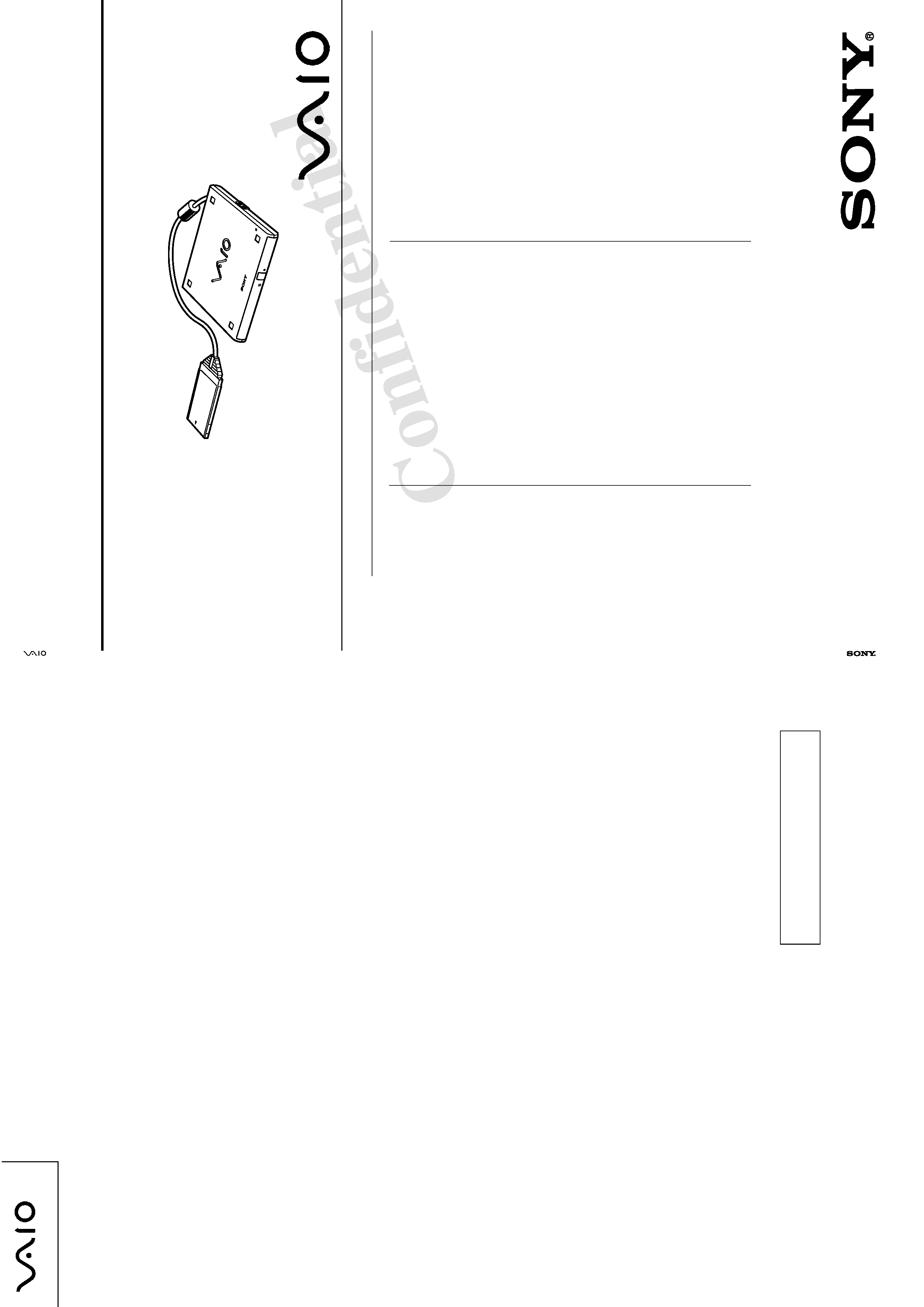 This manual and the constituent data may not be
replicated, copied nor reprinted in whole or in part
without prior written authorization of Sony Corporation.
Information Technology Company
VAIO CUSTOMER LINK (JAPAN)
100-240V AC, adjustable, 50/60 Hz
Output voltage and current
Connecting the supplied AC adapter supplies power
(temperature gradient less than 18
20% to 80% (not condensed),
provided that humidity is less than 65% at 95
(hygrometer reading of less than 84
°F to 140°F (-20°C to 60°C)
(temperature gradient less than 18
10% to 90% (not condensed),
provided that humidity is less than 20% at 140
(hygrometer reading of less than 95
Approx. 18.5 oz. (520 g) (drive only)
Design and specifications are subject to change without
· Photo CD (multisession)
Disc diameter: 12 cm (4
3
/
4
in.), 8 cm (3 in.)
· Electric power from the supplied AC adapter
· Electric power from the connected notebook computer)
Average (1/3 stroke): 150 ms
Interface: Conforms to PCMCIA 2.1/JEIDA 4.2
Card type: PCMCIA Type II (Conforms to CardBus/
transfer rate varies with
---

Information in this document is subject to change without
Sony and VAIO are trademarks of Sony. Intel logo and Intel Inside
logo are registered trademarks of Intel Corporation. Pentium
MMX is a trademarks of Intel Corporation. Microsoft, MS-DOS,
Windows, the Windows 95 and Windows 98 logo are trademarks
of Microsoft Corporation.
All other trademarks are trademarks or registered trademarks of
their respective owners. Other trademarks and trade names may
be used in this document to refer to the entit
marks and names or their produc
ts. Sony Corporation disclaims
any proprietary interest in trademarks and trade names other than
1. Obey precautionary markings and
Labels and stamps on the cabinet, chassis, and components iden-
tify areas requiring special precautions. Be sure to observe these
precautions, as well as all precautions listed in the operating
manual and other associated documents.
2. Use designated parts only
The set's components possess important safety characteristics,
such as noncombustibility and the ability to tolerate large
voltages. Be sure that replacement parts possess the same safety
characteristics as the originals. Also remember that the
which appears in circuit diagrams and parts lists, denotes com-
ponents that have particularly important safety functions; be extra
sure to use only the designated components.
3. Always follow the original design
when mounting parts and routing wires
The original layout includes various safety features, such as in-
clusion of insulating materials (tubes and tape) and the mount-
ing of parts above the printer board. In addition, internal wiring
has been routed and clamped so as to keep it away from hot or
high-voltage parts. When mounting parts or routing wires. there-
fore, be sure to duplicate the original layout.
Caution Markings for Lithium/Ion Battery - The following or
similar texts shall be provided on battery pack o
in both the operating and the service instructions.
CAUTION: Danger of explosion if battery is incorrectly replaced.
Replace only with the same or equivalent type recommended by
the manufacturer. Discard used batteries according to the manu-
CAUTION: The battery pack used in this device may present a
fire or chemical burn hazard if mistreated. Do not disassemble,
heat above 100°C (212°F) or incinerate.
Dispose of used battery promptly.
4. Inspect after completing service
After servicing, inspect to make sure that all screws, compo-
nents, and wiring have been returned to their original condition.
Also check the area around the repair location to ensure that
repair work has caused no damage, and confirm safety.
5. When replacing chip components...
Never reuse components. Also remember that the negative side
of tantalum capacitors is easily damaged by heat.
6. When handling flexible print boards...
· The temperature of the soldering-iron tip should be about 270
· Do not apply the tip more than three times to the same pattern.
· Handle patterns with care; never apply force.
Caution: Remember that hard disk drives are easily damaged
by vibration. Always handle with care.
Service and Inspection Precautions
---

SEMICONDUCTOR INDEX ................................................................................. 1-1
BLOCK DIAGRAM ..................................................................................... 2-1
2-2-1. IFX-115 Board .................................................................................. 2-1
2-2-2. IFX-116 Board .................................................................................. 2-2
2-2-3. IFX-117 Board .................................................................................. 2-2
SCHEMATIC DIAGRAMS .......................................................................... 2-3
2-3-1. IFX-115 ............................................................................................. 2-3
2-3-2. IFX-116 ........................................................................................... 2-11
2-3-3. IFX-117 ........................................................................................... 2-19
EXPLODED VIEW AND PARTS LIST
Main Unit ...................................................................................................... 3-1
Electrical Parts List ........................................................................................ 3-2
DVD-ROM Drive Operating Instructions.............................................................. 1-1
---

---

Section 1-1: DVD-ROM Drive Operating Instructions
---