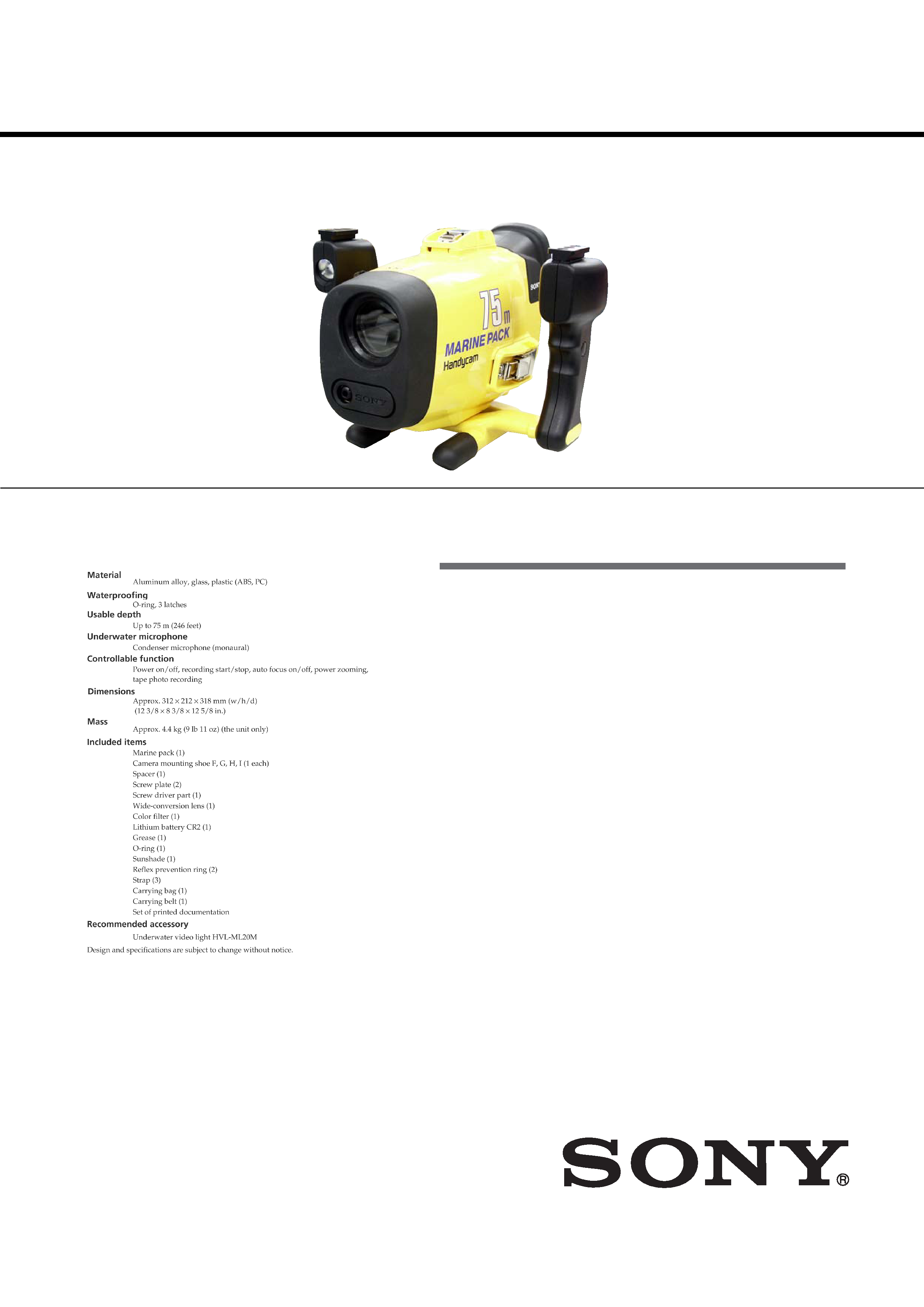 Published by DI Technical Support Department
· INSTRUCTION MANUAL is shown at the end of this document.
· This marine pack can be used with the following Sony Handycam camcorders:
NTSC system-based: DCR-HC90/HC43/HC42/HC40/HC33/HC32/HC30/HC21/HC20/
DVD803/DVD703/DVD653/DVD602/DVD403/DVD203/DVD103/DVD92/PC109/PC108/
PAL system-based: DCR-HC90E/HC43E/HC42E/HC40E/HC39E/HC33E/HC32E/HC30E/
HC22E/HC21E/HC20E/HC19E/HC18E/HC17E/DVD803E/DVD703E/DVD653E/
DVD602E/DVD403E/DVD203E/DVD202E/DVD103E/PC109E/PC108E/PC107E/PC106E
· Recording at depths of up to 75 meters (246 feet) is possible.
· The following operations can be performed underwater.
O-ring maintenance is very important. If O-ring maintenance is not
followed according to instructions, a water leak may occur and
cause the marine pack to sink. Waterproofing is achieved by
perfect sealing of the O-ring to the entire contact surface.
· Install the camcorder in the marine pack and set the POWER switch to ON to make images
appear on the LCD monitor.
· The remaining battery time indicator displayed on the LCD monitor refers to remaining time of
the camcorder battery time, not the remaining time of the LCD monitor battery.
· You can use the monitor for approximately 6 hours with four new AA alkaline dry batteries.
---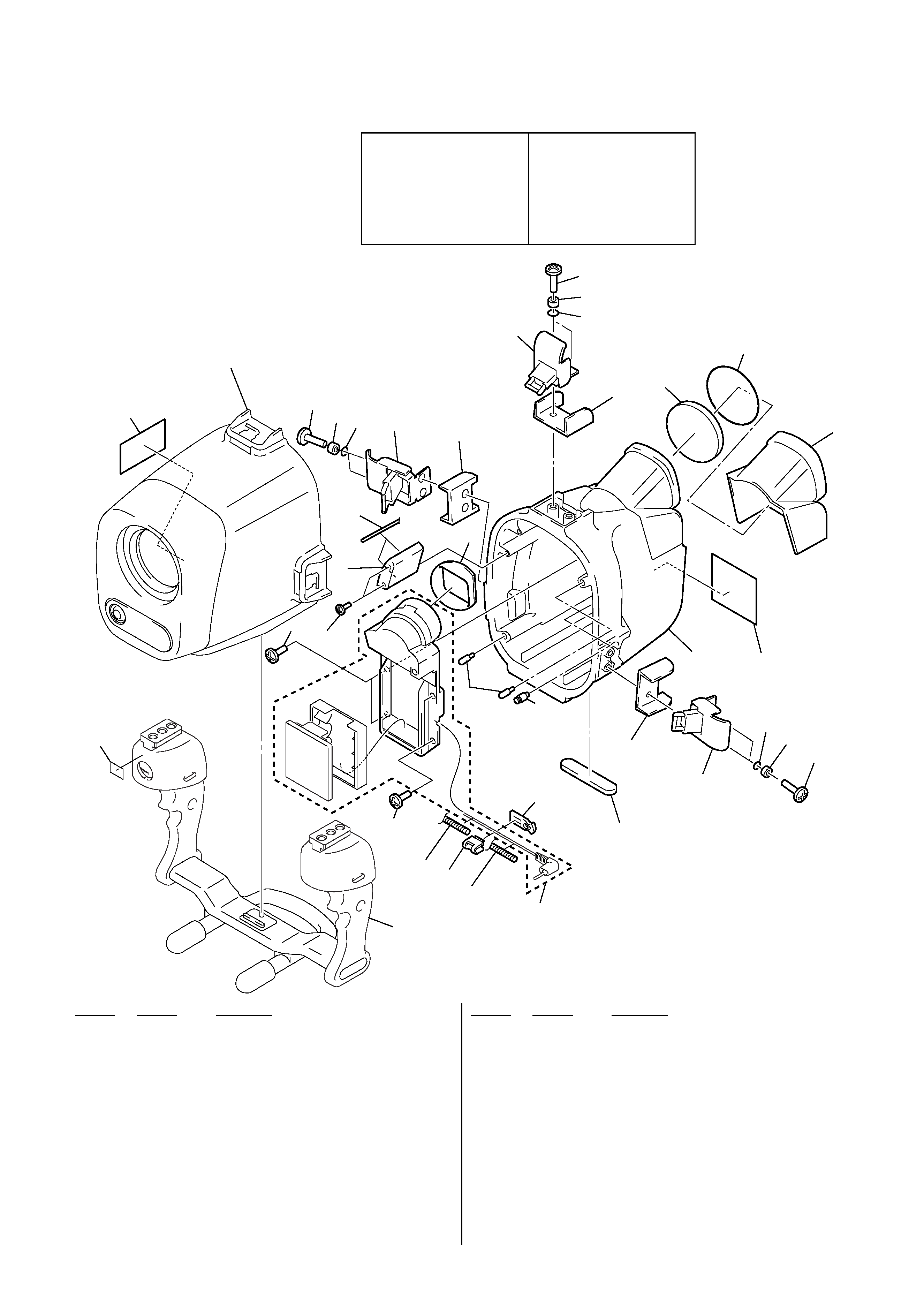 -XX, -X mean standardized parts, so they may
have some differences from the original one.
Items marked "*" are not stocked since they
are seldom required for routine service. Some
delay should be anticipated when ordering these
The mechanical parts with no reference number
in the exploded views are not supplied.
3-052-092-01 SCREW M2.6X6
3-051-577-01 COVER, FIVER
3-051-698-01 FIVER, PLASTIC
3-976-710-01 COVER (R), BUCKLE
3-976-694-01 PROTECTOR, REAR CASE
3-976-698-01 FOOT, MAIN RUBBER
3-977-265-01 PIN, POSITIONING
Monitor (PAL) block section
3-061-211-01 PACKING, LCD
3-052-426-01 COLLAR, SNAP LOCK STOPPER
3-977-370-11 SCREW M3.5X12
3-051-583-01 PIN, CABLE FIXED
3-051-584-01 STRAP (A), CABLE
3-051-585-01 STRAP (B), CABLE
3-054-713-01 TUBE (A), SPIRAL
3-054-714-01 TUBE (B), SPIRAL
3-978-265-01 LABEL, WARNING
3-989-313-01 LABEL, TEMPERATURECAUTION
3-704-256-01 LABEL, CAUTION (US/CND)
The marked "0" are parts in
Replace these components with
Be sure to check up waterproof
La 0 marquée sont des pièces par
rapport à imperméable à l' eau.
Ne les remplacer que par une
pièce portant le numéro spécifié.
Soyez sûr de vérifier vers le haut
d' imperméable à l' eau après la
---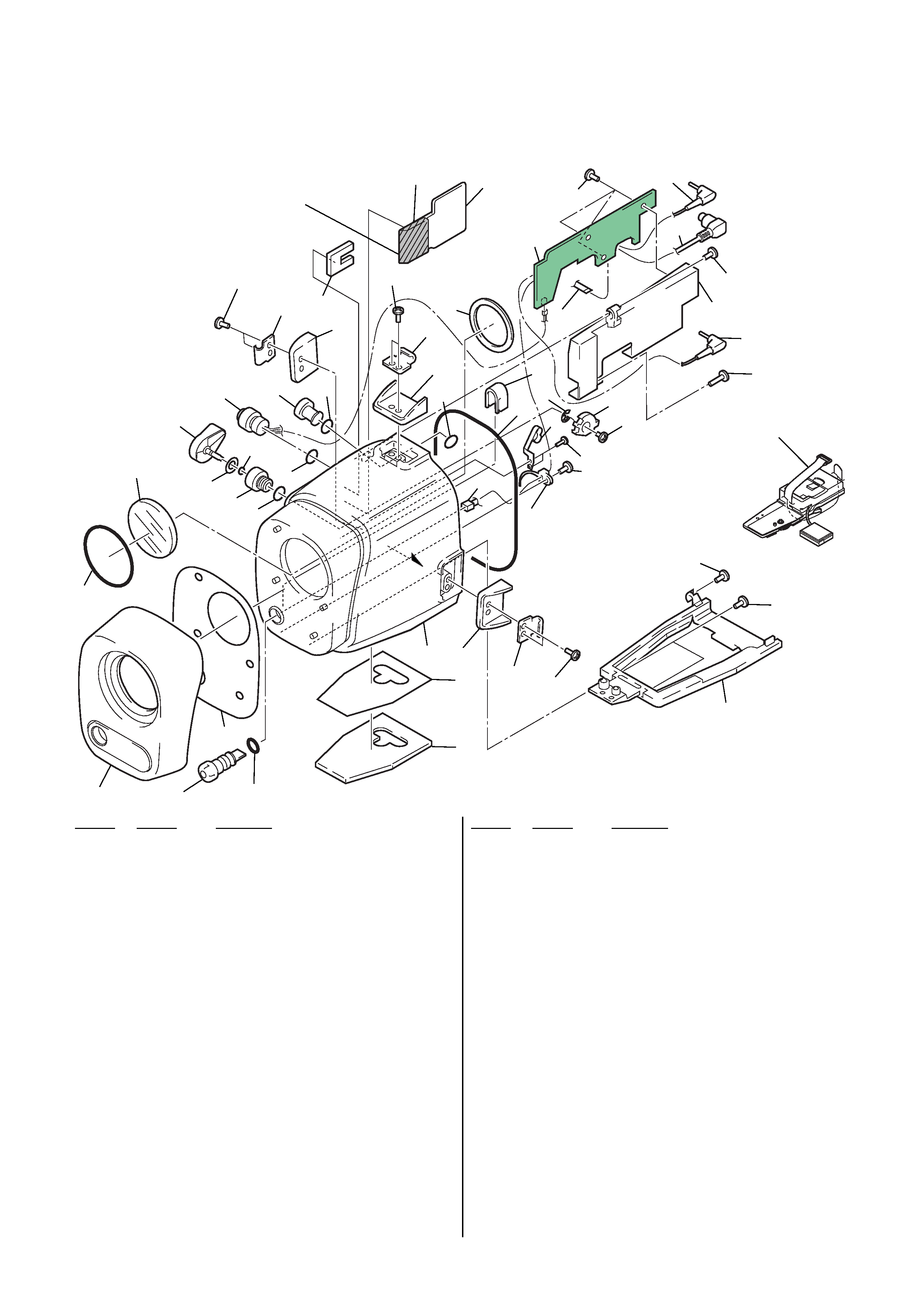 A-7097-199-A MICROPHONE BLOCK ASSY
3-976-665-01 PROTECTOR, FRONT CASE
3-977-360-01 O RING (G55)
3-976-668-01 GLASS, FRONT
3-977-363-01 O RING (JASO1011)
3-976-681-01 SWITCH (BEARING), POWER
3-977-915-01 WASHER, WAVED
3-976-669-01 LEVER, POWER
3-950-888-01 RING (P-11), O
X-3942-412-1 BUTTON ASSY, AF SELECTION
3-950-858-01 RING (P-9), O
3-976-680-01 WINDOW, SENSOR
3-977-370-01 SCREW +P M3.5X10
2-115-906-01 RETAINER, BUCKLE
3-976-711-01 COVER (F), BUCKLE
3-051-559-01 SPRING, POWER SWITCH
3-950-907-01 RING (S-8), O
3-977-366-01 SCREW +P M2X4, PRECISION
A-1092-412-A MOUNTED BOARD, LM-067
3-091-281-01 COVER (KA), MICROPHONE
3-977-369-01 SCREW +P M3X8
2-547-527-01 COVER (KA), INNER
2-391-512-01 RING (5), RETAINING, E TYPE
3-051-574-01 CAM, POWER LEVER
3-977-368-01 SCREW +P M2.6X8
1-829-075-21 CORD WITH CONNECTOR (MIC)
3-051-586-01 PROTECTOR, FRONT LENS
3-950-846-01 RING (P-7), O
3-977-269-01 INSULOCK (T18 MRW)
3-091-280-01 RAIL (KA), BASE
1-830-400-11 CORD, CONNECTION (AV MULTIPLE)
9-913-200-07 CORD, CONNECTION (LANC)
1-830-401-11 CORD WITH CONNECTOR
9-913-200-06 WIRE (LEAK SENSOR)
3-977-369-11 SCREW +P M3X12
3-977-362-01 O RING (V145)
3-977-972-01 SHEET, GUARD RUBBER ADHESIVE
3-977-264-01 RUBBER, GUARD
3-977-995-01 SHEET, FRONT PROTECTOR ADHESIVE
3-052-492-01 GUARD, STRAP
Spacerh,Slide base(SMALL)
Attach the front side of the STRAP GUARD
to the inside of No.88 using the adhesive
(Super X No. 8008, black is recommended).
---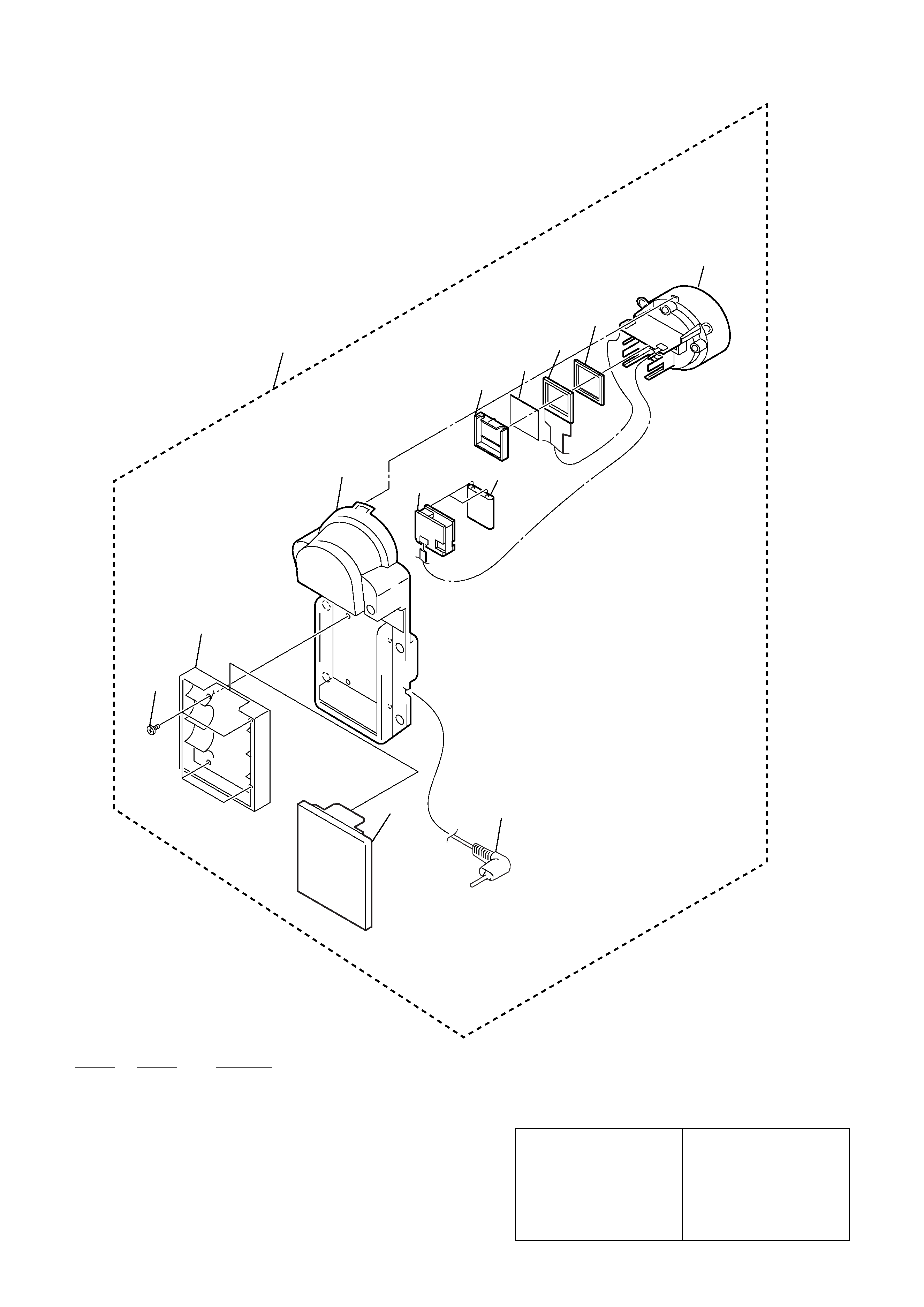 A-7097-116-A MONITOR (NTSC) ASSY (US,CND)
A-7097-128-A MONITOR (PAL) ASSY (AEP)
3-090-361-01 CASE (UPPER LID), BATTERY
3-960-302-11 CUSHION (1), LCD
1-517-414-71 FLUORESCENT TUBE (0.55 INCH)
3. MONITOR (PAL) BLOCK SECTION
The marked "0" are parts in
Replace these components with
Be sure to check up waterproof
La 0 marquée sont des pièces par
rapport à imperméable à l' eau.
Ne les remplacer que par une
pièce portant le numéro spécifié.
Soyez sûr de vérifier vers le haut
d' imperméable à l' eau après la
---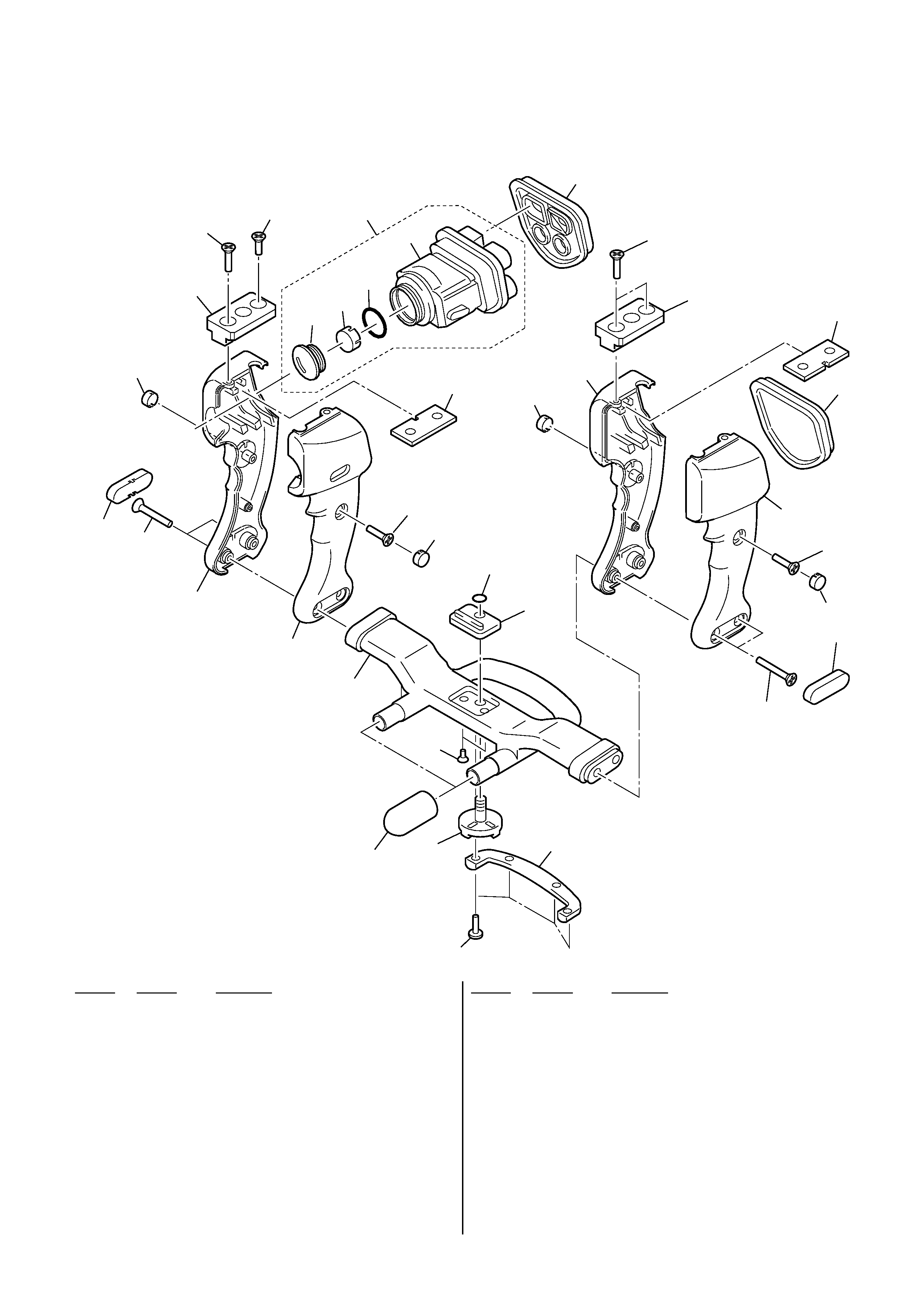 3-977-371-01 SCREW +P M4X8
3-976-690-01 KNOB, TRIPOD SCREW
3-976-689-01 FOOT, KEEL RUBBER
2-186-307-01 SCREW (M3X8)
3-944-944-11 SCREW, +K (5X30)
3-061-209-01 LID (B), BLIND
3-061-195-01 LID, BATTERY
3-061-208-01 LID (A), BLIND
3-944-943-01 SHOE, ACCESSORY
3-944-944-31 SCREW, +K 5X18
A-7094-937-A BOX BLOCK ASSY, REMOTE CONTROL
3-061-201-01 PLATE (A), ORNAMENTAL
3-061-200-02 BRACKET, ACCESSORY SHOE
3-061-207-01 PLATE (B), ORNAMENTAL
3-061-196-01 PIPE, BATTERY LID INSULATING
3-950-887-01 RING (P-4), O
3-976-692-01 FIXED (LARGE)
3-061-202-01 SCREW +K M4X20
---