© 1998 by Sony Corporation
---

Caution - The use of optical
instruments with this product
will increase eye hazard.
Do not install the appliance in a
confined space, such as a
bookcase or build-in cabinet.
The nameplate is located on the
This appliance is classified as a CLASS 1
LASER product. The CLASS 1 LASER
PRODUCT MARKING is located on the
To prevent fire or shock hazard,
do not expose the unit to rain
IN NO EVENT SHALL SELLER BE
For the customers in the United
This marking is located on the bottom of
This symbol is intended to alert the user to
the presence of uninsulated "dangerous
voltage" within the product's enclosure
that may be of sufficient magnitude to
constitute a risk of electric shock to
This symbol is intended to alert the user to
the presence of important operating and
maintenance (servicing) instructions in the
literature accompanying the appliance.
This equipment has been tested and found
to comply with the limits for a Class B
digital device, pursuant to Part 15 of the
These limits are designed to provide
reasonable protection against harmful
interference in a residential installation.
This equipment generates, uses, and can
radiate radio frequency energy and, if not
installed and used in accordance with the
instructions, may cause harmful
interference to radio communications.
However, there is no guarantee that
interference will not occur in a particular
installation. If this equipment does cause
harmful interference to radio or television
reception, which can be determined by
turning the equipment off and on, the user
is encouraged to try to correct the
interference by one or more of the
­ Reorient or relocate the receiving
­ Increase the separation between the
­ Connect the equipment into an outlet on
a circuit different from that to which the
­ Consult the dealer or an experienced
radio/TV technician for help.
You are cautioned that any changes or
modification not expressly approved in
this manual could void your authority to
The model and serial numbers are located
on the bottom of the unit. Record the serial
number in the space provided below. Refer
to them whenever you call upon your
Sony dealer regarding this product.
For the customers in Canada
TO PREVENT ELECTRIC SHOCK, DO
NOT USE THIS POLARIZED AC PLUG
RECEPTACLE OR OTHER OUTLET
UNLESS THE BLADES CAN BE FULLY
INSERTED TO PREVENT BLADE
Thank you for purchasing the Sony
MiniDisc Deck. Before operating the deck,
please read this manual thoroughly and
retain it for future reference.
This manual explains how to operate the
MDS-DRE1 MiniDisc Recorder/Player.
The following icon is used in this manual:
Indicates tips for making the task
---

Names and Functions of Parts
Input and Output Jacks 10
Assigning Cue Points to Pads 13
Auto Pausing at the Beginning of a Track 14
Changing Speed and Pitch During Playback 15
Looping Part of a Track 16
Starting Tracks as Quickly as Possible
Playing Tracks Repeatedly (Repeat Play) 19
Playing Tracks in a Different Order
Resuming Playback After Stopping
Marking Track Numbers While Recording 24
Recording during Playback
Dividing a Track (Divide) 28
Combining Two Tracks (Combine) 29
Changing Track Numbers (Move) 30
Erasing a Track (Erase) 31
Erasing the Entire Disc (All Erase) 32
Naming Discs and Tracks (Name) 32
Undoing the Previous Edit Operation (Undo) 35
Guide to the Serial Copy Management System 41
---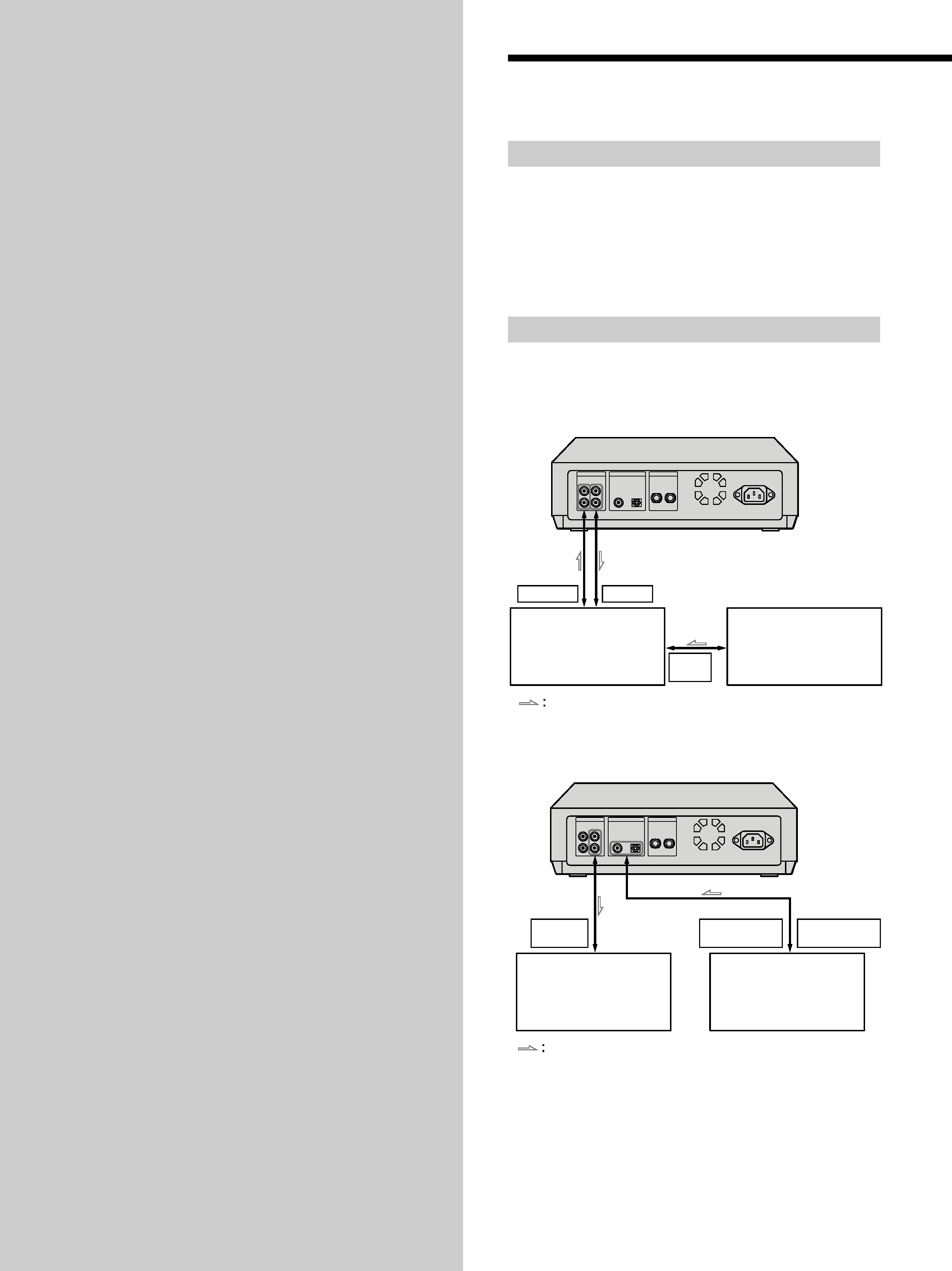 This chapter describes how to connect
this unit to other audio components.
Be sure to read this section carefully
before making any connections.
Check that you received the following :
· Operating Instructions (1)
In the event that an item is missing, contact the dealer
where the unit was purchased or a Sony Service Center.
p Connecting to a CD player (etc.)
---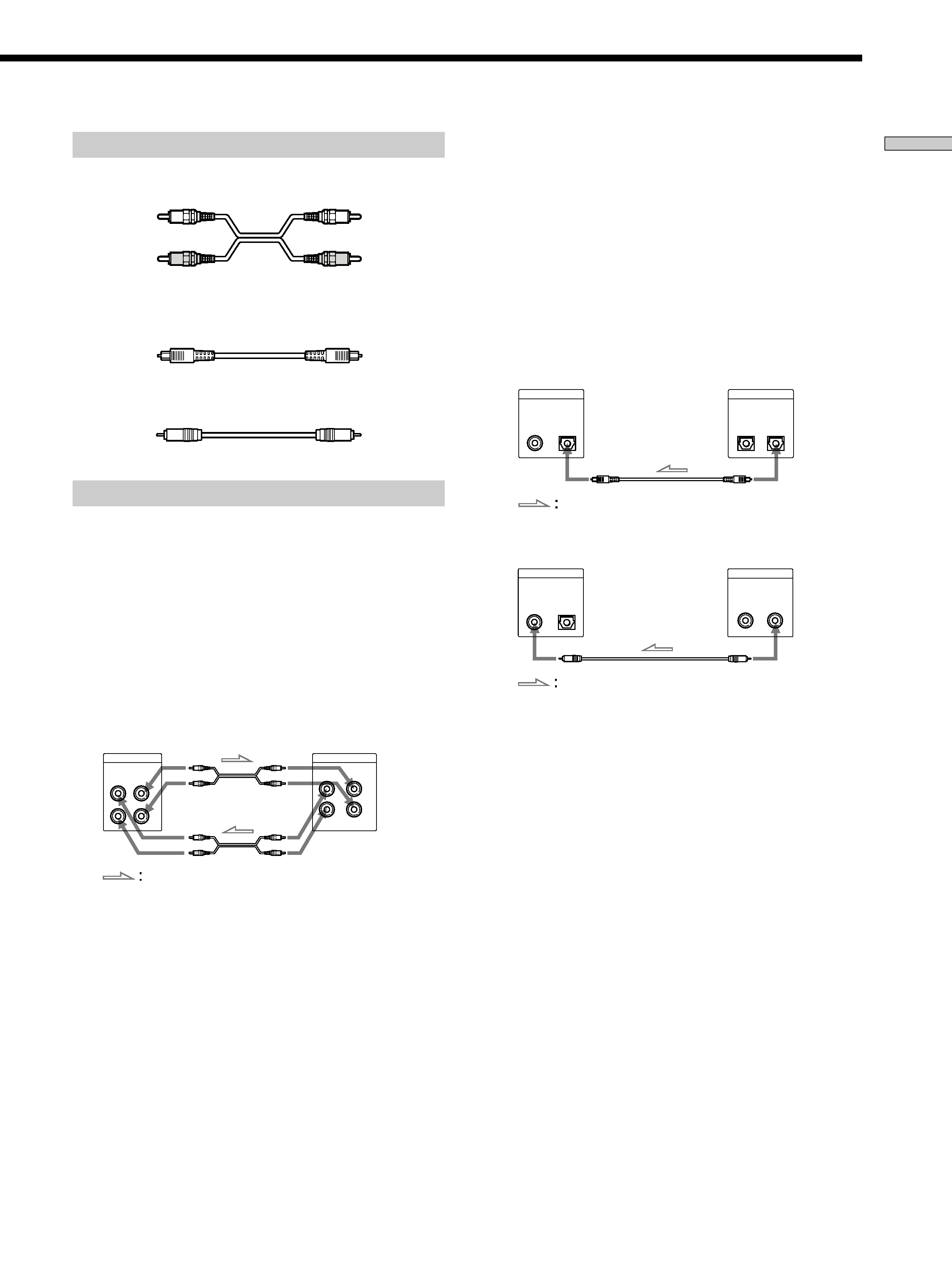 · Audio cords (not supplied) (2)
· Digital optical cable (not supplied) (1)
· Coaxial digital cable (not supplied) (1)
This section describes how to connect this unit to a mixer,
amplifier, and other components (like a CD player).
Be sure to turn off the power of all components before
p Connecting a mixer or amplifier
Connect the mixer or amplifier to the LINE (ANALOG)
IN /OUT jacks using audio cables (not supplied).
Connect the red plugs to the red (R) jacks and connect the
white plugs to the white (L) jacks. Be sure to make all
connections firmly to prevent hum and noise.
Mixer or Amplifier (etc.)
p Connecting digital components
(CD player, DAT deck, another MD deck, or an amplifier
with digital input jacks)
If you make connections to a CD player, MD deck, or DAT
deck (etc.) you can make digital recordings.
Connect using a digital optical cable (not supplied), or a
digital coaxial cable (not supplied).
Using a digital optical cable
Remove the protective caps from the optical jacks,
then insert the plugs parallel to the jacks until they
click into place. Do not fold or tie digital optical cables.
Using coaxial digital cables
z If "Din Unlock" and "C71" appear in the display
Check the digital optical cable or digital coaxial cable
connections. Also make sure the power of the connected
z Automatic conversion of digital sampling rates
A built-in sampling rate converter automatically converts
digital signals with 32 kHz or 48 kHz sampling rates to the
MD sampling rate (44.1 kHz).
This allows you to make digital recordings from DAT (32 kHz
and 48 kHz) and satellite broadcasts (32 kHz and 48 kHz) in
addition to CD and MD program sources.
If "Din Unlock", "C71" or "Cannot Copy" appears in the
display, digital recording is not possible. In such cases,
connect the program source to the LINE (ANALOG) IN jacks,
set INPUT to ANLG, and make an analog recording.
p After completing all other connections, use the
AC power cord to connect this unit to a wall
---