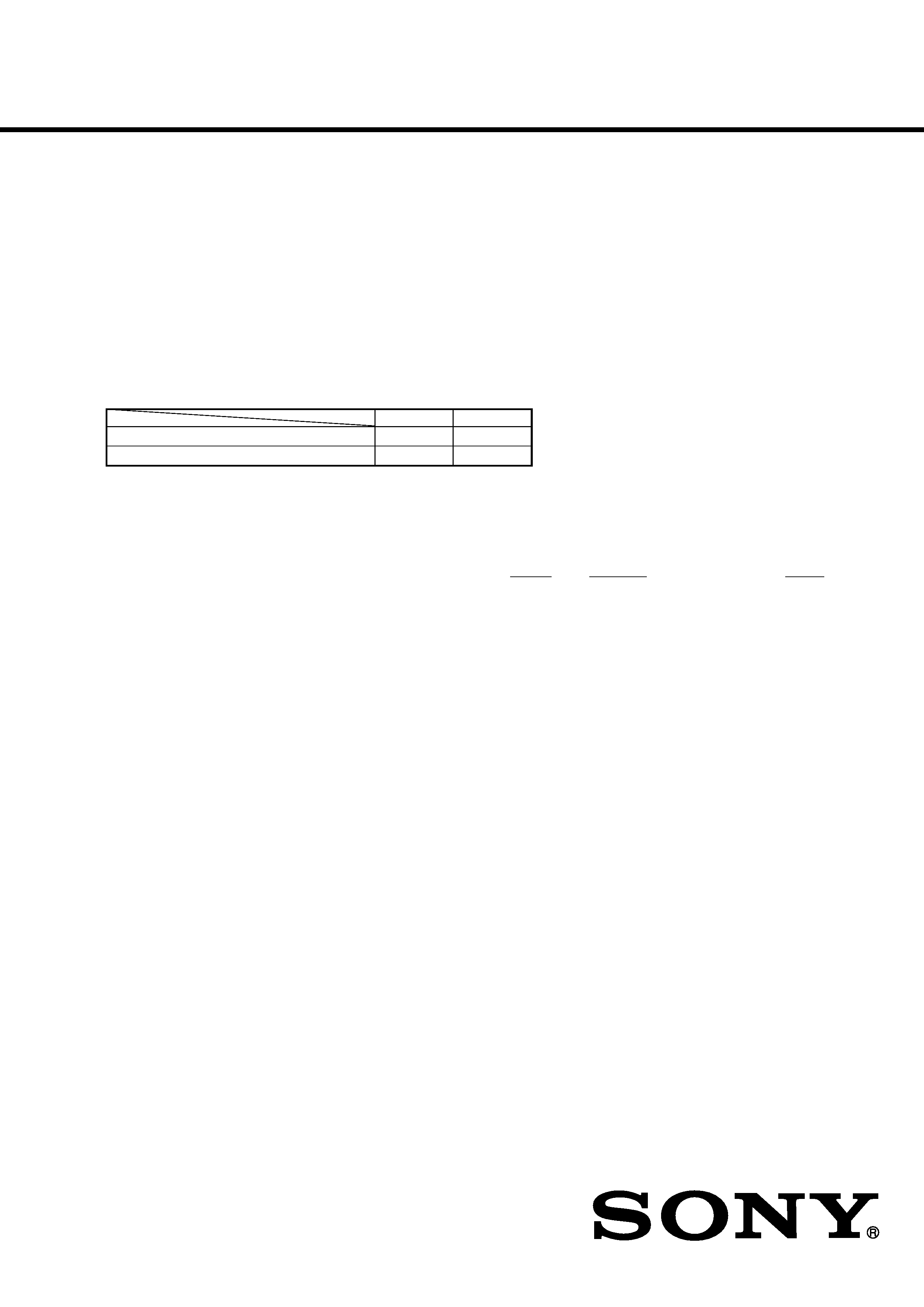 Audio Entertainment Group
General Engineering Dept.
COMPACT HiFi STEREO SYSTEM
· LBT-XG80/XG700 is composed of following models.
As for the service manual, it is issued for each component model, then, please refer to it.
COMPONENT MODEL NAME FOR LBT-XG80/XG700.
120 V, 220 V or 230 ­ 240 V AC, 50/60 Hz
Adjustable with voltage selector
0.6 watts (at the power saving mode)
Approx. 355 x 425 x 450 mm
Design and specifications are subject to change without notice.
ACCESSORIES & PACKING MATERIALS
********************************
1-475-572-41 COMMANDER, STANDARD (RM-SR5B)
1-501-374-11 ANTENNA, LOOP
1-501-659-41 ANTENNA (FM) (XG80)
1-501-804-11 ANTENNA (FM) (XG700)
1-775-512-21 CORD, SPEAKER CONNECTION (for SS-XG80/XG700)
4-210-254-01 CUSHION (FOOT) (for SS-XG80/XG700)
4-233-529-11 MANUAL, INSTRUCTION (ENGLISH)
4-233-529-21 MANUAL, INSTRUCTION (FRENCH) (XG80: EA)
4-233-529-31 MANUAL, INSTRUCTION (SPANISH) (XG80: AR, MX)
4-233-529-41 MANUAL, INSTRUCTION (ENGLISH, FRENCH,
SPANISH) (XG80: E2, E51, SP/XG700: AEP)
4-233-529-51 MANUAL, INSTRUCTION (GERMAN, DUTCH, SWEDISH)
4-233-529-61 MANUAL, INSTRUCTION (ITALIAN, POLISH)
4-233-529-71 MANUAL, INSTRUCTION (ARABIC) (XG80: EA)
4-233-529-81 MANUAL, INSTRUCTION (TRADITIONAL CHINESE)
4-991-151-31 COVER, BATTERY (for RM-SR5B)
COMPACT DISC DECK RECEIVER SYSTEM HCD-XG80
---