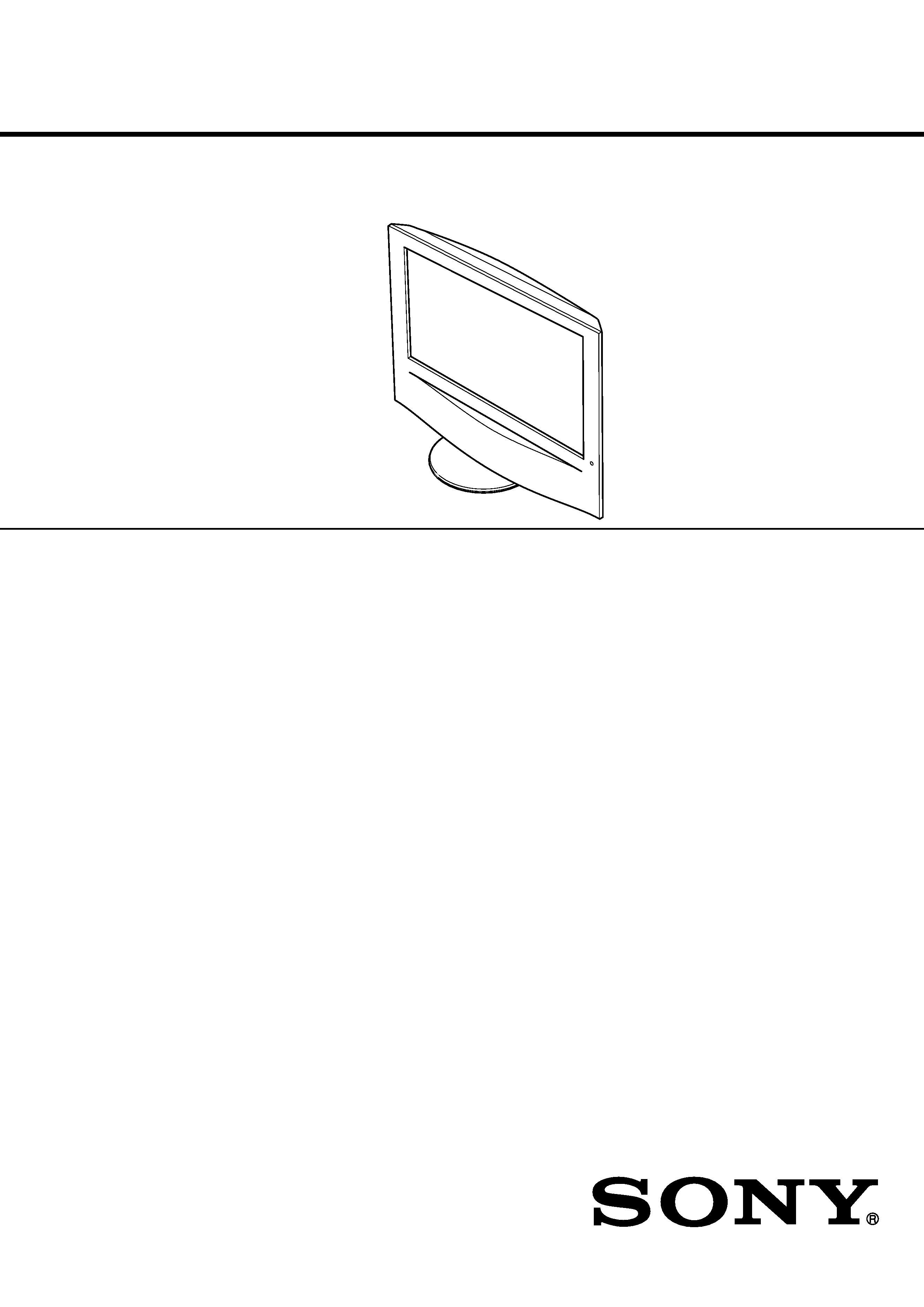 VHF: 2-13/UHF: 14-69/CATV: 1-125
75 ohm external terminal for VHF/UHF
Screen size (measured diagonally):
a-Si TFT Active Matrix LCD panel
(Effective dots: more than 99.99%)
S VIDEO (4-pin mini DIN):
Y: 1 Vp-p, 75-ohms unbalanced,
C: 0.286 Vp-p (Burst signal),
1 Vp-p, 75-ohms unbalanced,
500 mVrms (100% modulation)
Y, P
B
, P
R
(Component Video):
unbalanced, sync negative
500 mVrms (100% modulation)
1 terminal, 3.3 V T.M.D.S.,
The DVI-HDTV input terminals
compliant with the EIA-861B
standard and is not intended for
500 mVrms (100% modulation)
500 mVrms (100% modulation)
More than 500 mVrms at the maximum volume setting
More than 500 mVrms (Fixed)
---

Full range: ø5.0 cm (1
31
/
32
inches) (2)
Woofer: ø5.5 cm (2
5
/
32
inches) (2)
× 19
29
/
32
× 9
1
/
16
inches)
× 18
13
/
16
× 4
11
/
16
inches)
Including TV stand: 11.2 kg (24 lb 11 oz)
Remote control RM-Y1105 (1)
Note that some optional accessories may be out of
Design and specifications are subject to change
---

These servicing instructions are for use by qualified service personnel only To reduce the risk of electric shock, do not perform any
servicing other than that contained in the operating instructions unless you are qualified to do so.
An isolation transformer should be used during any service to avoid possible shock hazard, because of live chassis. The chassis of
this receiver is directly connected to the ac power line.
!
SAFETY-RELATED COMPONENT WARNING!!
Components identified by shading and ! mark on the schematic diagrams, exploded views, and in the parts list are critical for safe
operation. Replace these components with Sony parts whose part numbers appear as shown in this manual or in supplements
published by Sony. Circuit adjustments that are critical for safe operation are identified in this manual. Follow these procedures
whenever critical components are replaced or improper operation is suspected.
Ces instructions de service sont à l'usage du personnel de service qualifié seulement. Pour prévenir le risque de choc électrique, ne
pas faire l'entretien autre que celui contenu dans le Mode d'emploi à moins que vous soyez qualifié faire ainsi.
Afin d'eviter tout risque d'electrocution provenant d'un chássis sous tension, un transformateur d'isolement doit etre utilisé lors de tout
dépannage. Le chássis de ce récepteur est directement raccordé à l'alimentation du secteur
!
ATTENTION AUX COMPOSANTS RELATIFS A LA SECURITE!!
Les composants identifies par une trame et par une marque ! sur les schemas de principe, les vues explosees et les listes de pieces
sont d'une importance critique pour la securite du fonctionnement. Ne les remplacer que par des composants Sony dont le numero
de piece est indique dans le present manuel ou dans des supplements publies par Sony. Les reglages de circuit dont l'importance
est critique pour la securite du fonctionnement sont identifies dans le present manuel. Suivre ces procedures lors de chaque
remplacement de composants critiques, ou lorsqu'un mauvais fonctionnement suspecte.
---

The AC leakage from any exposed metal part to earth ground
and from all exposed metal parts to any exposed metal part
having a return to chassis, must not exceed 0.5 mA (500
Leakage current can be measured by any one of three methods.
1. A commercial leakage tester, such as the Simpson 229 or
RCA WT-540A. Follow the manufacturers' instructions to
2. A battery-operated AC milliammeter. The Data Precision
245 digital multimeter is suitable for this job.
3. Measuring the voltage drop across a resistor by means of a
VOM or battery-operated AC voltmeter. The "limit" indica-
tion is 0.75 V, so analog meters must have an accurate low-
voltage scale. The Simpson 250 and Sanwa SH-63Trd are
examples of a passive VOMs that are suitable. Nearly all
battery operated digital multimeters that have a 2 V AC
range are suitable. (See Fig. A)
After correcting the original service problem, perform the fol-
lowing safety checks before releasing the set to the customer:
1. Check the area of your repair for unsoldered or poorly-sol-
dered connections. Check the entire board surface for solder
2. Check the interboard wiring to ensure that no wires are
"pinched" or contact high-wattage resistors.
3. Check that all control knobs, shields, covers, ground straps,
and mounting hardware have been replaced. Be absolutely
certain that you have replaced all the insulators.
4. Look for unauthorized replacement parts, particularly tran-
sistors, that were installed during a previous repair. Point
them out to the customer and recommend their replacement.
5. Look for parts which, though functioning, show obvious
signs of deterioration. Point them out to the customer and
recommend their replacement.
6. Check the line cords for cracks and abrasion. Recommend
the replacement of any such line cord to the customer.
7. Check the B+ and HV to see if they are specified values.
Make sure your instruments are accurate; be suspicious of
your HV meter if sets always have low HV.
8. Check the antenna terminals, metal trim, "metallized"
knobs, screws, and all other exposed metal parts for AC
Leakage. Check leakage as described right.
Fig. A. Using an AC voltmeter to check AC leakage.
SAFETY-RELATED COMPONENT WARNING!!
COMPONENTS IDENTIFIED BY SHADING AND MARK
ON THE SCHEMATIC DIAGRAMS, EXPLODED
VIEWS AND IN THE PARTS LIST ARE CRITICAL FOR
SAFE OPERATION. REPLACE THESE COMPONENTS
WITH SONY PARTS WHOSE PART NUMBERS AP-
PEAR AS SHOWN IN THIS MANUAL OR IN SUPPLE-
MENTS PUBLISHED BY SONY. CIRCUIT ADJUST-
MENTS THAT ARE CRITICAL FOR SAFE OPERATION
ARE IDENTIFIED IN THIS MANUAL. FOLLOW THESE
PROCEDURES WHENEVER CRITICAL COMPONENTS
ARE REPLACED OR IMPROPER OPERATION IS SUS-
ATTENTION AUX COMPOSANTS RELATIFS À LA
LES COMPOSANTS IDENTIFIÉS PAR UNE TRAME ET
UNE MARQUE ! SONT CRITIQUES POUR LA
SÉCURITÉ. NE LES REMPLACER QUE PAR UNE
PIÈCE PORTANT LE NUMÉRO SPECIFIÉ. LES
RÉGLAGES DE CIRCUIT DONT L'IMPORTANCE EST
CRITIQUE POUR LA SÉCURITÉ DU
FONCTIONNEMENT SONT IDENTIFIÉS DANS LE
PRÉSENT MANUEL. SUIVRE CES PROCÉDURES
LORS DE CHAQUE REMPLACEMENT DE
COMPOSANTS CRITIQUES, OU LORSQU'UN
MAUVAIS FONCTIONNEMENT EST SUSPECTÉ.
---

1. DISASSEMBLY ...................................... 1-1
1-1. REAR COVER AND STAND ASSY REMOVAL ..... 1-1
1-2. REAR CABINET ASSY REMOVAL .................... 1-1
1-3. H1 BOARD REMOVAL ....................................... 1-2
1-4. D3 AND MSX BOARDS REMOVAL ................... 1-2
1-5. U1 BOARD REMOVAL ....................................... 1-3
1-6. MS AND MSB BOARDS REMOVAL .................. 1-3
1-7. G BOARD REMOVAL ......................................... 1-4
1-8. A AND TU BOARDS REMOVAL ........................ 1-4
1-9. B AND UD BOARDS REMOVAL ........................ 1-5
1-10. H5 BOARD REMOVAL ..................................... 1-5
1-11. H2 BOARD REMOVAL ..................................... 1-6
1-12. LDC MODULE REMOVAL ................................ 1-6
1-13. H4 BOARD REMOVAL ..................................... 1-7
2.ADJUSTMENTS ...................................... 2-1
2-1. ADJUSTMENT OF SIGNAL LEVEL ................... 2-1
2-1-1. Check AD calibration registration items .............. 2-1
2-1-2. Y signal AD calibration of TV/VIDEO input ...... 2-1
2-1-3. C signal AD calibration of TV/VIDEO input ...... 2-1
2-1-4. Y signal AD calibration of COMPONENT input
2-1-5. C signal AD calibration of COMPONENT input
2-1-6. Y signal AD calibration of DVI input .................. 2-3
2-1-7. C signal AD calibration of DVI input .................. 2-3
2-2. WHITE BALANCE ADJUSTMENT ..................... 2-3
2-2-1. White Balance of color temerature "cool" ........... 2-3
2-2-2. White Balance of color temerature "natural" ....... 2-3
2-2-3. White Balance of color temerature "warm" ......... 2-3
3.DIAGRAMS ............................................. 3-1
3-1. BLOCK DIAGRAMS ........................................... 3-1
3-2. FRAME DIAGRAM ............................................. 3-9
3-3. CIRCUIT BOARDS LOCATION ......................... 3-10
3-4. CHEMATIC DIAGRAMS AND PRINTED
WIRING BOARDS ........................................... 3-10
(1) Schematic Diagrams of A Board .......................... 3-11
(2) Schematic Diagrams of B Board ........................... 3-16
(3) Schematic Diagrams of D3 Board ........................ 3-25
(4) Schematic Diagram of G Board ............................ 3-30
(5) Schematic Diagram of H1 and H2 Boards ........... 3-32
(6) Schematic Diagram of H4 and H5 Boards ........... 3-33
(7) Schematic Diagrams of MS Board ....................... 3-34
(8) Schematic Diagram of MSB and MSX Board ...... 3-38
(9) Schematic Diagram of TU Board ......................... 3-39
(10) Schematic Diagram of U1 Board ........................ 3-40
(11) Schematic Diagram of UD Board ....................... 3-41
3-5. SEMICONDUCTORS ......................................... 3-43
4. EXPLODED VIEWS ............................... 4-1
4-1. CHASSIS ............................................................ 4-2
4-2. PACKING MATERIALS ...................................... 4-4
5. ELECTRICAL PARTS LIST ................... 5-1
---