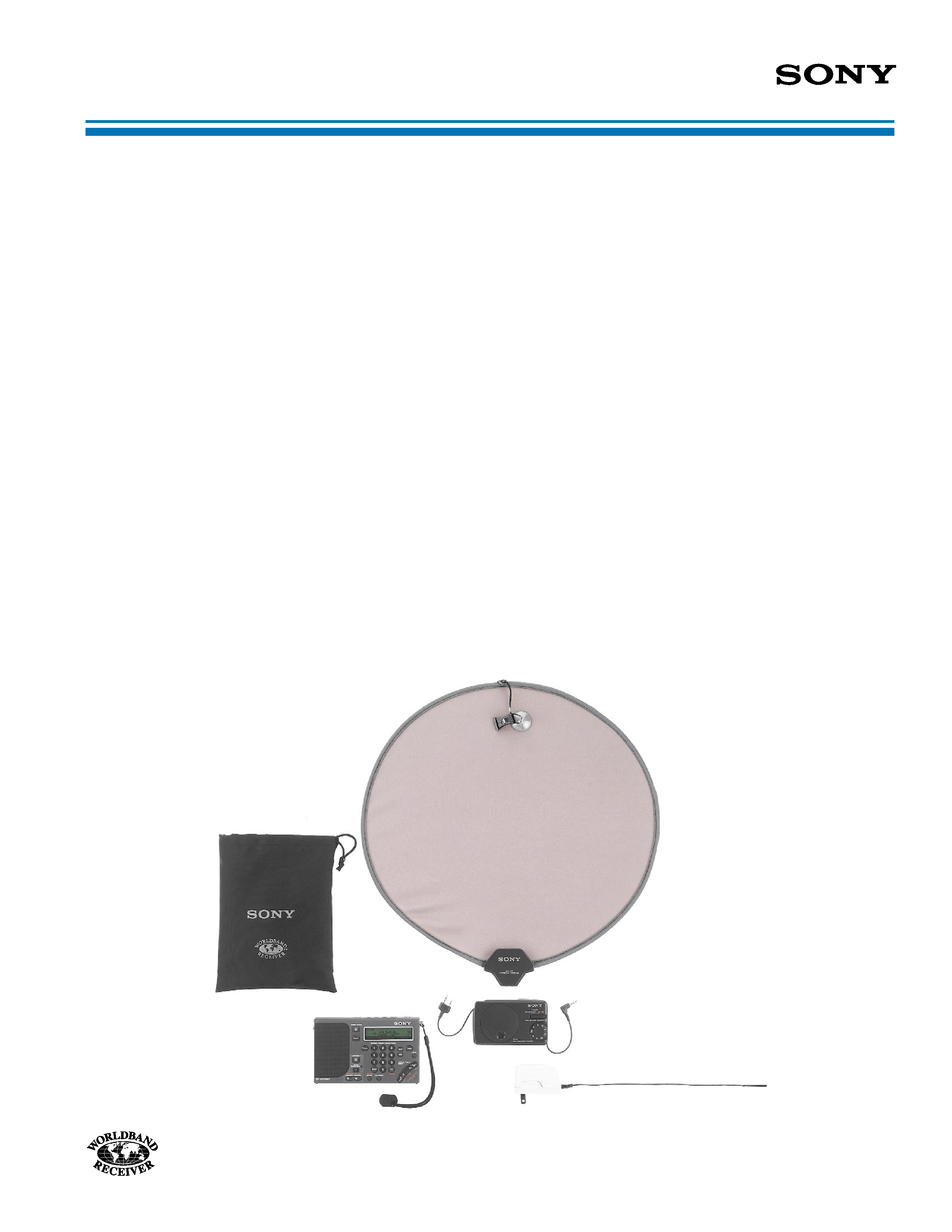 World Band ReceiverTM System Kit
KIT INCLUDES ICF-SW1000T RECEIVER, AN-LP1 ACTIVE ANTENNA, 120V AC ADAPTOR AND ANTENNA CARRYING CASE
RECEIVES AM (LW/MW/SW) AND FM STEREO RECEPTION
DIGITAL TUNING WITH 10-KEY DIRECT ACCESSTMSELECTION
BUILT-IN STEREO CASSETTE RECORDER/PLAYER WITH TIMER RECORD AND AUTO REVERSE
BUILT-IN CLOCK WITH ALARM
FEATHER TOUCH CASSETTE CONTROLS
SLEEP FUNCTION/DUAL STAND-BY
AN-LP1 PORTABLE LOOP ANTENNA FOLDS FROM 19" TO 7"
LIGHTWEIGHT ANTENNA CAN EASILY BE MOUNTED ALMOST ANYWHERE (MOUNTING HARDWARE PROVIDED)
ANTENNA CONTROL UNIT HAS ROTARY TUNING, STAND-BY MODE, AND RETRACTABLE CORD
---

Sony Electronics Inc · 1 Sony Drive, Park Ridge, New Jersey 07656 · www.sony.com
ICF-SW1000T Receiver, AN-LP1 Active Antenna, 120V AC
Adaptor and soft carrying case for active antenna
· RECEIVES AM (LW/MW/SW) AND FM STEREO RECEPTION
accurate reception over a wide range of frequencies from AM
· DIGITAL TUNING WITH 10-KEY DIRECT ACCESSTM SELECTION
tune stations directly, with the ease of using a pocket calculator
· DIGITAL SYNTHESIZED TUNER
is an extremely accurate method of tuning
that provides optimum stability and reduces station drift to a minimum
· 32 RANDOM MEMORY PRESETS
let you quickly and easily tune into
stations that you have saved on any one of the three memory pages
· SYNCHRONOUS DETECTION CIRCUITRY
reduces fading and annoying
"beat" frequency interference from adjacent stations as well as distortion
due to fading in AM reception
· SSB (SINGLE SIDE BAND) FUNCTION
for optimum multi-mode reception
and reduced interference on AM bands for better overall sound
· BUILT-IN STEREO CASSETTE RECORDER/PLAYER WITH TIMER RECORD
lets you record and play back your own stereo
cassettes at a pre-set time using the supplied stereo microphone or by
recording directly from the radio, with no need to turn cassette over to
allows fast, precise station reception by tuning at
· BUILT-IN CLOCK WITH ALARM
can wake you to radio or buzzer
v
FEATHER TOUCH CASSETTE CONTROLS for smooth, quiet operation
v
SLEEP FUNCTION/DUAL STAND-BY automatically turns off radio at a
time you select up to 60 minutes and lets you set two different wake-up
v
AN-LP1 PORTABLE LOOP ANTENNA FOLDS FROM 19" TO 7" increases
signal reception and helps provide high performance against noise
can easily be mounted almost anywhere with
mounting hardware provided
has rotary tuning for best reception, stand-by
mode, and retractable cord for convenience
· SOFT CARRYING CASE FOR ANTENNA
is supplied and offers additional
convenience when traveling
makes this an ideal unit for use by world travelers and
AM (LW/MW/SW): 150-29,999kHz
LW/AM: Built-in Ferrite Bar Antenna
SW/FM: Telescoping Antenna
External antenna (AN-LP1 Active Antenna)
Radio: "AA" batteries x 2
Cassette: "AA" batteries x 1
Radio: 7" x 4
1
/
8
" x 1
1
/
2
" (176 x 105 x 39mm)
Antenna: 19" x 19" x
1
/
4
" (490 x 480 x 17.8mm)
Antenna Controller: 4
3
/
4
" x 2
7
/
8"
x 1
3
/
16
" (120 x 72 x 29.5mm)
Radio: 1 lb 3
2
/
3
oz (560g)
Antenna Controller: 5.3 oz (149g)
Compact Antenna, Carrying Case, Stereo Microphone,
Stereo Headphones, 120V AC Adapter, AN-LP1 Folding Loop Antenna, Carrying
©2002 Sony Electronics Inc.
Reproduction in whole or in part without written permission is prohibited. All rights reserved.
Sony, Direct Access and World Band Receiver are trademarks of Sony.
Features and specifications are subject to change without notice. Non-metric weights and measures
---