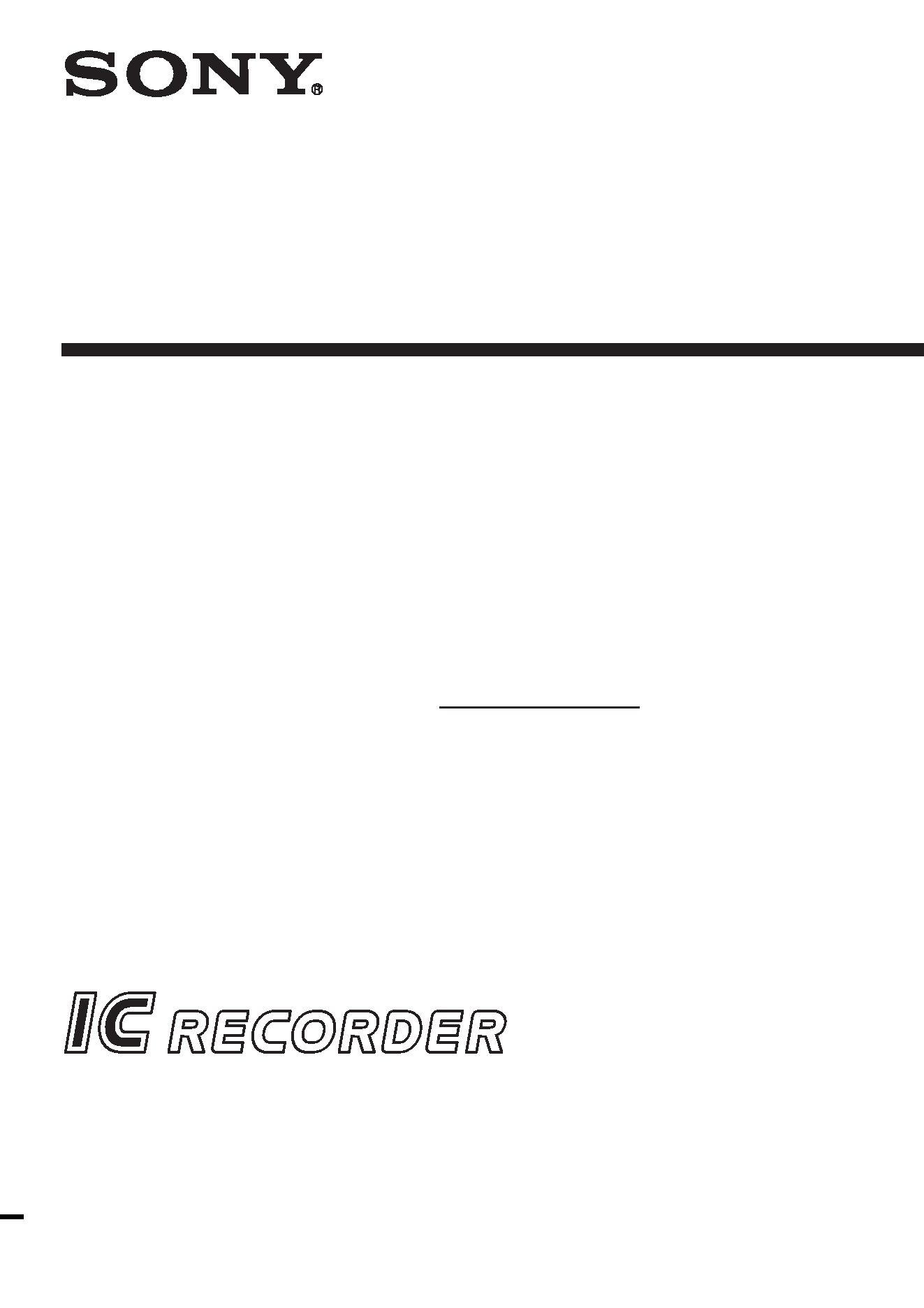 The model number is located at the rear and the serial
number is located inside the battery compartment.
Record the serial number in the space provided below.
Refer to these numbers whenever you call upon your
Sony dealer regarding this product.
---

Declaration of Conformity
Responsible Party: Sony Electronics Inc.
680 Kinderkamack Road, Oradell, NJ. 07649 USA
This device complies with Part 15 of the FCC Rules. Operation is subject to
the following two conditions: (1) This device may not cause harmful
interference, and (2) this device must accept any interference received,
including interference that may cause undesired operation.
For the customers in the United States
This equipment has been tested and found to comply with the limits for a Class
B digital device, pursuant to Part 15 of the FCC Rules. These limits are designed
to provide reasonable protection against harmful interference in a residential
installation. This equipment generates, uses, and can radiate radio frequency
energy and, if not installed and used in accordance with the instructions, may
cause harmful interference to radio communications.
However, there is no guarantee that interference will not occur in a particular
installation. If this equipment does cause harmful interference to radio or
television reception, which can be determined by turning the equipment off and
on, the user is encouraged to try to correct the interference by one or more of the
­ Reorient or relocate the receiving antenna.
­ Increase the separation between the equipment and receiver.
­ Connect the equipment into an outlet on a circuit different from that to which
the receiver is connected.
­ Consult the dealer or an experienced radio/TV technician for help.
You are cautioned that any changes or modifications not expressly approved in
this manual could void your authority to operate this equipment.
If you have any questions about this product, you may call:
Sony Customer Information Services Center (800)-222-7669
Sony Customer Information Services Center 12451 Gateway Blvd. Fort Myers,
---

Program © 1999, 2000, 2001, 2002, 2003 Sony Corporation
Documentation ©2003 Sony Corporation
All rights reserved. This manual or the software described herein, in whole or in part,
may not be reproduced, translated or reduced to any machine readable form without
prior written approval from Sony Corporation.
IN NO EVENT SHALL SONY CORPORATION BE LIABLE FOR ANY INCIDENTAL,
CONSEQUENTIAL OR SPECIAL DAMAGES, WHETHER BASED ON TORT,
CONTRACT, OR OTHERWISE, ARISING OUT OF OR IN CONNECTION WITH
THIS MANUAL, THE SOFTWARE OR OTHER INFORMATION CONTAINED
HEREIN OR THE USE THEREOF.
Sony Corporation reserves the right to make any modification to this manual or the
information contained herein at any time without notice.
The software described herein may also be governed by the terms of a separate user
· This software is for Windows and cannot be used for Macintosh.
· The supplied connecting cable is for the IC recorder ICD-ST20/ST10 only. You
cannot connect other IC recorders.
I
N NO EVENT SHALL SELLER BE LIABLE FOR ANY DIRECT, INCIDENTAL OR
CONSEQUENTIAL DAMAGES OF ANY NATURE, OR LOSSES OR EXPENSES
RESULTING FROM ANY DEFECTIVE PRODUCT OR THE USE OF ANY PRODUCT.
· "LPEC" is the trademark of Sony Corporation.
· IBM and PC/AT are registered trademarks of International Business Machines
· Microsoft, Windows and Outlook are trademarks of Microsoft Corporation,
registered in the U.S.A. and other countries.
Copyright ©1995 Microsoft Corporation.
Portion Copyright ©1995 Microsoft Corporation
· Apple and Macintosh are trademarks of Apple Computer Inc., registered in the
U.S.A. and other countries.
· Pentium is a registered trademark of Intel Corporation.
· NaturallySpeaking, Dragon Systems are trademarks owned by ScanSoft, Inc. and
are registered in the United States and/or other countries.
· All other trademarks and registered trademarks are trademarks or registered
trademarks of their respective holders. Furthermore, "TM" and "
®
" are not
mentioned in each case in this manual.
The "Digital Voice Editor" uses software modules as shown below:
Microsoft
®
DirectX
®
Media Runtime
©2001 Microsoft Corporation. All rights reserved.
---

Getting Started ........................................................................ 6
Step 1: Installing the Batteries ............................................................................. 6
Replacing the Batteries ................................................................................. 7
Step 2: Setting the Clock ...................................................................................... 8
Basic Operations .................................................................... 10
Recording Messages ............................................................................................ 10
Tips for Using the Built-in Microphone ................................................... 13
Using Convenient Functions while Recording ....................................... 14
Recording with an External Microphone or Other Equipment .................... 16
Recording with an External Microphone ................................................. 16
Recording from Other Equipment ............................................................ 16
Recording with Other Equipment ............................................................ 17
Playing Back Messages ....................................................................................... 18
Using the Display Window ................................................................................ 23
Selecting the Display Mode ............................................................................... 26
Turning off the Display ............................................................................... 28
Various Ways of Playback ..................................................... 29
Adjusting the Playback Speed -- DPC
(Digital Pitch Control) ................................................................................ 29
Adding a Bookmark ............................................................................................ 31
Playing Back the Specified Section Repeatedly -- A-B Repeat .................... 32
Editing Messages ................................................................... 33
Adding a Recording ............................................................................................ 33
Adding a Recording to a Previously Recorded Message ...................... 33
Adding an Overwrite Recording during Playback ................................ 34
Erasing Messages ................................................................................................ 35
Erasing Messages one by one .................................................................... 35
Erasing All Messages in a Folder .............................................................. 37
Dividing a Message into Two/Combining Messages .................................... 38
Dividing a Message ..................................................................................... 38
Combining Messages .................................................................................. 40
Moving Messages to a Different Folder ........................................................... 41
-- Priority Mark Function .......................................................................... 42
Adding Priority Mark(s) in the Stop Mode ............................................. 42
Adding Priority Mark(s) during Playback .............................................. 43
---

Other Functions ..................................................................... 44
Playing Back a Message at a Desired Time with an Alarm ........................... 44
Turning off the OPE Indicator (LED) ................................................................ 48
Preventing Accidental Operation -- HOLD Function ................................... 49
Using an Adding Recording .............................................................................. 50
Changing the Settings -- MENU ...................................................................... 51
Using the "Digital Voice Editor" Software ...................................................... 54
Additional Information ......................................................... 56
Precautions ........................................................................................................... 56
Troubleshooting ................................................................................................... 57
Error Messages of the IC Recorder ........................................................... 60
System Limitations ...................................................................................... 62
Specifications ....................................................................................................... 63
Index to Parts and Controls ............................................................................... 64
Index ...................................................................................................................... 66
---