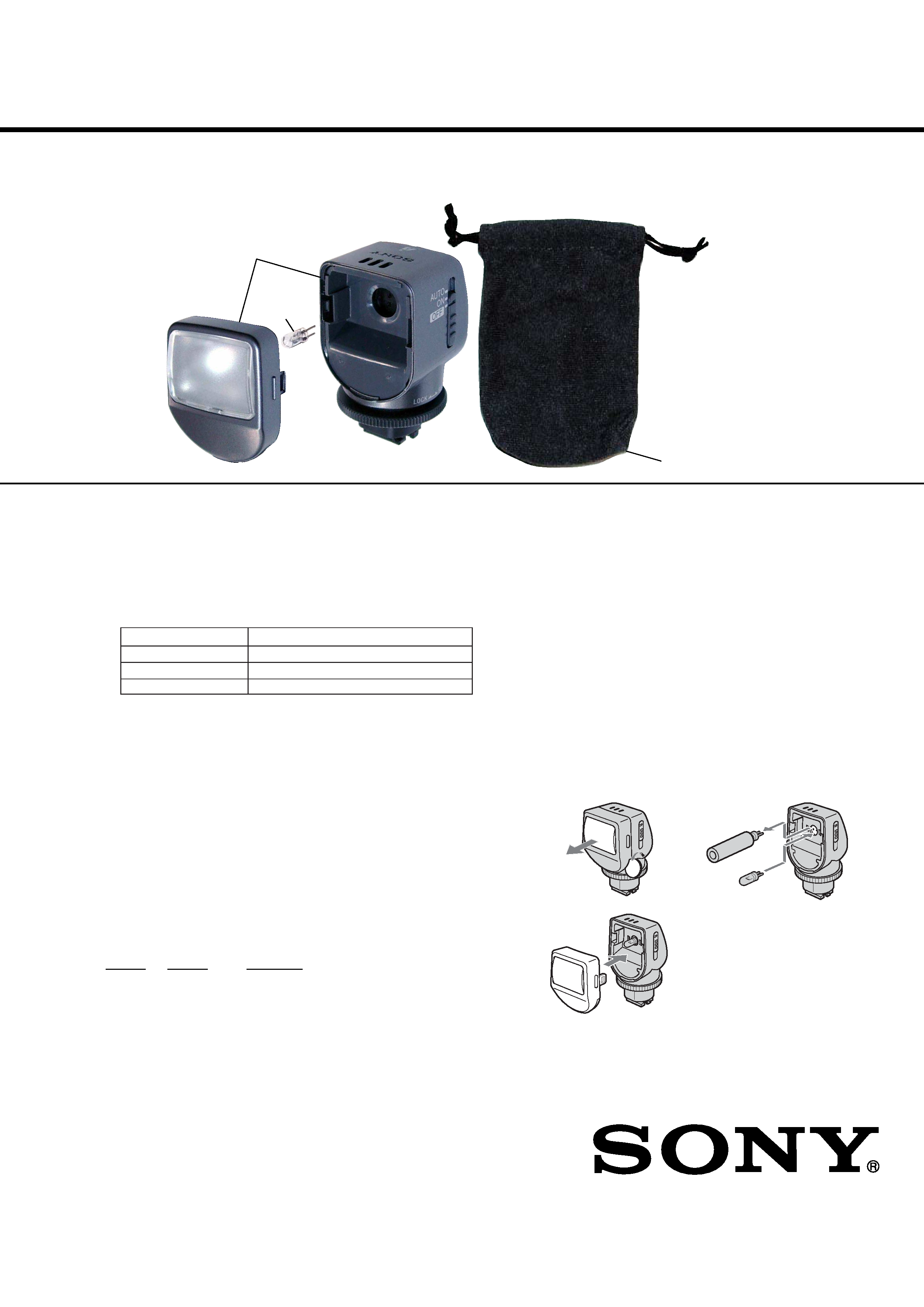 A-1099-823-A LAMP (SERVICE USE), XENON
2-515-130-11 MANUAL, INSTRUCTION
(ENGLISH, FRENCH, SPANISH, ITALIAN)
2-515-130-21 MANUAL, INSTRUCTION (GERMAN, DUTCH,
PORTUGUESE, SWEDISH) (AEP)
2-515-130-31 MANUAL, INSTRUCTION
(RUSSIAN, ARABIC, TRADITIONAL CHINESE,
SIMPLIFIED CHINESE, KOREAN) (AEP, CH)
Published by DI Technical Support Section
Maximum luminous intensity
Used with camcorder (DCR-HC90)*
(Approx. minutes using fully-charged battery pack)
*When used with the LCD panel closed. Duration with the LCD panel
open is shown in parentheses.
Approx. 1 m (3 1/4 ft) : 100 lux,
Approx. 2 m (6 1/2 ft) : 25 lux,
Approx. 3 m (9 3/4 ft) : 12 lux
× 2 3/8 × 1 5/8 inches) (w/h/d)
Set of printed documentation
Design and specifications are subject to change without notice.
Use the Sony XB-3L xenon lamp. Consult your Sony dealer or local authorized Sony
service facility for replacement of xenon lamp XB-3L.
Order the following parts number when purchasing the xenon lamp : A-1099-823-s.
The lamp is hot when it has just burned out. Wait until the lamp cools down before
1Remove the front cover by inserting someting like a coin after
making sure that the unit is cool enough to handle.
Cover the old lamp with the tube supplied with the new lamp
for replacement and pull the tube out to replace the old lamp.
Insert the new lamp into the socket straightly.
Insert the pawls on the front cover and attach it.
· The lamp is hot when it has just burned out. Make sure that the lamp is cool
· To prevent the lamp from being smudged with fingerprints, handle it with a dry
cloth. If the lamp is smudged, wipe it completely clean.
---

---