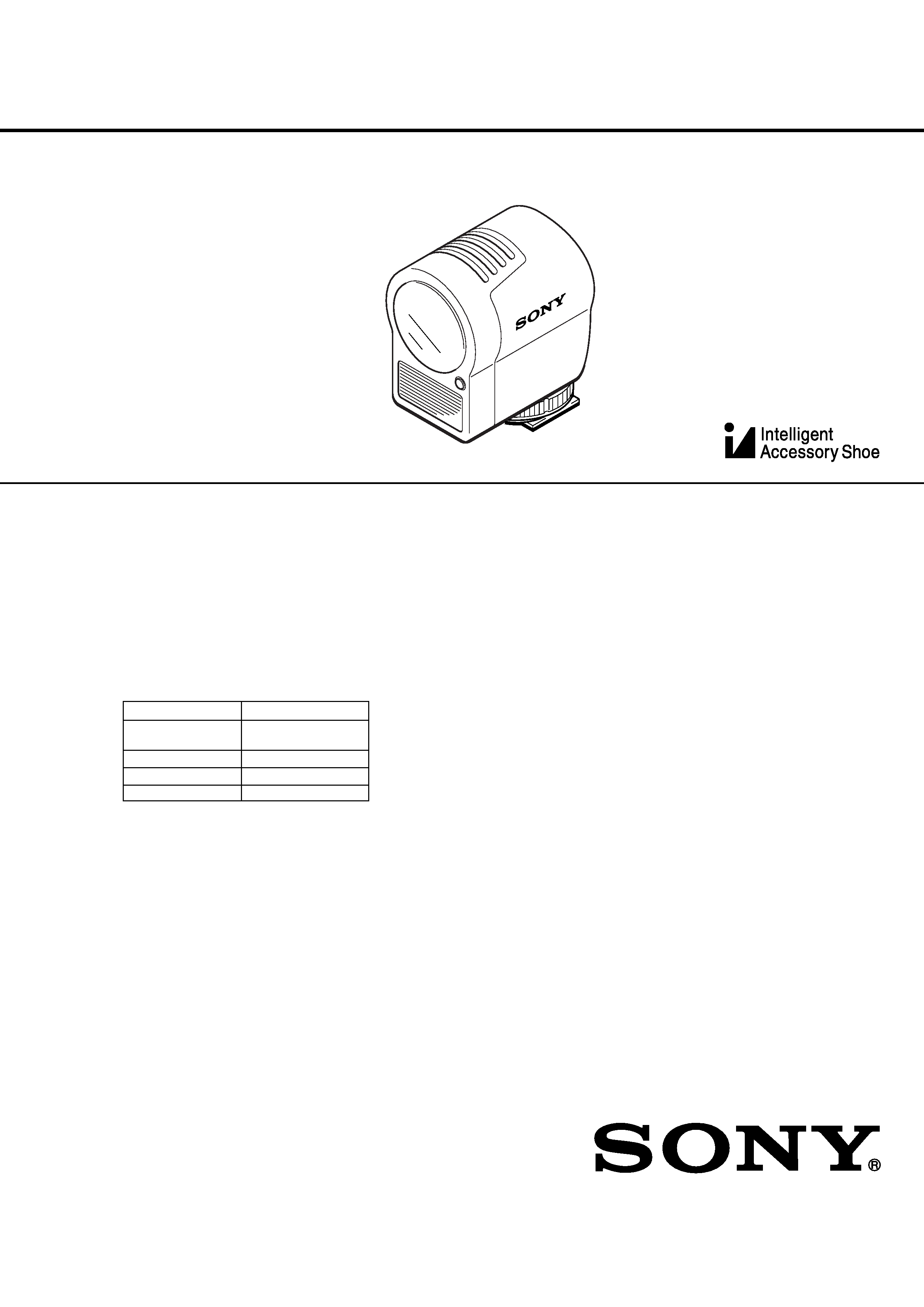 This set does not support the repair of individual faulty parts.
In care of failure, the main assembly must be replaced.
The part code of main assembly is as listed below.
·When attached to a camcorder this unit functions
as a video light and flash.
· Can only be used with a camcorder that has the
intelligent accessory shoe attached.
·Video light ON/OFF/AUTO is controlled from
the Standby mode. When set to AUTO the video
light comes on automatically in dark places.
· The video flash can only be used on a camcorder
with the PHOTO recording function. As the
brightness of the flash is automatically adjusted
according to the distance of the subjects, your
picture does not become whitish with too much
Maximum luminous intensity
(Approx. minutes using fully-charged battery
*When used in automatic mode with the LCD
panel closed. Duration with the LCD panel
open is shown in parentheses.
Approx. 1 m (3
1
/
5
ft) 100 lux,
Approx. 2 m (6
1
/
2
ft) 25 lux,
Approx. 3 m (9
4
/
5
ft) 12 lux
Accessories (supplied) Pouch (1)
Operating instructions (1)
Design and specifications are subject to change
---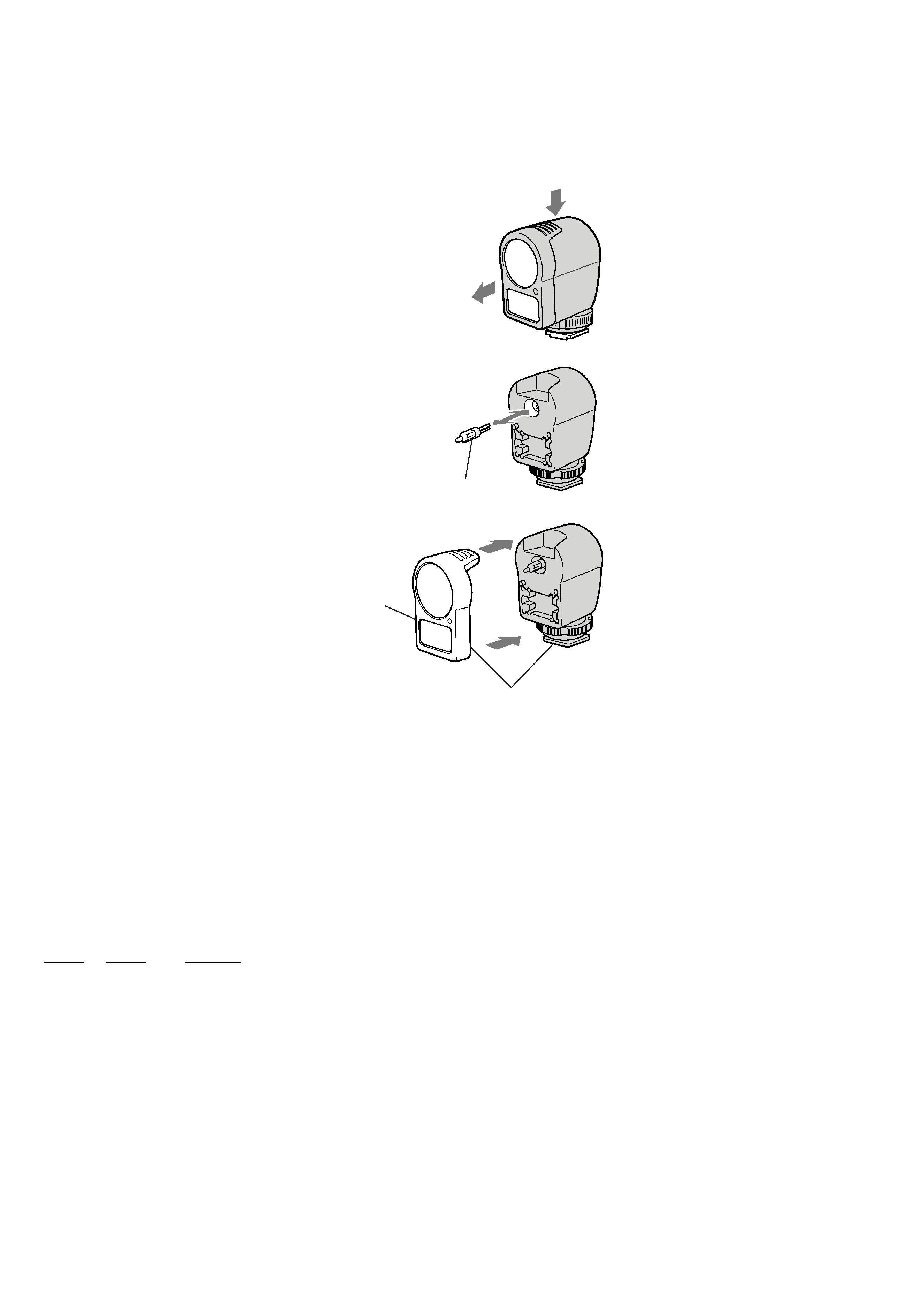 Use the Sony XB-3D halogen lamp (optional).
The bulb is hot when it has just burned out. Wait
until the bulb cools down before removing it.
1 Remove the front cover after making sure
that the unit is cool enough to handle.
Push in the direction of 1 to loosen the lock
Pull in the direction of 2 to remove the front
2 When the bulb has cooled sufficiently,
grasp it securely and pull it out to replace.
Insert the new bulb into the socket
3 After the bulb has been inserted, attach the
Align the front cover with 1.
Push 2 in the direction of the arrow until the
· The bulb is hot when it has just burned out. Make
sure that the bulb is cool enough to handle.
· To prevent the bulb from being smudged with
fingerprints, handle it with a dry cloth. If the bulb
is smudged, wipe it completely clean.
· The interior of this unit contains high voltage,
opening it can cause electrical shock. To inspect the
unit's interior, consult your nearest Sony dealer or
A-7012-408-A OVERALL ASSY, MAIN (US, Canadian)
A-7012-409-A OVERALL ASSY, MAIN (AEP)
1-517-531-11 LAMP, TUNGSTEN HALOGEN
3-074-943-11 MANUAL, INSTRUCTION
(ENGLISH, FRENCH, SPANISH, ITALIAN)
3-074-943-21 MANUAL, INSTRUCTION (GERMAN, DUTCH,
SWEDISH, PORTUGUESE) (AEP)
3-074-943-31 MANUAL, INSTRUCTION (RUSSIAN, ARABIC,
TRADITIONAL CHINESE, KOREAN) (AEP)
Refer to "Replacing the bulb" for a reference number.
Published by DI Customer Center
---

---