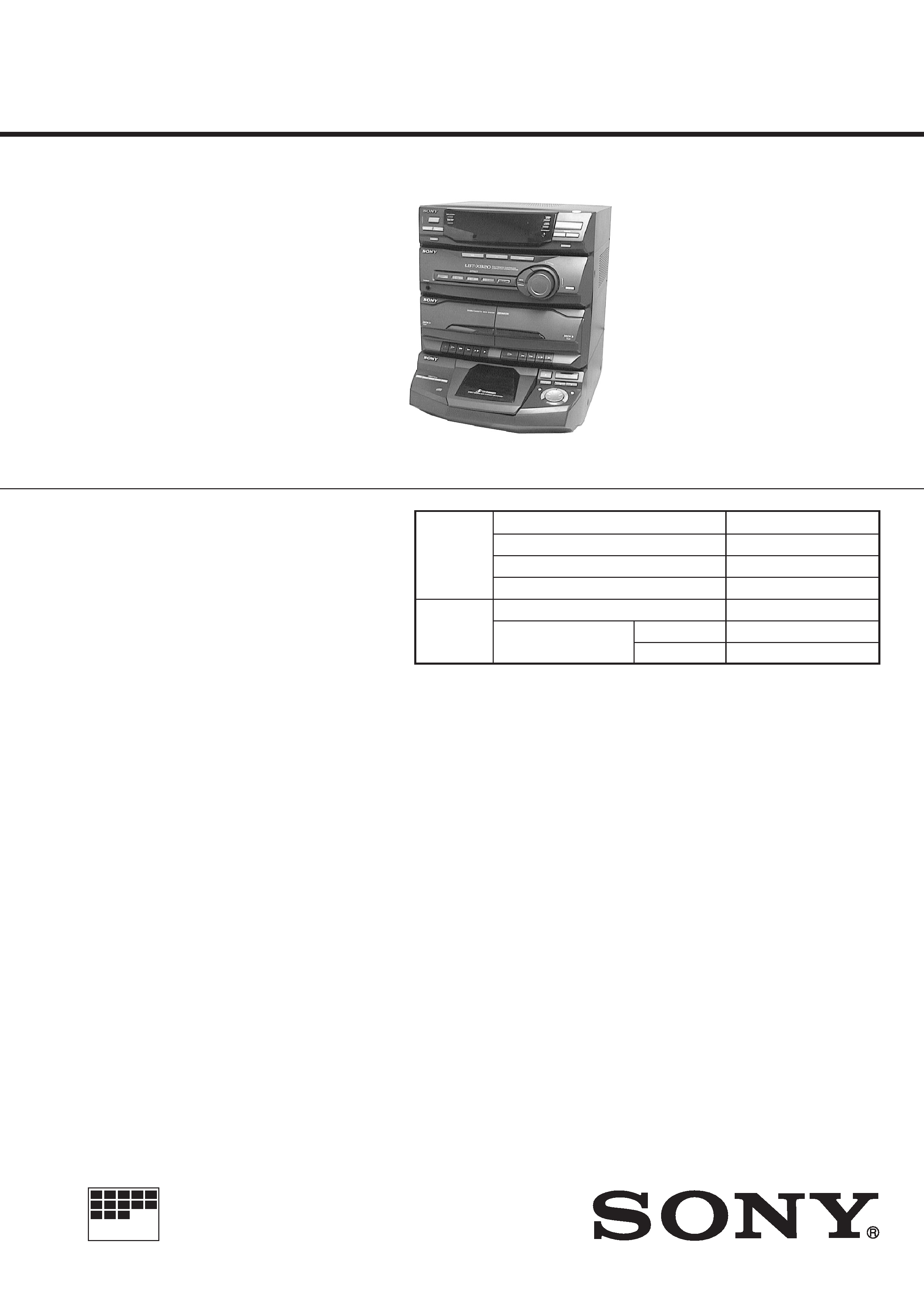 MINI Hi-Fi COMPONENT SYSTEM
-- Continued on next page --
Model Name Using Similar Mechanism
Model Name Using Similar Mechanism
· This set is the tuner, deck, CD and amplifier
section in LBT-G2500/XB20/XB22.
Peak music power output (Reference)
sensitivity 3 mV, impedance 47 kilohms
PHONES (stereo phone jack):
accepts impedance of 6 to 16
Compact disc and degital audio system
Emission duration: continuous
*This output is the value measured at a
distance of 200 mm from the objective
lens surface on the Optical Pick-up Block
using a Sony TYPE I cassette
AUDIO POWER SPECIFICATIONS:
POWER OUTPUT AND TOTAL HARMONIC DISTORTION:
loads both channels driven, from 70 ­ 20,000 Hz; rated 60 W
per channel minimum RMS power, with no more than 0.9% total
harmonic distortion from 250 mW to rated output.
Continuous RMS power output
Total harmonic distortion
DIN power output (Rated) 60 W + 60 W (6
Continuous RMS power output (Reference)
Music power output (Reference)
The following measured at AC 110,220 V 60 Hz;
DIN power output (Rated) 45 W + 45 W (6
Continuous RMS power output (Reference)
The following measured at AC 120, 240 V 60Hz;
DIN power output (Rated) 50 W + 50 W (6
Continuous RMS power output (Reference)
* Dolby noise reduction manufactured under
license from Dolby Laboratories Licensing
"DOLBY" and the double-D symbol
trademarks of Dolby Laboratories Licensing
---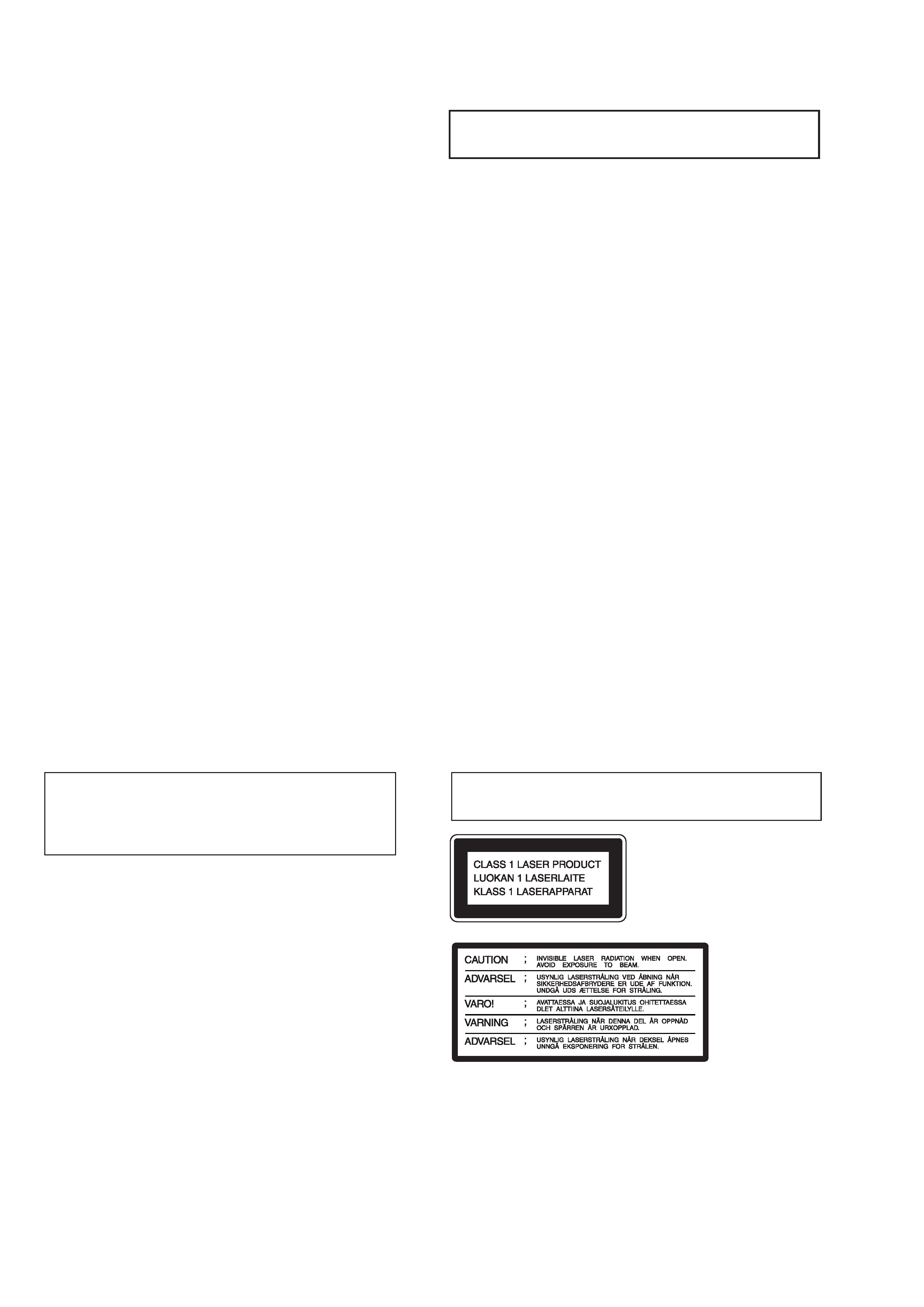 FM stereo, FM/AM superheterodyne tuner
(with the tuning interval set at 10 kHz)
(with the tuning interval set at 9 kHz)
(with the tuning interval set at 10 kHz)
(with the tuning interval set at 9 kHz)
(with the tuning interval set at 3 kHz)
External antenna terminal
Australian, South African and Thailand models:
110 ­ 120 V AC or 220 ­ 240 V AC,
50/60 Hz (adjustable with voltage selector)
Dimensions (w/h/d) incl. projecting parts and controls
Approx. 14.0 kg (30 lb 14 oz.)
Design and specifications are subject to change without notice.
Use of controls or adjustments or performance of procedures
other than those specified herein may result in hazardous
Notes on chip component replacement
· Never reuse a disconnected chip component.
· Notice that the minus side of a tantalum capacitor may be
Flexible Circuit Board Repairing
· Keep the temperature of soldering iron around 270°C
· Do not touch the soldering iron on the same conductor of the
circuit board (within 3 times).
· Be careful not to apply force on the conductor when soldering
Laser component in this product is capable of emitting radiation
exceeding the limit for Class 1.
This appliance is classified as
located on the rear exterior.
NOTES ON HANDLING THE OPTICAL PICK-UP BLOCK
The laser diode in the optical pick-up block may suffer electrostatic
break-down because of the potential difference generated by the
charged electrostatic load, etc. on clothing and the human body.
During repair, pay attention to electrostatic break-down and also
use the procedure in the printed matter which is included in the
The flexible board is easily damaged and should be handled with
NOTES ON LASER DIODE EMISSION CHECK
The laser beam on this model is concentrated so as to be focused on
the disc reflective surface by the objective lens in the optical pick-
up block. Therefore, when checking the laser diode emission,
observe from more than 30 cm away from the objective lens.
SAFETY-RELATED COMPONENT WARNING!!
COMPONENTS IDENTIFIED BY MARK
! ON THE SCHEMATIC DIAGRAMS AND IN THE PARTS
LIST ARE CRITICAL TO SAFE OPERATION. REPLACE THESE
COMPONENTS WITH SONY PARTS WHOSE PART NUMBERS
APPEAR AS SHOWN IN THIS MANUAL OR IN SUPPLEMENTS
---

After correcting the original service problem, perform the following
safety checks before releasing the set to the customer:
Check the antenna terminals, metal trim, "metallized" knobs, screws,
and all other exposed metal parts for AC leakage. Check leakage as
The AC leakage from any exposed metal part to earth Ground and
from all exposed metal parts to any exposed metal part having a
return to chassis, must not exceed 0.5 mA (500 microampers).
Leakage current can be measured by any one of three methods.
A commercial leakage tester, such as the Simpson 229 or RCA
WT-540A. Follow the manufacturers' instructions to use these
A battery-operated AC milliammeter. The Data Precision 245
digital multimeter is suitable for this job.
Measuring the voltage drop across a resistor by means of a
VOM or battery-operated AC voltmeter. The "limit" indication
is 0.75 V, so analog meters must have an accurate low-voltage
scale. The Simpson 250 and Sanwa SH-63Trd are examples of
a passive VOM that is suitable. Nearly all battery operated
digital multimeters that have a 2V AC range are suitable. (See
Fig. A. Using an AC voltmeter to check AC leakage.
1. GENERAL
········································································· 4
--FRONT PANEL-- ························································· 4
--BACK PANEL-- ···························································· 5
Top Cover ··········································································· 6
Front Panel Assy ································································· 6
Main Board ········································································· 7
Main Section ······································································· 7
CD Mechanism Deck Section ············································ 8
Tape Mechanism Deck ······················································· 8
Cassette Door ····································································· 9
CD Door Assy ···································································· 9
Base Unit ·········································································· 10
2-10. Disc Table ········································································· 10
3. MECHANICAL ADJUSTMENTS
····························· 11
4. ELECTRICAL ADJUSTMENTS
······························· 11
Circuit Boards Location ··················································· 16
Block Diagram --Deck Section-- ··································· 17
Block Diagram --Tuner/CD Section-- ··························· 19
Schematic Diagram --Main Section (1/2)-- ··················· 21
Schematic Diagram --Main Section (2/2)--
(US, AUS, MX model) ····················································· 25
Printed Wiring Board --Main Section--
(US, AUS, MX model) ····················································· 29
Printed Wiring Board --Main Section--
(AEP, UK, E, SP, MY, AR model) ···································· 34
Schematic Diagram --Main Section (2/2)--
(AEP, UK, E, SP, MY, AR model) ···································· 39
Schematic Diagram --Display Section-- ························ 43
5-10. Printed Wiring Board --Display Section-- ····················· 47
5-11. Printed Wiring Board --CD Section-- ···························· 52
5-12. Schematic Diagram --CD Section-- ······························· 57
5-13. Schematic Diagram --Power Section-- ·························· 60
5-14. Printed Wiring Board --Power Section-- ······················· 63
5-15. IC Block Diagrams ··························································· 68
5-16. IC Pin Function Description ············································· 71
Top Cover Section ···························································· 73
CD Door Section ······························································ 74
Panel Section ···································································· 75
Main Section ····································································· 76
Cassette Button Section ···················································· 77
Cassette Mechanism Deck Section ··································· 78
CD Mechanism Deck Section ·········································· 79
Base Unit Section ····························································· 80
7. ELECTRICAL PARTS LIST
······································ 81
---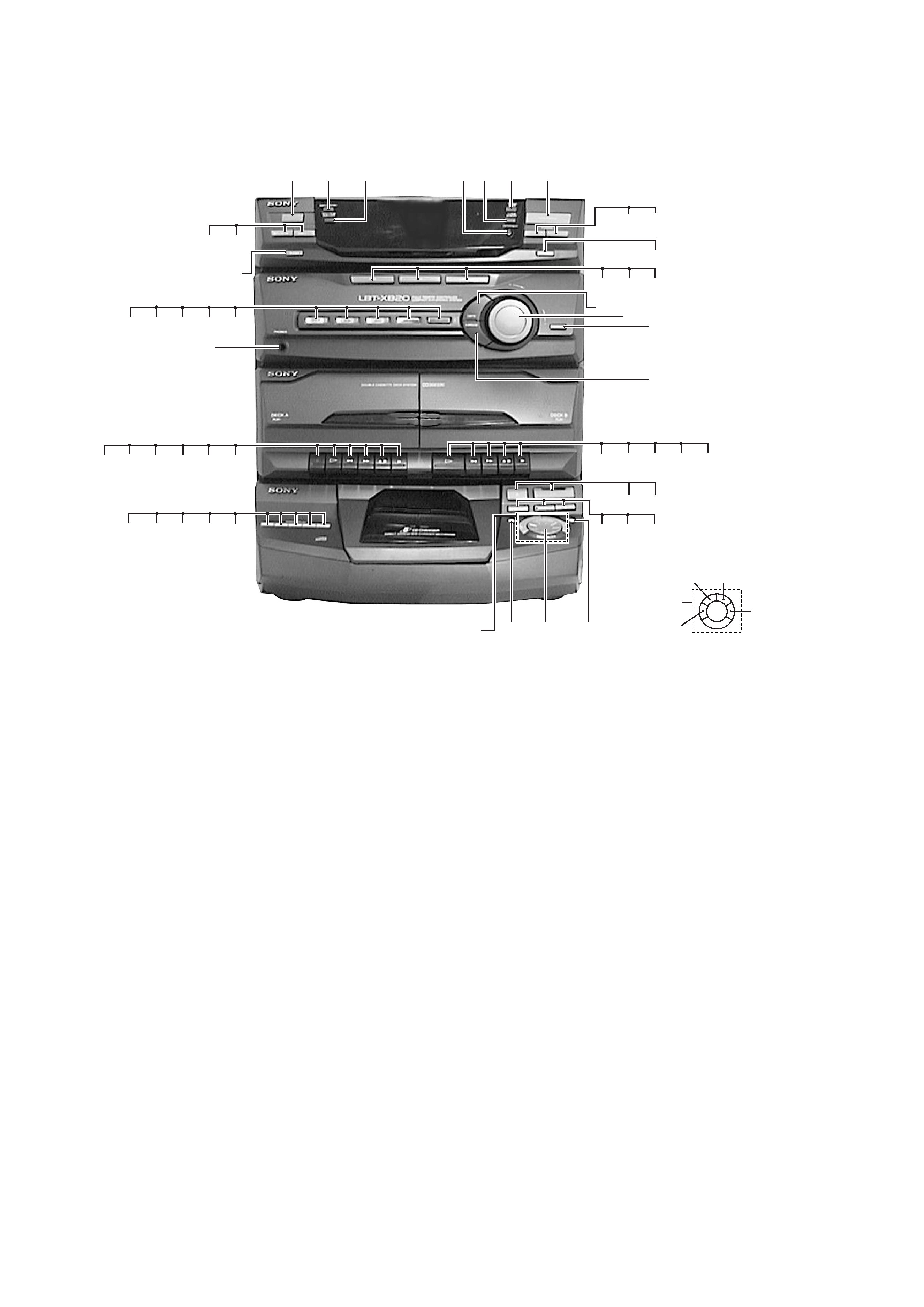 ---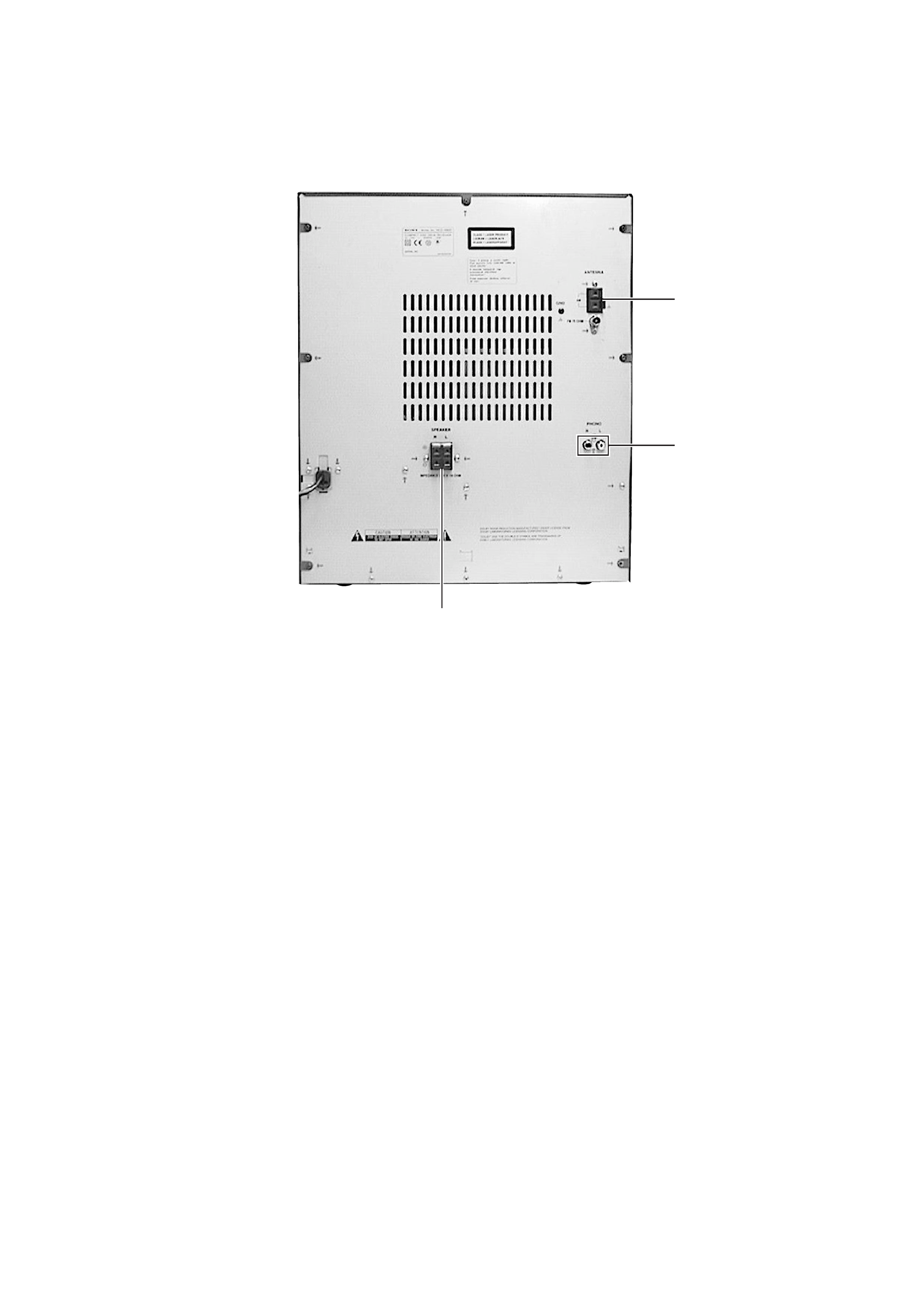 ---