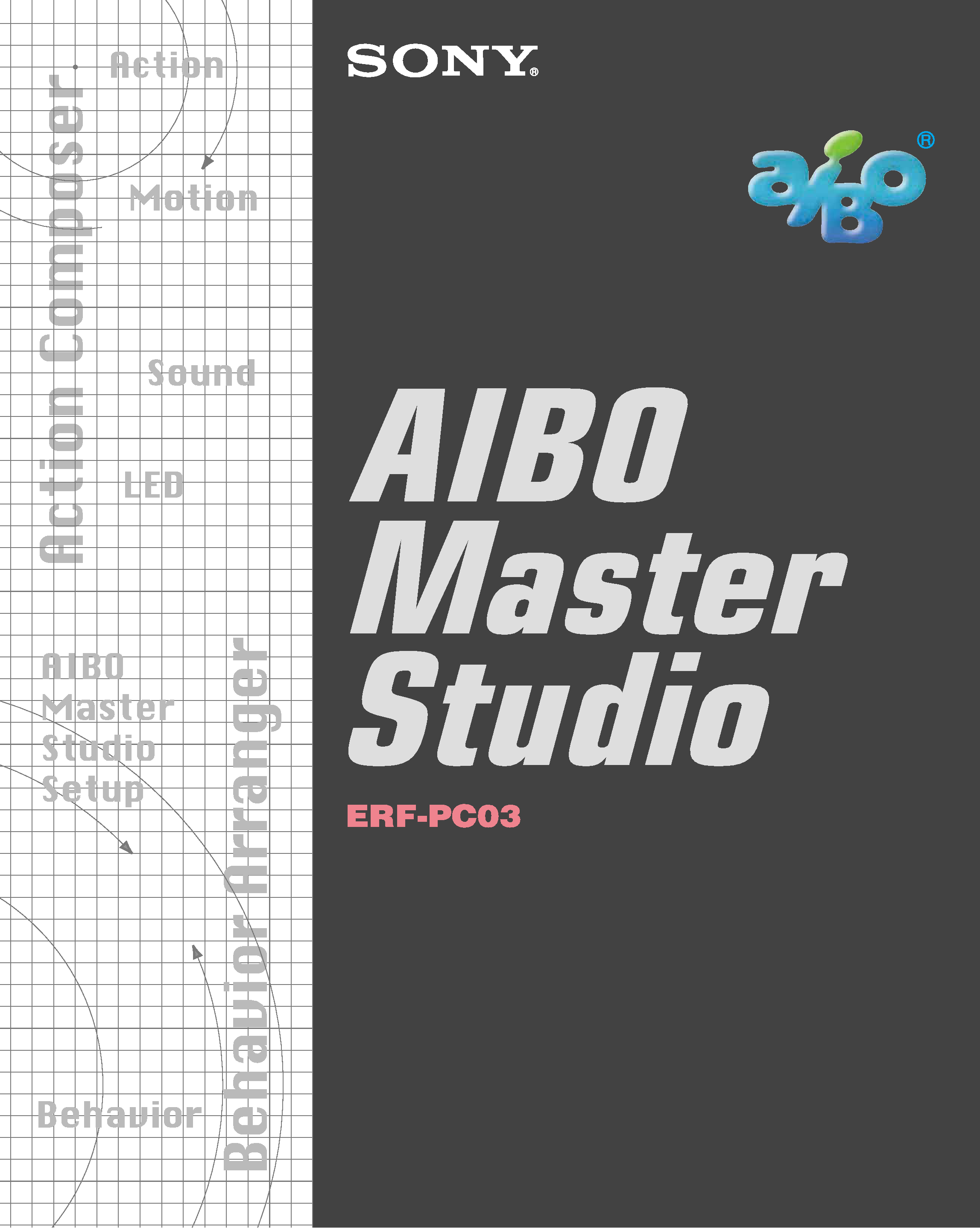 ---

For the customers in U.S.A.
This device complies with Part 15 of the FCC Rules.
Operation is subject to the following two conditions:
(1) This device may not cause harmful interference,
and (2) this device must accept any interference
received, including interference that may cause
For the customers in Canada
This Class B digital apparatus complies with
Cet appareil numérique de la classe B est conforme à
la norme NMB-003 du Canada.
This equipment has been tested and found to comply
with the limits for a Class B digital device, pursuant to
Part 15 of the FCC Rules. These limits are designed to
provide reasonable protection against harmful
interference in a residential installation. This
equipment generates, uses, and can radiate radio
frequency energy and, if not installed and used in
accordance with the instructions, may cause harmful
interference to radio communications. However, there
is no guarantee that interference will not occur in a
particular installation. If this equipment does cause
harmful interference to radio or television reception,
which can be determined by turning the equipment
off and on, the user is encouraged to try to correct the
interference by one or more of the following
· Reorient or relocate the receiving antenna.
· Increase the separation between the equipment and
· Connect the equipment into an outlet on a circuit
different from that to which the receiver is
· Consult the dealer or an experienced radio/TV
You are cautioned that any changes or modifications
not expressly approved in this manual could void
your authority to operate this equipment.
CE (EMC) Marking Conformity Remarks
a) This equipment complies with EN55022.
Class B digital for use in following areas :
residential, business, and light-industrial.
b) This product conforms with the following
89/336/EEC (EMC directive)
Hinweise zur Konformität mit dem CE-Zeichen
a) Dieses Gerät entspricht der europäischen Norm
EN55022 Klasse B (digital) für die Verwendung in
folgenden Gebieten: Wohngebiete, Gewerbegebiete
und Leichtindustriegebiete.
b) Dieses Gerät erfüllt die folgende europäische
89/336/EWG (EMV-Richtlinie)
All rights reserved. This
manual and the software described herein, in whole
or in part, may not be reproduced, translated or
reduced to any machine-readable form without prior
EXCEPT AS SPECIFICALLY SET FORTH IN THE
SOFTWARE LICENSE AGREEMENT, SONY
CORPORATION PROVIDES THIS MANUAL, THE
SOFTWARE AND THE OTHER INFORMATION
CONTAINED HEREIN "AS IS" WITH NO
WARRANTY AND HEREBY EXPRESSLY
DISCLAIMS ANY IMPLIED WARRANTIES OF
MERCHANTABILITY NONINFRINGEMENT OR
FITNESS FOR ANY PARTICULAR PURPOSE WITH
REGARD TO THIS MANUAL, THE SOFTWARE, OR
SUCH OTHER INFORMATION. IN NO EVENT
SHALL SONY CORPORATION BE LIABLE FOR
ANY INCIDENTAL, CONSEQUENTIAL, OR
SPECIAL DAMAGES, WHETHER BASED ON TORT,
CONTRACT, OR OTHERWISE ARISING OUT OF
OR IN CONNECTION WITH THIS MANUAL, THE
SOFTWARE, OR OTHER INFORMATION
CONTAINED HEREIN OR THE USE THEREOF.
---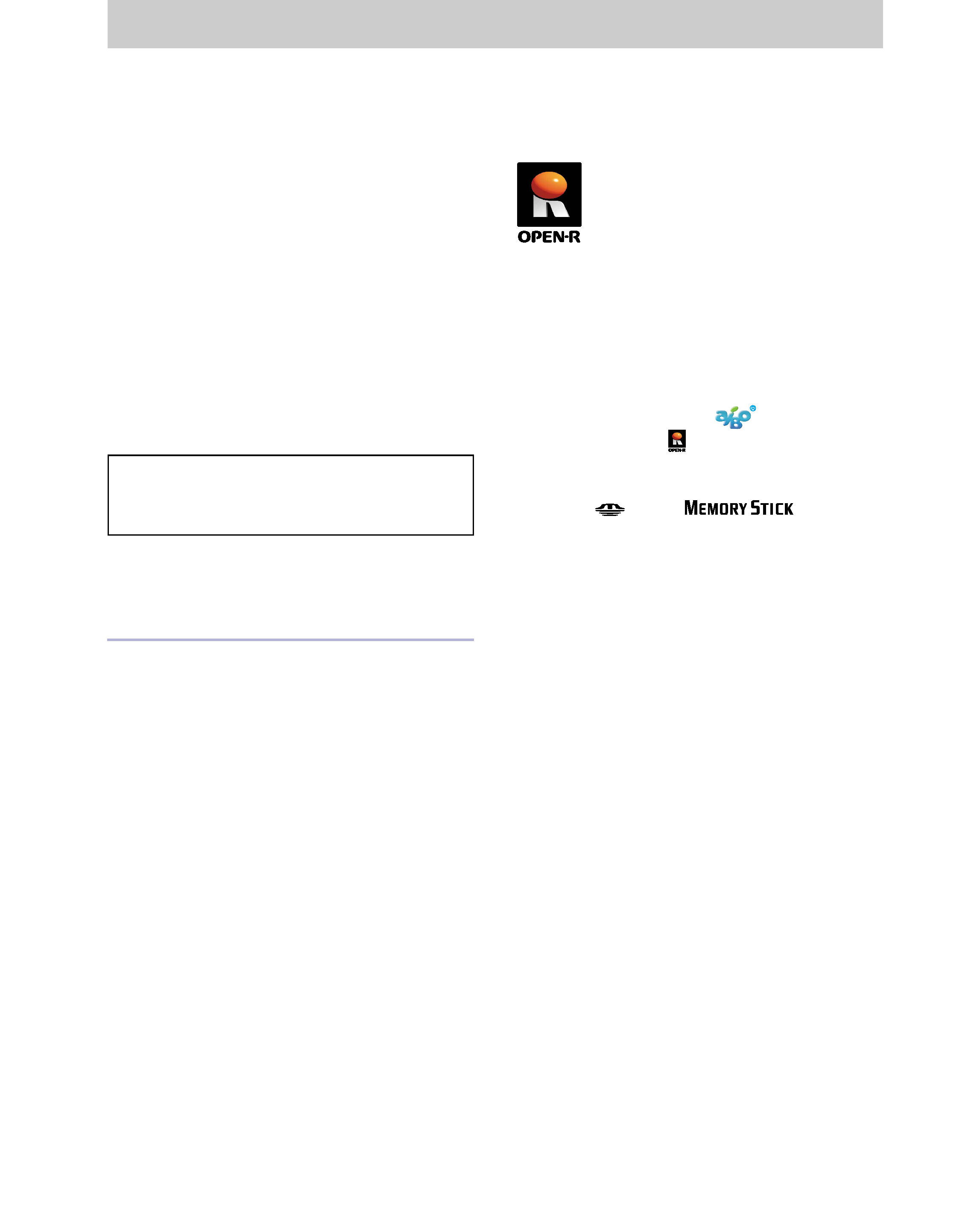 Sony Corporation reserves the right to make any
modification to this manual or the information
contained herein at any time without notice.
The software described herein may also be governed
by the terms of a separate user license agreement.
This product contains software owned by Sony and
licensed from third parties. Use of such software is
subject to the terms and conditions of license
agreements enclosed with this product. Software
specifications are subject to change without notice and
may not necessarily be identical to current retail
Before using this software, please read the
accompanying End-User License agreement
which governs use of this software.
"Reproduction in whole or in part without written
permission is prohibited. All rights reserved."
How to contact the AIBO Customer Link.
English line: +44 (0)-20-7365-2938
German line: +49 (0)-69-9508-6310
French line: +33 (0)-1-5569-5118
Call +1300-36-2426 (toll free within Australia)
"OPEN-R" is the standard interface
for the entertainment robot system
that Sony is actively promoting. This
interface expands the capability of the
entertainment robot through a flexible
combination of hardware and
interchangeable software to suit
AIBO Master Studio ERF-PC03 conforms to
OPEN-R version 1.1, 1.1.1 and version 1.1.2.
trademarks of Sony Corporation.
· "AIBO Master Studio," "R-CODE," "Memory
trademarks of Sony Corporation.
· Acrobat Reader is a trademark of Adobe
· Microsoft and Windows are registered
trademarks of Microsoft Corporation in the
United States and other countries.
· All other system names and product names
mentioned herein may be the trademarks or
registered trademarks of their respective
Furthermore, "TM" and "®" are not mentioned
in each case in this manual.
Information about AIBO is also available on the
---

There are two AIBO Master Studio manuals.
User's Guide (this manual)
The User's Guide includes an overview of AIBO
Master Studio; installation, setup and other
information required to operate AIBO; and how
to use the programs that make up AIBO Master
The Tutorial Guide gives examples of how to
use AIBO Master Studio. If this is the first time
you're using AIBO Master Studio, please follow
the tutorial and try all of the operations to get
acquainted with AIBO Master Studio. You can
also learn tips for using the product.
Most illustrations and images are of AIBO ERS-
The User's Guide and the Tutorial Guide are
also available online as PDF files. To view these
files, you need "Acrobat Reader for Windows."
First install Acrobat Reader.
Installing Acrobat Reader
You can install "Acrobat Reader ver. 5.0 for
Windows" from the accompanying CD-ROM.
From Windows Explorer, double-click the CD-
ROM drive's "\Adobe\ar500eng.exe" file.
The setup program will start; just follow the
instructions that appear on the screen to install
If you use a version older than "Acrobat Reader
ver4.05 for Windows," text and images may not be
To view the Online Manual
Click the Start button in Windows and choose
Programs* - AIBO Master Studio - User's Guide
* If you are using Windows XP, click All Programs
instead of Programs hereinafter.
You can also display online manuals by
choosing from the Help menu in any AIBO
Master Studio application.
You can also display online manuals by double-
clicking "User's Guide.pdf" or "Tutorial
Guide.pdf" in the Doc folder of the CD-ROM.
You can refer to Behavior Arranger commands
in this manual as well as the Help system. Click
the Start button in Windows, choose Programs -
AIBO Master Studio- Command Reference, or
select the Help menu from within Behavior
Arranger, then Command Reference.
---

AIBO's "behavior" and "action" ............................................................................ 12
What is AIBO Master Studio? ................................................................................ 13
Compatible AIBO Models ..................................................................................... 13
Program Configuration ......................................................................................... 13
AIBO Master Studio Setup .............................................................................. 13
Quick Behavior Arranger ................................................................................ 13
Behavior Arranger ............................................................................................ 14
Action Composer .............................................................................................. 14
Compatibility with former versions .................................................................... 14
Data compatibility ............................................................................................ 14
"Memory Stick" system file compatibility ................................................... 14
Redistribution of programs .................................................................................. 14
Relationships Between Programs ........................................................................ 15
AIBO State ............................................................................................................... 16
Checking supplied accessories ............................................................................... 18
System requirements ............................................................................................. 19
Set up ...................................................................................................................... 20
Installing the software ........................................................................................... 20
Uninstalling the software ................................................................................ 20
Set up "Memory Stick" drive ............................................................................... 20
Create a "Memory Stick" appropriate for your AIBO model .......................... 21
Setting up a wireless LAN environment ............................................................ 22
Features available with wireless LAN environment ................................... 22
Required equipment ........................................................................................ 22
Wireless LAN information setup ................................................................... 23
Execute Connection Test .................................................................................. 24
---