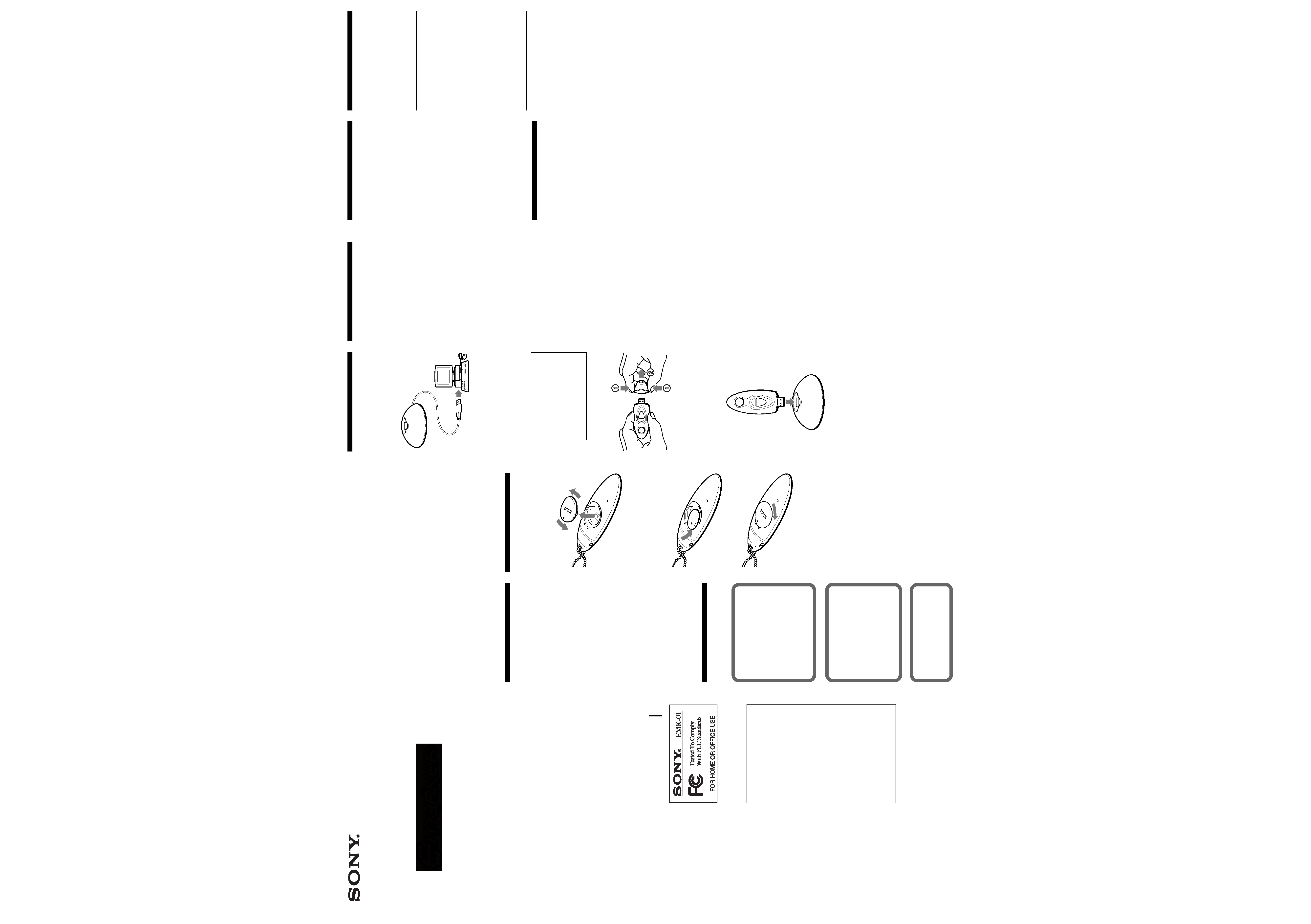 Sony Corporation © 2000 Printed in Philippines
Manual de instrucciones (no verso)
2000 Sony Electronics Inc. All rights
reserved. This manual and the software
described herein, in whole or in part,
may not be reproduced, translated, or
reduced to any machine-readable form
without prior written approval.
SONY ELECTRONICS INC. PROVIDES
NO WARRANTY WITH REGARD TO
THIS MANUAL, THE SOFTWARE, OR
OTHER INFORMATION CONTAINED
HEREIN AND HEREBY EXPRESSLY
WARRANTIES OF MERCHANTBILITY
OR FITNESS WITH REGARD TO THIS
MANUAL, THE SOFTWARE, OR SUCH
EVENT SHALL SONY ELECTRONICS
INCIDENTAL, CONSEQUENTIAL, OR
BASED ON TORT, CONTRACT, OR
OTHERWISE, ARISING OUT OF OR IN
CONNECTION WITH THIS MANUAL,
INFORMATION CONTAINED HEREIN
Sony Electronics Inc. reserves the right to
make any modification to this manual or
the information contained herein at any
time without notice. The software
described herein is governed by the
terms of a separate usage license
You are cautioned that any changes or
modifications not expressly approved in
this manual could void your authority to
Sony, eMarker, and the eMarker logo are
trademarks of Sony Corporation.
Windows and the Windows 98 logo are
registered trademarks of Microsoft
All other trademarks are trademarks of
If you have any questions about this
product, go to the eMarker web site:
Declaration of Conformity
Responsible Party: Sony Electronics
Telephone No.: (201) 930-6972
This device complies with Part 15 of
the FCC Rules. Operation is subject
to the following two conditions: (1)
This device may not cause harmful
interference, and (2) this device must
accept any interference received,
including interference that may
cause undesired operation.
This equipment has been tested and
found to comply with the limits for a
Class B digital device, pursuant to Part
15 of the FCC Rules. These limits are
designed to provide reasonable
protection against harmful interference
in a residential installation. This
equipment generates, uses, and can
radiate radio frequency energy and, if
not installed and used in accordance
with the instructions, may cause harmful
interference to radio communications.
However, there is no guarantee that
interference will not occur in a particular
installation. If this equipment does cause
harmful interference to radio or
television reception, which can be
determined by turning the equipment
off and on, the user is encouraged to try
to correct the interference by one or
more of the following measures:
-- Reorient or relocate the receiving
-- Increase the separation between the
-- Connect the equipment into an outlet
on a circuit different from that to
which the receiver is connected.
-- Consult the dealer or an experienced
radio/TV technician for help.
KEEP OUT OF REACH OF SMALL
CHILDREN. RISK OF CHOKING IF
SWALLOWED. BATTERY MAY CAUSE
DO NOT USE WHILE DRIVING OR
EQUIPMENT. ALWAYS USE IN A
To use eMarker, the following are
­ Pentium 133 MHz (200 MHz or
­ 32MBytes of RAM (64MBytes or
­ 3MBytes of available hard disk
768))* monitor with 256 colors
· U.S.-Version Windows 98 or
Windows 98 SE (Second Edition)
· Internet access (e.g. modem or
Ethernet) with speed of 28.8kbps or
­ Internet Explorer 4.0 or newer, or
­ Netscape Navigator 4.0 or newer
Take your eMarker to where you
listen to the radio and eMark
your favorite songs by pressing
the e button on your eMarker
while listening to radio.
Go home and check out the
songs that you have eMarked on
Start by setting up your eMarker.
· Download and install the
eMarker software to your PC.
· Register your eMarker on the
See "Inserting a battery" and
All your eMarks will be erased when
you open the battery compartment. Be
sure to upload your eMarks to the
eMarker web site before opening the lid.
When to replace the battery
Under normal conditions of use, the
battery will last approximately 6
months. When the battery becomes
weak, the LCD indications become
dimmer. Replace the battery with a
Sony CR2025 or Duracell DL-2025
lithium battery. Use of another battery
may present a risk of fire or explosion.
Battery may explode if mistreated.
Do not recharge, disassemble or
Follow the downloading and
installing procedure on the
If you don't see the "e" logo in
the Task Tray (at the lower
bottom right hand corner) after
installation, then start the
eMarker software by going
through the Start, Programs, and
3
Take off the cap of the
In some cases, you can plug the
eMarker directly into the USB
Follow the registering procedure
Be sure to attach the cap to the
A black circle appears on the
display in falling down "Sand
Clock" animation movement.
Press the e button twice.
"TV" flashes on the lower display
Be sure to check the availability of
this feature on the web site.
Hold the e button pressed for two
"ROAM" flashes onthe lower
Be sure to check the availability of
this feature on the web site.
3
Take off the cap of the
The eMarker can hold up to 10 eMarks at
once. If you try to register an 11th
eMark, all 10 black circles will flash to
indicate that it is full and the 11th eMark
Press the CANCEL button on the rear
of the eMarker with the tip of a pen or
Each time you press the CANCEL
button, an eMark is canceled from the
latest one entered, and one black
circle on the display disappears.
· The eMarker is a precision
instrument. Never disassemble.
· Keep the eMarker away from
extremely high temperatures (above
60°C [140 °F]) and humidity.
Never leave the eMarker inside the
· When using outdoors, never let the
eMarker become wet with rain or
· When the eMarker or the connector
become soiled, wipe them with a
· Do not pull the cable when
disconnecting the cable of the
eMarker cradle from your PC.
Always grip the plug when
disconnecting to prevent damage.
· Do not try to pull the cap off
without pushing the two buttons on
· The battery is not set properly.
Set the battery properly.
· Ten eMarks have already been
Cancel the eMarks and try
eMarking again or upload your
eMarks to the web site to clear
the memory in the terminal.
The eMarker application will
not launch automatically.
· Installation failed or the shortcut for
the application has been erased.
Create a shortcut for the tsr.exe
file in the folder in which the
application is installed, and
move it to the Startup Folder by
going through Start Menu and
selecting Program Folder.
· The tsr.exe file for the application
Nothing happens on your PC
when you plug the eMarker
· The "e" logo does not appear on the
Task Tray (at lower right-hand
Launch the eMarker application
by going through the folder in
· Check to see if your USB port is
active by switching it with another
device (e.g. a USB mouse).
If the above-mentioned remedies do
not help improve the situation, go to
the eMarker web site for more
(http://www.eMarker.com).
Operating Instructions (1)
CR2025 lithium battery (1)
Approx. 6 months (assuming
eMarking ten times a day, including
× 94.2 × 16.1 mm) (w/h/d)
× 28.6 × 64.6 mm) (w/h/d)
---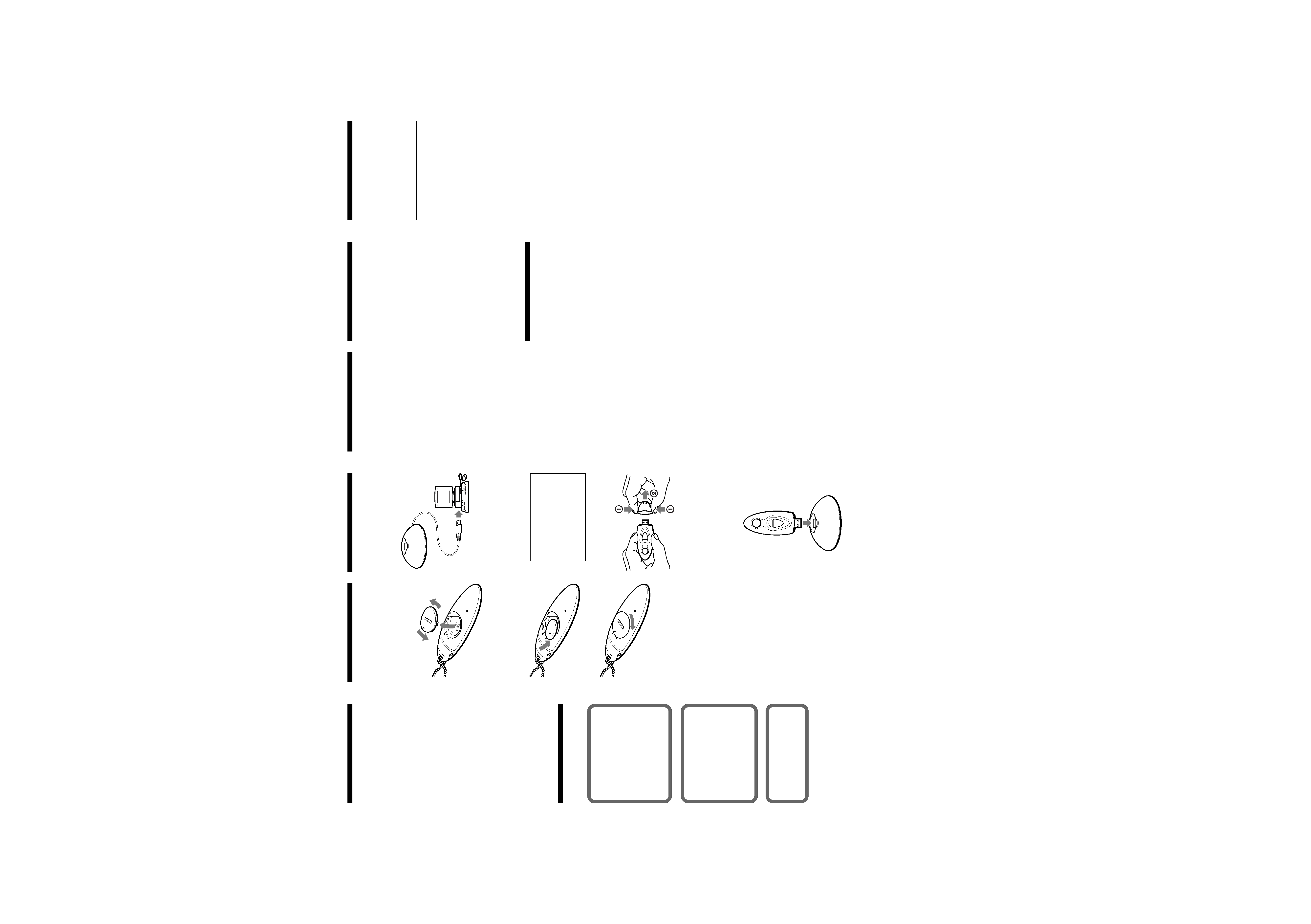 Este equipo ha sido probado y se ha
comprobado que cumple con los límites
para dispositivos digitales de Clase B, de
acuerdo con la Parte 15 de las Normas de
la FCC. Estos límites han sido diseñados
para proporcionar una protección
razonable contra interferencias
perjudiciales en una instalación
residencial. Este equipo genera, utiliza,
y puede radiar energía de
radiofrecuencia y, si no se instala y
utiliza de acuerdo con las instrucciones,
puede causar interferencias perjudiciales
en las radiocomunicaciones. Sin
embargo, no existe ninguna garantía de
que tales interferencias no se produzcan
en una instalación particular. Si este
equipo causa interferencias perjudiciales,
lo cual podrá determinarse
desconectando y volviendo a conectar su
alimentación, se ruega que el usuario
corrija las interferencias tomando una o
más de las medidas siguientes:
-- Reorientación o reubicación de la
-- Aumento de la separación entre el
-- Conexión del equipo a un
tomacorriente diferente del utilizado
-- Solicitud de ayuda al proveedor o a
un técnico de radio/televisión
MANTENGA ESTA UNIDAD FUERA
PEQUEÑOS. SI SE TRAGA LA PILA,
EXISTE EL RIESGO DE MUERTE.
MIENTRAS CONDUZCA O CUANDO
MANEJE EQUIPOS PELIGROSOS.
Para utilizar eMarker se requiere lo
­ Pentium de 133 MHz (200 MHz o
­ 32 Mbytes de RAM (64 Mbytes o
­ 3 Mbytes de espacio disponible en
­ Monitor SVGA (800 x 600) (XGA
(1024 x 768))* con 256 colores
· Windows 98, versión U.S. o
Windows 98 SE (Second Edition)
· Acceso a Internet (p. ej., módem o
Ethernet) con velocidad de 28,8 kbps
­ Internet Explorer 4.0 o más
­ Netscape Navigator 4.0 o más
Lleve su eMarker al lugar donde
esté escuchando la radio y
"eMarke" sus canciones favoritas
presionando la tecla e de su
eMarker durante la escucha.
Cuando vuelva a casa, compruebe
"eMarcado" en el sitio Web.
Comience instalando su eMaker.
· Descargue e instale el software
· Registre su eMarker en el sitio
Consulte "Inserción de la pila" y
1
Gire la tapa de la pila
Todas sus "eMarcas" se borrarán cuando
abra el compartimiento de la pila.
Cerciórese de cargar sus "eMarcas" en el
sitio Web de eMarker antes de abrir la
Cuándo reemplazar la pila
En condiciones normales de
utilización, la pila durará
aproximadamente 6 meses. Cuando
la pila se debilite, las indicaciones del
visualizador de cristal líquido serán
difíciles de ver. Reemplace la pila por
otra de litio CR2025 Sony o DL-2025
Duracell. La utilización de otra pila
podría suponer el riesgo de incendio o
La pila puede explotar si la maltrata.
No recargue, desarme, ni tire la pila al
Siga el procedimiento de descarga
e instalación del sitio Web de
Si no puede ver el logotipo "e"
en la bandeja de tareas (de la
esquina inferior derecha)
después de la instalación, ejecute
el software pasando a través de
los menús Start, Programs, y
En algunos casos, podrá enchufar
el eMarker directamente en el
Siga el procedimiento de registro
del sitio Web de eMarker.
Cerciórese de colocar la tapa en el
eMarker después de haberlo
En el visualizador aparecerá un
círculo negro con movimiento
descendente de "reloj de arena".
Presione una vez la tecla e.
Presione dos veces la tecla e.
En el visualizador inferior del
Cerciórese de comprobar la
disponibilidad de esta función en el
Mantenga presionada la tecla e
En el visualizador inferior del
eMarker parpadeará "ROAM".
Cerciórese de comprobar la
disponibilidad de esta función en el
2
Conecte la alimentación
El eMarker podrá almacenar hasta 10
"eMarcas" a la vez. Si trata de registrar
la 11.
a
"eMarca", todos los 10 círculos
negros parpadearán para indicar que la
memoria está llena y que tal "eMarca"
Para cancelar una "eMarca"
Presione la tecla CANCEL de la parte
posterior del eMarker con la punta de
un bolígrafo o un objeto puntiagudo.
Cada vez que presione la tecla
CANCEL, se cancelará una "eMarca"
desde la última introducida, y
desaparecerá un círculo negro del
· El eMarker es un instrumento de
precisión. No lo desarme nunca.
· Mantenga el eMarker alejado de
temperaturas extremadamente altas
(más de 60°C) y de la humedad.
No deje nunca el eMarker en el
interior de un automóvil.
· Cuando utilice el eMarker en
exteriores, no permita que se
humedezca con la lluvia ni con el
· Cuando el eMarker o su conector se
ensucie, frótelo con un paño seco.
· Para desconectar el eMarker de su
PC, no tire del cable de su cable.
Para evitar daños, tire siempre del
· No intente tirar de la tapa sin
presionar los dos botones de la
· La pila no está insertada
· Ya ha realizado 10 "eMarcas".
Cancele las "eMarcas" y trate de
volver a realizar otras o
descargue las "eMarcas" del sitio
Web para borrar la memoria del
La aplicación del eMarker no
· La instalación falló o el acceso
directo para la aplicación se borró.
Cree un acceso directo para el
archivo tsr.exe en la carpeta en la
que instaló la aplicación, y
muévalo hasta la carpeta Startup
pasando a través de Start Menu
y seleccionando Program Fólder.
· El archivo tsr.exe para la aplicación
Vualva a descargar e instalar la
No sucede nada en su PC al
enchufar el eMarker en su
· El logotipo "e" no aparece en la
bandeja de tareas (de la esquina
inferior derecha de la pantalla).
Ejecute la aplicación del eMarker
pasando a través de la carpeta en
· Compruebe si su puerto USB está
activo conectándole otro dispositivo
Si las soluciones mencionadas no
ayudan a mejorar la situación, busque
más información en el sitio Web de
eMarker (http://www.eMarker.com).
Manual de instrucciones (1)
Aprox. 6 meses (suponiendo que se
realice diez "eMarcas" al día,
incluyendo una transferencia de
Aprox. 32,4 x 94,2 x 16,1 mm
Aprox. 79,6 x 28,6 x 64,6 mm
---