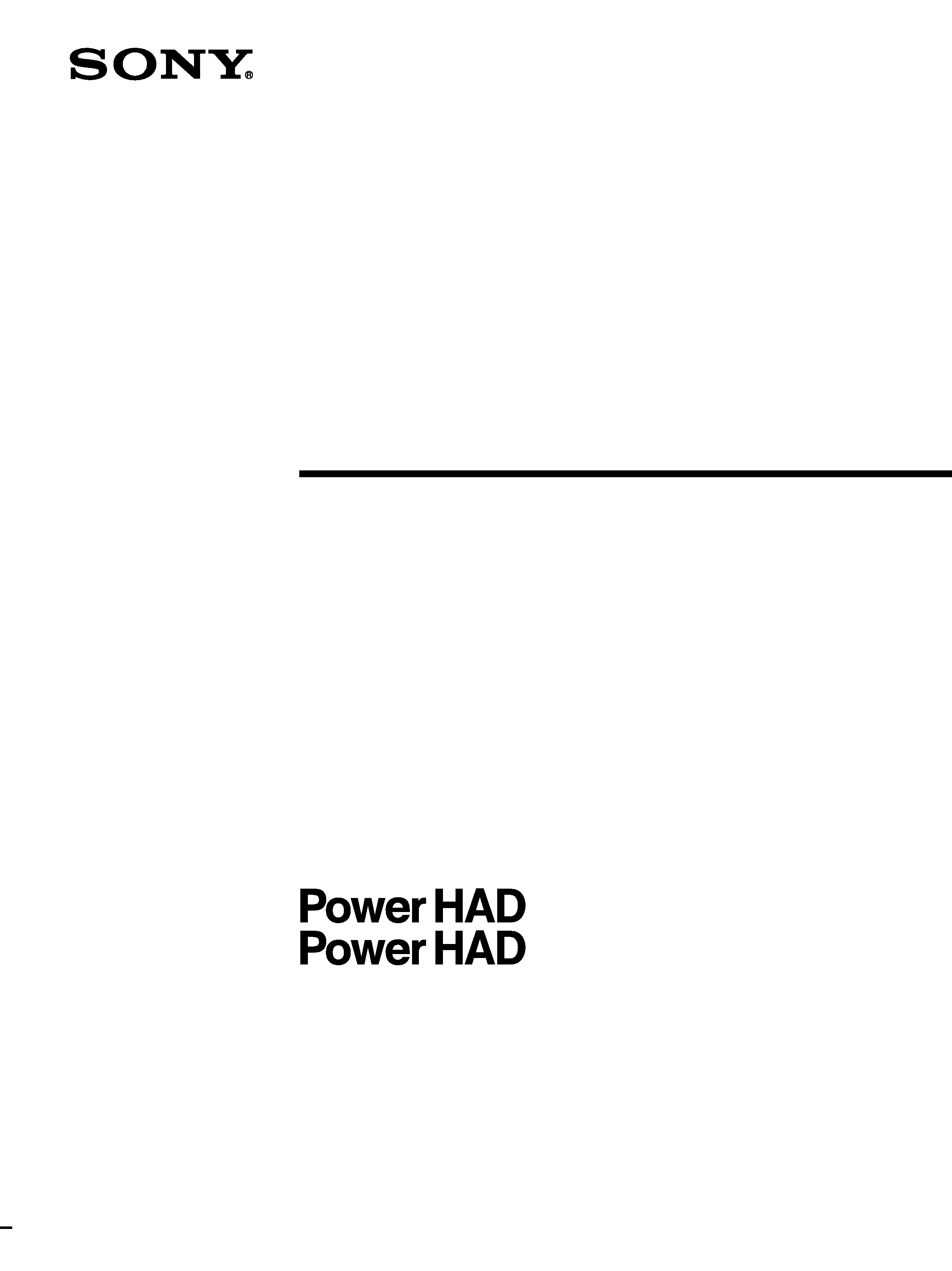 © 2000 by Sony Corporation
Before operating the unit, please read this manual
thoroughly and retain it for future reference.
---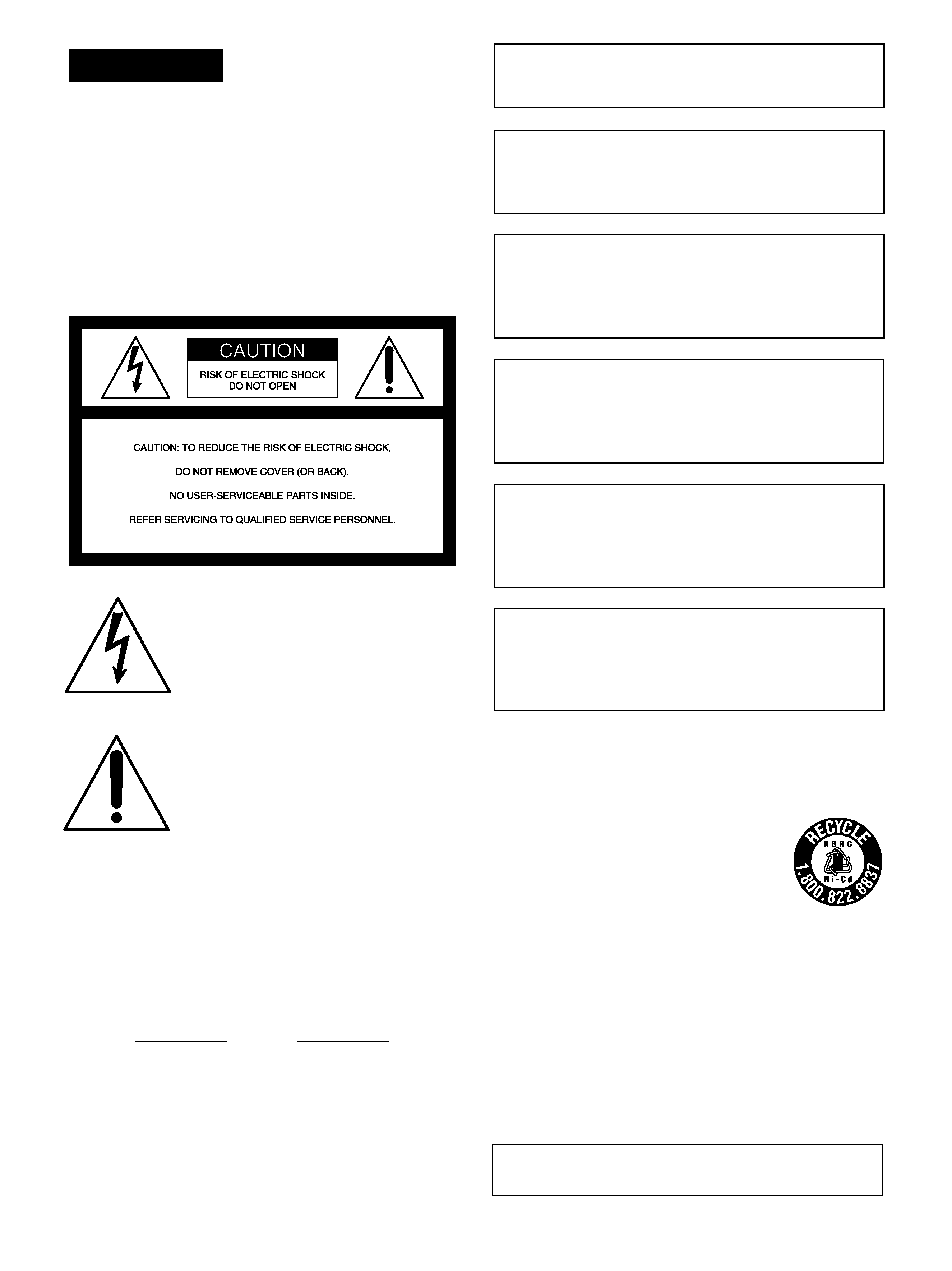 Battery may explode if mistreated.
Do not recharge, disassemble or dispose of in fire.
Keep the lithium battery out of the reach of children.
Should the battery be swallowed, consult a doctor
Lithiumbatteri - Eksplosionsfare ved fejlagtig håndtering.
Udskiftning må kun ske med batteri af samme fabrikat og
Levér det brugte batteri tilbage til laverandøren.
Lithiumbatteri - Eksplosjonsfare.
Ved utskifting benyttes kun batteri som anbefalt av
Brukt batteri returneres apparatleverandøren.
Explosionsfara vid felaktigt batteribyte.
Använd samma batterityp eller en likvärdig typ som
rekommenderas av apparattillverkaren.
Kassera använt batteri enligt gällande föreskrifter.
Paristo voi räjähtää jos se on virheellisesti asennettu.
Vaihda paristo ainoastaan laitevalmistajan suosittelemaan
Hävitä käytetty paristo valmistajan ohjeiden mukaisesti.
For the customers in the USA and Canada
RECYCLING NICKEL-CADMIUM BATTERIES
Nickel Cadmium batteries are recyclable.
You can help preserve our environment by
returning your unwanted batteries to your
nearest point for collection, recycling or
Note: In some areas the disposal of nickel
cadmium batteries in household or
business trash may be prohibited.
RBRC (Rechargeable Battery Recycling Corporation)
advises you about spent battery collection by the following
Call toll free number: 1-800-822-8837 (United States and
Caution: Do not handle damaged or leaking nickel-cadmium
For safety reasons, be sure to discharge the battery
To prevent fire or shock hazard, do not
expose the unit to rain or moisture.
To avoid electrical shock, do not open
the cabinet. Refer servicing to qualified
This symbol is intended to alert the user to
the presence of uninsulated "dangerous
voltage" within the product's enclosure that
may be of sufficient magnitude to
constitute a risk of electric shock to
This symbol is intended to alert the user to
the presence of important operating and
maintenance (servicing) instructions in the
literature accompanying the appliance.
The model and serial numbers are located on the top.
Record these numbers in the spaces provided below. Refer
to them whenever you call upon your Sony dealer regarding
Replace the battery with a Sony CR2032 lithium battery. Use
of another battery may present a risk of fire or explosion.
---

For customers in the USA (for DXC-D35K/D35L/D35WSL/
This equipment has been tested and found to comply with the
limits for a Class A digital device, pursuant to Part 15 of the
FCC Rules. These limits are designed to provide reasonable
protection against harmful interference when the equipment
is operated in a commercial environment. This equipment
generates, uses, and can radiate radio frequency energy
and, if not installed and used in accordance with the
instruction manual, may cause harmful interference to radio
communications. Operation of this equipment in a residential
area is likely to cause harmful interference in which case the
user will be required to correct the interference at his own
You are cautioned that any changes or modifications not
expressly approved in this manual could void your authority
to operate this equipment.
The shielded interface cable recommended in this manual
must be used with this equipment in order to comply with the
limits for a digital device pursuant to Subpart B of Part 15 of
For the customers in Europe (for DXC-D35PK/D35PL/
This product with the CE marking complies with the EMC
Directive (89/336/EEC) issued by the Commission of the
Compliance with this directive implies conformity to the
following European standards:
· EN55103-1: Electromagnetic Interference (Emission)
· EN55103-2: Electromagnetic Susceptibility (Immunity)
This product is intended for use in the following
Electromagnetic Environment(s):
E1 (residential), E2 (commercial and light industrial), E3
(urban outdoors) and E4 (controlled EMC environment, ex.
---

Product Configurations .................................................... 7
Features ............................................................................. 9
Features on the DXC-D35/D35P/D35WSL/D35WSPL ..... 9
Features on the DXC-D35WSL/D35WSPL ...................... 12
Location and function of Parts ...................................... 13
Camera Head ..................................................................... 13
VCL-918BY Zoom Lens ................................................... 19
DXF-801/801CE Viewfinder ............................................. 21
Replacing the Lithium Battery ....................................... 23
Fitting a VTR .................................................................... 25
Using the Camcorder Grip ................................................ 27
Fitting the Lens ............................................................... 30
Using Accessories .......................................................... 32
Using the Viewfinder ......................................................... 32
Using an Optional Microphone ......................................... 33
Fitting to a Tripod .............................................................. 34
Using the Optional CAC-4 Chest Pad ............................... 34
Using the Carrying Case ................................................... 35
Connections .................................................................... 36
Connecting a Portable VTR ............................................... 36
Connecting a Number of Cameras (Using a Camera
Control Unit) ................................................................ 37
Connecting a Number of Cameras (Without Using
a Camera Control Unit) ................................................ 39
Power Supply ................................................................... 40
Using Battery Packs .......................................................... 40
Camera Adaptor Power Supply ......................................... 41
---

Basic Procedure for Shooting ........................................ 43
Using the DynaLatitude Function ..................................... 45
Shooting with the DSR-1/1P ........................................... 46
Using the ClipLink Function ............................................. 46
Using the Edit Search Function While Back Space
Editing .......................................................................... 48
Using the Freeze Mix Function ......................................... 49
Viewfinder Screen Indications ....................................... 51
Changing the Viewfinder Display ..................................... 51
Viewfinder Normal Indications ....................................... 54
Status Indications .............................................................. 57
Viewfinder Basic Menu ................................................... 58
Basic Menu Operations ..................................................... 58
Contents and Settings of Each Page .................................. 58
Viewfinder Advanced Menu ............................................ 64
Advanced Menu Operations .............................................. 64
Contents and Settings of Each Page .................................. 64
Video Output and Viewfinder Picture
(For DXC-D35WSL/D35WSPL) ................................. 70
Setup Files ....................................................................... 71
Calling up a Setup File ...................................................... 71
Changing File Settings ...................................................... 73
Saving File Settings ........................................................... 73
Using SetupNavi and SetupLog with the DSR-1/1P ..... 76
Setting up the Camera Using Data Recorded on Tape ...... 76
Recording the Menu Settings onto a Tape ......................... 77
Viewing SetupLog Data .................................................... 78
---