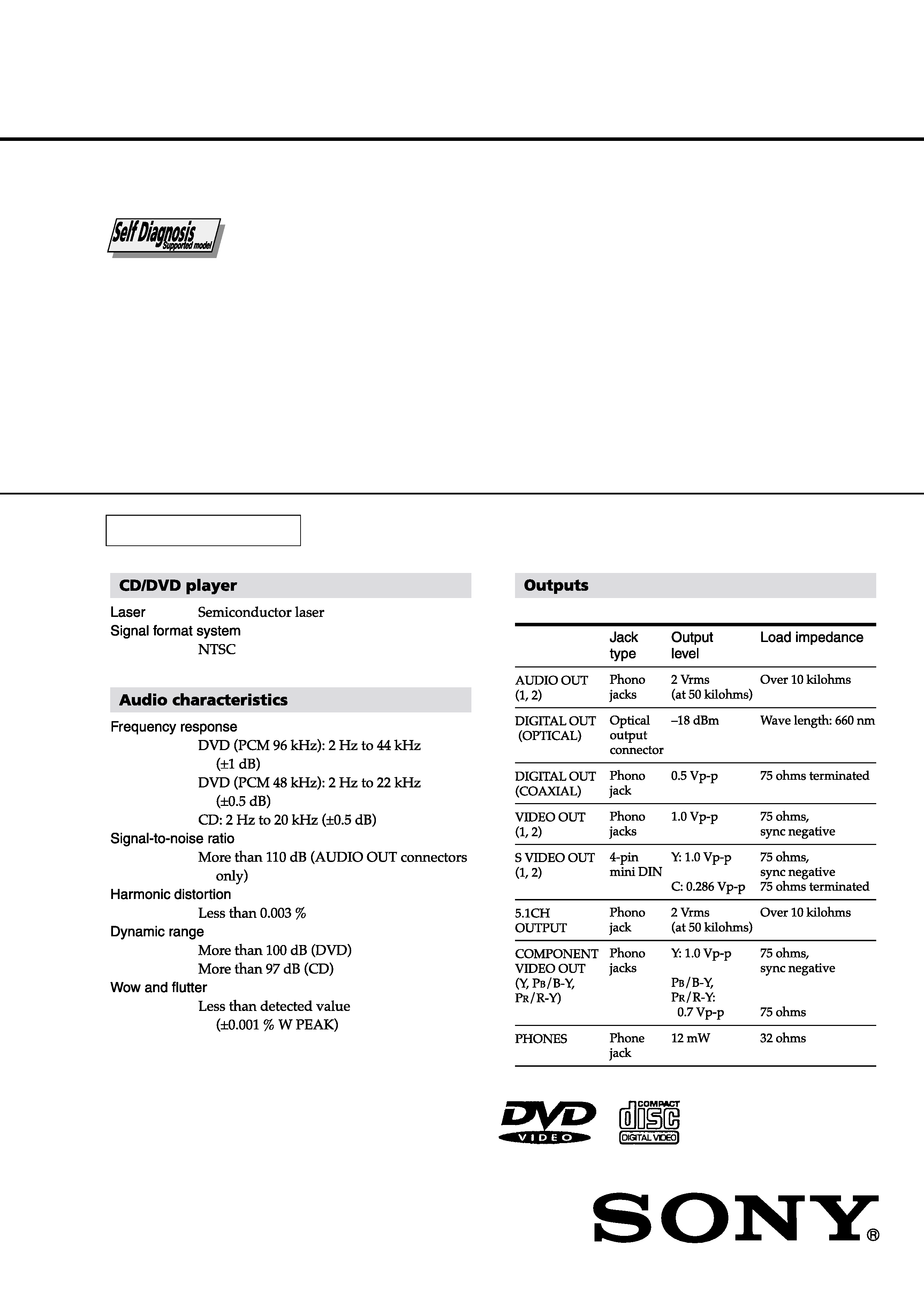 The Service Manual for this set contains only the points which differ is
bound together with the following Service Manual and therefore please
See page 3 for different parts.
DVP- S336/S345/S360/S365/
­ Continued on next page ­
---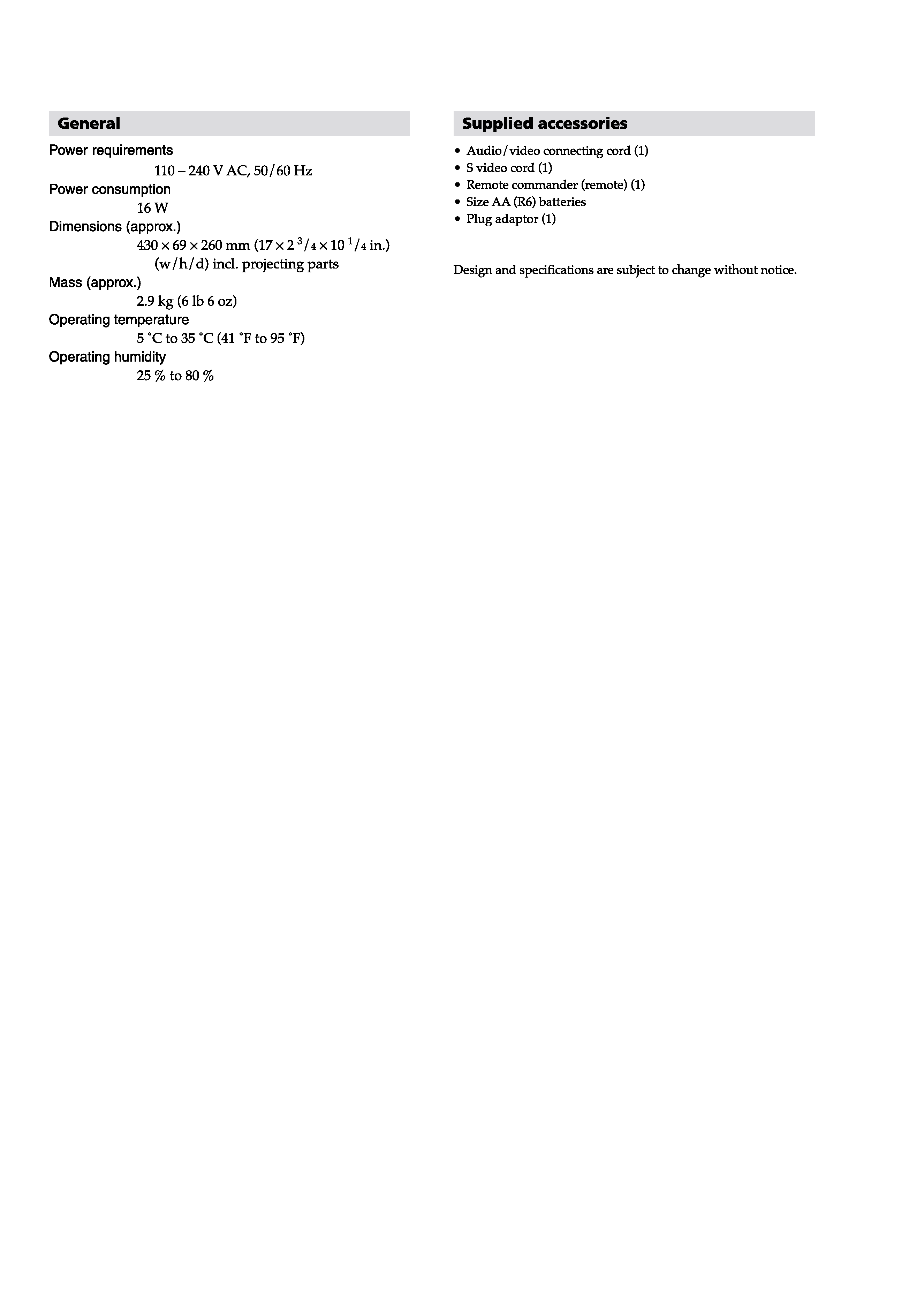 ---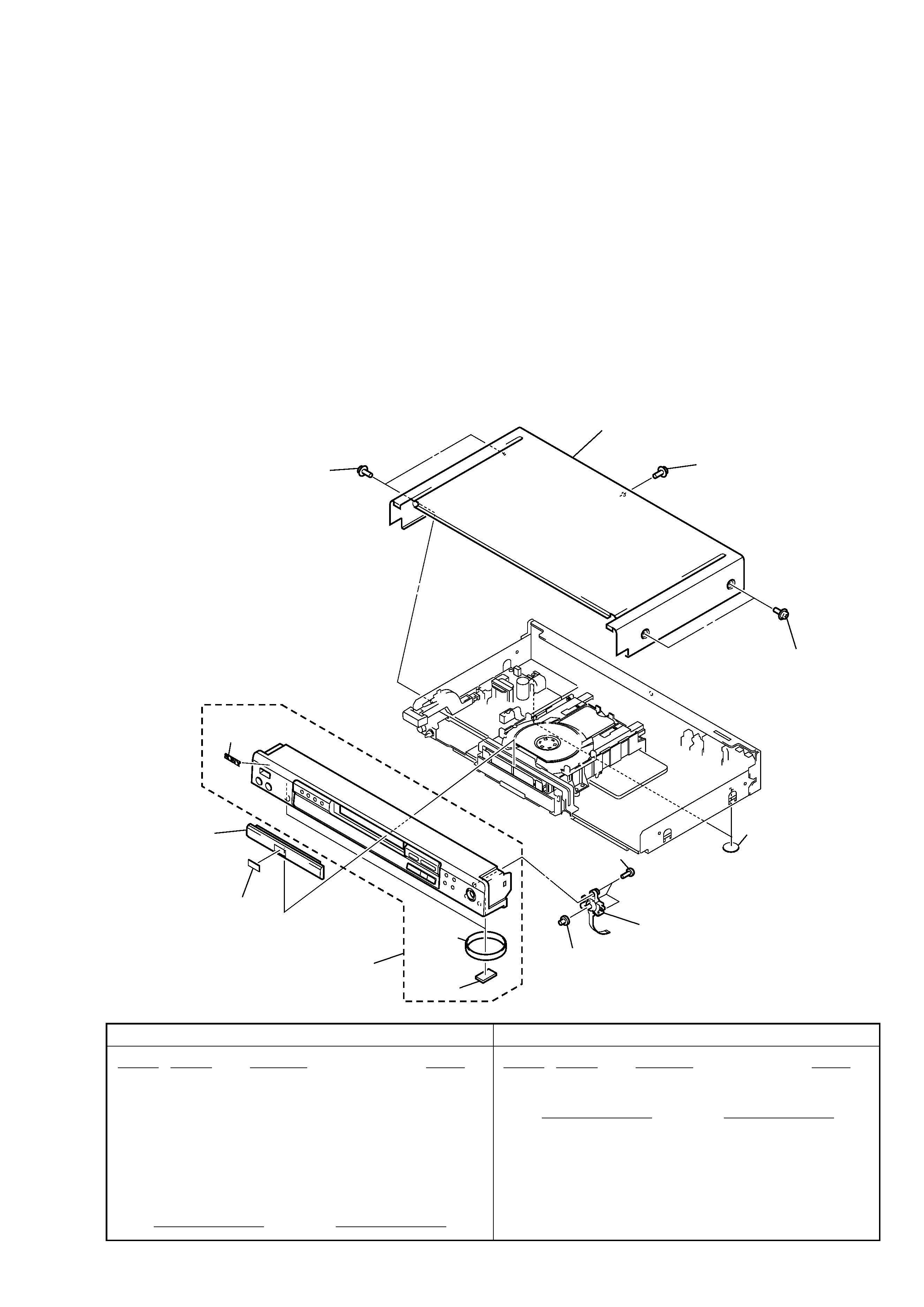 · -XX and -X mean standardized parts, so they
may have some difference from the original
· Color Indication of Appearance Parts
KNOB, BALANCE (WHITE) . . . (RED)
Parts Color Cabinet's Color
· The mechanical parts with no reference num-
ber in the exploded views are not supplied.
· Accessories and packing materials are given
in the last of the electrical parts list.
(See Service Manual Page 8-1.)
X-3950-413-1 PANEL ASSY, FRONT
3-059-349-01 CUSHION, FOOT
4-217-485-11 EMBLEM (5-A), SONY
3-059-322-01 STICK, CURSOR
3-710-901-51 SCREW, TAPPING
X-3950-733-1 PANEL ASSY, FRONT
3-059-349-11 CUSHION, FOOT
3-059-322-31 STICK, CURSOR
3-059-389-01 CUSHION (REAR), FOOT
3-710-901-11 SCREW, TAPPING
-
: Points changed parts.
---

Network Entertainment Group
Printed in Japan © 2000. 6
Published by Quality Assurance Dept.
(See Service Manual Page 8-5.)
3-059-379-01 KNOB, VOLUME
A-6065-508-A HP-127 BOARD, COMPLETE
3-059-319-31 BUTTON, POWER
3-059-321-11 INDICATOR (P)
3-059-388-01 PILLAR, MULTI
A-6065-510-A MB-86 BOARD, COMPLETE
4-966-267-12 BUSHING (FBS001), CORD
A-6065-511-A AI-17 BOARD, COMPLETE
3-059-379-11 KNOB, VOLUME
A-6065-458-A HP-127 BOARD, COMPLETE
3-059-319-21 BUTTON, POWER
3-059-321-01 INDICATOR (P)
3-059-327-01 PILLAR, MULTI
A-6065-457-A MB-86 BOARD, COMPLETE
4-966-267-11 BUSHING (FBS001), CORD
A-6065-456-A AI-17 BOARD, COMPLETE
A-6065-511-A AI-17 BOARD, COMPLETE
A-6065-508-A HP-127 BOARD, COMPLETE
A-6065-510-A MB-86 BOARD, COMPLETE
ACCESSORIES & PACCKING MATERIALS
********************************
3-062-059-11 MANUAL, INSTRUCTION (ENGLISH)
A-6065-456-A AI-17 BOARD, COMPLETE
A-6065-458-A HP-127 BOARD, COMPLETE
A-6065-457-A MB-86 BOARD, COMPLETE
ACCESSORIES & PACCKING MATERIALS
********************************
3-062-059-31 MANUAL, INSTRUCTION (SPANISH)
· Items marked "*" are not stocked since they
are seldom required for routine service. Some
delay should be anticipated when ordering
---