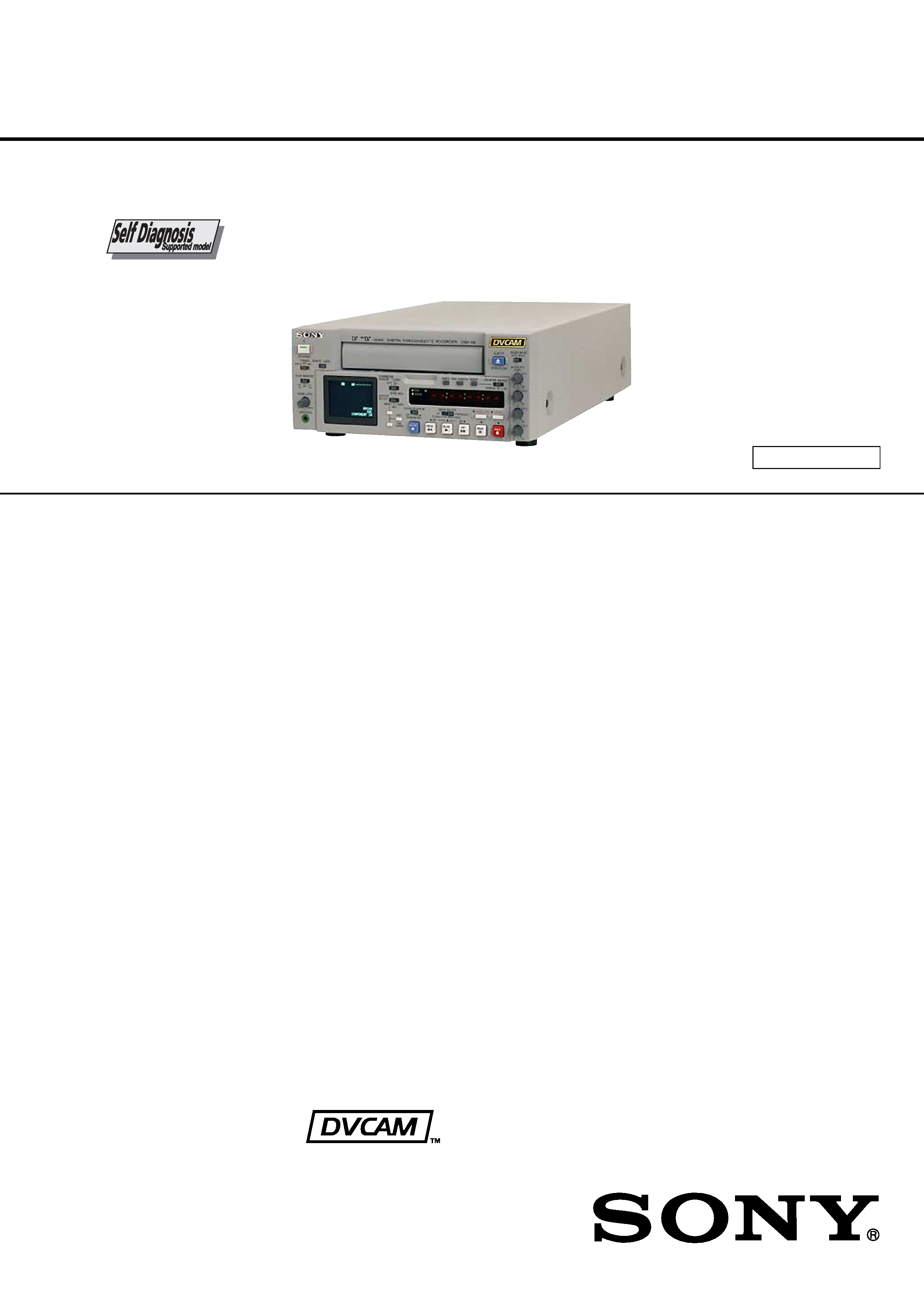 Recording format DVCAM/DV (SP) format, rotating
2-head helical scan, digital
CCIR STANDARD, PAL colour
13.5 MHz (4:1:1 Component)
13.5 MHz (4:2:0 Component)
12-bit (non-linear) or 16-bit
32 kHz (12-bit recording) or
48 kHz (16-bit recording)
Standard-DVCAM cassettes and
DVCAM: 40 minutes (PDVM40/
(We recommend that you use
Quartz locked, digital display
Back-up duration: up to two weeks
1 Vp-p (75 ohms, unbalanced)
1.0 Vp-p (75 ohms, unbalanced)
0.7 Vp-p (75 ohms, unbalanced)
(DSR-45: 75%, color bars / DSR-
0.7 Vp-p (75 ohms, unbalanced)
(DSR-45: 75%, color bars / DSR-
Phono jack, ­10/­2/+4 dBu,
Impedance more than 47 kohms,
­10 : +18 dBu (about 6 Vrms)
­2 : +24 dBu (about 12.5 Vrms)
+4 : +30 dBu (about 25 Vrms)
­10 : +16 dBu (about 5 Vrms)
­2 : +22 dBu (about 10 Vrms)
+4 : +28 dBu (about 20 Vrms)
0.5 to 18 Vp-p (time code input)
0.5 to 4 Vp-p (through output)
Phono jack, 1 Vp-p (75 ohms,
unbalanced) (superimpose)
BNC type, 1 Vp-p (75 ohms,
1.0 Vp-p (75 ohms, unbalanced)
0.7 Vp-p (75 ohms, unbalanced)
(DSR-45: 75%, color bars / DSR-
0.7 Vp-p (75 ohms, unbalanced)
(DSR-45: 75%, color bars / DSR-
Luminance signal: 1.0 Vp-p
XLR 3-pin, male, +4 dBu, 600
BNC type, 2.2 Vp-p, 600 ohms /
0.5 to 4 Vp-p (through output,
­ Continued on next page ­
DIGITAL VIDEO CASSETTE RECORDER
---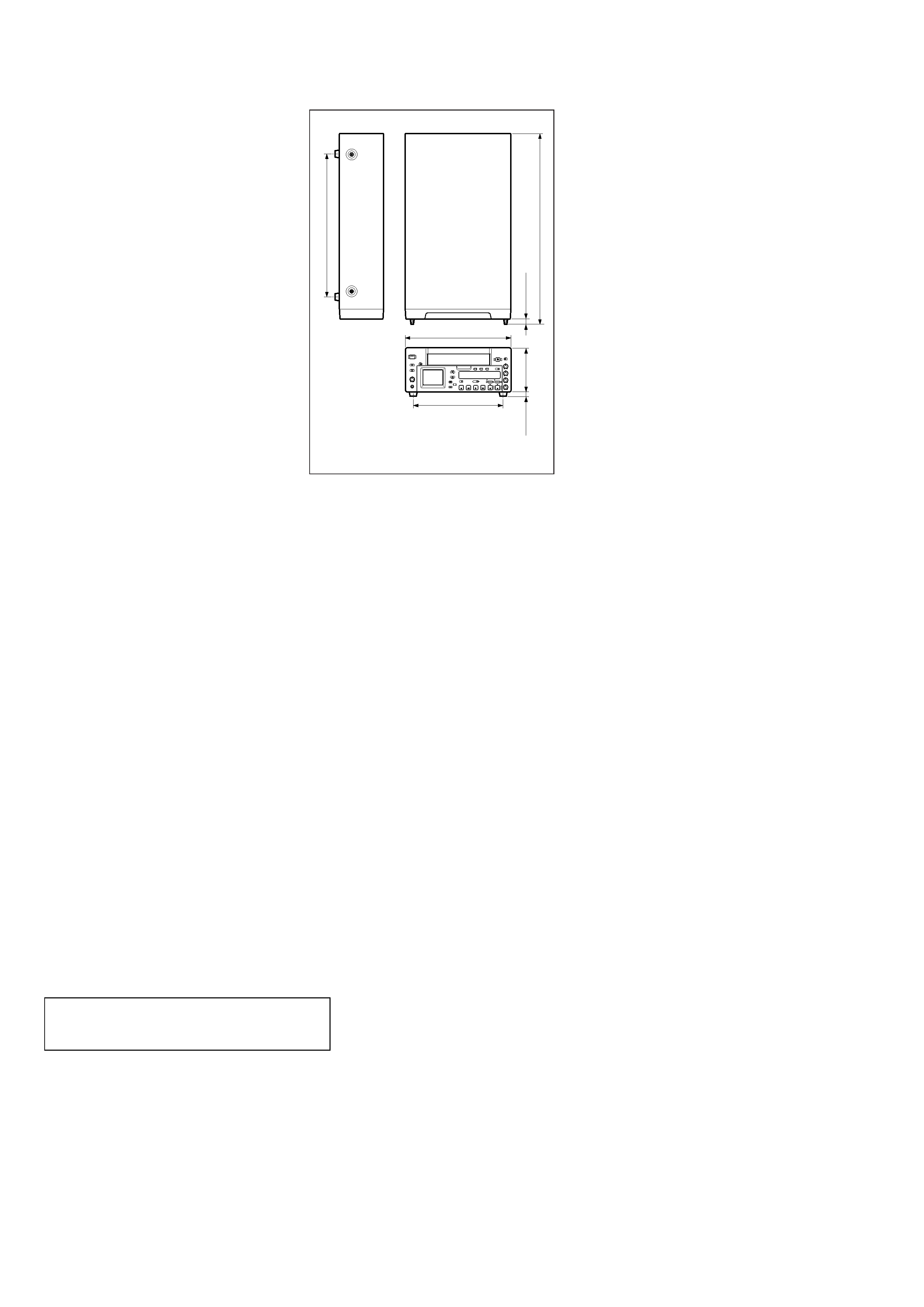 100 to 240 V AC, 50/60 Hz
°C to 40 °C (41 °F to 104 °F)
(w/h/d, including projecting parts
Approx. 4.6 kg (10 lb. 2 oz.)
Interface Manual for Programmers
Design and specifications are subject to change
ATTENTION AU COMPOSANT AYANT RAPPORT
LES COMPOSANTS IDENTIFIÉS PAR UNE MARQUE 0
SUR LES DIAGRAMMES SCHÉMATIQUES ET LA LISTE
DES PIÈCES SONT CRITIQUES POUR LA SÉCURITÉ
DE FONCTIONNEMENT. NE REMPLACER CES COM-
POSANTS QUE PAR DES PIÈCES SONY DONT LES
NUMÉROS SONT DONNÉS DANS CE MANUEL OU
DANS LES SUPPLÉMENTS PUBLIÉS PAR SONY.
SAFETY-RELATED COMPONENT WARNING!!
COMPONENTS IDENTIFIED BY MARK 0 OR DOTTED
LINE WITH MARK 0 ON THE SCHEMATIC DIAGRAMS
AND IN THE PARTS LIST ARE CRITICAL TO SAFE
OPERATION. REPLACE THESE COMPONENTS WITH
SONY PARTS WHOSE PART NUMBERS APPEAR AS
SHOWN IN THIS MANUAL OR IN SUPPLEMENTS PUB-
Danger of explosion if battery is incorrectly replaced.
Replace only with the same or eqivalent type.
---

The AC leakage from any exposed metal part to earth ground
and from all exposed metal parts to any exposed metal part having
a return to chassis, must not exceed 0.5 mA (500 microamperes).
Leakage current can be measured by any one of three methods.
1. A commercial leakage tester, such as the Simpson 229 or RCA
WT-540A. Follow the manufacturers' instructions to use these
2. A battery-operated AC milliammeter. The Data Precision 245
digital multimeter is suitable for this job.
3. Measuring the voltage drop across a resistor by means of a
VOM or battery-operated AC voltmeter. The "limit" indica-
tion is 0.75V, so analog meters must have an accurate low-
voltage scale. The Simpson 250 and Sanwa SH-63Trd are ex-
amples of a passive VOM that is suitable. Nearly all battery
operated digital multimeters that have a 2V AC range are suit-
Using AC voltmeter to check AC leakage
1. Check the area of your repair for unsoldered or poorly-sol-
dered connections. Check the entire board surface for solder
2. Check the interboard wiring to ensure that no wires are
"pinched" or contact high-wattage resistors.
3. Look for unauthorized replacement parts, particularly transis-
tors, that were installed during a previous repair. Point them
out to the customer and recommend their replacement.
4. Look for parts which, though functioning, show obvious signs
of deterioration. Point them out to the customer and recom-
5. Check the line cord for cracks and abrasion. Recommend the
replacement of any such line cord to the customer.
6. Check the B+ voltage to see it is at the values specified.
7. Check the antenna terminals, metal trim, "metallized" knobs,
screws, and all other exposed metal parts for AC leakage.
Check leakage as described below.
After correcting the original service problem, perform the following
safety checks before releasing the set to the customer:
Boards requiring use of unleaded solder are printed with the lead-
free mark (LF) indicating the solder contains no lead.
(Caution: Some printed circuit boards may not come printed with
the lead free mark due to their particular size)
Unleaded solder has the following characteristics.
· Unleaded solder melts at a temperature about 40 °C higher than
Ordinary soldering irons can be used but the iron tip has to be
applied to the solder joint for a slightly longer time.
Soldering irons using a temperature regulator should be set to
Caution: The printed pattern (copper foil) may peel away if the
heated tip is applied for too long, so be careful!
Unleaded solder is more viscous (sticky, less prone to flow) than
ordinary solder so use caution not to let solder bridges occur
· Usable with ordinary solder
It is best to use only unleaded solder but unleaded solder may
also be added to ordinary solder.
---

SERVICE NOTE
................................................................ 7
Note for Repair ............................................................ 7
SELF-DIAGNOSIS FUNCTION
..................................... 8
Self-diagnosis Function ............................................... 8
Self-diagnosis Display ................................................. 8
Service Mode Display ................................................. 8
Self-diagnosis Code Table .......................................... 9
Features ................................................................................ 1-1
Location and Function of Parts ............................................. 1-1
Displaying Various Data ........................................................ 1-5
Notes on Video Cassettes ..................................................... 1-6
Playback ................................................................................ 1-7
Recording .............................................................................. 1-9
Notes on Usage in the Editing System ................................. 1-10
Connections for Digital Non-linear Editing ............................ 1-10
Connections for a Cut Editing System .................................. 1-11
Connections for an A/B Roll Editing System ........................ 1-11
Adjusting Edit Timing ............................................................. 1-12
Setting the Time Code and User Bits .................................... 1-13
Synchronizing the Time Codes ............................................. 1-14
Adjusting the Sync and Subcarrier Phases
of the Video Signals ............................................................... 1-15
Adjusting the Signals ............................................................. 1-15
Duplication (Generating a Work Tape
with the Same Time Code) .................................................... 1-16
Audio Dubbing ....................................................................... 1-17
Operating the Menus ............................................................. 1-17
Troubleshooting ..................................................................... 1-22
Alarm Messages .................................................................... 1-23
Notes on Use ......................................................................... 1-23
Upper Case, Bottom Plate .......................................... 2-1
Front Panel Block Assembly ....................................... 2-1
FR-183/DL-062 Boards ............................................... 2-2
LCD Module (LCD901) ................................................ 2-2
Mechanism Deck ......................................................... 2-3
CM-59 Board ............................................................... 2-3
JC-21/DI-73 Boards .................................................... 2-4
VD-032 Board .............................................................. 2-4
Rear Panel Block Assembly ........................................ 2-5
2-10. Circuit Boards Location-1 (Over All) ........................... 2-6
2-11. Circuit Boards Location-2 (Mechanism Deck) ............ 2-7
Overall Block Diagram 1 .............................................. 3-1
Overall Block Diagram 2 .............................................. 3-3
Overall Block Diagram 3 .............................................. 3-5
Overall Block Diagram 4 .............................................. 3-7
Overall Block Diagram 5 .............................................. 3-9
Overall Block Diagram 6 .............................................. 3-11
Overall Block Diagram 7 .............................................. 3-13
Overall Block Diagram 8 .............................................. 3-15
Overall Block Diagram 9 .............................................. 3-17
3-10. Power Block Diagram 1 ............................................... 3-19
3-11. Power Block Diagram 2 ............................................... 3-21
3-12. Power Block Diagram 3 ............................................... 3-23
3-13. Power Block Diagram 4 ............................................... 3-25
3-14. Power Block Diagram 5 ............................................... 3-27
PRINTED WIRING BOARDS AND
SCHEMATIC DIAGRAMS
..................................... 4-1
Frame Schematic Diagram (1/2) ................................. 4-3
Frame Schematic Diagram (2/2) ................................. 4-5
Schematic Diagrams ................................................... 4-7
RP-234 (1/2)(REC/PB AMP 1) ............................... 4-7
RP-234 (2/2)(REC/PB AMP 2) ............................... 4-9
JC-21(1/14) (VIDEO PB AMP) ............................... 4-11
JC-21(2/14) (VIDEO A/D CONVERTER) ............... 4-13
JC-21(3/14) (CHROMA MIX) ................................. 4-15
JC-21(4/14) (AFC) .................................................. 4-17
(VFD (VIDEO DSP, D/A CONVERTER)) ............... 4-19
JC-21(6/14) (SFD) .................................................. 4-21
JC-21(7/14) (TFD) .................................................. 4-23
JC-21(8/14) (DV INTERFACE) ............................... 4-25
JC-21(9/14) (MECHANISM CONTROL 1) ............. 4-27
JC-21(10/14) (MECHANISM CONTROL 2) ........... 4-29
JC-21(11/14) (MODE CONTROL) ......................... 4-31
JC-21(12/14) (AUDIO 1) ........................................ 4-33
JC-21(13/14) (AUDIO 2) ........................................ 4-35
JC-21(14/14) (POWER SUPPLY) .......................... 4-37
DI-73 (1/9) (VIDEO D/A CONVERTER) ................ 4-39
DI-73 (2/9) (VIDEO FIFO MEMORY) ..................... 4-41
DI-73 (3/9) (SYNC SHIFTER 1) ............................. 4-43
DI-73 (4/9) (SYNC SHIFTER 2) ............................. 4-45
DI-73 (5/9) (AUDIO HPF) ....................................... 4-47
DI-73 (6/9) (AUDIO A/D, D/A CONVERTER) ........ 4-49
DI-73 (7/9) (AUDIO DSP) ....................................... 4-51
DI-73 (8/9) (AUDIO DSP CONTROL) .................... 4-53
DI-73 (9/9) (TIME CODE IN/OUT) ......................... 4-55
VD-032 (1/16) (SYNC GENERATOR 1) ................ 4-57
VD-032 (2/16) (SYNC GENERATOR 2) ................ 4-59
VD-032 (3/16) (SYNC GENERATOR 3) ................ 4-61
VD-032 (4/16) (VIDEO IN 1) .................................. 4-63
VD-032 (5/16) (VIDEO IN 2) .................................. 4-65
VD-032 (6/16) (VIDEO IN 3) .................................. 4-67
VD-032 (7/16) (UVIC) ............................................ 4-69
VD-032 (8/16) (VIDEO OUT 1) .............................. 4-71
VD-032 (9/16) (VIDEO OUT 2) .............................. 4-73
VD-032 (10/16) (VIDEO OUT 3) ........................... 4-75
VD-032 (11/16) (AUDIO) ........................................ 4-77
VD-032 (12/16) (HI CONTROL) ............................. 4-79
VD-032 (13/16) (RS-232C/422 CONTROL) .......... 4-81
VD-032 (14/16) (DC IN) ......................................... 4-83
VD-032 (15/16) (DC/DC CONVERTER 1) ............. 4-85
VD-032 (16/16) (DC/DC CONVERTER 2) ............. 4-87
CM-59 (1/3) (DC/DC CONVERTER,
REEL MOTOR DRIVE) .......................................... 4-89
CM-59 (2/3) (DRUM MOTOR DRIVE,
FL MOTOR DRIVE) ................................................ 4-91
CM-59 (3/3) (CAPSTAN MOTOR DRIVE,
CAM MOTOR DRIVE) ............................................ 4-93
MD-76 (TAPE SENSOR) ........................................ 4-95
CK-107 (EJECTION DETECT SWITCH)/
DL-062 (REMOTE CONTROL RECEIVER) .......... 4-97
FC-087 (FRONT DOOR DETECT SWITCH)/
FM-037 (FRONT DOOR MOTOR) ......................... 4-98
FR-183 (USER CONTROL) ................................... 4-99
HP-135 (HEAD PHONE) ........................................ 4-101
PD-170 (1/2) (RGB DRIVER) ................................. 4-103
PD-170 (2/2) (TIMING GENERATOR) ................... 4-105
JK-216 (VIDEO/AUDIO IN/OUT) ........................... 4-107
XL-005 (AUDIO OUT) ............................................ 4-109
RS-083 (RS-232C DRIVER) .................................. 4-111
LS-060 (CONTROL JACK) .................................... 4-112
·ACS1581-MA (POWER) ........................................ 4-113
Printed Wiring Boards ................................................. 4-115
RP-234 ................................................................... 4-115
JC-21 ...................................................................... 4-119
DI-73 ....................................................................... 4-123
---

VD-032 ................................................................... 4-127
CM-59 ..................................................................... 4-131
MD-76 ..................................................................... 4-135
CK-107/DL-062 ...................................................... 4-137
FC-087/FM-037 ...................................................... 4-138
FR-183 .................................................................... 4-139
HP-135 ................................................................... 4-143
PD-170 ................................................................... 4-145
JK-216 .................................................................... 4-147
XL-005 .................................................................... 4-151
·RS-082/RS-083 ...................................................... 4-153
·DV-032 .................................................................... 4-155
LS-060 .................................................................... 4-156
·ACS1581-MA .......................................................... 4-157
Waveforms ................................................................... 4-161
Parts Location ............................................................. 4-179
Before Starting Adjustment ......................................... 5-1
1-1. Adjusting Items when Replacing Main Parts
and Boards .................................................................. 5-2
1-2. Information (Mechanical Section) ............................... 5-4
MECHANICAL SECTION ADJUSTMENTS ................ 5-5
5-1-1. Parts Replacement and Preparation
for Adjustment ........................................................ 5-5
1-1. Assembly/disassembly of Cassette Compartment ..... 5-5
1-2. How To Load/unload .................................................... 5-5
1-3. List of Service Tools .................................................... 5-6
1-4. About Mode Selector II ............................................... 5-7
5-1-2. Periodic Check ....................................................... 5-8
Cleaning of Rotary Drum Assembly ...................... 5-8
Cleaning of Tape Path System ............................... 5-8
Periodic Checks ..................................................... 5-8
5-1-3. Parts Replacement ................................................. 5-9
Tape Guide 1/8 and Guide Guard .......................... 5-9
Tape Guide 2/7 ....................................................... 5-9
Capstan Cover ....................................................... 5-10
Reel Motor .............................................................. 5-10
FL Motor Assembly, Gear A, Gear B and
Gear CD Assembly ................................................ 5-10
GL Arm S Assembly, GL Arm T Assembly,
Coaster S Assembly and Coaster T Assembly ...... 5-11
MIC Base Guide, MIC Base Assembly and
MIC Base Spring .................................................... 5-12
Drum Cap, Drum Assembly and Tape Support ..... 5-12
Pinch Arm Assembly .............................................. 5-13
Capstan Motor ........................................................ 5-13
Pendulum Arm Assembly ....................................... 5-13
Brake Arm S, Ratchet Brake T,
Tension Coil Spring (Brake), SBR Slider and FP-248
Flexible Board (Condensation Sensor) .................. 5-14
Reel Table Assembly, Idler Gear A Assembly
and Idler Gear B ..................................................... 5-14
Reel Base Retainer, Reel Base T Assembly and
Reel Base S Assembly (Reel Lock Release Block
and Reel Lock Release Spring) ............................. 5-15
Cam Motor, Motor Holder ....................................... 5-15
TG2/7 Arm Block, TG2/7 Band Block and
Tension Coil Spring (TG2)/(TG7) ........................... 5-16
Sub-slider Arm, Sub-slider, Encoder Gear,
Main Cam Gear, Coupling Gear, Sub-cam Gear,
Pinch Slider and Loadeing Arm Assy .................... 5-17
Main Slider, Main Slider Arm and Pendulum
Stopper Assembly .................................................. 5-19
MD-76 Board and Encoder Retainer ..................... 5-20
Components of GL Arm S/T Assembly
(GL Arm Assembly, GL Helical Torsion Spring,
GL Gear) ................................................................. 5-21
Components of MIC Base Assembly
(FP-104 Flexible Board, MIC Base) ....................... 5-21
Components of Drum Assembly
(Motor FPC Assembly, Elastic Connector) ............ 5-22
Components of Pinch Arm Assembly (Tape Retainer,
Compression Coil Spring) ...................................... 5-22
Components of TG2/7 Arm Assembly (ET Magnet,
Magnet Holder) ...................................................... 5-22
5-1-4. Check and Adjustment ........................................... 5-23
Reel Table Height Check and Adjustment ............. 5-24
TG1/8 Height Check and Adjustment .................... 5-24
TG2/7 Height Check and Adjustment .................... 5-25
FWD/RVS Position Check and Adjustment ........... 5-25
Electric Tension Regulator Check and Adjustment
of TG2/7 Arm .......................................................... 5-26
FWD/RVS Back Tension Check and Adjustment ... 5-27
Preparation for Adjustment and
Tape Path Check .................................................... 5-28
Track Adjustment and Check
(Checking the RF Waveform) ................................. 5-29
Track Check ............................................................ 5-29
CUE/REV Check .................................................... 5-30
Curl Check and Adjustment ................................... 5-30
Rising Check .......................................................... 5-31
SERVICE MODE ......................................................... 5-32
5-2-1. Adjusting Remote Commander .............................. 5-32
Used Adjustment Remote Commander ................. 5-32
Precautions Upon Using the Adjusting Remote
Commander ............................................................ 5-32
5-2-2. Data Processing ..................................................... 5-33
5-2-3. Service Mode ......................................................... 5-34
Emergence Memory Address ................................ 5-34
EMG Code (Emergency Code) .............................. 5-34
MSW Code ............................................................. 5-35
Bit Value Discriminatiion ........................................ 5-36
Recorde of Use Check ........................................... 5-37
LED Check ............................................................. 5-38
Switch Check (1) .................................................... 5-39
Switch Check (2) .................................................... 5-39
Switch Check (3) .................................................... 5-39
Switch Check (4) .................................................... 5-40
Switch Check (5) .................................................... 5-40
VIDEO SECTION ADJUSTMENTS ............................ 5-41
Preparations Before Adjustment ............................ 5-41
3-1-1. Equipment Used ..................................................... 5-41
3-1-2. Connection of Equipment ....................................... 5-42
3-1-3. Checking the Input Signals .................................... 5-43
S VIDEO Input ........................................................ 5-43
VIDEO Input ........................................................... 5-43
COMPONENT Input ............................................... 5-44
3-1-4. Adjustment Tapes ................................................... 5-45
3-1-5. Input/output Level and Impedance ........................ 5-46
System Control System Adjustments .................... 5-47
Initializing the C, D, E Page Data ........................... 5-47
Input of C Page Initial Data .................................... 5-47
Input of D Page Initial Data .................................... 5-47
Input of E Page Initial Data .................................... 5-47
Modification of C, D, E, Page Data ........................ 5-47
C Page Table .......................................................... 5-48
D Page Table .......................................................... 5-49
E Page Table .......................................................... 5-49
Node Unique ID No. Input ...................................... 5-51
Servo and RF System Adjustments ....................... 5-53
Capstan FG Adjustment (CM-59 Board) ............... 5-53
PLL f
0
Pre-adjustment (RP-234 Board) ................. 5-53
Switching Position Adjustment (RP-234 Board) .... 5-53
RF-AGC Adjustment (RP-234 Board) .................... 5-53
CLK DELAY and AEQ Adjustment
(RP-234 Board) ...................................................... 5-54
PLL f
0
Final Adjustment (RP-234 Board) ............... 5-54
Video System Adjustments .................................... 5-54
3-4-1. JC-21 Board Adjustment ........................................ 5-54
VFD SPCK Adjustment (JC-21 Board) .................. 5-54
---