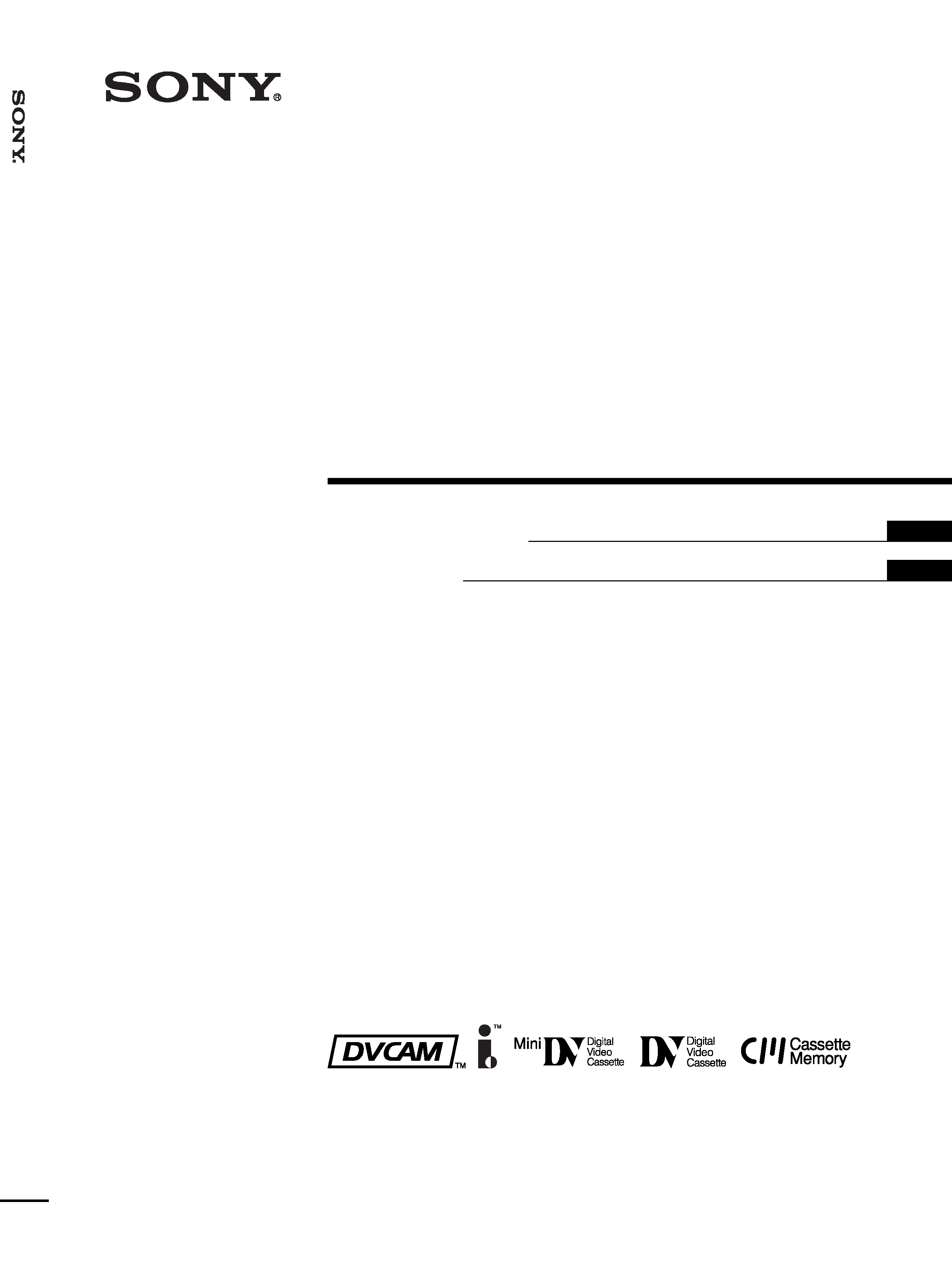 ---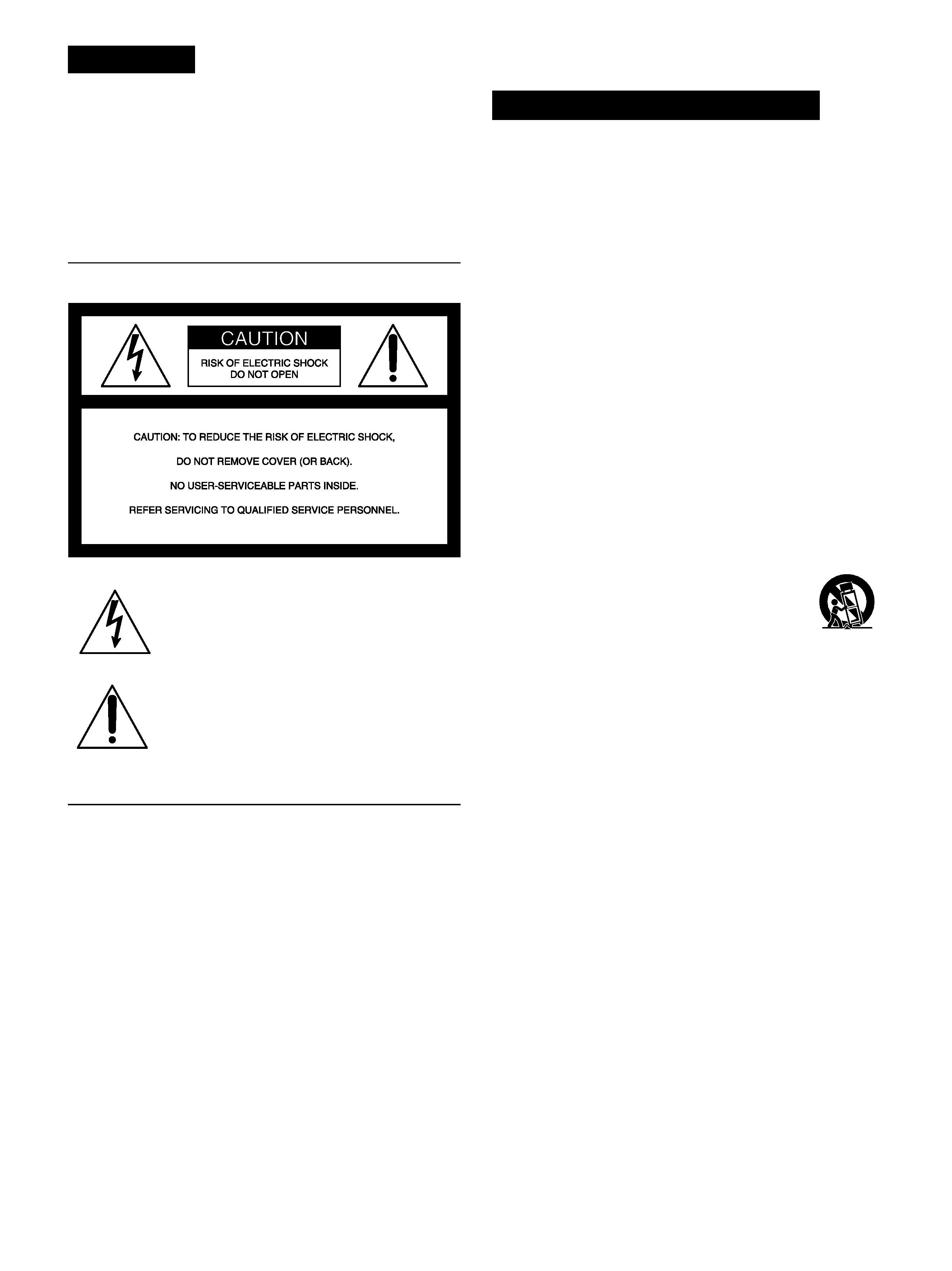 To prevent fire or shock hazard, do not
expose the unit to rain or moisture.
To avoid electrical shock, do not open the
cabinet. Refer servicing to qualified
THIS APPARATUS MUST BE EARTHED.
This symbol is intended to alert the user to the
presence of uninsulated "dangerous voltage"
within the product's enclosure that may be of
sufficient magnitude to constitute a risk of
electric shock to persons.
This symbol is intended to alert the user to the
presence of important operating and
maintenance (servicing) instructions in the
literature accompanying the appliance.
The model number is located at the front of the unit and the
serial number on the left. Record the serial number in the
space provided below. Refer to these numbers whenever you
call upon your Sony dealer regarding this product.
Model No. DSR-25 Serial No. ______________________
Important Safety Instructions
· Read these instructions.
· Keep these instructions.
· Follow all instructions.
· Do not use this apparatus near water.
· Clean only with dry cloth.
· Do not block any ventilation openings.
Install in accordance with the manufacturer's instructions.
· Do not install near any heat sources such as radiators, heat
registers, stoves, or other apparatus (including amplifiers)
· Do not defeat the safety purpose of the polarized or
grounding-type plug. A polarized plug has two blades with
one wider than the other. A grounding-type plug has two
blades and a third grounding prong. The wide blade or the
third prong are provided for your safety. If the provided plug
does not fit into your outlet, consult an electrician for
replacement of the obsolete outlet.
· Protect the power cord from being walked on or pinched
particularly at plugs, convenience receptacles, and the point
where they exit from the apparatus.
· Only use attachments/accessories specified by the
· Use only with the cart, stand, tripod, bracket, or table
specified by the manufacturer, or sold with the
When a cart is used, use caution when moving
the cart/apparatus combination to avoid injury
· Unplug this apparatus during lightning storms or when
unused for long periods of time.
· Refer all servicing to qualified service personnel.
Servicing is required when the apparatus has been
damaged in any way, such as power-supply cord or plug is
damaged, liquid has been spilled or objects have fallen into
the apparatus, the apparatus has been exposed to rain or
moisture, does not operate normally, or has been dropped.
· This unit is not designed as a portable. Make sure to install
the unit properly on a flat surface. If you install the unit so
that it is inclined 30 degrees or more (i.e., if you stand the
unit on its side), malfunctions may occur.
· Do not place materials around the unit that may block the
ventilation holes. Otherwise, heat builds up inside the unit
and malfunctions may occur.
This product with the CE marking complies with both the
EMC Directive (89/336/EEC) and the Low Voltage Directive
(73/23/EEC) issued by the Commission of the European
Compliance with these directives implies conformity to the
following European standards:
· EN60065: Product Safety
· EN55103-1: Electromagnetic Interference (Emission)
· EN55103-2: Electromagnetic Susceptibility (Immunity)
This product is intended for use in the following
Electromagnetic Environment(s):
E1 (residential), E2 (commercial and light industrial), E3
(urban outdoors) and E4 (controlled EMC environment, ex.
---

You are cautioned that any changes or modifications not
expressly approved in this manual could void your authority
to operate this equipment.
· This equipment has been tested and found to comply with
the limits for a Class B digital device, pursuant to Part 15 of
the FCC Rules. These limits are designed to provide
reasonable protection against harmful interference in a
residential installation. This equipment generates, uses,
and can radiate radio frequency energy and, if not installed
and used in accordance with the instructions, may cause
harmful interference to radio communications. However,
there is no guarantee that interference will not occur in a
particular installation. If this equipment does cause harmful
interference to radio or television reception, which can be
determined by turning the equipment off and on, the user is
encouraged to try to correct the interference by one or more
of the following measures:
· Reorient or relocate the receiving antenna.
· Increase the separation between the equipment and
· Connect the equipment into an outlet on a circuit different
from that to which the receiver is connected.
· Consult the dealer or an experienced radio/TV technician
· This product contains mercury. Disposal of this product may
be regulated if sold in the United States. For disposal or
recycling information, please contact your local authorities
or the Electronics Industries Alliance (http://www.eiae.org).
Television programs, films, video tapes and other materials
may be copyrighted. Unauthorized recording of such material
may be contrary to the provisions of the copyright laws. Also,
use of this recorder with cable television transmission may
require authorization from the cable television transmission
For the customers in the Netherlands
Voor de klanten in Nederland
· Dit apparaat bevat een vast ingebouwde batterij die niet
vervangen hoeft te worden tijdens de levensduur van het
· Raadpleeg uw leverancier indien de batterij toch vervangen
moet worden. De batterij mag alleen vervangen worden
door vakbekwaam servicepersoneel.
· Gooi de batterij niet weg maar lever deze in als klein
· Lever het apparaat aan het einde van de levensduur in voor
recycling, de batterij zal dan op correcte wijze verwerkt
For customers in the U.S.A.
If you have any questions about this product, you may
call: Sony's Business Information Center (BIC) at 1-800-
or Write to: Sony Customer Information Services Center
6900-29 Daniels Parkway, PMB 330 Fort
Declaration of Conformity
16450 W. Bernardo Dr, San
This device complies with Part 15 of the FCC Rules.
Operation is subject to the following two conditions:
(1) This device may not cause harmful interference, and
(2) this device must accept any interference received,
including interference that may cause undesired
---

Features .................................................................... 6 (GB)
DVCAM Format ......................................................... 6 (GB)
Other Features ............................................................ 7 (GB)
Location and Function of Parts .............................. 9 (GB)
Front Panel ................................................................. 9 (GB)
Rear Panel ................................................................ 18 (GB)
Supplied Remote Commander ................................. 21 (GB)
Displaying Various Data ......................................... 23 (GB)
Notes on Video Cassettes ..................................... 26 (GB)
Inserting/Ejecting Cassettes ..................................... 27 (GB)
Notes on Playback/Recording .................................. 28 (GB)
Playback .................................................................. 29 (GB)
Connections for Playback ......................................... 29 (GB)
Settings for Playback ................................................ 31 (GB)
Playback Procedures ................................................ 31 (GB)
Playback Functions .................................................. 32 (GB)
Recording ............................................................... 37 (GB)
Connections for Recording ....................................... 37 (GB)
Settings for Recording .............................................. 39 (GB)
Recording Procedure ................................................ 40 (GB)
Recording Functions ................................................ 40 (GB)
Setting the Time Code and User Bits ................... 42 (GB)
Using the Internal Time Code Generator ................. 42 (GB)
Duplication (generating a work tape with the same
time code) ...................................................... 47 (GB)
Audio Dubbing ....................................................... 52 (GB)
---

Operating the Menus ............................................. 54 (GB)
Menu Organization ................................................... 55 (GB)
Menu Contents ......................................................... 56 (GB)
Troubleshooting ..................................................... 68 (GB)
Alarm Messages ..................................................... 72 (GB)
Notes on Use .......................................................... 73 (GB)
Notes on the Videocassette Recorder ....................... 73 (GB)
Cleaning of the Video Heads .................................... 73 (GB)
Notes on the Video Cassettes ................................... 74 (GB)
Notes on the LCD Screen ......................................... 74 (GB)
About Moisture Condensation ................................. 74 (GB)
Digital Hours Meter ................................................. 75 (GB)
Self-diagnostics Function ......................................... 75 (GB)
Compatibility of DVCAM and DV Format ............. 76 (GB)
Specifications ......................................................... 78 (GB)
Glossary .................................................................. 80 (GB)
Index ........................................................................ 82 (GB)
Submenu Index ...................................................... 83 (GB)
---