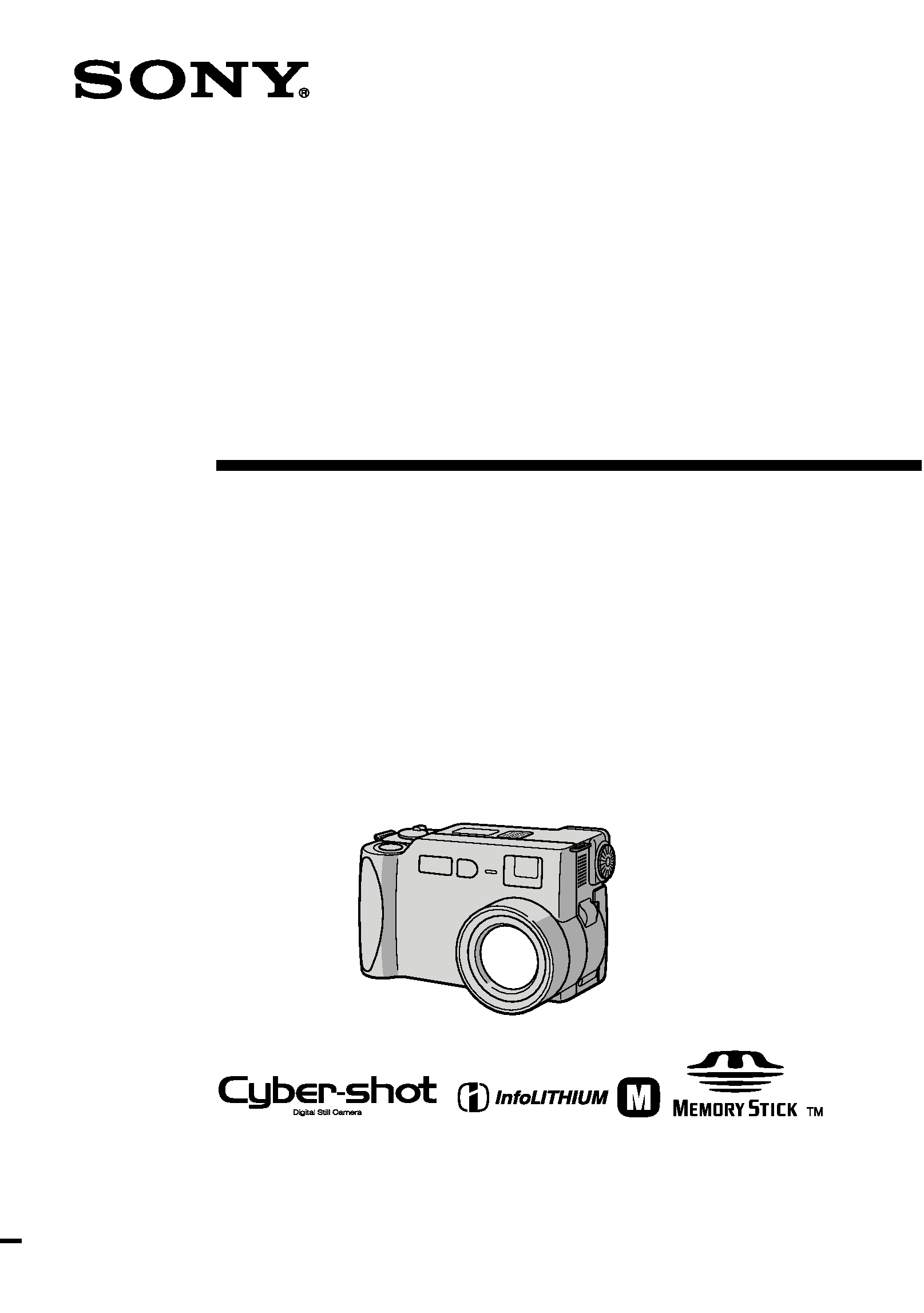 Before operating the unit, please read this manual thoroughly, and retain
The model and serial numbers are located on the bottom. Record the
serial number in the space provided below. Refer to these numbers
whenever you call upon your Sony dealer regarding this product.
Serial No. ________________________
---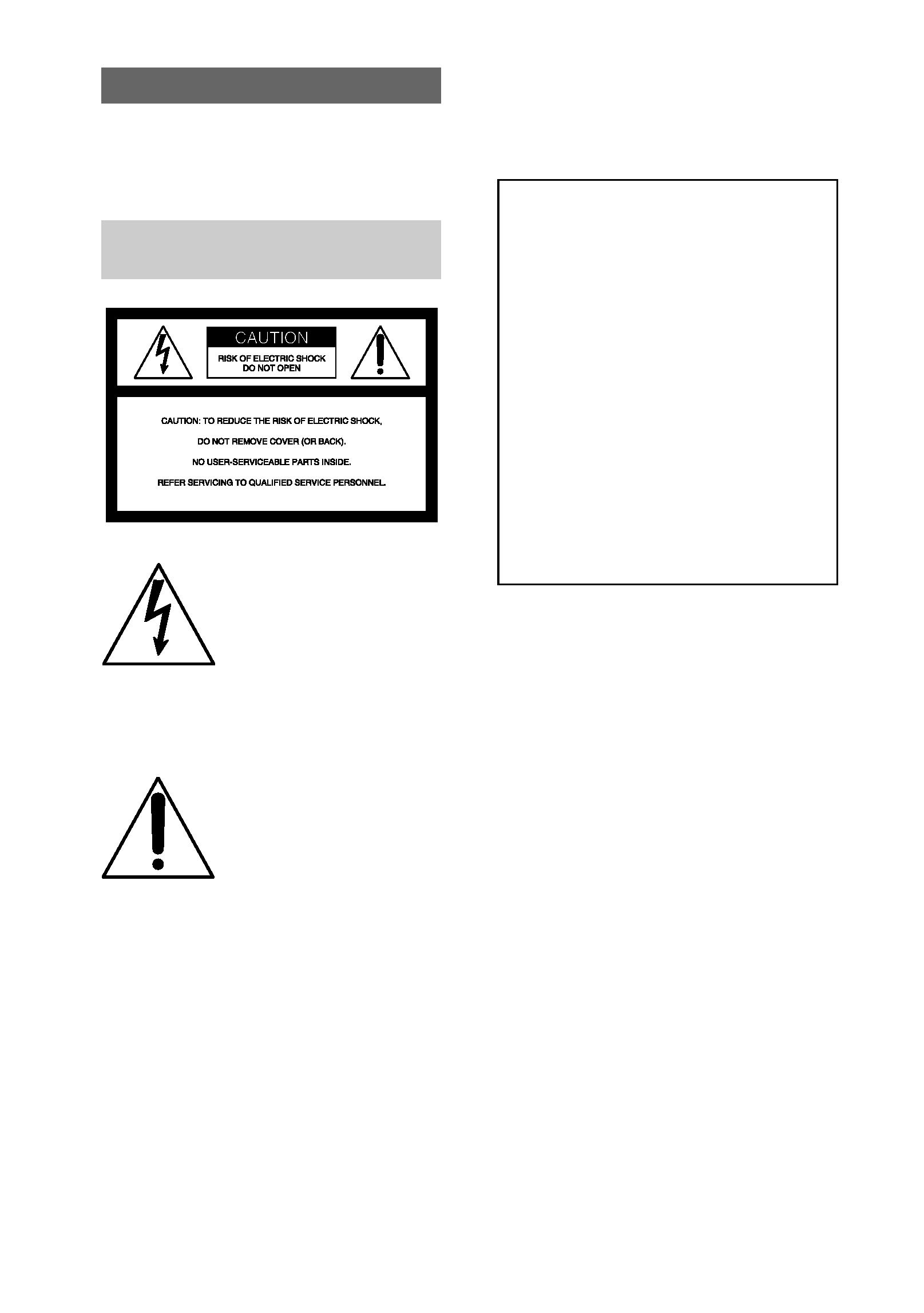 To prevent fire or shock hazard, do
not expose the unit to rain or
Never expose the battery pack to
temperature above 140°F (60°C), such as in
a car parked in the sun or under direct
If you have any questions about this product,
Sony Customer Information Services Center
Sony Customer Information Services Center
12451 Gateway Boulevard Ft. Myers,
You are cautioned that any changes or
modifications not expressly approved in this
manual could void your authority to operate
This equipment has been tested and found to
comply with the limits for a Class B digital
device, pursuant to Part 15 of the FCC
Rules. These limits are designed to provide
reasonable protection against harmful
interference in a residential installation. This
equipment generates, uses, and can radiate
radio frequency energy and, if not installed
and used in accordance with the
instructions, may cause harmful interference
to radio communications. However, there is
no guarantee that interference will not occur
in a particular installation. If this equipment
does cause harmful interference to radio or
television reception, which can be
determined by turning the equipment off and
on, the user is encouraged to try to correct
the interference by one or more of the
-- Reorient or relocate the receiving
-- Increase the separation between the
-- Connect the equipment into an outlet
on a circuit different from that to which
the receiver is connected.
-- Consult the dealer or an experienced
radio/TV technician for help.
This symbol is intended to
alert the user to the presence
of uninsulated "dangerous
magnitude to constitute a
risk of electric shock to
This symbol is intended to
alert the user to the presence
of important operating and
instructions in the literature
Declaration of Conformity
Responsible Party:Sony Electronics Inc.
This device complies with Part 15 of the
FCC Rules. Operation is subject to the
following two conditions: (1) This
device may not cause harmful
interference, and (2) this device must
accept any interference received,
including interference that may cause
---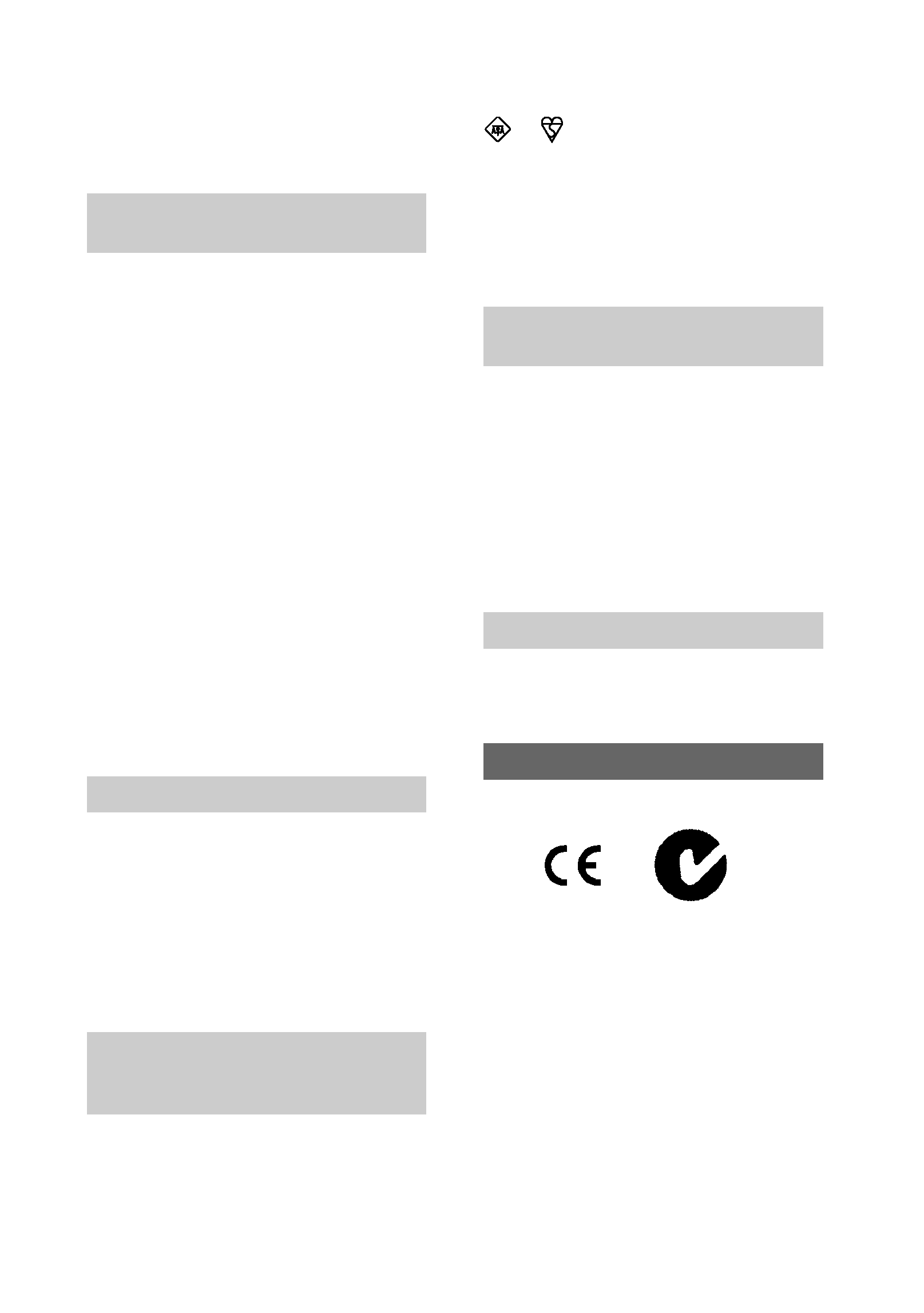 The shielded interface cable recommended
in this manual must be used with this
equipment in order to comply with the limits
for a digital device pursuant to Subpart B of
You can return your unwanted lithium ion
batteries to your nearest Sony Service
Center or Factory Service Center.
In some areas the disposal of lithium ion
batteries in household or business trash may
For the Sony Service Center nearest you call
1-800-222-SONY (United States only)
For the Sony Factory Service Center nearest
you call 416-499-SONY (Canada only)
Do not handle damaged or leaking lithium
TO PREVENT ELECTRIC SHOCK, DO
NOT USE THIS POLARIZED AC PLUG
RECEPTACLE OR OTHER OUTLET
UNLESS THE BLADES CAN BE FULLY
INSERTED TO PREVENT BLADE
A moulded plug complying with BS 1363 is
fitted to this equipment for your safety and
Should the fuse in the plug supplied need to
be replaced, a 5 AMP fuse approved by
ASTA or BSI to BS 1362, (i.e. marked with
If the plug supplied with this equipment has
a detachable fuse cover, be sure to attach the
fuse cover after you change the fuse. Never
use the plug without the fuse cover. If you
should lose the fuse cover, please contact
your nearest Sony service station.
Directive:EMC Directive 89/336/EEC.92/
This equipment complies with the EMC
regulations when used under the following
· Light-industry district
(This equipment complies with the EMC
standard regulations EN55022 Class B.)
The electromagnetic fields at the specific
frequencies may influence the picture and
For the Customers in CANADA
This Class B digital apparatus complies with
This device complies with Part 15 of the
FCC Rules. Operation is subject to the
following two conditions: (1) This device
may not cause harmful interference, and
(2) this device must accept any interference
received, including interference that may
cause undesired operation.
For the Customers in Canada
---

Before you record one-time events, you may
want to make a trial recording to make sure
that the camera is working correctly.
No compensation for contents of
Contents of the recording cannot be
compensated for if recording or playback is
not possible due to a malfunction of your
Notes on image data compatibility
· This camera conforms with the Design
Rules for Camera File Systems universal
standard established by the JEIDA (Japan
Electronic Industries Development
Association). You cannot play back on
your camera still images recorded on other
equipment (DCR-TRV890E/TRV900/
TRV900E, DSC-D700, DSC-D770) that
does not conform with this universal
standard. (These models are not sold in
· Playback of images recorded with your
camera on other equipment and playback
of images recorded or edited with other
equipment on your camera are not
Television programs, films, video tapes, and
other materials may be copyrighted.
Unauthorized recording of such materials
may be contrary to the provision of the
Do not shake or strike the camera
In addition to malfunctions and inability to
record images, this may render the
"Memory Stick" unusable or image data
breakdown, damage or loss may occur.
Do not aim the camera at the sun
This may cause irrecoverable damage to
· The LCD screen is manufactured using
high-precision technology. However, there
may be some tiny black points and/or
bright points (red, blue or green in color)
that constantly appear on the LCD screen.
These points are normal in the
manufacturing process and do not affect
the recording in any way. Over 99.99% of
the pixels are operational for effective use.
· Be careful when placing the camera near a
window or outdoors. Exposing the LCD
screen or the lens to direct sunlight for
long periods may cause malfunctions.
Do not get the camera wet
When taking pictures outdoors in the rain or
under similar conditions, be careful not to
get the camera wet. If moisture
condensation occurs, refer to page 54 and
follow the instructions on how to remove it
To avoid the potential risk of data loss,
always copy (back up) data to a disk.
Handling of the movable lens
This camera uses a movable lens.
Be careful not to strike or apply excessive
force to the lens portion.
Be sure to read the following
About the Carl Zeiss lens
This camera is equipped with a Carl Zeiss
lens which is capable of reproducing fine
images. The lens for this camera uses the
MTF* measurement system for cameras
developed jointly by Carl Zeiss, in
Germany, and Sony Corporation, and
offers the same quality as other Carl
MTF is the abbreviation of Modulation
Transfer Function/Factor, a numeric
value indicating the ability to reproduce
---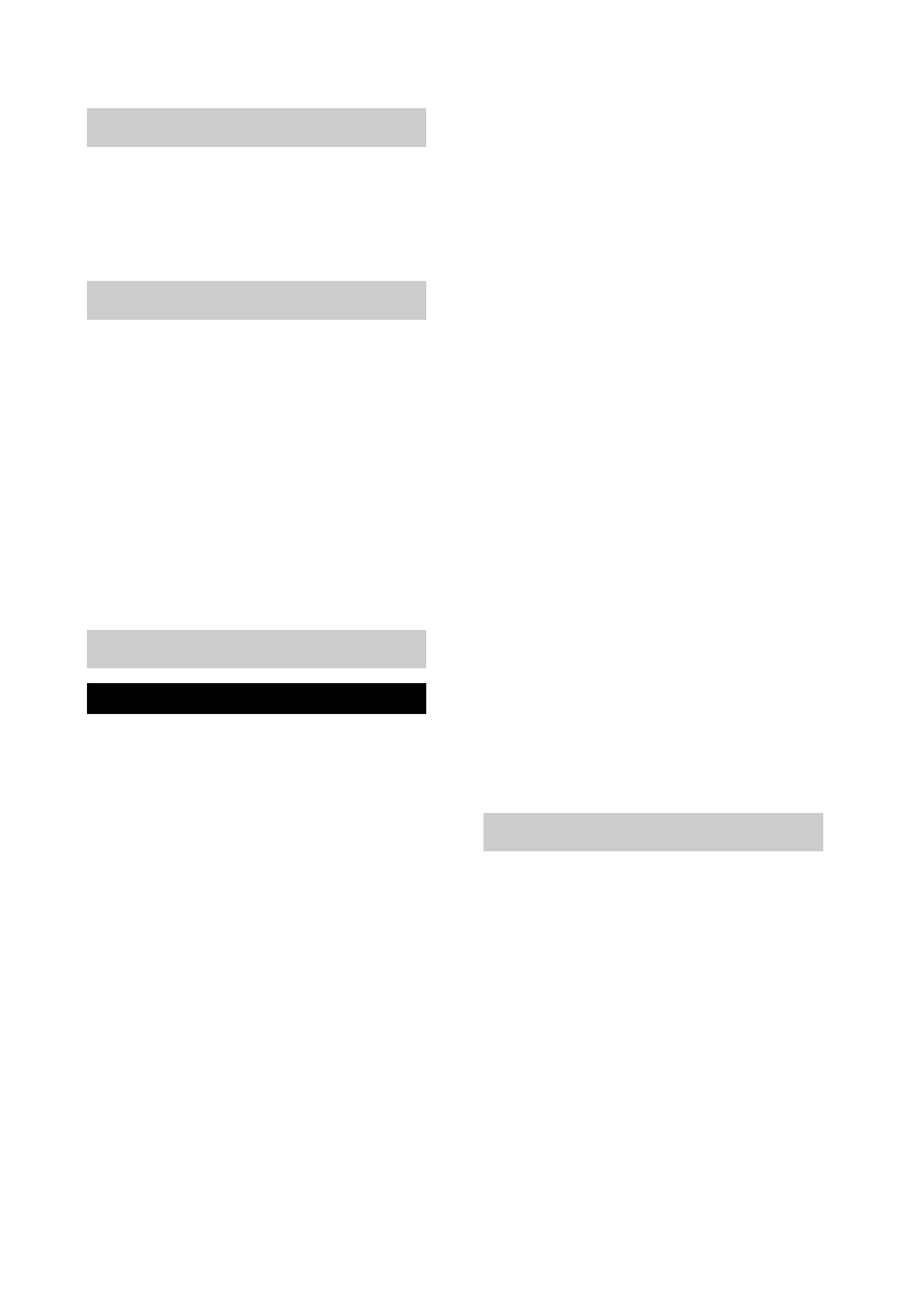 Identifying the parts .............................. 6
Preparing the power supply .................. 8
Setting the date and time ..................... 13
Inserting the "Memory Stick" ............. 15
Recording still images ........................ 16
Recording moving images .................. 21
Playing back still images .................... 22
Playing back moving images .............. 23
Viewing images using a personal
computer ...................................... 25
Image file storage destinations and
image files .................................... 29
How to use the MODE selector .......... 30
How to use the control button ............. 30
How to change the menu settings ....... 32
Menu settings ...................................... 33
(IMAGE SIZE) ............................ 38
Recording still images for e-mail
(E-MAIL) ..................................... 39
Adding audio files to still images
(VOICE) ...................................... 39
Recording text documents (TEXT) ..... 40
Recording uncompressed images
(TIFF) ........................................... 40
Recording images in macro ................ 41
Setting the distance to the subject ....... 41
Using the PROGRAM AE function .... 42
(EXPOSURE) .............................. 43
Adjusting the white balance
(WHITE BALANCE) .................. 43
Recording the date and time on the still
image (DATE/TIME) .................. 44
(P.EFFECT) ................................. 44
Playing back six images at once
(INDEX) ...................................... 45
Enlarging a part of the still image
(Zoom and trimming) .................. 46
Rotating a still image (ROTATE) ....... 47
Playing back the images in order
(SLIDE SHOW) ........................... 47
Viewing images on a TV screen ......... 48
Preventing accidental erasure
(PROTECT) ................................. 49
Deleting images (DELETE) ................ 50
Changing the recorded still image size
(RESIZE) ..................................... 51
Copying images (COPY) .................... 51
Selecting still images to print
(PRINT MARK) .......................... 53
Precautions .......................................... 54
On "Memory Sticks" .......................... 55
Using your camera abroad .................. 56
Troubleshooting .................................. 57
Warning and notice messages ............. 61
Self-diagnosis display ......................... 62
Specifications ...................................... 63
Display window indicators ................. 64
LCD screen indicators ........................ 65
Index ................................................... 67
Before performing advanced operations
---