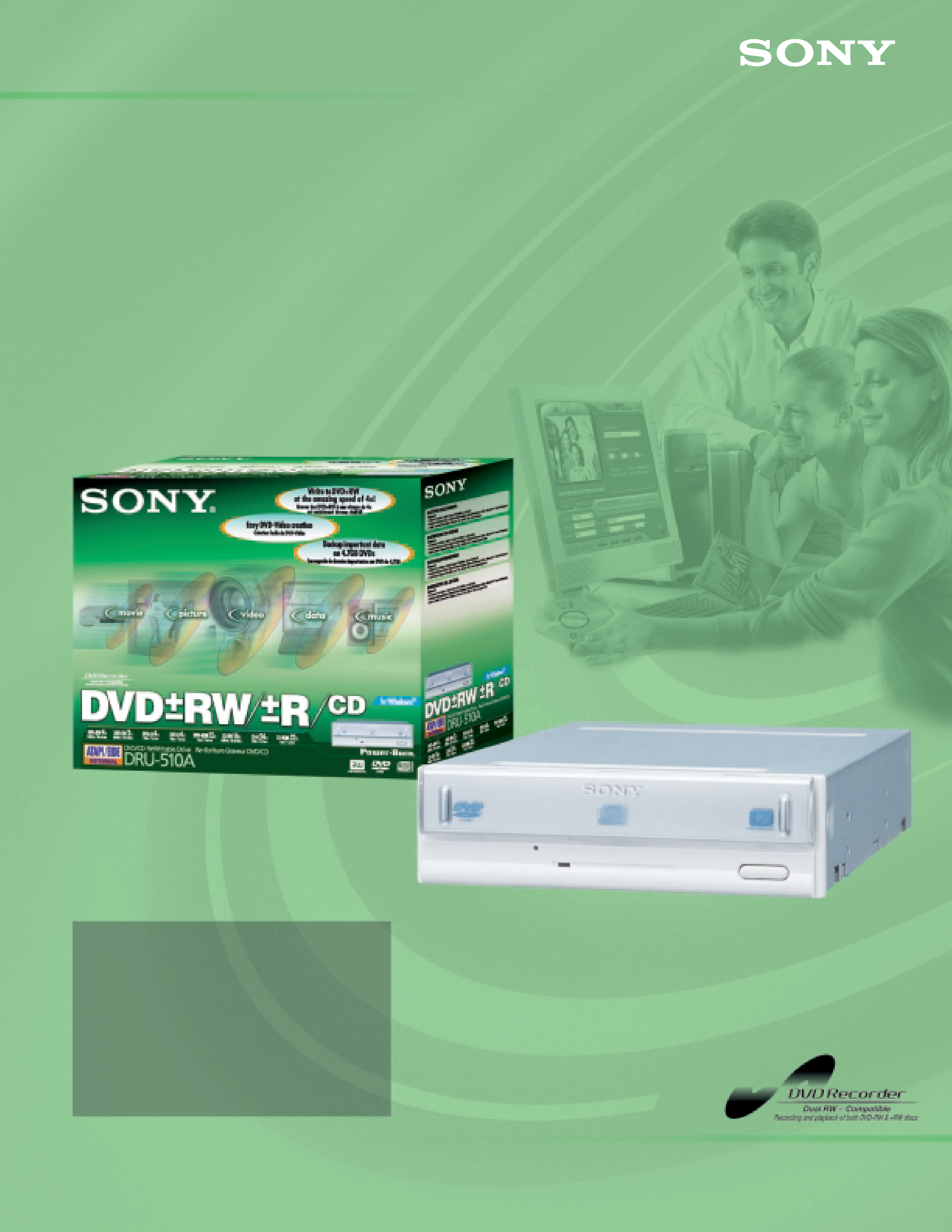 High Performance Dual RW DVD/CD Recorder for Microsoft®
Windows® 98SE, Windows Millennium Edition, Windows® 2000,
and Windows® XP Operating Systems
· Industry's First 4X multi-format DVD Burner
· Burns DVD-R/-RW and DVD+RW/+R Discs
· Burns CD-R and CD-RW Discs
· Includes Software for creating Video,
Data, Music, Photo, and Backup Discs
---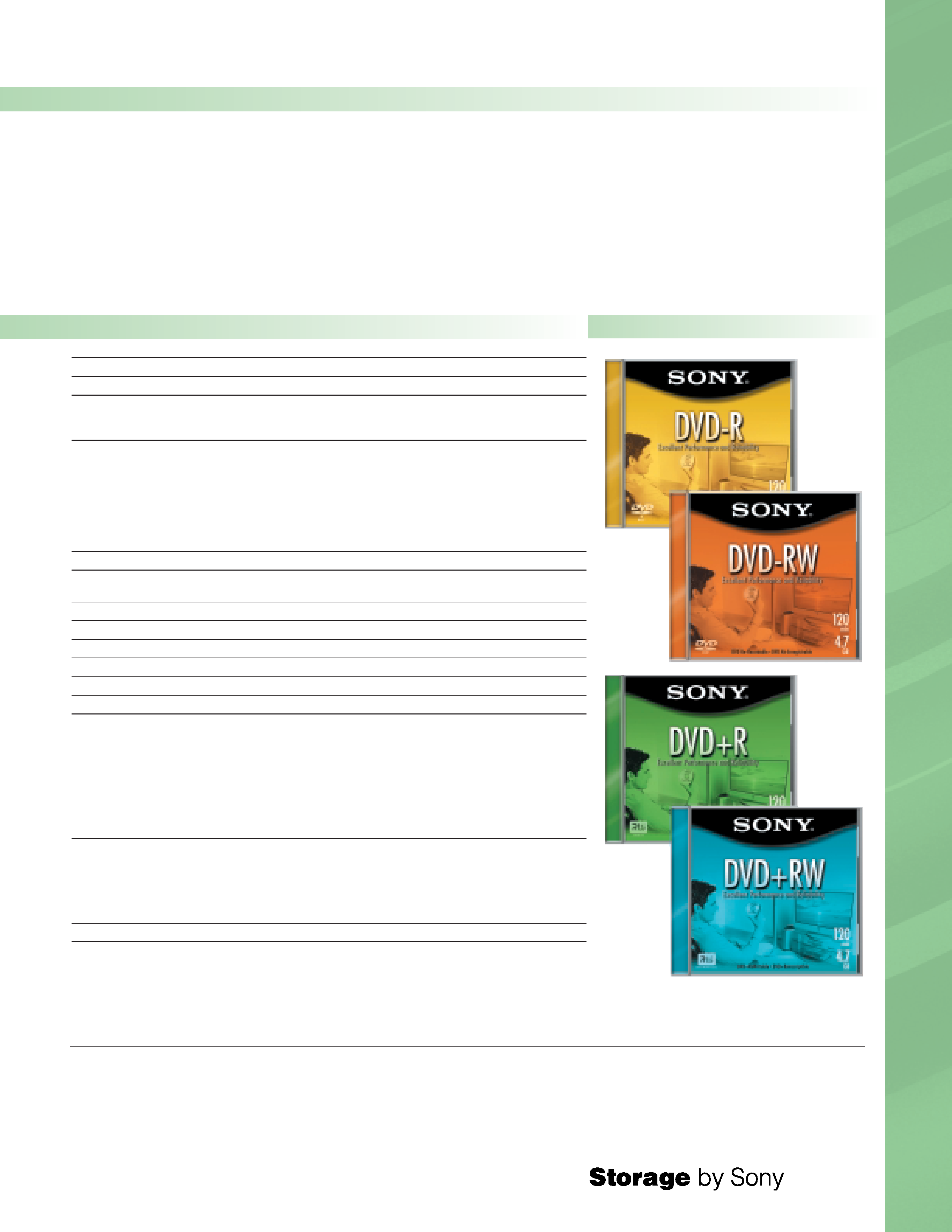 · All popular DVD formats are supported - Eliminates the worry in choosing a DVD recordable drive
· Maximum compatibility ­ Choose the DVD recordable media with the optimal compatibility with
· High performance CD-R/RW burning ­ Drive also functions as a high performance CD burner, too
· Powerful software bundle ­ Industry standard applications for creating and editing DVD video discs
from camcorder/VCR tapes, backing up your valuable data, storing and sharing large files, watching
DVD movies on your PC, and so much more
Information Technology Products Division
San Jose, California 95134
http://www.sony.com/storagebysony
http://www.sony.com/mediabysony
©2003 Sony Electronics Inc.
Reproduction in part or in whole without prior written permission is prohibited.
All rights reserved. Sony and Storage by Sony are trademarks of Sony. Microsoft and Windows are
trademarks of Microsoft Corporation. All other trademarks are property of their respective owners.
Non-metric weights and measurements are approximate. Features and specifications subject to
Internal Combination DVD-R/-RW, DVD+RW/+R, CD-R/RW drive
DVD-R/-RW, DVD+RW/+R: DVD-ROM, DVD-Video
CD: CD-DA, CD-ROM (XA), CD Extra, Video CD,
Photo CD*, CD Text, multi-session
Write (DVD-R) 1X, 2X, 4X** max.
Write (DVD-RW) 1X, 2X** max.
Write (DVD+R) 2.4X, 4X** max.
Write (DVD+RW) 2.4X, 4X max.**
Write (CD-R) 4X, 12X, 16X, 24X Z­CLV max.
Write (CD-RW) 4X, 10X**, 16X*** max.
SUSTAINED DATA TRANSFER RATE 11.4 MB/s (8X DVD-ROM)
+5V 1.6A max., +12V 2.0A max.
5.7 X 1.64 X 7.73 inches (145.6 X 41.6 X 196.4 mm)
Internal DRU-510A Dual RW drive
Veritas RecordNowTM DX CD/DVD mastering software
Veritas DLATM drive letter recording software
Veritas Simple BackupTM backup software
Sonic Solutions MyDVDTM DVD video authoring software
ArcSoft ShowBiz
®
video editing software
Cyberlink PowerDVD
®
soft DVD player software
MusicMatch
®
Jukebox software
Pentium
®
II 400 MHz or faster (or equivalent) CPU minimum.
Pentium III 800 MHz or faster (or equivalent) CPU is recom-
mended for real time video authoring/editing, 64 MB of RAM
(128 MB or more is recommended), and 1 GB of hard disc
space. Windows
®
98SE/2000, Windows
®
Millennium Edition,
Windows
®
XP Operating Systems
*Not supported with the bundled software, additional software required.
**High-speed DVD-R, DVD+R, DVD-RW, DVD+RW, CD-RW discs required.
***Requires Ultra speed CD-RW media.
PLEASE RECORD RESPONSIBLY. BEFORE COPYING ANYTHING ONTO A CD OR DVD DISC, PLEASE BE SURE YOU
ARE NOT VIOLATING COPYRIGHT LAWS. MOST SOFTWARE COMPANIES ALLOW YOU TO MAKE A BACK-UP OR
ARCHIVE COPY OF SOFTWARE. CHECK THE TERMS OF YOUR SOFTWARE LICENSE AGREEMENT FOR
---