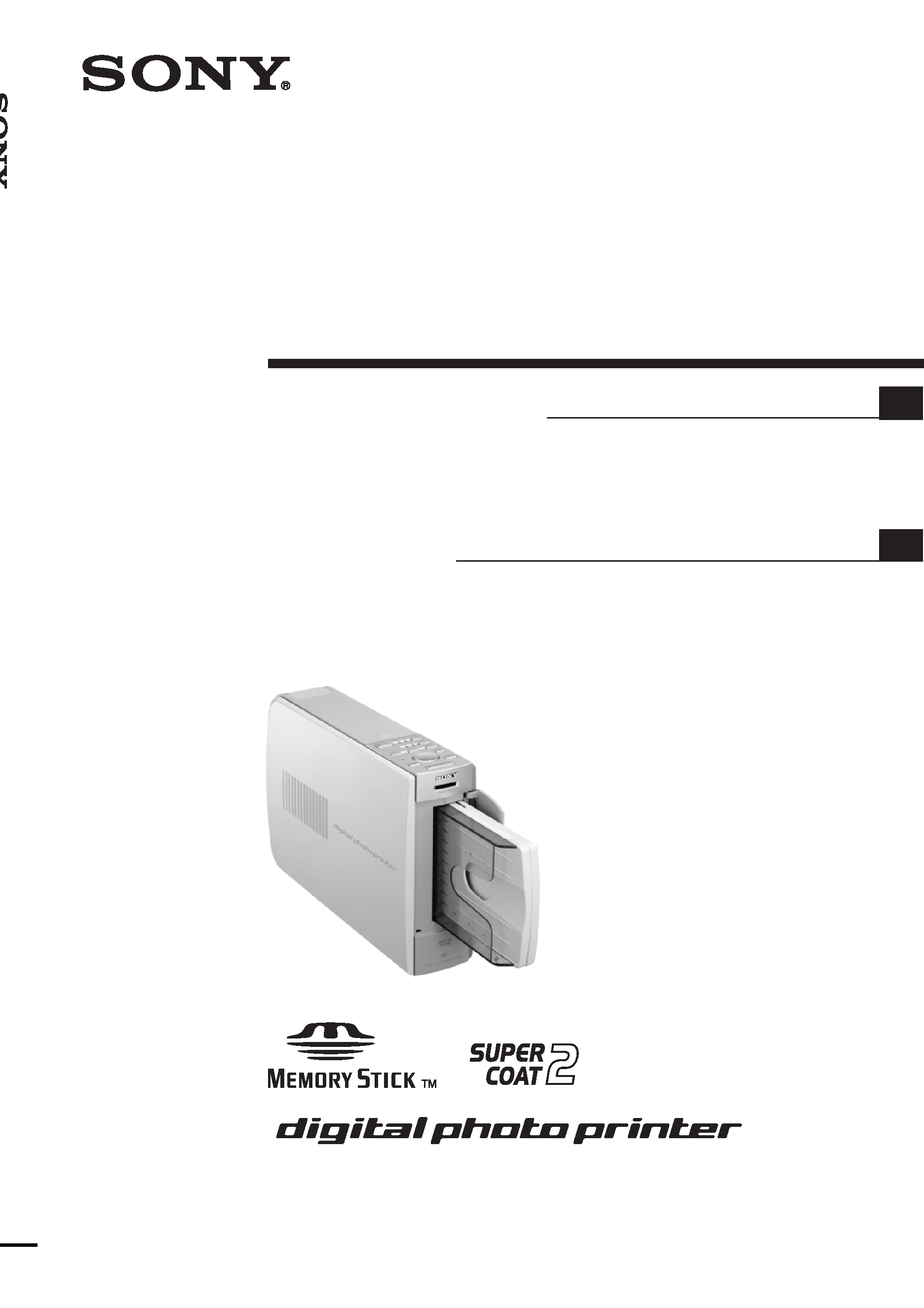 Before operating this printer, please read this
manual thoroughly and retain it for future
Avant d'utiliser cette imprimante, veuillez lire
attentivement ce manuel et le conserver pour toute
---

To prevent fire or shock hazard, do
not expose the unit to rain or
To avoid electrical shock, do not open
the cabinet. Refer servicing to
qualified personnel only.
Pictures and/or Sound distortion may occur if
this product is positioned in close proximity to
equipment emitting electromagnetic radiation.
Sony shall assume no responsibility for any
accidental or consequential damages or loss
of the recording contents which may be
caused by use or malfunction of the printer or
The model and serial numbers are located
on the bottom. Record the serial number
in the space provided below. Refer to this
number whenever you call upon your
Sony dealer regarding this product.
For the customers in the U.S.A.
This equipment has been tested and found to
comply with the limits for a Class B digital
device, pursuant to Part 15 of the FCC Rules.
These limits are designed to provide reasonable
protection against harmful interference in a
residential installation. This equipment generates,
uses, and can radiate radio frequency energy and,
if not installed and used in accordance with the
instructions, may cause harmful interference to
radio communications. However, there is no
guarantee that interference will not occur in a
particular installation. If this equipment does
cause harmful interference to radio or television
reception, which can be determined by turning
the equipment off and on, the user is encouraged
to try to correct the interference by one or more of
­Reorient or relocate the receiving antenna.
­Increase the separation between the
­ Connect the equipment into an outlet on a
circuit different from that to which the
­ Consult the dealer or an experienced radio/
You are cautioned that any changes or
modifications not expressly approved in this
manual could void your authority to operate this
The shielded interface cable recommended in this
manual must be used with this equipment in order
to comply with the limits for a digital device
pursuant to Subpart B of Part 15 of Fcc Rules.
If you have any questions about this product, you
Sony's Customer Information Services Center
(CISC) at 1-866-328-SONY (7669)
or Sony Web site at www.sony.com
---

·Microsoft, MS, MS-DOS and Windows
®
are registered trademarks of Microsoft
Corporation in the United States and
·IBM and PC/AT are registered
trademarks of International Business
·MMX and Pentium are registered
trademarks of Intel Corporation.
·Apple, Macintosh, Power Macintosh,
and Mac OS are registered trademarks of
Memory Stick" are trademarks of Sony
·"MagicGate" is the trademark of Sony
·This printer uses Exif Print (Exif 2.2)
·All other companies and product names
mentioned herein may be the
trademarks or registered trademarks of
their respective companies. Furthermore,
"TM" and "
®
" are not mentioned in each
Declaration of Conformity
Telephone No.: 201-930-6972
This device complies with part 15 of the
FCC Rules. Operation is subject to the
following two conditions:
(1) this device may not cause harmful
interference, and (2) this device must
accept any interference received, including
interference that may cause undesired
Duplication, edition, or printing of a CD,
TV programs, copyrighted materials such
as pictures or publications, or any other
materials except for your own recording or
creation is limited to private or domestic
use only. Unless you hold copyright or
have permission of copyright holders for
the materials to be duplicated, use of those
materials beyond this limit may infringe
the provisions of the copyright law and be
subject to the copyright holder's claim for
When using photo images with this
printer, pay special attention not to
infringe the provisions of the copyright
law. Any unauthorized use or
modification of others' portrait may also
For some demonstrations, performances,
or exhibits, photography may be
To avoid potential risk of data loss caused
by accidental operation or malfunction of
the printer, we recommend that you save a
backup copy of your data.
IN NO EVENT SHALL SELLER BE LIABLE
FOR ANY DIRECT, INCIDENTAL OR
CONSEQUENTIAL DAMAGES OF ANY
NATURE, OR LOSSES OR EXPENSES
RESULTING FROM ANY DEFECTIVE
PRODUCT OR THE USE OF ANY
---

Program © 2002 Sony Corporation
Documentation ©2002 Sony Corporation
All rights reserved. This manual or the software
described herein, in whole or in part, may not
be reproduced, translated or reduced to any
machine readable form without prior written
approval from Sony Corporation.
IN NO EVENT SHALL SONY CORPORATION
BE LIABLE FOR ANY INCIDENTAL,
CONSEQUENTIAL OR SPECIAL DAMAGES,
WHETHER BASED ON TORT, CONTACT, OR
OTHERWISE, ARISING OUT OF OR IN
CONNECTION WITH THIS MANUAL, THE
SOFTWARE OR OTHER INFORMATION
CONTAINED HEREIN OR THE USE THEREOF.
By breaking the seal of the envelope of the CD-
ROM package, you accept all the terms and
conditions of this agreement. If you do not
accept these terms and conditions, please
return this disk envelope unopened, along with
the rest of the package, immediately to the
dealer where you obtained it.
Sony Corporation reserves the right to make
any modification to this manual or the
information contained herein at any time
The software described herein may also be
governed by the terms of a separate user license
To receive customer services, complete and
return the registration card included in your
Any design data such as sample pictures
provided in this software cannot be modified or
duplicated except for the purpose of personal
use. Any unauthorized duplication of this
software is prohibited under copyright law.
Please note that unauthorized duplication or
modification of others' portraits or copyrighted
work could infringe the rights reserved by right
Features .................................................. 6
Unpacking the printer ............................. 8
Identifying the parts ............................... 9
Connecting the printer .................... 12
Connecting to a television ....................... 12
Connecting the AC power cord ................ 13
Inserting a "Memory Stick" ..................... 14
Connecting to a computer (optional) ....... 15
Preparing the printing pack ............ 16
Loading the print cartridge ............. 17
Inserting the print paper ................. 19
Basic printing operations
"Memory Stick" images ................. 21
Printing all the images or DPOF preset
images at one time ......................... 25
---
Advanced printing operations
Adding effects to an image .................. 27
What you can do with the EFFECT menu .. 27
Changing an image size and position ...... 29
Changing an image position .................... 29
Adjusting the pictures ............................. 30
Adding a special filter to an image .......... 32
Entering characters on an image .............. 33
(CREATIVE PRINT) ........................... 36
What you can do with the CREATIVE PRINT
menu ...................................................... 36
Making a card ......................................... 38
Making a calendar .................................. 42
Making a sticker ...................................... 44
Making split images ................................ 45
Setting the printer (MENU) ................... 47
What you can do with the MENU ............ 47
Changing the printer preferences
(SETUP) ................................................... 48
Viewing the slideshow .......................... 52
Making an index print .......................... 53
Deleting images .................................... 54
Deleting selected image(s) ....................... 54
Formatting a "Memory Stick" .................. 55
Printing from your computer
Using your printer with Windows
computers ....................................... 56
System requirements ............................... 56
Installing the printer driver ...................... 57
Printing from a application software ........ 60
Using your printer with Macintosh
computers ....................................... 66
System requirements ............................... 66
Installing the printer driver ...................... 67
Printing from a application software ........ 70
Precautions ........................................... 73
About the "Memory Stick" ................... 75
What is "Memory Stick"? ........................ 75
Types of "Memory Stick" ......................... 75
Types of "Memory Stick" that the printer can
use ......................................................... 75
Notes on use ........................................... 76
Troubleshooting ................................... 78
If paper jams ........................................... 80
Cleaning the inside of the printer ............. 80
Specifications ....................................... 82
Glossary ................................................ 84
Index .................................................... 85
---