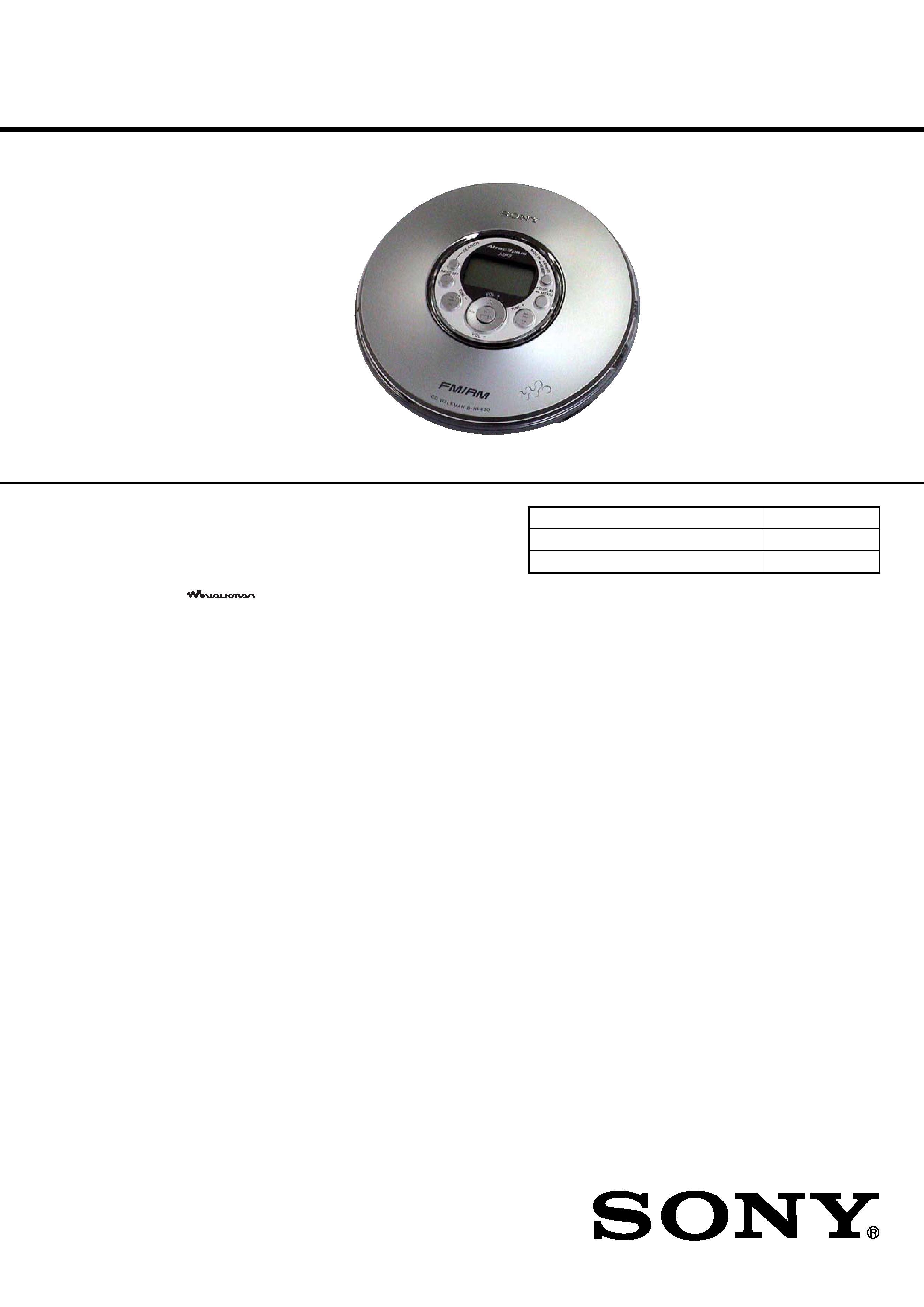 Model Name Using Similar Mechanism
Published by Sony Engineering Corporation
­ Continued on next page ­
US and foreign patents licensed from Dolby Laboratories.
· SonicStage and SonicStage logo are trademarks or registered trademarks of Sony
· OpenMG, Net MD, ATRAC, ATRAC3plus and their logos are trademarks of Sony
· "WALKMAN" is a registered trademark of Sony Corporation to represent Headphone
is a trademark of Sony Corporation.
· Microsoft, Windows, Windows NT and Windows Media are trademarks or registered
trademarks of Microsoft Corporation in the United States and /or other countries.
· IBM and PC/AT are registered trademarks of International Business Machines
· Macintosh is a trademark of Apple Computer, Inc. in the United States and/or other
· Pentium is a trademark or a registered trademark of Intel Corporation.
· All other trademarks and registered trademarks are trademarks or registered trademarks
of their respective holders. TM and ® marks are omitted in this manual.
· CD and music-related data from Gracenote, Inc., copyright © 2000-2003 Gracenote.
Gracenote CDDB
®
Client software, copyright 2000-2003 Gracenote. This product and
service may practice one or more of the following U.S. Patents: #5,987,525; #6,061,680;
#6,154,773, #6,161,132, #6,230,192, #6,230,207, #6,240,459, #6,330,593, and other
patents issued or pending.
Gracenote and CDDB are registered trademarks of Gracenote. The Gracenote logo and
logotype, the Gracenote CDDB logo, and the "Powered by Gracenote" logo are
Program © 2001, 2002, 2003, 2004 Sony Corporation
Documentation © 2004 Sony Corporation
Output (at 3 V input level)
Headphones (stereo minijack)
Approx. 5 mW + Approx. 5 mW at 16
(Approx. 1.5 mW + Approx. 1.5 mW at 16
*For the customers in AEP, UK, EE, RU models
---

ATTENTION AU COMPOSANT AYANT RAPPORT
LES COMPOSANTS IDENTIFIÉS PAR UNE MARQUE 0 SUR
LES DIAGRAMMES SCHÉMATIQUES ET LA LISTE DES
FONCTIONNEMENT. NE REMPLACER CES COM- POSANTS
QUE PAR DES PIÈCES SONY DONT LES NUMÉROS SONT
DONNÉS DANS CE MANUEL OU DANS LES SUPPLÉMENTS
SAFETY-RELATED COMPONENT WARNING!!
COMPONENTS IDENTIFIED BY MARK 0 OR DOTTED LINE
WITH MARK 0 ON THE SCHEMATIC DIAGRAMS AND IN
THE PARTS LIST ARE CRITICAL TO SAFE OPERATION.
REPLACE THESE COMPONENTS WITH SONY PARTS WHOSE
PART NUMBERS APPEAR AS SHOWN IN THIS MANUAL OR
IN SUPPLEMENTS PUBLISHED BY SONY.
AC power adaptor (Except US, Canadian models)
Installation/Operating Guide
E19 : South African, Singapore, Malaysia,
E19/1: Singapore, Malaysia and Thai model
E19/2: Chilean and Peruvian model
E92 : Panama, Venezuelan and Caribbian
: East European and Russian model
· AEP, UK, EE, RU* models
· E19/2, E92, MX, E/4* models
· AUS, E19, E19/1* models
WB (weather band): 1 - 7 ch
WB (weather band): 1 - 7 ch
*For the area code of the model you purchased,
check the upper left side of the bar code on the
FM: Earphones cord antenna
AM: Built-in ferrite bar antenna
· LR6 (size AA) battery: 1.5 V DC × 1
· AC power adaptor (DC IN 3 V jack):
120 V, 60 Hz (US, CND, E92, MX models)
230 V, 50 Hz (E19, E19/1, E19/2, RU models)
100 - 240 V, 50/60 Hz (other models)
---
Notes on chip component replacement
· Never reuse a disconnected chip component.
· Notice that the minus side of a tantalum capacitor may be
Flexible Circuit Board Repairing
· Keep the temperature of the soldering iron around 270 °C
· Do not touch the soldering iron on the same conductor of the
circuit board (within 3 times).
· Be careful not to apply force on the conductor when soldering
Use of controls or adjustments or performance of procedures
other than those specified herein may result in hazardous radiation
SERVICING NOTES
................................................ 4
GENERAL
................................................................... 6
Disassembly Flow ...........................................................
Cabinet (Lower), Upper Lid Sub Assy ............................
JACK Board, Optical Pick-up Assy (CDM-3325ERV2) .
SWITCH Board (Except PSYC Model) ..........................
ELECTRICAL ADJUSTMENT
............................. 9
Printed Wiring Board ­ EGL Board ­ ............................ 12
Schematic Diagram ­ EGL Board ­ ............................... 13
­ JACK Board (Component Side) ­ ................................ 14
­ JACK Board (Conductor Side) ­ .................................. 15
Schematic Diagram ­ JACK Board ­ ............................. 16
­ SWITCH Board (Except PSYC Model) ­ .................... 17
­ SWITCH Board (Except PSYC Model) ­ .................... 18
Upper Lid Sub Assy Section (PSYC model) ................... 27
Upper Lid Section (Except PSYC model) ....................... 28
Cabinet (Lower) Section .................................................. 29
Optical Pick-up Section (CDM-3325ERV2) ................... 30
ELECTRICAL PARTS LIST
.................................. 31
---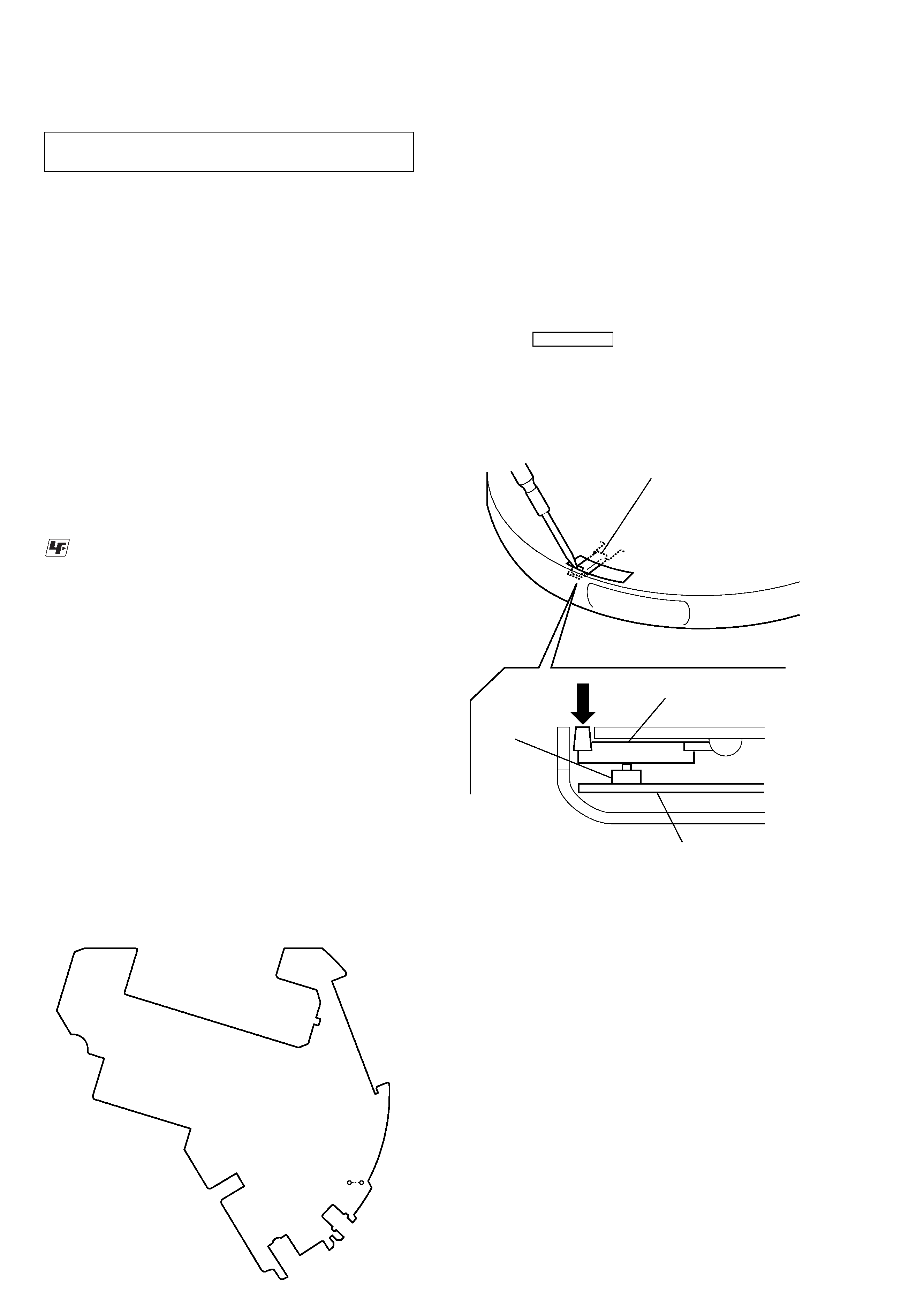 NOTES ON HANDLING THE OPTICAL PICK-UP
The laser diode in the optical pick-up block may suffer electrostatic
break-down because of the potential difference generated by the
charged electrostatic load, etc. on clothing and the human body.
During repair, pay attention to electrostatic break-down and also
use the procedure in the printed matter which is included in the
The flexible board is easily damaged and should be handled with
LASER DIODE AND FOCUS SEARCH OPERATION
During normal operation of the equipment, emission of the laser
diode is prohibited unless the upper lid is closed while turning ON
the S531. (push switch type)
The following checking method for the laser diode is operable.
Emission of the laser diode is visually checked.
2. With a disc not set, turn on the S531 with a screwdriver having
a thin tip as shown in Fig.1.
3. Press the u ENTER button.
4. Observing the objective lens, check that the laser diode emits
When the laser diode does not emit light, automatic power
control circuit or optical pick-up is faulty.
In this operation, the objective lens will move up and down 2
times along with inward motion for the focus search.
NOTE ON REPLACEMENT OF EGL BOARD OR EEPROM
When EGL board is replaced or EEPROM (IC1602) on the EGL
board is replaced, patch processing is needed.
Confirm about information of patch processing to each service
NOTES ON LASER DIODE EMISSION CHECK
The laser beam on this model is concentrated so as to be focused on
the disc reflective surface by the objective lens in the optical pick-
up block. Therefore, when checking the laser diode emission,
observe from more than 30 cm away from the objective lens.
Fig. 1 Method to push the S531
Boards requiring use of unleaded solder are printed with the lead-
free mark (LF) indicating the solder contains no lead.
(Caution: Some printed circuit boards may not come printed with
the lead free mark due to their particular size)
Unleaded solder has the following characteristics.
· Unleaded solder melts at a temperature about 40 °C higher
Ordinary soldering irons can be used but the iron tip has to be
applied to the solder joint for a slightly longer time.
Soldering irons using a temperature regulator should be set to
Caution: The printed pattern (copper foil) may peel away if
the heated tip is applied for too long, so be careful!
Unleaded solder is more viscou-s (sticky, less prone to flow)
than ordinary solder so use caution not to let solder bridges
occur such as on IC pins, etc.
· Usable with ordinary solder
It is best to use only unleaded solder but unleaded solder may
also be added to ordinary solder.
OPERATION CHECK WHEN THE LID IS OPEN
In performing the repair with the power supplied to the set, removing
the JACK board causes the set to be disabled.
In such a case, make a solder bridge to short SL501 (OPEN) on the
­ JACK Board (Component Side) ­
---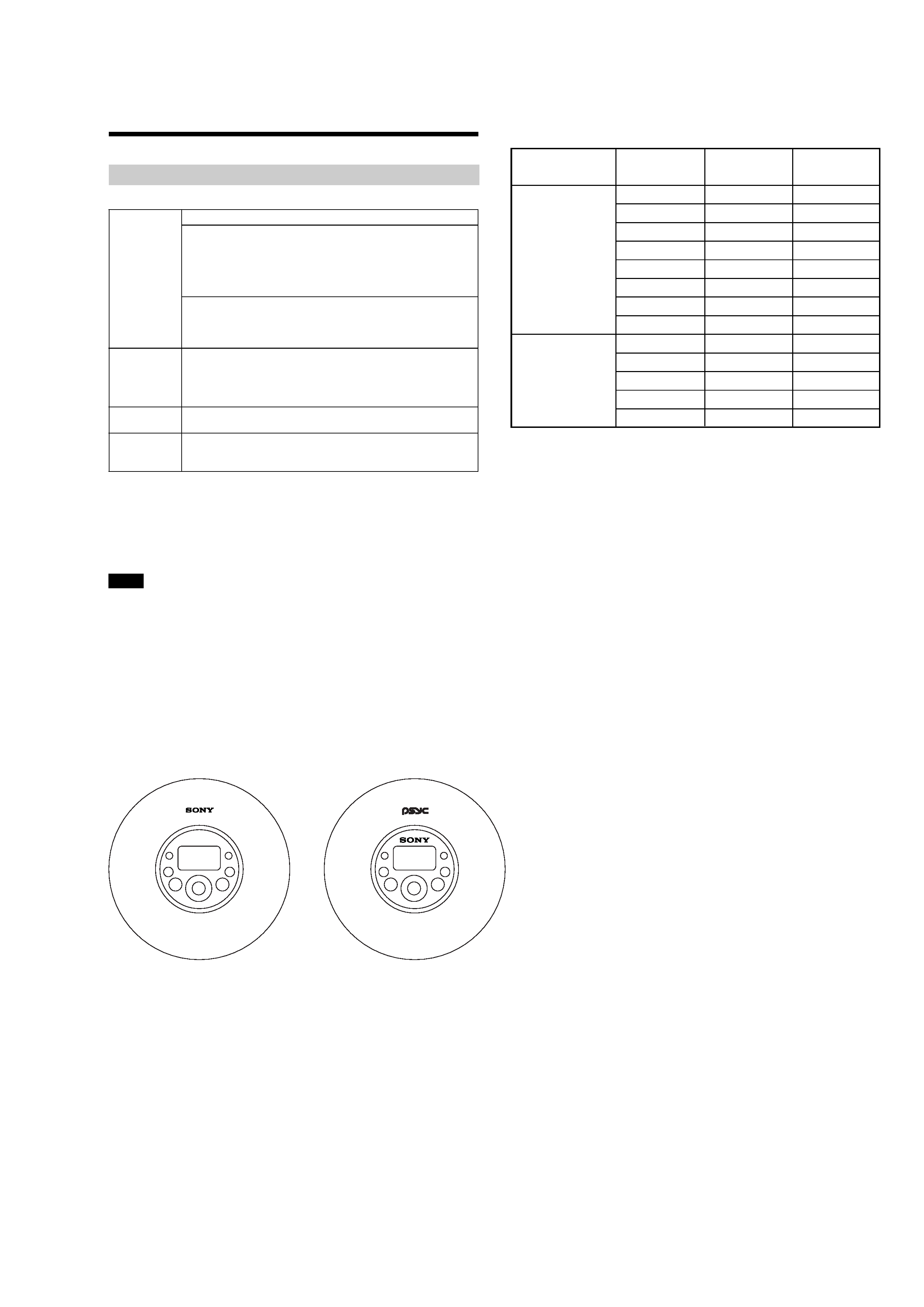 Providing the required system environment
The following system environment is required in order to use the SonicStage Ver. 2.3.
This software is not supported by the following environments:
· OSs other than the indicated above
· Personally constructed PCs or operating systems
· An environment that is an upgrade of the original manufacturer-installed operating system
· Multi-monitor environment
· We do not ensure trouble-free operation on all computers that satisfy the system requirements.
· The NTFS format of Windows XP/Windows 2000 Professional can be used only with the standard
· We do not ensure trouble-free operation of the system suspend, sleep, or hibernation function on all
· For Windows 2000 Professional users, install Service Pack 3 or later before using the software.
·CPU: Pentium II 400 MHz or higher (Pentium III 450 MHz or higher
·Hard disk drive space: 200 MB or more (1.5 GB or more is
recommended) (The amount space will vary according to Windows
version and the number of music files stored on the hard disk.)
·RAM: 64 MB or more (128 MB or more is recommended)
·CD drive (capable of digital playback by WDM)
·USB port (supports USB (previously USB 1.1))
Windows XP Media Center Edition 2005/Windows XP Media Center
Edition 2004/Windows XP Media Center Edition/Windows XP
Professional/Windows XP Home Edition/Windows 2000 Professional/
Windows Millennium Edition/Windows 98 Second Edition
High Color (16 bit) or higher, 800
or better is recommended)
·Internet access: for Web registration, EMD services and CDDB
·Windows Media Player (version 7.0 or higher) installed for playing
DISCRIMINATION OF ORIGINAL AND PSYC MODEL
There are two types of D-NF420.
­ COVER (UPPER LID) Top View ­
: South African, Singapore, Malaysia,
E19/1 : Singapore, Malaysia, and Thai model
E19/2 : Chilean and Peruvian model
: East European and Russian model
---