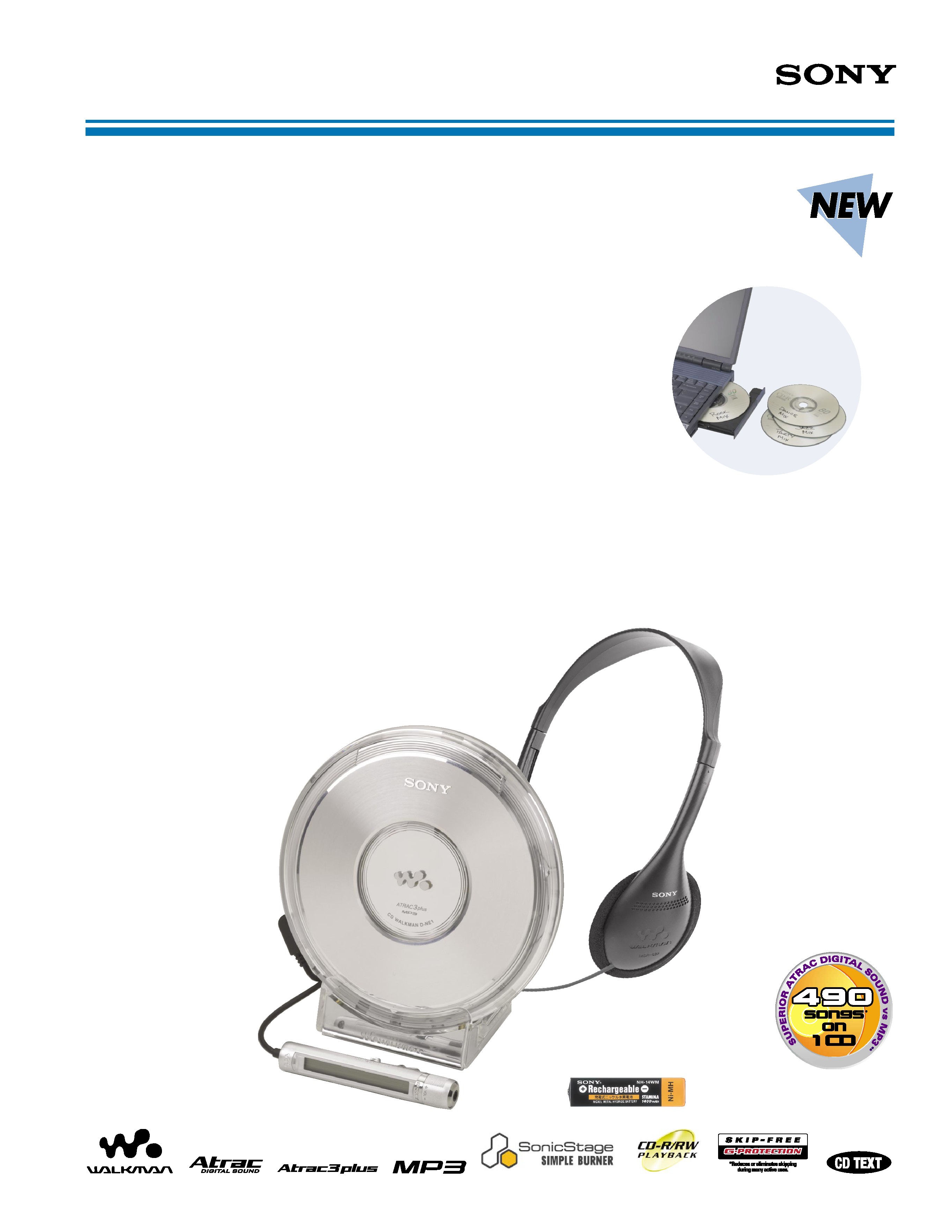 ATRAC3TM/MP3 CD Walkman® Portable Compact Disc Player
ULTRA SLIM FULL CIRCLE DESIGN
ATRAC3PLUSTM, ATRAC3 AND MP3 FORMAT PLAYBACK
SONICSTAGETM SIMPLE BURNER SOFTWARE SUPPLIED
LONG BATTERY LIFE OF UP TO 150 HOURS PLAYBACK WITH
(2) NH-14WM(A) RECHARGEABLE BATTERIES AND 2 "AA" BATTERIES FOR
ATRAC3PLUSTM PLAYBACK AND 90 HOURS FOR CD AUDIO PLAYBACK
(2) NH-14WM(A) GUMSTICK RECHARGEABLE BATTERIES SUPPLIED
SLIM STICK BACKLIT REMOTE CONTROL WITH DOT MATRIX DISPLAY
SUPPORTS CD TEXT AND ID3 TAGGING
JOG LEVER PLAYBACK OPERATION
NEW BOOKMARK PLAYBACK FUNCTION FOR EASY PROGRAMMING
SKIP-FREE* G-PROTECTIONTM TECHNOLOGY
2 POSITION AUTOMATIC VOLUME LIMITER SYSTEM (AVLS)
Download, Rip and Burn CDs on your PC
---

Sony Electronics Inc · 1 Sony Drive, Park Ridge, New Jersey 07656 · www.sony.com
v
ULTRA SLIM FULL CIRCLE DESIGN is exceptionally thin at just five-
eighths of an inch and weighs just 6
1
/
4
oz., with overall dimensions
virtually mirroring the CD itself
ATRAC3PLUSTM, ATRAC3 AND MP3 FORMAT PLAYBACK ATRAC3plus is an
advanced audio compression technology offering multiple bit rates,
allowing you to create music compilations tailored to your listening
preference with the ability to get up to 490** songs on 1 CD-R/RW disc
@ 48kbps. ATRAC3plus offers extended song capacity with superior
sound quality. You can also play back MP3 files (16-320kbps) downloaded
and recorded onto a CD-R/RW disc, including compilations from your
CD recorder deck or your PC
SONICSTAGETM SIMPLE BURNER SOFTWARE SUPPLIED is easy to use and
allows you to create your own ATRAC3plus music file compilations on
CD-R/RW media using your PC's CD-Rom drive. The ability to add your
own titles and edit your music groups allows for an element of
customization in your portable music
v
LONG BATTERY LIFE OF UP TO 150 HOURS PLAYBACK WITH
(2) NH-14WM(A) RECHARGEABLE BATTERIES AND 2 "AA" BATTERIES FOR
ATRAC3PLUSTM PLAYBACK AND 90 HOURS FOR CD AUDIO PLAYBACK
v
SLIM STICK BACKLIT REMOTE CONTROL WITH DOT MATRIX DISPLAY
fits naturally in your hand during jogging and allows you to access all
essential operations using only your thumb; shows all the information
indicated on LCD with Electronic Luminescent Light and makes it easy to
see and read the display even in the dark
· SUPPORTS CD TEXT AND ID3 TAGGING
allows you to easily see CD text
information and ID3 information including song title, album title and
v
JOG LEVER OPERATION: Built into both the CD Walkman® player body
and remote control, this feature allows for simple one-finger playback
operation so that you can control your CD music listening experience
v
BATTERY CHARGING STAND lets you simply place the CD Walkman on
its specially-designed stand to charge the rechargeable batteries, with no
need to press buttons or flip switches
NEW BOOKMARK PLAYBACK FUNCTION FOR EASY PROGRAMMING You
can easily program your favorite songs from multiple CDs and play them
back with the touch of a button. This feature makes it easy to program
and playback a personalized mix of your favorite songs
· SKIP FREE* G-PROTECTIONTM TECHNOLOGY
adds shock protection to the
pick-up mechanism, thereby minimizing the loss of position. Skip-Free
G-Protection technology continues to provide quick recovery from both
horizontal and vertical shock
lets you enjoy playback of music CDs created on
personal CD-R/CD-RW drives in addition to commercially produced CDs
· DIGITAL MEGA BASS® SOUND
uses digital processing technology to
produce rich, deep, bass tones with extremely low harmonic distortion
· DIGITAL VOLUME FUNCTION
provides for very precise adjustment of
volume level using a push button located on the front of the unit, while
the volume level appears on the LCD display
The lid dissipates heat so it will not cause internal
damage to the unit or burn the user
· 2 POSITION AUTOMATIC VOLUME LIMITER SYSTEM (AVLS)
volume output at levels below distortion threshold for cleaner sound
DIGITAL-ANALOG CONVERSION:
1 Bit Quartz Time-Axis Control
Headphone (stereo mini jack)
DC 4.5V NH-WM(A) x 2 & "AA" x 2 Batteries (not supplied)
ATRAC3plus Playback: 150 Hours with "AA" x 2 Batteries (not supplied)
CD Audio Playback: 90 Hours with "AA" x 2 Batteries (not supplied)
5
3
/
8
" x 5
3
/
8
" x
5
/
8
" (135.5 x 135.5 x 15.8mm)
Carrying Pouch, MDR-027LP Stereo Headphones,
SonicStage CD Simple Burner Software, AC Adaptor, Charging Stand,
NH-14WM(A) x 2 Rechargeable Batteries
©2003 Sony Electronics Inc.
Reproduction in whole or in part without written permission is prohibited. All rights reserved.
Sony, ATRAC3, ATRAC3plus, CD TEXT logo, G-Protection, Mega Bass, SonicStage and Walkman are
Features and specifications are subject to change without notice. Non-metric weights and measures
*Reduces or eliminates skipping during many active uses.
**Estimated at 4 minutes per song, using 700MB CD-R/RW media, compressing in ATRAC3PLUS @ 48 kbps.
***Estimated at 4 minutes per song, using 700MB CD-R/RW media, compressing in ATRAC3PLUS @ 64 kbps.
SUPERIOR ATRAC DIGITAL SOUND
*Estimated at 4 minutes per song, using 700MB CD-R/RW media
---