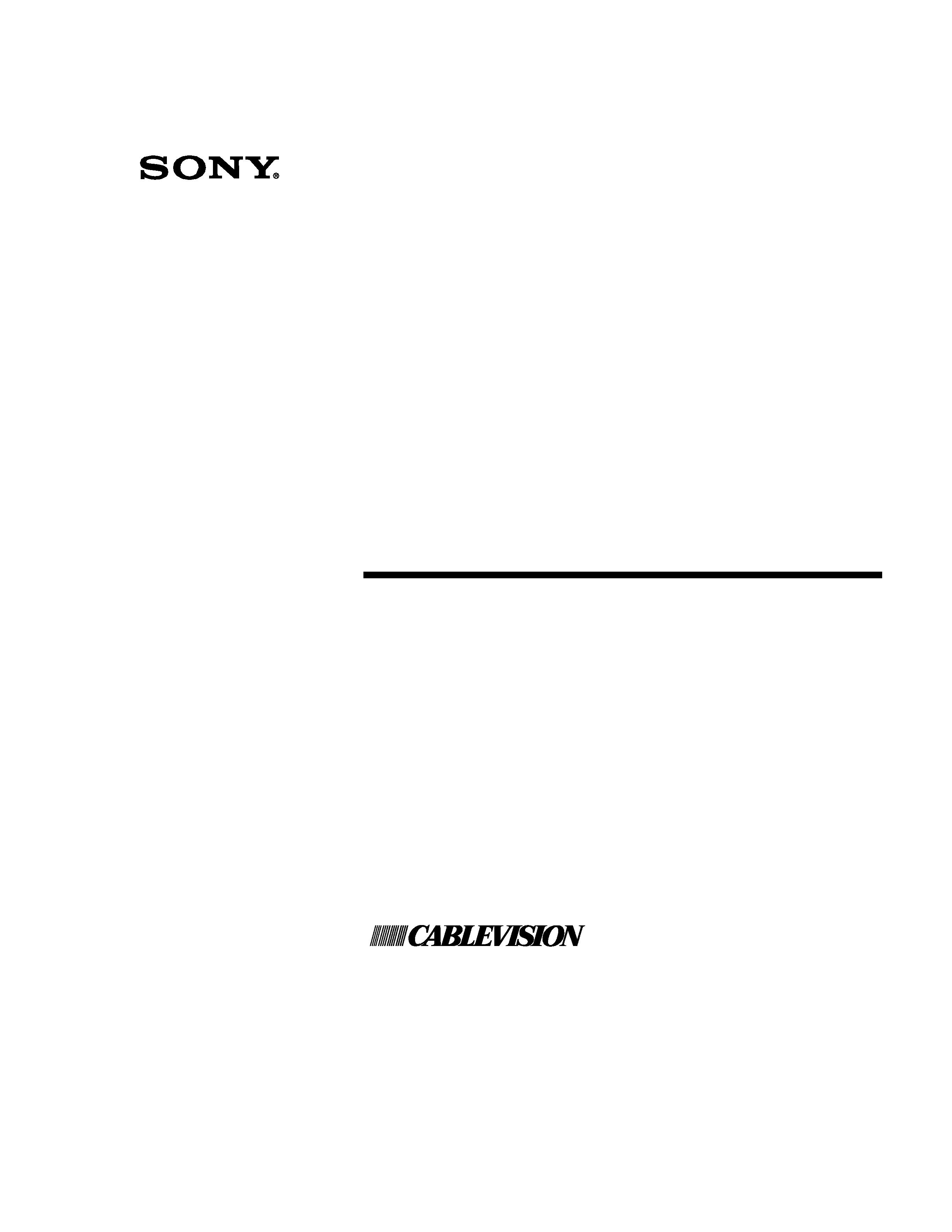 Hardware Setup Instructions
© 2000 by Sony Corporation. Reproduction in whole or in
part without written permission is prohibited. All rights reserved.
CV.book Page i Thursday, November 30, 2000 2:31 PM
---

Sony Software License Agreement
ATTENTION: USE OF THE SOFTWARE IS SUBJECT TO THE
SONY SOFTWARE LICENSE TERMS SET FORTH BELOW. USING
THE SOFTWARE OR THE PRODUCT IN WHICH IT IS
INCORPORATED INDICATES USER'S ACCEPTANCE OF THESE
LICENSE TERMS. IF THE USER DOES NOT ACCEPT THESE
LICENSE TERMS, THE USER SHOULD IMMEDIATELY RETURN
THE ENTIRE PRODUCT IN ITS ORIGINAL PACKING IN ORDER
TO RECEIVE A FULL REFUND OF THE PURCHASE PRICE.
Sony Electronics Inc. ("Sony") grants User a license to Use one
copy of the software which is provided to you as part of this Sony
product ("Software"). "Use" means storing, loading, installing,
executing or displaying the Software. User may not copy, modify
the Software or disable any licensing or control features of the
Software. No portion of the Software may be reproduced in any
form, or by any means, without prior written permission from
Sony. User is not permitted to modify, distribute, publish, transmit
or create derivative works of any Software included for any public
or commercial purposes. In consideration of this authorization,
User agrees that any copy of this Software which User makes shall
retain all copyright and other proprietary notices in the same form
and manner as on the original. Except as specified above, nothing
contained herein shall be construed as conferring by implication,
estoppel or otherwise any license or right under any patent,
trademark or copyright of Sony, its affiliates or any third party
licensor. User may not in any way sell, lease, rent, license,
sublicense or otherwise distribute the Software. The Software may
only be accessed by the functionality of the Sony product in which
the Software is incorporated by Sony (the "Product(s)"), and a User
shall not intentionally make the Software directly accessible to
others or to hardware other than the Products, or otherwise expose
an API. Nothing in this Agreement grants User any rights, license
or interest with respect to source code of the Software. User shall
not modify, translate, reverse engineer, decompile or disassemble
the Software or any part thereof or otherwise attempt to derive
source code or create derivative works therefrom, and shall not
authorize any third party to do any of the foregoing unless Sony's
prior written consent is obtained. Sony may elect to provide to
User updates and other support services for the licensed Software.
All updates provided to User shall constitute licensed Software
under this License, and such updates shall be governed by the
The Software is owned and copyrighted by Sony, its affiliates or its
third party licensors. User's license confers no title or ownership in
the Software and is not a sale of any rights in the Software. Sony's
affiliates and/or third party suppliers may protect their rights
directly in the event of any User's violation of this Agreement. The
trademarks, tradenames, Product designation, logos and service
marks ("Marks") displayed with this Software are the property of
Sony, its affiliates or third party licensors, and User shall acquire no
rights of any kind in or to any Mark under which the Software
and/or Products are marketed. User is not permitted to use these
Marks without the prior written consent of Sony, its affiliates or the
applicable third party licensor which may own the Mark. "Sony" is
a registered trademark of Sony Corporation. User agrees not to
remove, alter or destroy any patent, trademark or copyright
markings or notices placed upon or contained within the Software,
User Manuals or documentation. User further agrees to insert and
maintain with the Software and any documentation a copyright
User's license will automatically terminate upon any transfer of the
Product. Upon transfer, User must deliver the Software, including
any copies and related documentation, to the transferee. The
transferee must accept these License Terms as a condition to the
transfer. Otherwise, Sony does not authorize the transfer and the
User and transferee will be in violation of this Agreement should
the transferee use the Product. This license will automatically
terminate upon User's failure to comply with any of these License
Terms. Upon termination, User must stop using the Product and
immediately destroy the Software, together with all copies,
adaptations and merged portions in any form and/or return it to
Export Requirements and U.S. Government
User may not export or re-export the Software or any copy or
adaptation in violation of any applicable laws or regulations. The
Software and documentation have been developed entirely at
private expense and are provided as "Commercial Computer
Software ­ Restricted Rights" in accordance with FAR 52.227-19
(1987) or limited rights in technical data in accordance with FAR
52.227-14 (1987). User has only those rights provided for such
Software and documentation by the applicable FAR or DFARS
clause or this Sony Software License Agreement.
Sony warrants to User that the Software will not fail to execute its
programming instructions due to defects in material and
workmanship for a period equal to the warranty period provided
for the Product when properly installed and used. Warranty does
not apply to defects resulting from (a) improper or inadequate
maintenance, (b) software, interfacing, parts or supplies not
supplied by Sony, (c) unauthorized modification of the Software or
the Product, or (d) improper site preparation or maintenance. If
Sony receives notice of a covered defect(s) during the warranty
period, Sony will replace Software that does not execute its
programming instructions due to such defect(s). Sony does not
warrant that the operation of the Software and/or Product will be
uninterrupted or error free. If Sony is unable, within a reasonable
time, to repair or replace any Software to a condition as warranted,
User shall be entitled to a refund of the purchase price upon
prompt return of the Product. EXCEPT AS SPECIFICALLY
STATED ABOVE, THE SOFTWARE IS PROVIDED "AS IS"
WITHOUT WARRANTY AND SONY, IT S AFFILIATES AND
ITS THIRD PARTY LICENSORS DISCLAIM ANY IMPLIED
WARRANTY OF NONINFRINGEMENT, MERCHANTABILITY
OR FITNESS FOR A PARTICULAR PURPOSE. THE REMEDIES
IN THIS WARRANTY STATEMENT ARE USER'S SOLE AND
EXCLUSIVE REMEDIES. EXCEPT AS INDICATED ABOVE, IN
NO EVENT WILL SONY, ITS AFFILIATES OR ANY OF ITS
THIRD PARTY LICENSORS BE LIABLE FOR LOSS OF DATA
OR FOR DIRECT, INDIRECT, SPECIAL, INCIDENTAL,
CONSEQUENTIAL (INCLUDING LOST PROFIT),
EXEMPLARY, OR OTHER DAMAGE, WHETHER BASED IN
CONTRACT, TORT, OR OTHERWISE, EVEN IF SUCH PARTY
HAS BEEN ADVISED OF THE POSSIBILITY OF SUCH
DAMAGES. IN NO EVENT WILL SONY OR ANY OF ITS
AFFILIATES OR THIRD PARTY LICENSOR'S LIABILITY
UNDER AGREEMENT, WHETHER IN CONTRACT, TORT OR
OTHERWISE, EXCEED THE COST OF THE PRODUCT.
This Agreement shall be deemed to have been made and executed
in the State of California and both parties agree that any dispute
arising hereunder related to this Agreement or the Product will be
governed by laws of the State of California, exclusive of its conflicts
of law principles and that the courts in the County of San Diego,
California will have exclusive jurisdiction over all such disputes.
FURTHER THE PARTIES HEREBY WAIVE TRIAL BY JURY IN
CONNECTION WITH ANY ACTION OR SUIT ARISING UNDER
THIS AGREEMENT OR OTHERWISE ARISING FROM THE
RELATIONSHIP BETWEEN THE PARTIES HERETO. This
Agreement shall be binding upon the parties' authorized successor
and assignees. Neither party's waiver of any breach or failure to
enforce any of the provisions of this Agreement at any time shall in
any way affect, limit or waive such party's right thereafter to
enforce and compel strict compliance with every other provision.
No modification of this Agreement shall be effective unless in
writing signed by both parties.
CV.book Page ii Thursday, November 30, 2000 2:31 PM
---

To reduce the risk of fire or shock hazard, do not expose the unit to
This symbol is intended to alert the user to the
presence of uninsulated "dangerous voltage"
within the product's enclosure that may be of
sufficient magnitude to constitute a risk of
electric shock to persons.
This symbol is intended to alert the user to the
presence of important operating and maintenance
(servicing) instructions in the literature
accompanying the appliance.
TO PREVENT ELECTRIC SHOCK, MATCH WIDE BLADE OF
PLUG TO WIDE SLOT, FULLY INSERT.
Note on Cleaning the Unit
Clean the unit with a soft dry cloth. Never use strong solvents such
as thinner or benzine, which might damage the finish of the
Note to CATV System Installer
This reminder is provided to call the CATV system installer's
attention to Article 820-40 of the NEC that provides guidelines for
proper grounding and, in particular, specifies that the cable ground
shall be connected to the grounding system of the building, as close
to the point of cable entry as practical.
Use of this television receiver for other than private viewing of
programs broadcast on UHF or VHF or transmitted by cable
companies for the use of the general public may require
authorization from the broadcaster/cable company and/or
Trademark, Copyright, and License Information
All rights reserved. Reproduction in whole or in part without
written permission is prohibited. Sony, Digital Home Receiver, and
the Sony logo are trademarks of Sony. CABLEVISION and the
CABLEVISION logo are registered trademarks of CABLEVISION
SYSTEMS CORPORATION. Macrovision is a trademark of
This product incorporates copyright protection technology that is
protected by U.S. patents and other intellectual property rights.
Use of this copyright protection technology must be authorized by
Macrovision, and is intended for home and other limited pay-per-
view uses only unless otherwise authorized by Macrovision.
Reverse engineering or disassembly is prohibited.
The features described in this manual may change due to
unscheduled automatic software upgrades activated by the service
provider without prior notice.
This equipment has been tested and found to comply with the
limits for a Class B digital device pursuant to Part 15 of the FCC
Rules. These limits are designed to provide reasonable protection
against harmful interference in a residential installation. This
equipment generates, uses, and can radiate radio frequency energy
and, if not installed and used in accordance with the instructions,
may cause harmful interference with radio communications.
However, there is no guarantee that interference will not occur in a
particular installation. If this equipment does cause harmful
interference to radio or television reception, which can be
determined by turning the equipment off and on, the user is
encouraged to try to correct the interference by one or more of the
Ensure that the RF input connector is securely attached.
Increase the separation between the equipment and receiver.
Connect the equipment into an outlet on a circuit different
from that to which the receiver is connected.
Safety Instruction for Pluggable Equipment
The socket-outlet shall be installed near the equipment and shall be
Operate the unit only on AC 60 Hz 110-120 V.
The plug is designed, for safety purposes, to fit into the wall
If any liquid or solid object should fall inside the cabinet,
unplug the unit immediately and have it checked by
qualified service personnel before operating it further.
RISQUE DE CHOC ELECTRIQUE,
RIESGO DE CHOQUE ELECTRICO
CAUTION: TO REDUCE THE RISK OF ELECTRIC SHOCK,
DO NOT REMOVE COVER (OR BACK).
NO USER-SERVICEABLE PARTS INSIDE.
REFER SERVICING TO QUALIFIED SERVICE PERSONNEL.
If you have any problems with this unit, please contact
CABLEVISION SYSTEMS CORPORATION
TEL: (516) 802-DSTB (3782)
Declaration of Conformity
This device complies with Part 15 of the FCC rules.
Operation is subject to the two following conditions:
(1) This device may not cause harmful interference, and
(2) this device must accept any interference received,
including interference that may cause undesired
CV.book Page iii Thursday, November 30, 2000 2:31 PM
---

To prevent internal heat buildup, do not block the ventilation
Do not install the unit in a hot or humid place, or in a place
subject to excessive dust or mechanical vibration.
The model and serial numbers are provided on the front of this
instruction manual and at the bottom of the unit. Refer to them
whenever you call upon your Sony dealer regarding this product.
For your protection, please read these instructions completely, and
keep this manual for future reference.
Carefully observe and comply with all warnings, cautions and
instructions placed on the set, or described in the operating
instructions or service manual.
To guard against injury, the following basic safety precautions
should be observed in the installation, use, and servicing of the set.
This set should be operated only from the type of power source
indicated on the serial/model plate. If you are not sure of the type
of electrical power supplied to your home, consult your local
Do not overload wall outlets, extension cords or convenience
receptacles beyond their capacity, since this can result in fire or
Always turn the set off when it is not being used. When the set is
left unattended and unused for long periods of time, unplug it
from the wall outlet as a precaution against the possibility of an
internal malfunction that could create a fire hazard.
Never push objects of any kind into the set through the cabinet
slots as they may touch dangerous voltage points or short out parts
that could result in a fire or electric shock. Never spill liquid of any
Unplug the set from the wall outlet before cleaning or polishing it.
Do not use liquid cleaners or aerosol cleaners.
Use a cloth lightly dampened with water for cleaning the exterior
Do not use power-line operated sets near water -- for example,
near a bathtub, washbowl, kitchen sink, or laundry tub, in a wet
basement, or near a swimming pool, etc.
Do not place the set on an unstable cart, stand, table or shelf. The
set may fall, causing serious injury to a child or an adult, and
serious damage to the set. Quick stops, excessive force, and uneven
surfaces may cause the appliance and cart combination to overturn.
The slots and openings in the cabinet and in the back or bottom are
provided for necessary ventilation. To ensure reliable operation of
the set, and to protect it from overheating, these slots and openings
must never be blocked or covered.
Never cover the slots and openings with a cloth or other
Never block the slots and openings by placing the set on a
bed, sofa, rug or other similar surface.
Never place the set in a confined space, such as a bookcase, or
built-in cabinet, unless proper ventilation is provided.
Do not place the set near or over a radiator or heat register, or
where it is exposed to direct sunlight.
Do not allow anything to rest on or roll over the power cord, and
do not place the set where the power cord is subject to wear or
For added protection for this receiver during a lightning storm, or
when it is left unattended and unused for long periods of time,
unplug it from the wall outlet and disconnect the cable. This will
prevent damage to the receiver due to lightning and power-line
Unplug the set from the wall outlet and refer servicing to qualified
service personnel under the following conditions:
When the power cord or plug is damaged or frayed.
If liquid has been spilled into the set.
If the set has been exposed to rain or water.
If the set has been subject to excessive shock by being
dropped, or the cabinet has been damaged.
If the set does not operate normally when following the
operating instructions. Adjust only those controls that are
specified in the operating instructions. Improper adjustment
of other controls may result in damage and will often require
extensive work by a qualified technician to restore the set to
When the set exhibits a distinct change in performance -- this
indicates a need for service.
Do not attempt to service the set yourself since opening the cabinet
may expose you to dangerous voltage or other hazards. Refer all
servicing to qualified service personnel.
Upon completion of any service or repairs to the set, ask the service
technician to perform routine safety checks (as specified by the
manufacturer) to determine that the set is in safe operating
condition, and to so certify.
CV.book Page iv Thursday, November 30, 2000 2:31 PM
---

Unpacking........................................................... 1
Supplied Items .....................................................1
Items Supplied Separately by Cablevision............1
Front Panel ......................................................... 2
Front Panel Controls and Indicators.....................2
Rear Panel........................................................... 3
Using the Remote Control (RM-Y806)................. 4
Programming the Remote Control .......................5
Programming the Remote to
Control Volume Level ...................................6
Replacing Batteries in the Remote.......................6
Remote Control Programmable Codes ................ 7
TV Codes..............................................................7
VCR Codes ...........................................................7
Overview ............................................................ 9
TV with RF Connector Only................................. 9
TV and VCR with RF Connectors Only............... 10
Troubleshooting ............................................... 11
Changing the Digital Home
Receiver's RF Output Channel ................... 12
Specifications.................................................... 13
Inputs and Outputs ........................................... 13
General ............................................................. 13
Accessories ....................................................... 13
Index ................................................................ 14
CV.book Page v Thursday, November 30, 2000 2:31 PM
---