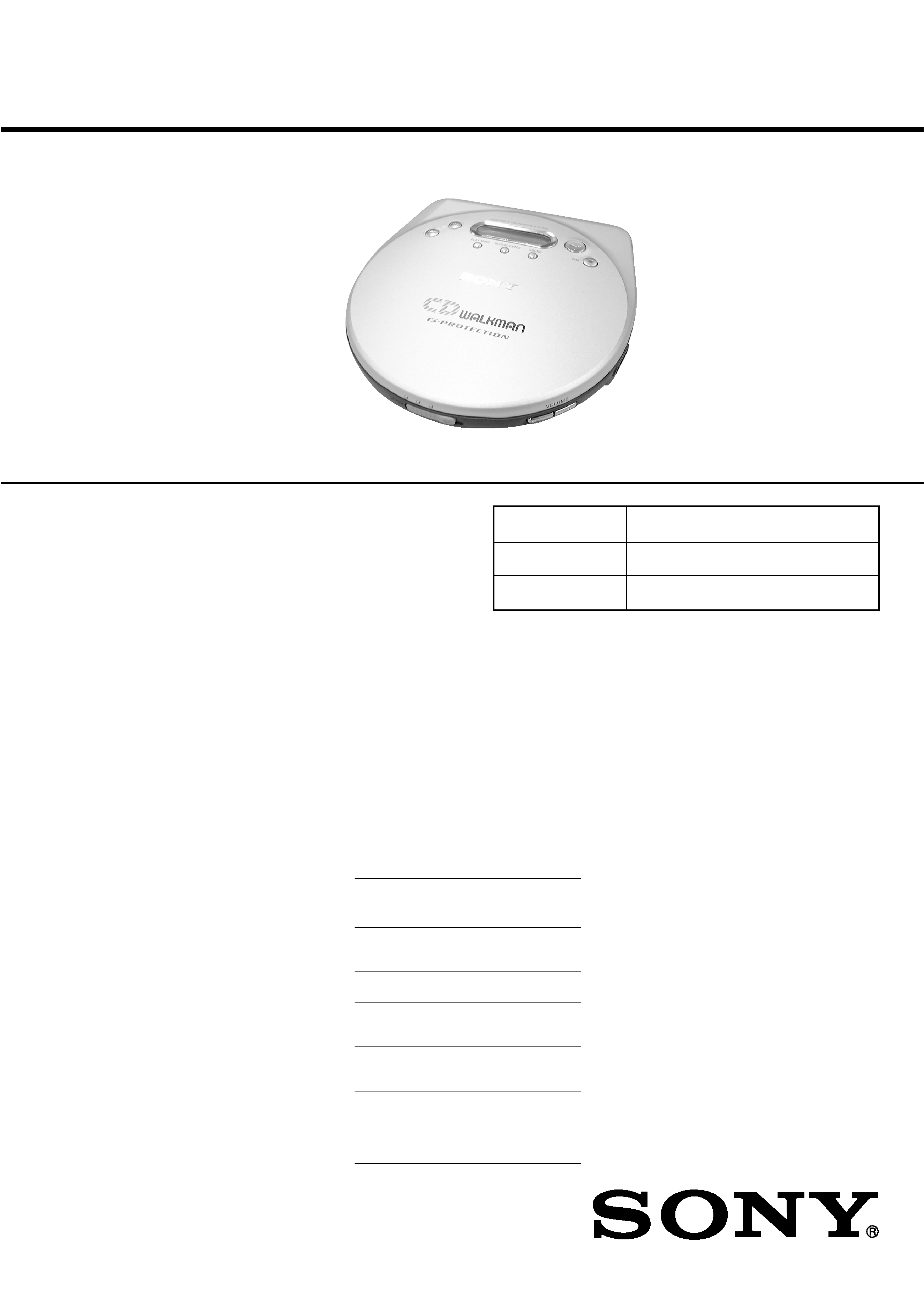 Compact disc digital audio system
Emission duration: Continuous
Laser output: Less than 44.6
(This output is the value measured at a distance
of 200 mm from the objective lens surface on
the optical pick-up block with 7 mm aperture.)
1-bit quartz time-axis control
­2
dB (measured by EIAJ CP-
Output (at 4.5 V input level)
Line output (stereo minijack)
Output level 0.7 V rms at 47 kilohms
Recommended load impedance over 10
Headphones (stereo minijack)
Approx.5 mW + Approx. 5 mW at 16 ohms
(Approx. 0.15 mW + Approx. 0.15 mW
*For the customers in France
Optical digital output (optical output connector)
Output level: ­21 - ­15 dBm
Wavelength: 630 - 690 nm at peak level
· AC power adaptor (DC IN 4.5 V jack):
US/Canadian model: 120 V, 60 Hz
AEP/E13 model: 220 - 230 V, 50/60 Hz
UK model: 230 - 240 V, 50 Hz
Australian model: 240 V, 50 Hz
/E33 model: 100 - 240 V, 50/60 Hz
Hong Kong model: 220 V, 50/60 Hz
Chinese model: 220 V, 50 Hz
· Sony DCC-E245 car battery cord for use on
Battery life* (approx. hours)
(When you use the CD player on a flat and stable
Playing time varies depending on how the CD
37 (US, Canadian, AEP, UK)
46 (US, Canadian, AEP, UK)
58 (US, Canadian, AEP, UK)
· Two LR6 (size AA) batteries: 3 V DC
* Measured value by the standard of EIAJ
(Electronic Industries Association of Japan).
** Charging time varies depending on how the
rechargeable battery is used.
Dimensions (w/h/d) (excluding
projecting parts and controls)
Mass (excluding rechargeable
Headphones/earphones with remote control (1)
Rechargeable batteries (2)
Battery carrying case (1)
Supplied with US, AEP and UK models
Supplied with Tourist and E33 models
Design and specifications are subject to change
E13: 220 - 230 V AC area in E model
E33: 100 - 240 V AC area in E model
For the area code of the model you
purchased, check the upper left side of the
· Two Sony NC-WMAA rechargeable
· Sony NH-WM2AA rechargeable batteries:
Photo: D-EJ815 (Silver type)
US, Canadian, AEP, UK : CDM-3022EBG
US, Canadian, AEP, UK : DAX-22EBG
---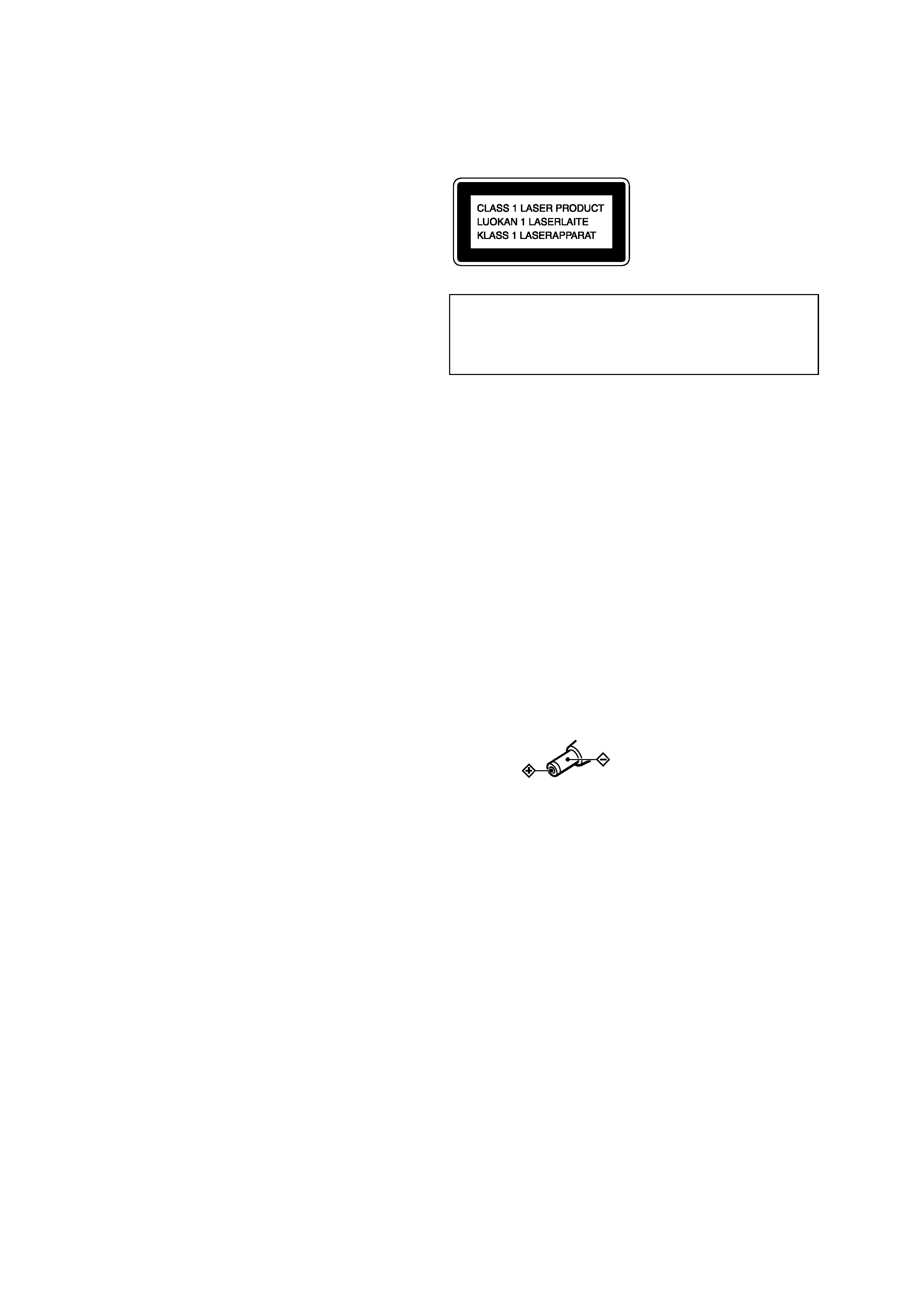 Flexible Circuit Board Repairing
· Keep the temperature of the soldering iron around 270 °C dur-
· Do not touch the soldering iron on the same conductor of the
circuit board (within 3 times).
· Be careful not to apply force on the conductor when soldering
Notes on chip component replacement
· Never reuse a disconnected chip component.
· Notice that the minus side of a tantalum capacitor may be dam-
SAFETY-RELATED COMPONENT WARNING!!
COMPONENTS IDENTIFIED BY MARK 0 OR DOTTED
LINE WITH MARK 0 ON THE SCHEMATIC DIAGRAMS
AND IN THE PARTS LIST ARE CRITICAL TO SAFE
OPERATION. REPLACE THESE COMPONENTS WITH
SONY PARTS WHOSE PART NUMBERS APPEAR AS
SHOWN IN THIS MANUAL OR IN SUPPLEMENTS PUB-
SERVICING NOTES
............................................... 3
GENERAL
................................................................... 4
DISASSEMBLY
......................................................... 5
ELECTRICAL CHECKING
.................................. 7
5-1. Block Diagram ­ MAIN Section (1/2) ­ ........................
5-2. Block Diagram ­ MAIN Section (2/2) ­ ........................ 11
5-3. Block Diagram ­ POWER SUPPLY Section ­ .............. 13
5-4. Printed Wiring Board ...................................................... 16
5-5. Schematic Diagram ......................................................... 19
5-6. IC Pin Function Description ........................................... 27
EXPLODED VIEWS
................................................ 29
ELECTRICAL PARTS LIST
............................... 32
This appliance is classified as a CLASS 1 LASER product.
The CLASS 1 LASER PRODUCT MARKING is located on
Use of controls or adjustments or performance of procedures
other than those specified herein may result in hazardous ra-
ATTENTION AU COMPOSANT AYANT RAPPORT
LES COMPOSANTS IDENTIFIÉS PAR UNE MARQUE 0
SUR LES DIAGRAMMES SCHÉMATIQUES ET LA LISTE
DES PIÈCES SONT CRITIQUES POUR LA SÉCURITÉ
DE FONCTIONNEMENT. NE REMPLACER CES COM-
POSANTS QUE PAR DES PIÈCES SONY DONT LES
NUMÉROS SONT DONNÉS DANS CE MANUEL OU
DANS LES SUPPLÉMENTS PUBLIÉS PAR SONY.
· Use only the AC power adaptor supplied or
recommended in "Accessories (supplied/
optional)." Do not use any other AC power
adaptor. It may cause a malfunction.
· When disconnecting the AC power adaptor
from the AC outlet, grasp the adaptor
itself. Do not pull it by the cord.
· Do not touch the AC power adaptor with
---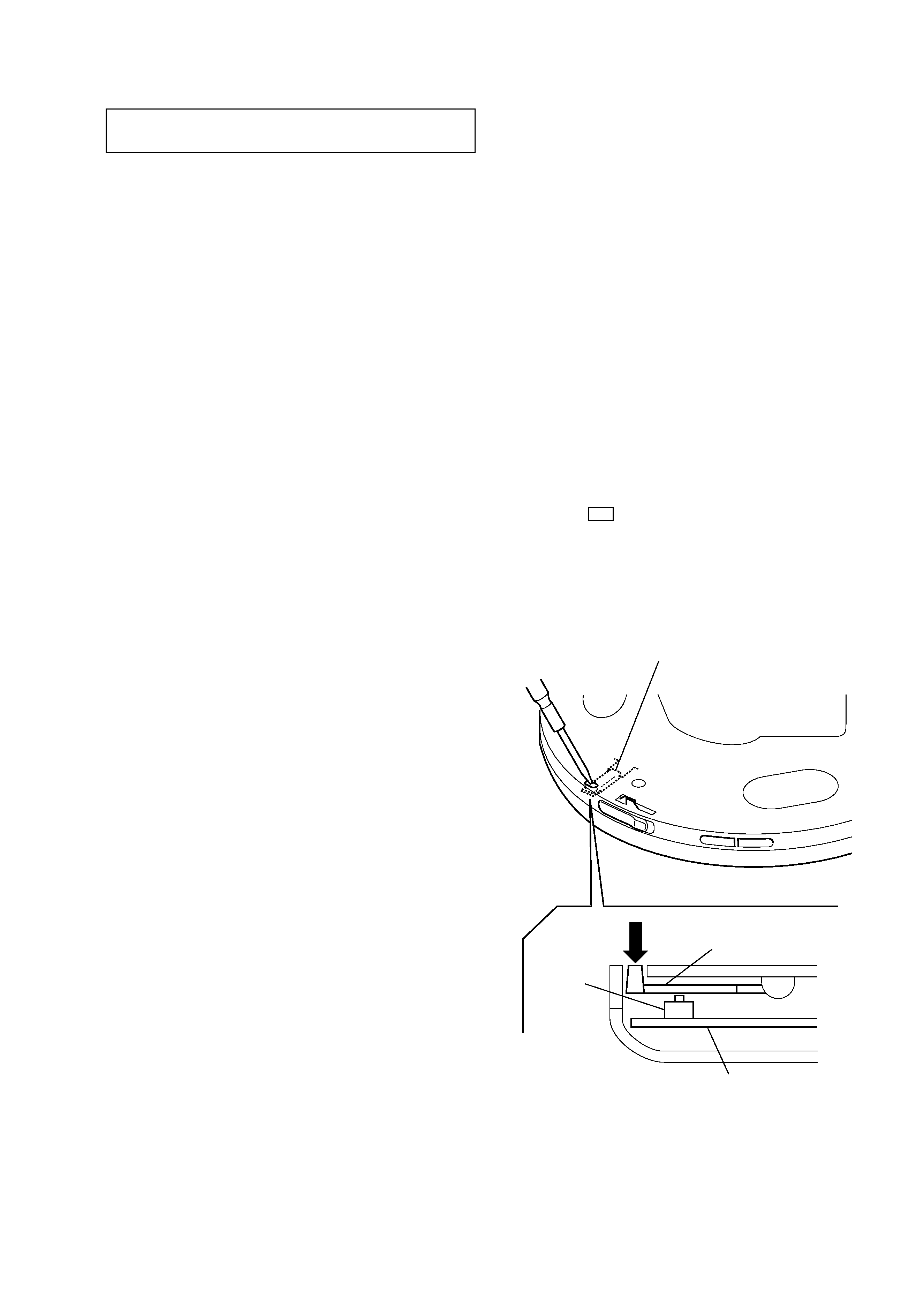 The laser diode in the optical pick-up block may suffer electro-
static breakdown because of the potential difference generated by
the charged electrostatic load, etc. on clothing and the human body.
During repair, pay attention to electrostatic breakdown and also
use the procedure in the printed matter which is included in the
The flexible board is easily damaged and should be handled with
NOTES ON LASER DIODE EMISSION CHECK
The laser beam on this model is concentrated so as to be focused
on the disc reflective surface by the objective lens in the optical
pick-up block. Therefore, when checking the laser diode emis-
sion, observe from more than 30 cm away from the objective lens.
BEFORE REPLACING THE OPTICAL PICK-UP BLOCK
Please be sure to check thoroughly the parameters as par the "Op-
tical Pick-Up Block Checking Procedures" (Part No.: 9-960-027-
11) issued separately before replacing the optical pick-up block.
Note and specifications required to check are given below.
· FOK output: IC601 eg pin
When checking FOK, remove the lead wire to disc motor.
· RF signal P-to-P value: 0.35 to 0.65 Vp-p
LASER DIODE AND FOCUS SEARCH OPERATION
During normal operation of the equipment, emission of the laser
diode is prohibited unless the upper lid is closed while turning ON
the S801. (push switch type)
The following checking method for the laser diode is operable.
· Method: Emission of the laser diode is visually
2. With a disc not set, turn on the S801 with a screwdriver having
a thin tip as shown in Fig.1.
Note: Do not push the detection lever strongly, or it may be bent or dam-
4. Observing the objective lens, check that the laser diode emits
When the laser diode does not emit light, automatic power
control circuit or optical pickup is faulty.
In this operation, the objective lens will move up and down 5
times along with inward motion for the focus search.
NOTES ON HANDLING THE OPTICAL PICK-UP
Fig. 1 Method to push the S801
---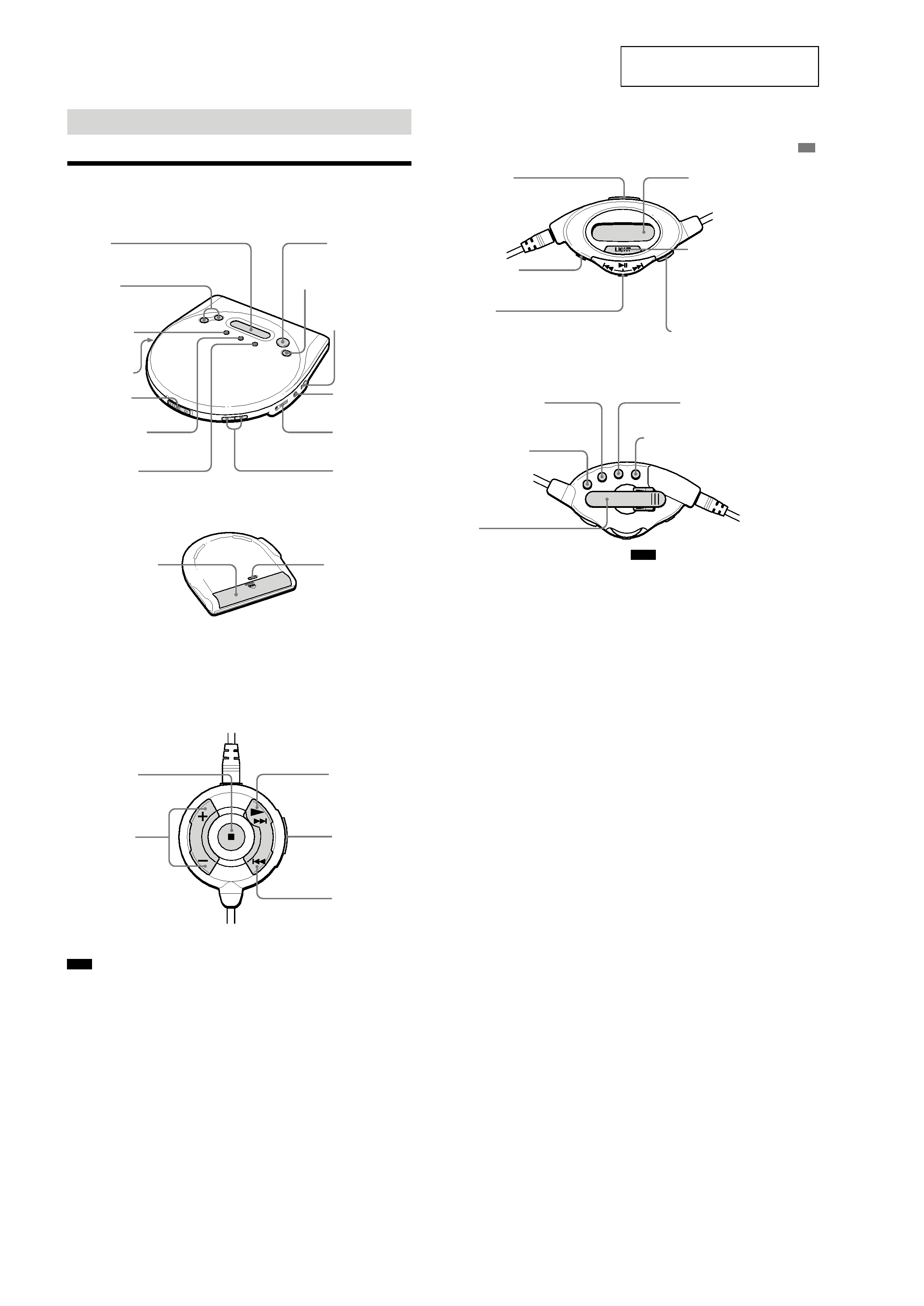 This section is extracted from
For details, see pages in parentheses.
Remote control
(supplied with the Canadian model)
Use only the supplied remote control. You cannot operate this CD player with the remote control supplied with
Remote control
(not supplied with the Canadian model)
Use only the supplied remote control. You cannot
operate this CD player with the remote control
supplied with other CD players.
Press to check the remaining time on the
CD and the number of the tracks left.
u: play/pause (pages 8, 12)
./>: AMS/search (pages 8, 11, 12)
Press or slide the lever to operate your CD
control for about 5 seconds
the rechargeable batteries
---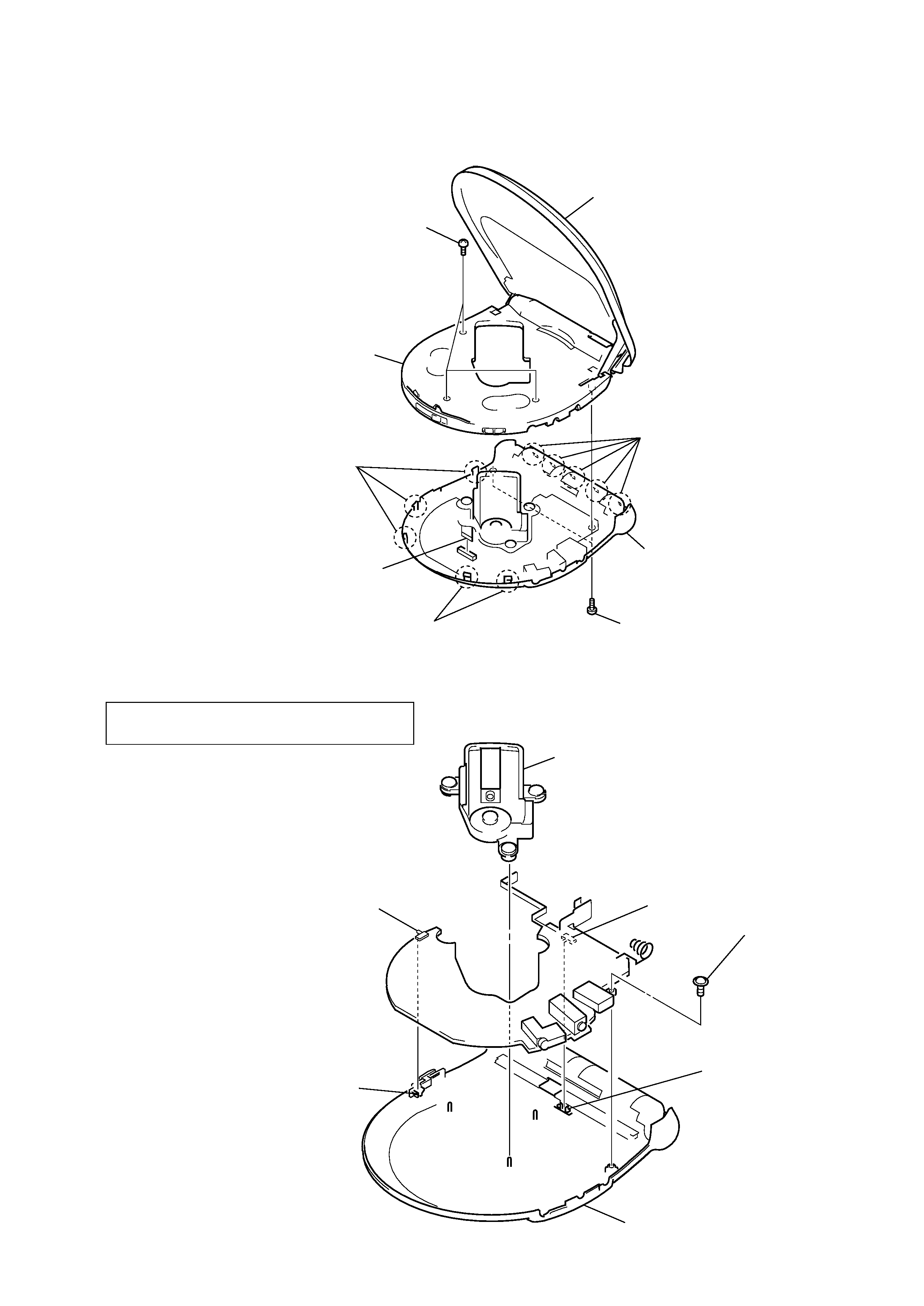 CABINET (UPPER) SUB ASSY, CABINET (LOWER) SUB ASSY
Note: Follow the disassembly procedure in the numerical order given.
open the upper lid sub assy.
CDM-3022EBG (US, Canadian, AEP, UK)
On installation MAIN board, adjust the S803,
804 and knobs (HOLD, AVLS).
---