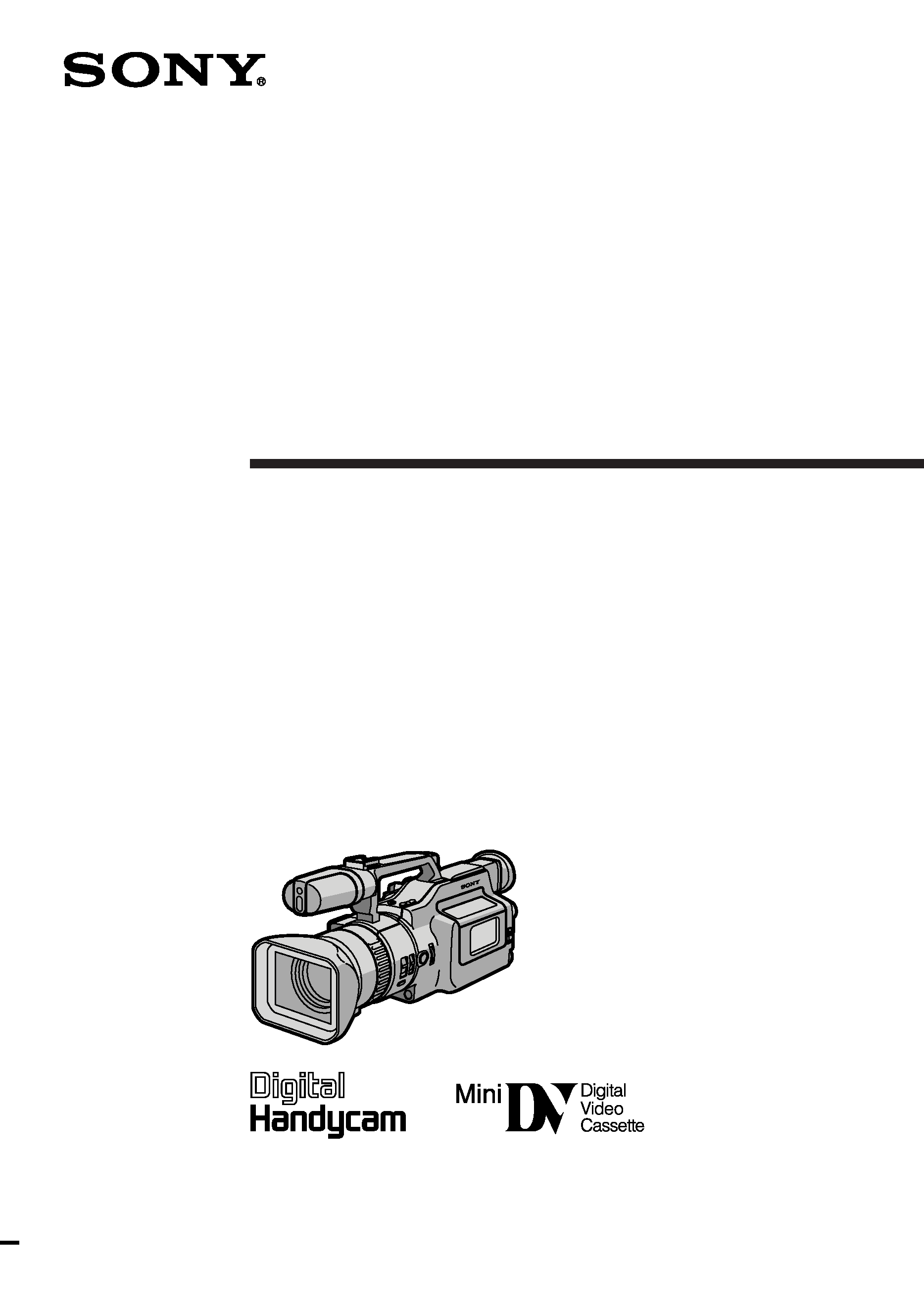 © 1995 by Sony Corporation
Before operating the unit, please read this manual thoroughly,
and retain it for future reference.
Antes de utilizar la unidad, lea este manual atentamente y utilícelo
como material de consulta.
---

Enhorabuena por la adquisición de la
videocámara Sony Digital Handycam
®
. Esta
videocámara es la herramienta ideal para captar
los mejores momentos con una calidad de
imagen y sonido superiores. Handycam está
equipada con funciones avanzadas y se
caracteriza por su fácil uso. Ya puede realizar
videos caseros y disfrutar de ellos en años
Para evitar riesgos de incendio o descargas,
no exponga la unidad a la lluvia ni a la
Para evitar descargas eléctricas, no abra la
unidad y solicite asistencia sólo a personal
Los programas de televisión, películas, cintas de
vídeo y otros materiales pueden estar protegidos
La grabación no autorizada de estos materiales
puede infringir las disposiciones previstas en las
normativas del copyright.
Congratulations on your purchase of this Sony
Digital Handycam
®
camcorder. With your
Handycam, you can capture life's precious
moments with superior picture and sound
quality. Your Handycam is loaded with
advanced features, but at the same time it is very
easy to use. You will soon be producing home
video that you can enjoy for years to come.
To prevent fire or shock hazard, do not
expose the unit to rain or moisture.
To avoid electrical shock, do not open the
cabinet. Refer servicing to qualified personnel
Television programmes, films, video tapes, and
other materials may be copyrighted.
Unauthorized recording of such materials may
be contrary to the provision of the copyright
NOTICE FOR THE CUSTOMERS IN THE
A moulded plug complying with BS 1363 is fitted
to this equipment for your safety and
Should the fuse in the plug supplied need to be
replaced, a 5 MAP fuse approved by ASTA or
BSI to BS 1362, (i.e. marked with 2 or @ mark)
If the plug supplied with this equipment has a
detachable fuse cover, be sure to attach the fuse
cover after you change the fuse .Never use the
plug without the fuse cover. If you should lose
the fuse cover, please contact your nearest Sony
---

Comprobación de los accesorios
Carga e inserción del paquete de pilas 7
Inserción de un videocassette 10
Grabación con la cámara 12
Consejos para filmar con facilidad 16
Comprobación de las imágenes grabadas 18
Conexiones para la reproducción 19
Reproducción de cintas 21
Uso de fuentes de alimentación alternativas 23
Cambio de los ajustes de modo 26
< Para grabar con la cámara >
Fundido y superposición 30
Nueva grabación de una imagen a mitad de una
Modo de grabación panorámica 16:9 35
Grabación de intervalos 39
Grabación con autodisparador 43
< Para realizar ajustes automáticos o manuales >
Selección del modo automático y del ajuste
Uso de la función PROGRAM AE 50
Ajuste de la exposición 56
Ajuste de la velocidad de obturación 58
Uso con el patrón cebra 61
Ajuste del balance de blancos 62
Ajuste del sonido de grabación 66
Cancelación de la función de estabilización de
Programación del ajuste de la calidad de
< Para reproducir y editar >
Búsqueda de imágenes grabadas 71
Comprobación de la información de imágenes
consulte la página siguiente c
Checking Supplied Accessories 6
Charging and Inserting the Battery Pack 7
Hints for Better Shooting 16
Checking the Recorded Picture 18
Connections for Playback 19
Using Alternate Power Sources 23
Changing the Mode Settings 26
Re-recording a Picture in the Middle of a
16:9 Wide Mode Recording 35
< for Automatic/Manual Adjustment >
Selecting Automatic Mode and Manual
Using the PROGRAM AE Function 50
Adjusting the Exposure 56
Adjusting the Shutter Speed 58
Using with the Zebra Pattern 61
Adjusting the White Balance 62
Adjusting the Recording Sound 66
Releasing the Steady Shot Function 68
Presetting the Adjustment for Picture
Searching the Recorded Picture 71
Checking the Information for the Recorded
Editing onto Another Tape 75
---

Using Your Camcorder Abroad 77
Replacing the Lithium Battery in the
Resetting the Date and Time 80
Tips for Using the Battery Pack 83
Maintenance Information and Precautions 87
Identifying the Parts 100
As you read through this manual, buttons and
settings on the camcorder are shown in capital
e.g. Set the POWER switch to CAMERA.
The beep sound is indicated with
Uso de la videocámara en el extranjero 77
Sustitución de la pila de litio de la
Reajuste de la fecha y hora 80
Consejos para el uso del paquete de pilas 83
Información sobre mantenimiento y
Comprobación de problemas 95
Identificación de los componentes 100
Indice alfabético (contraportada)
En el manual, los botones y ajustes de la
videocámara aparecen en mayúsculas.
Por ejemplo: Ajuste el interruptor POWER en
El pitido se indica en las ilustracioneslas
---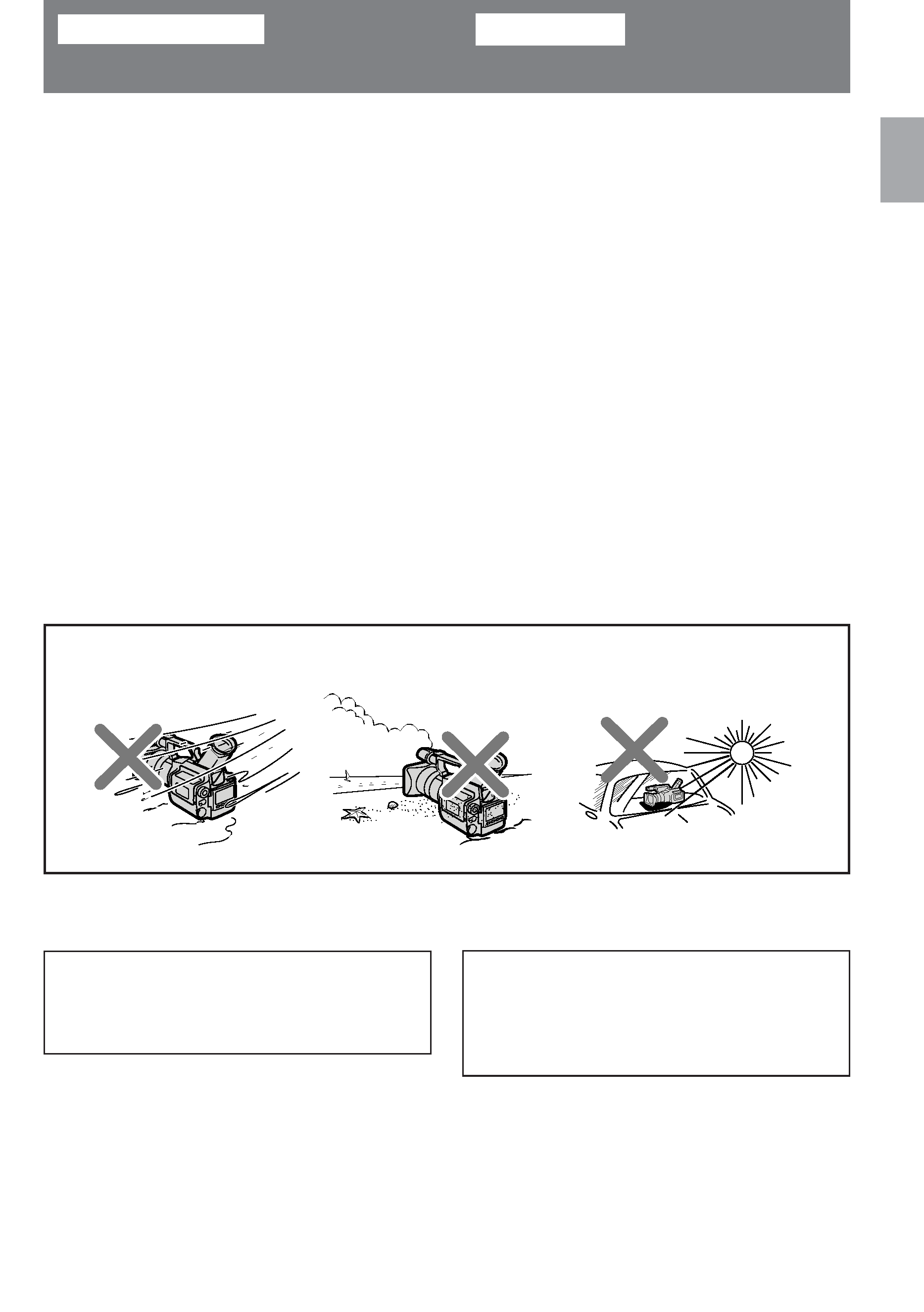 Note on TV Colour Systems
TV colour systems differ from country to
country. To view your recordings on a TV, you
need a PAL system based TV. Please check the
list to see the TV colour system of your country
Precautions on Camcorder Care
· Do not let the camcorder get wet. Keep the
camcorder from rain or sea water. It may
cause a malfunction and sometimes the
malfunction cannot be repaired. [a]
· Do not let sand get into the camcorder.
When you use the camcorder on a sandy
beach or dusty place, protect it from the
sand or dust. Sand or dust may cause the
unit to malfunction and sometimes the
malfunction cannot be repaired. [b]
· Never leave the camcorder under
temperatures above 60 °C (140° F), such as in a
car parked in the sun or under direct sunlight.
Nota sobre sistemas de TV en color
Los sistemas utilizados por los televisores en
color difieren de un país a otro. Para ver las
grabaciones en un televisor, necesita un televisor
basado en el sistema PAL. Compruebe en la lista
el sistema de televisor en color que se utiliza en
Precauciones con la videocámara
· La videocámara no debe humedecerse.
Protéjala de la lluvia y del agua del mar, ya
que pueden provocar daños que no se
· No permita que se filtre arena en la
videocámara. Si la utiliza en un lugar donde
haya mucho polvo o en una playa de arena,
protéjala contra estos elementos, ya que la
arena y el polvo pueden provocar daños
que no se pueden reparar [b].
· No deje la videocámara en lugares en los que
la temperatura supere los 60º C (140º F), como
en el interior de un vehículo aparcado al sol o
expuesto a la luz solar directa [c]
Contents of the recording cannot be
compensated if recording or playback is not
made due to a malfunction of the camcorder,
Si la grabación o reproducción no se realiza
debido a un funcionamiento defectuoso de la
videocámara, la cinta de vídeo, etc., el
contenido de la grabación no se puede
See "Precautions" as well (p. 90).
Consulte también "Precauciones" (pág. 90).
---