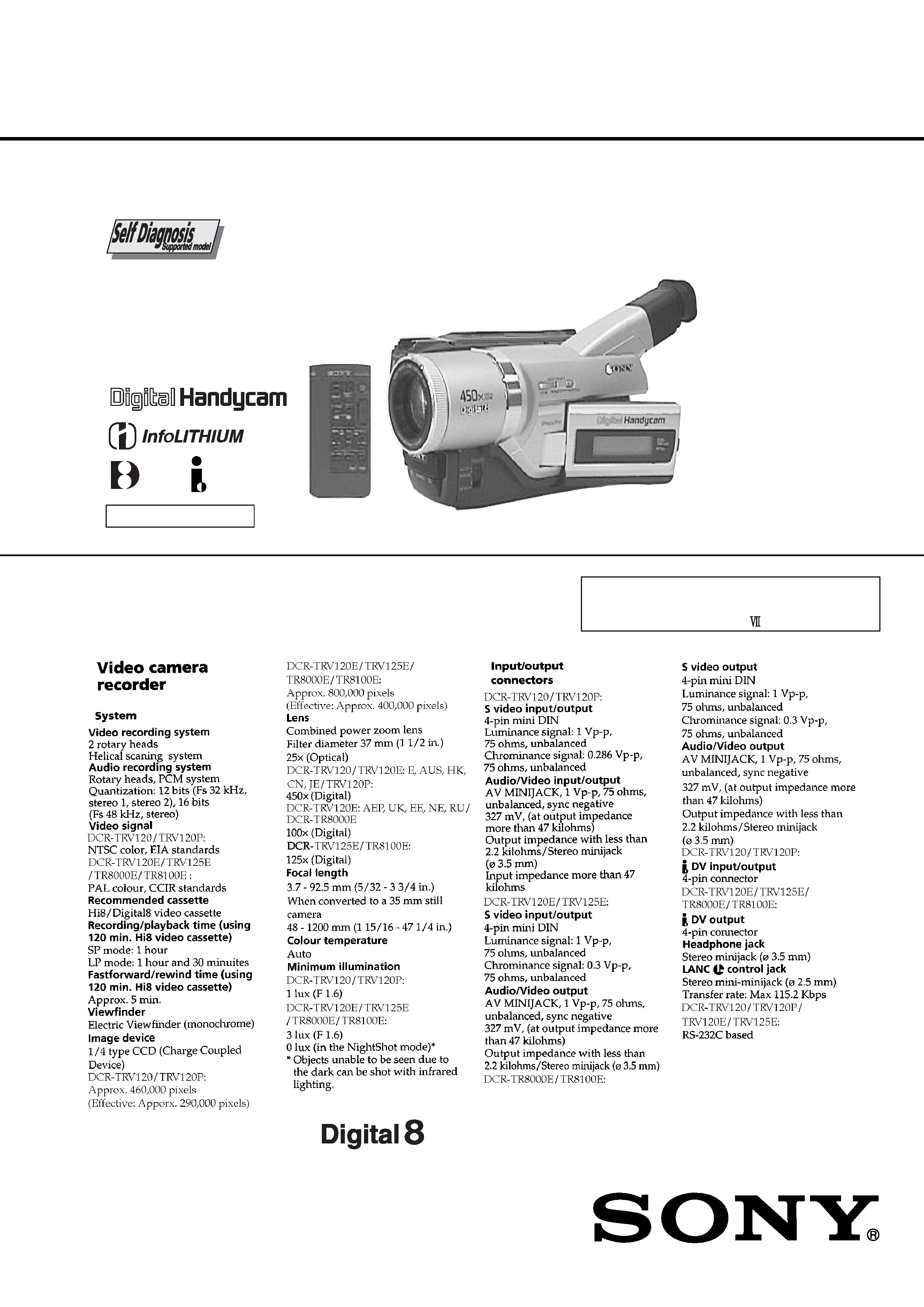 DIGITAL VIDEO CASSETTE RECORDER
DCR-TRV120/TRV120E/TRV120P/TRV125E/
DCR-TRV120E/TRV125E/TR8000E/TR8100E
DCR-TRV120/TRV120E/TRV120P
­ Continued on next page ­
NTSC MODEL : DCR-TRV120/TRV120P
: DCR-TRV120E/TRV125E/TR8000E/TR8100E
For MECHANISM ADJUSTMENT, refer to
the "8mm Video MECHANICAL
---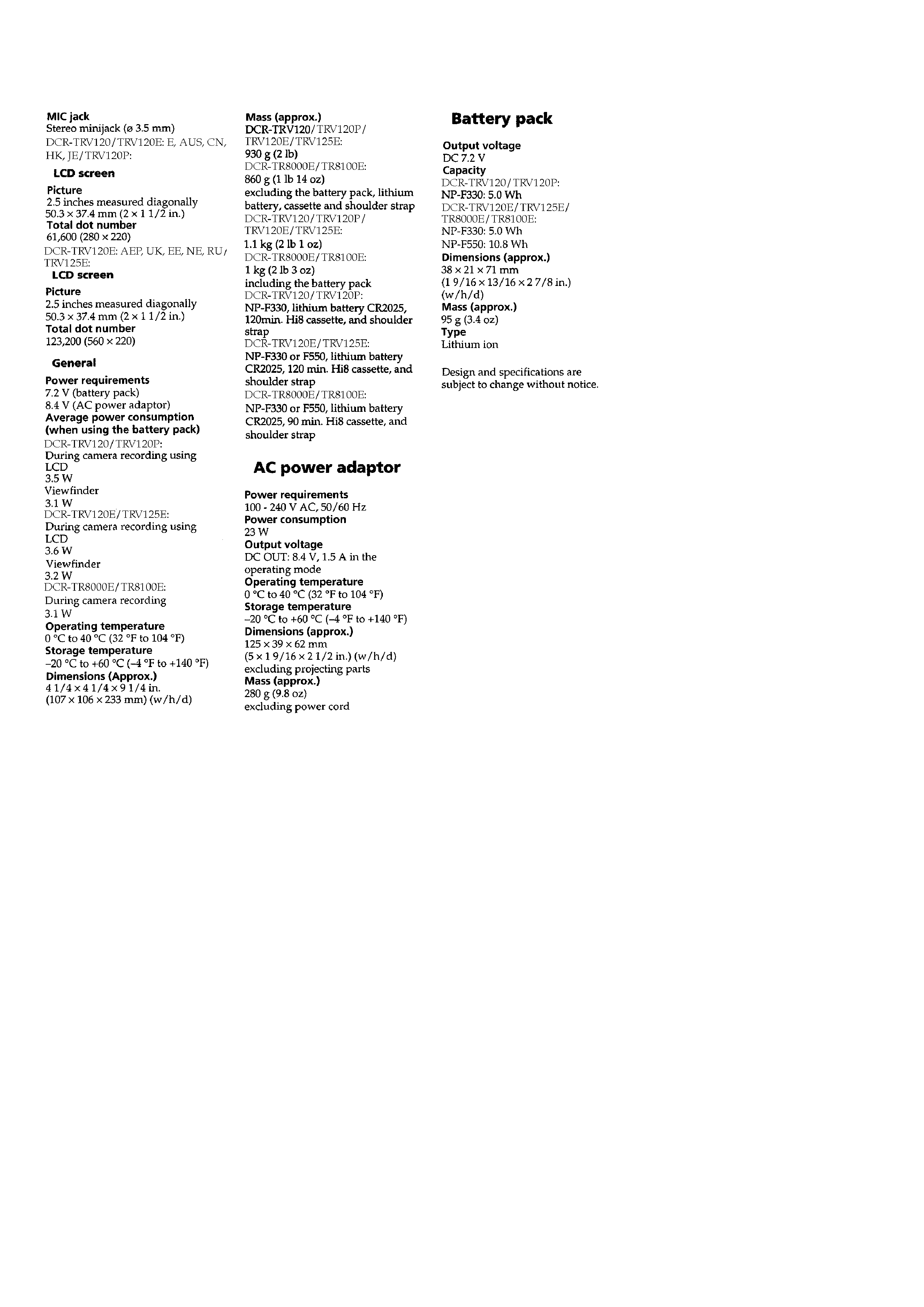 1. Check the area of your repair for unsoldered or poorly-sol-
dered connections. Check the entire board surface for solder
2. Check the interboard wiring to ensure that no wires are
"pinched" or contact high-wattage resistors.
3. Look for unauthorized replacement parts, particularly transis-
tors, that were installed during a previous repair. Point them
out to the customer and recommend their replacement.
4. Look for parts which, though functioning, show obvious signs
of deterioration. Point them out to the customer and recom-
After correcting the original service problem, perform the following
safety checks before releasing the set to the customer.
5. Check the B+ voltage to see it is at the values specified.
6. Flexible Circuit Board Repairing
Keep the temperature of the soldering iron around 270 °C
Do not touch the soldering iron on the same conductor of
the circuit board (within 3 times).
Be careful not to apply force on the conductor when sol-
ATTENTION AU COMPOSANT AYANT RAPPORT
LES COMPOSANTS IDENTIFIÉS PAR UNE MARQUE 0
SUR LES DIAGRAMMES SCHÉMATIQUES ET LA LISTE
DES PIÈCES SONT CRITIQUES POUR LA SÉCURITÉ
DE FONCTIONNEMENT. NE REMPLACER CES COM-
POSANTS QUE PAR DES PIÈCES SONY DONT LES
NUMÉROS SONT DONNÉS DANS CE MANUEL OU
DANS LES SUPPLÉMENTS PUBLIÉS PAR SONY.
SAFETY-RELATED COMPONENT WARNING!!
COMPONENTS IDENTIFIED BY MARK 0 OR DOTTED
LINE WITH MARK 0 ON THE SCHEMATIC DIAGRAMS
AND IN THE PARTS LIST ARE CRITICAL TO SAFE
OPERATION. REPLACE THESE COMPONENTS WITH
SONY PARTS WHOSE PART NUMBERS APPEAR AS
SHOWN IN THIS MANUAL OR IN SUPPLEMENTS PUB-
---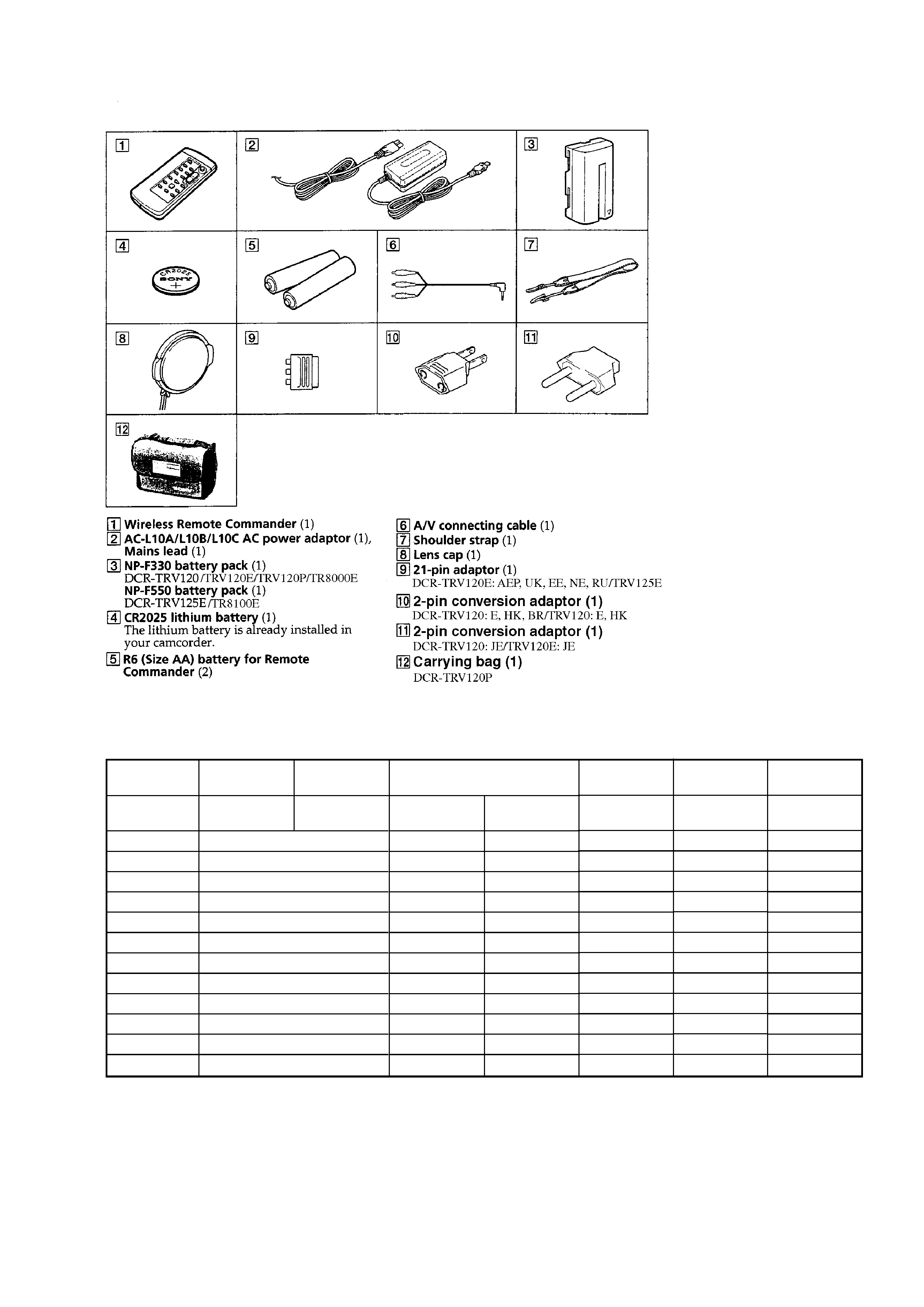 Table for differences of function
---

SERVICE NOTE
................................................................... 7
Power Supply During Repairs ....................................... 7
When Not Eject (Force Eject) ....................................... 7
Note for Repair .............................................................. 8
SELF-DIAGNOSIS FUNCTION
........................................ 9
Self-diagnosis Function ................................................. 9
Self-diagnosis Display ................................................... 9
Service Mode Display ................................................... 9
Display Method .............................................................. 9
Switching of Backup No. ............................................... 9
End of Display ............................................................... 9
Self-diagnosis Code Table ............................................ 10
Checking Supplied Accessories ............................................. 1-1
Quick Start Guide .................................................................... 1-1
Using This Manual ................................................................... 1-2
Step 1 Preparing the Power Supply ........................................ 1-2
Step 2 Inserting a Cassette ..................................................... 1-4
Recording a Picture ................................................................. 1-4
­ END SEARCH/EDITSEARCH/Rec Review ......................... 1-7
Playing Back a Tape ................................................................ 1-7
Viewing the Recording on TV .................................................. 1-8
Recording a Still Image on a Tape
­ Tape Photo Recording .......................................................... 1-9
Using the Wide Mode .............................................................. 1-10
Using the Fader Function ........................................................ 1-10
­ Picture Effect ........................................................................ 1-11
­ Digital Effect ......................................................................... 1-11
Using the PROGRAM AE Function ......................................... 1-12
Adjusting the Exposure Manually ............................................ 1-13
Focusing Manually ................................................................... 1-13
Superimposing a Title .............................................................. 1-13
Making Your Own Titles ........................................................... 1-14
Inserting a Scene .................................................................... 1-14
Playing Back a Tape with Picture Effects ................................ 1-15
Playing Back a Tape with Digital Effects ................................. 1-15
Enlarging Recorded Images
­ PB ZOOM ............................................................................. 1-15
Quickly Locating a Scene Using the Zero Set
Memory Function ..................................................................... 1-15
Searching a Recording by Date
­ Date Search .......................................................................... 1-16
­ Photo Search/Photo Scan .................................................... 1-16
Dubbing a Tape ........................................................................ 1-17
Changing the Menu Settings ................................................... 1-18
Resetting the Date and Time .................................................. 1-19
Digital8 System, Recording and Playback .............................. 1-20
Changing the Lithium Battery in Your Camcorder ................... 1-20
Troubleshooting ....................................................................... 1-21
Self-diagnosis Display ............................................................. 1-22
Warning Indicators and Messages .......................................... 1-22
Using Your Camcorder Abroad ................................................ 1-23
Maintenance Information and Precautions ............................. 1-23
Identifying the Parts and Controls ........................................... 1-25
LCD Assembly, PD-117 Board (TRV model) ................ 2-2
Front Panel Assembly ................................................... 2-3
Cabinet (L) Assembly, Cassette Lid Assembly ............. 2-3
Cabinet (R) Assembly ................................................... 2-4
CF-69 Board (TRV model) ............................................ 2-4
CF-71 Board (TR model) ............................................... 2-4
EVF Block ...................................................................... 2-4
EVF Assembly ............................................................... 2-5
VF-129 Board , CRT Assembly ..................................... 2-5
2-10. Battery Panel Assembly ................................................ 2-6
2-11. Cabinet (L) Assembly .................................................... 2-6
2-12. Lens Block ..................................................................... 2-6
2-13. Control Switch Block (FK-10000) .................................. 2-6
2-14. FU-138/143 Board ......................................................... 2-7
2-15. VC-235 Board ................................................................ 2-7
2-16. Circuit Boards Location ................................................. 2-8
2-17. Flexible Boards Location ............................................... 2-9
Overall Block Diagram 1 ................................................ 3-1
Overall Block Diagram 2 ................................................ 3-3
Overall Block Diagram 3 ................................................ 3-5
Power Block Diagram 1 ................................................. 3-7
Power Block Diagram 2 ................................................. 3-9
Power Block Diagram 3 ................................................. 3-11
PRINTED WIRING BOARDS AND
Frame Schematic Diagrams .......................................... 4-3
Frame (1) Schematic Diagram ...................................... 4-3
Frame (2) Schematic Diagram ...................................... 4-5
Printed Wiring Boards and Schematic Diagrams ......... 4-7
CD-242 Printed Wiring Board and
Schematic Diagram ....................................................... 4-7
CD-244/269 Printed Wiring Board and
Schematic Diagram ....................................................... 4-9
VC-235 Printed Wiring Board ........................................ 4-11
VC-235 (CAMERA PROCESSOR)
Schematic Diagram ....................................................... 4-15
Schematic Diagram ....................................................... 4-17
VC-235 (LENS MOTOR DRIVE)
Schematic Diagram ....................................................... 4-19
VC-235 (VIDEO IN/OUT) Schematic Diagram ............. 4-21
Schematic Diagram ....................................................... 4-23
VC-235 (VIDEO/AUDIO DSP, D/A CONVERTER)
Schematic Diagram ....................................................... 4-25
VC-235 (DV INTERFACE, OSD)
Schematic Diagram ....................................................... 4-27
VC-235 (A/D CONVERTER, REC/PB AMP)
Schematic Diagram ....................................................... 4-29
VC-235 (Hi8/Std8 PB AMP) Schematic Diagram ......... 4-31
VC-235 (HI CONTROL) Schematic Diagram ................ 4-33
VC-235 (Digital8 MECHANISM CONTROL)
Schematic Diagram ....................................................... 4-35
VC-235 (CAMERA CONTROL, Hi8/Std8 MECHANISM
CONTROL) Schematic Diagram ................................... 4-37
FP-38, FP-220, FP-221, FP-249, FP-355, FP-356,
VC-235 (SERVO) Schematic Diagram ........................ 4-39
FP-249, FP-355, FP-356 Printed Wiring Boards and
VC-235 (D/A CONVERTER) Schematic Diagram ........ 4-41
VC-235 (AUDIO IN/OUT) Schematic Diagram ............. 4-43
Schematic Diagram ....................................................... 4-45
SE-104/113 Printed Wiring Board ................................. 4-47
SE-104/113 Schematic Diagram ................................... 4-49
FP-156, MI-37 Printed Wiring Boards ........................... 4-51
FP-156, MI-37 (STEREO MIC AMP)
Schematic Diagram ....................................................... 4-55
MI-37 (IR TRANSMITTER) Schematic Diagram ........... 4-57
CF-69 Printed Wiring Board .......................................... 4-59
MF-10000, CF-69 Schematic Diagram ......................... 4-63
MF-10000, CF-71 Schematic Diagram ......................... 4-65
CF-71 Printed Wiring Board .......................................... 4-67
FK-10000 Schematic Diagram ...................................... 4-71
VF-129 Schematic Diagram .......................................... 4-73
PD-117 Printed Wiring Board ........................................ 4-75
---

PD-117 (RGB LCD DRIVER, TIMING GENERATOR)
Schematic Diagram ....................................................... 4-79
PR-10000, PD-117 (CG LCD DRIVER, BACK LIGHT)
Schematic Diagram ....................................................... 4-81
FU-138/143 Printed Wiring Board ................................. 4-83
SS-10000, FU-138/143 Schematic Diagram ................ 4-85
Waveforms ..................................................................... 4-87
Parts Location ............................................................... 4-91
Before Starting Adjustment ........................................... 5-1
when Replacing Main Parts and Boards ................. 5-2
Camera Section Adjustment ......................................... 5-4
Preparations Before Adjustment
(Camera Section) ..................................................... 5-4
1-1-1. List of Service Tools ................................................. 5-4
1-1-2. Preparations ............................................................. 5-5
1-1-3. Precaution ................................................................ 5-8
Setting the Switch .................................................... 5-8
Order of Adjustments ............................................... 5-8
Subjects .................................................................... 5-8
Initialization of 7, 8, C, D, E, F Page Data ............... 5-9
1-2-1. Initialization of 8, C, D Page Data ............................ 5-9
Initializing the 8, C, D Page Data ............................. 5-9
Modification of 8, C, D Page Data ........................... 5-9
8 Page Table ............................................................. 5-9
C Page Table ............................................................ 5-10
D Page Table ............................................................ 5-11
1-2-2. Initialization of 7, E, F Page Data ............................ 5-12
Initializing the 7, E, F Page Data ............................. 5-12
Modification of 7, E, F Page Data ............................ 5-12
7 Page Table ............................................................. 5-12
E Page Table ............................................................ 5-13
F Page Table ............................................................. 5-14
Camera System Adjustments .................................. 5-15
HALL Adjustment ..................................................... 5-15
Flange Back Adjustment (Using Minipattern Box) ... 5-16
(Using Flange Back Adjustment Chart Subject
More Than 500 m Away) .......................................... 5-17
Flange Back Adjustment (1) ..................................... 5-17
Flange Back Adjustment (2) ..................................... 5-17
Flange Back Check .................................................. 5-18
Optical Axis Adjustment ........................................... 5-19
Picture Frame Setting .............................................. 5-20
Color Reproduction Adjustment ............................... 5-21
AWB & LV Standard Data Input ............................... 5-22
Auto White Balance Adjustment .............................. 5-22
White Balance Check ............................................... 5-23
Angular Velocity Sensor Sensitivity Data Preset and
Steady Shot Check .................................................. 5-24
Monochrome Electronic Viewfinder
System Adjustments ................................................ 5-25
1-4-1. Horizontal Slant Check ............................................ 5-25
1-4-2. Centering Adjustment .............................................. 5-25
1-4-3. Focus Adjustment ..................................................... 5-25
1-4-4. Aberration Adjustment ............................................. 5-26
1-4-5. Horizontal Amplitude Adjustment (VF-129 Board) .. 5-26
1-4-6. Vertical Amplitude Adjustment (VF-129 Board) ....... 5-27
1-4-7. Brightness Adjustment (VF-129 Board) ................... 5-27
1-4-8. Horizontal Amplitude, Vertical Amplitude,
Focus Check ............................................................. 5-27
(DCR-TRV120/TRV120E/TRV120P/TRV125E) ....... 5-28
LCD Initial Data Input (1) ......................................... 5-28
LCD Initial Data Input (2) ......................................... 5-29
VCO Adjustment (PD-117 Board) ............................ 5-29
RGB AMP Adjustment (PD-117 Board) ................... 5-30
Contrast Adjustment (PD-117 Board) ...................... 5-30
COM AMP Adjustment (PD-117 Board) .................. 5-31
V-COM Adjustment (PD-117 Board) ........................ 5-31
White Balance Adjustment (PD-117 Board) ............ 5-32
MECHANISM SECTION ADJUSTMENT ...................... 5-33
Hi8/Standard 8 mm Mode ........................................ 5-33
2-1-1. How to Enter Playback Mode Without Cassette ...... 5-33
2-1-2. Tape Path Adjustment .............................................. 5-33
Preparations for Adjustment .................................... 5-33
Digital8 Mode ........................................................... 5-34
2-2-1. How to Enter Record Mode Without Cassette ......... 5-34
2-2-2. How to Enter Playback Mode Without Cassette ...... 5-34
2-2-3. Overall Tape Path Check .......................................... 5-34
Recording of the Tape Path Check Signal ............... 5-34
Tape Path Check ...................................................... 5-34
Video Section Adjustment ............................................. 5-35
Preparations Before Adjustments ............................ 5-35
3-1-1. Equipment to Required ............................................ 5-35
3-1-2. Precautions on Adjusting ......................................... 5-36
3-1-3. Adjusting Connectors ............................................... 5-37
3-1-4. Connecting the Equipment ....................................... 5-37
3-1-5. Alignment Tape ......................................................... 5-38
3-1-6. Input/output Level and Impedance .......................... 5-39
System Control System Adjustment ........................ 5-40
Initialization of 7, 8, C, D, E, F Page Data ............... 5-40
Node Unique ID No. Input ........................................ 5-40
Input of Company ID ................................................ 5-40
Input of Serial No. ..................................................... 5-40
Battery End Adjustment (VC-235 Board) ................ 5-42
Servo and RF System Adjustments ......................... 5-43
REEL FG Adjustment (VC-235 Board) .................... 5-43
PLL f
0
& LPF f
0
Pre-adjustment (VC-235 Board) ..... 5-43
Switching Position Adjustment (VC-235 Board) ...... 5-44
AGC Center Level Adjustment (VC-235 Board) ...... 5-44
APC & AEQ Adjustment (VC-235 Board) ................ 5-45
PLL f
0
& LPF f
0
Final Adjustment
(VC-235 Board) ........................................................ 5-45
Hi8/standard 8 mm Switching Position Adjustment
(VC-235 Board) ........................................................ 5-46
CAP FG Duty Adjustment (VC-235 Board) ............. 5-46
Video System Adjustments ...................................... 5-47
3-4-1. Video System Adjustments ...................................... 5-47
27 MHz/36 MHz Origin Oscillation Adjustment
(VC-235 Board)) ....................................................... 5-47
Chroma BPF f
0
Adjustment (VC-235 Board) ........... 5-47
S VIDEO OUT Y Level Adjustment
(VC-235 Board) ........................................................ 5-48
S VIDEO OUT Chroma Level Adjustment
(VC-235 Board) ........................................................ 5-48
VIDEO OUT Y, Chroma Level Check
(VC-235 Board) ........................................................ 5-49
Hi8/standard 8 mm AFC f
0
Adjustment
(VC-235 Board) (Using Digital Voltmeter) ................ 5-49
Hi8/standard 8 mm AFC f
0
Adjustment
(VC-235 Board) (Auto Adjustment) .......................... 5-49
IR Transmitter Adjustments ...................................... 5-50
IR Video Carrier Frequency Adjustment
(MI-37 Board) ........................................................... 5-50
IR Video Deviation Adjustment (MI-37 Board) ......... 5-50
IR Audio Deviation Adjustment (MI-37 Board) ........ 5-51
Audio System Adjustments ...................................... 5-52
Hi8/standard 8 mm AFM BPF f
0
Adjustment
(VC-235 Board) ........................................................ 5-52
Hi8/standard 8 mm AFM 1.5 MHz Deviation
Adjustment (VC-235 Board) ..................................... 5-53
Hi8/standard 8 mm AFM 1.7 MHz
Deviation Adjustment (VC-235 Board) .................... 5-53
Digital8 Playback Level Check ................................. 5-53
Overall Level Characteristics Check ........................ 5-53
Overall Distortion Check .......................................... 5-53
Overall Noise Level Check ....................................... 5-54
Overall Separation Check ........................................ 5-54
SERVICE MODE ........................................................... 5-55
Adjustment Remote Commander ............................ 5-55
Using the Adjustment Remote Commander ............ 5-55
Precautions Upon Using the Adjustment Remote
Commander .............................................................. 5-55
Data Process ............................................................ 5-56
---